Two hub city concept featuring 24 teams in play – TSN
After talks over the weekend, a two hub city concept featuring 12 teams in each city has been discussed and remains one of the possibilities if the NHL is able to resume its 2019-20 season according to TSN Hockey Insider Darren Dreger. Every option, including the location of play, how many teams return to play or whether or not play returns at all is still to be determined.
NHL Board conference call today. The NHLPA was also busy this weekend working on return to play scenarios. Two Hub Cities with 12 teams in each has been discussed and remains one of the possibilities. TBD.

— Darren Dreger (@DarrenDreger) May 18, 2020
Nothing firmed up yet obviously but two hub cities instead of four is generating some buzz in discussions amongst teams. Las Vegas, for example, where an entire hotel/resort could be dedicated to the NHL and with easy access to the arena. https://t.co/PI8Se7MJsV

— Bob McKenzie (@TSNBobMcKenzie) May 18, 2020
TSN Hockey Insider Bob McKenzie reports that nothing is firmed up yet but two hub cities instead of four is generating some buzz in discussions amongst teams. McKenzie lists Las Vegas as an example, where an entire hotel/resort could be dedicated to the NHL with easy access to T-Mobile Arena.
Oilers feel they could manage as many as a dozen teams in Edmonton if needed. https://t.co/LRHfvd3Xmg

— Ryan Rishaug (@TSNRyanRishaug) May 18, 2020
TSN's Ryan Rishaug reports the Oilers feel they could manage as many as a dozen teams in Edmonton if needed.
The NHL Board of Governors has a call on Monday, adds Dreger. TSN Hockey Insider Pierre LeBrun reported over the weekend that the call is scheduled for 3:00 p.m. ET.
LeBrun also reported that the NHL and the National Hockey League Players' Association made some traction over the weekend that involved a 24-team playoff format should play resume this summer.
"Again, tough to handicap at this point whether a format gets agreed upon this week or not but definite progress. A reminder that the NHL has a Board of Governors call Monday at 3:00 p.m. ET; and that the league may announce decision on the draft this week," LeBrun tweeted.
Sources indicate the Return To Play Committee has talked throughout the weekend, NHL-NHLPA making progress on a 24-team format. Sources also stressing there's still work to be done, but clearly the weekend has produced some traction. More talks expected over next day or two.

— Pierre LeBrun (@PierreVLeBrun) May 17, 2020
LeBrun wrote in The Athletic later on Sunday that the proposed 24-team format would involve games of some kind beforehand and would not jump straight into the playoffs. He adds that not every NHL player is on board with playing this season but anecdotal evidence suggests more players than not on those potential 24 teams are on board with some kind of a resumption.
The league has been exploring a variety of scenarios for what the rest of the season could look like if play is resumed this summer, with 20-team and 16-team playoff formats also being discussed.
The NHL paused its season on March 12, one day after the NBA's Rudy Gobert tested positive for COVID-19 and kicked off a domino effect that saw much of professional sports shut down across North America and the rest of the world.
NHL Rumors: Maple Leafs, Red Wings, KHL Contracts, More – The Hockey Writers
In today's NHL rumor rundown, there are updates on the status of KHL stars Ilya Sorokin and Kirill Kaprizov, there is buzz about which nine players will make up the Toronto Maple Leafs' taxi squad, and the Detroit Red Wings talks offseason plans.
Sorokin and Kaprizov Won't be Staying in the KHL

With reports that the NHL was going to deny the right for NHL clubs to let signed players from the KHL play in this year's postseason, there was speculation names like Ilya Sorokin and Kirill Kaprizov might choose to stay in the KHL versus signing a deal with the NHL teams that were rumored to have landed them. That's not accurate.

According to Aivis Kalnins of Full Press NHL and a KHL insider, both Sorokin (New York Islanders) and Kaprizov (Minnesota Wild) intend to sign their entry-level contracts.
Maple Leafs' Taxi Squad
NHL teams will be allowed to carry an extra seven skaters — to bring the total to 28 — and an unlimited number of goalies when the season resumes. Because the AHL has officially shut down and with potential injuries or call-ups, all 24 teams needed some kind of assurances.
For the Maple Leafs, speculation is that their additional skaters will include Nick Robertson, Egor Korshkov, and Kenny Agostino at left wing, Nic Petan and Adam Brooks, at centre, Timothy Liljegren, Martin Marincin on defence, and Kasimir Kaskisuo and Joseph Woll, in goal. Missing the cut will be Pontus Aberg, Kevin Gravel, Kristians Rubins, and Jeremy Bracco.
James Mirtle and Joshua Kloke of The Athletic write:
The only NHL regular missing is Andreas Johnsson, who continues to rehab from knee surgery and likely isn't available until deep into the summer. These players will all be part of the Leafs play-in roster when games resume against the Blue Jackets.

source – 'Who will make the Maple Leafs taxi squad and 32-player postseason roster?' James Mirtle / Joshua Kloke – The Athletic – 05/29/2020
This will give the Maple Leafs a final roster of 32.
Related: Hockey 101: A Beginner's Guide to Ice Hockey
Trades Not Expected Yet
Luke Fox of Sportsnet writes, "Just because the seven eliminated teams are free to make trades with each other, I'd be stunned to see any transaction of significance."
The seven eliminated teams can make trades start immediately, and while that might seem like an advantage, most insiders don't really think it will be. Fox asks why any team would want to pitch to just 20 percent of the market? He adds:
"that most deals involve movement of draft picks, and we don't even know the draft order let alone the draft date, and I wouldn't be refreshing your Twitter feed searching for that Rasmus Ristolainen blockbuster just yet.
He refers to Ristolainen, likely because the Sabres defenseman mentioned he thought he'd be one of the first players moved out of the organization.
Related: Top 10 Offensive Seasons in Maple Leafs History
Red Wings Won't Sign Big Free Agents
There's been talk about how GM Steve Yzerman will reshape the Detroit Red Wings this offseason and whether he opts for a slow rebuild or uses free agency in a summer where he might have more money than some clubs to add good players.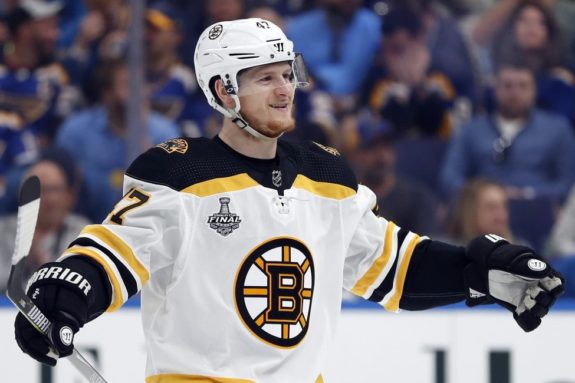 Yzerman told Bob Wojnowski of the Detroit News that he will use free agency but stressed he won't go into the free-agent market to make a splash. He'll instead focus on "sensible signings". Yzerman explained:
"We're prepared to do anything we can in free-agency, but it's not get a player at all cost, that's not the plan. We're not trying to do everything overnight because that can really handcuff you. The reality is, I think it's very difficult to do that with free-agency, to get those elite players. You've got to spend a lot of money for a long time, and I don't know if we're a market for those type of players at this time. That's the reality."

source -'Wojo: Amid Wings' pain and pandemic, Steve Yzerman has lots to consider' – Bob Wojnowski – Detroit News – 05/27/2020
He also said of Tyler Bertuzzi and Anthony Mantha, he expects to re-sign both players. "We're not gonna let them go anywhere, we'll get deals done."
Catch up on all the latest NHL Rumors
Facts and Figures: Regular-season recap – NHL.com
Leon Draisaitl became the first Germany-born and 10th Europe-born player to lead the NHL in points. The Edmonton Oilers forward had 110 points (43 goals, 67 assists) in 71 games.
It's the third time in four seasons an Oilers player won the Art Ross Trophy; Edmonton is the first team to achieve that feat since the Pittsburgh Penguins won seven straight scoring titles from 1994-95 to 2000-01 (Jaromir Jagr, 1994-95 and 1997-01; Mario Lemieux, 1995-97).
Draisaitl and teammate Connor McDavid (97), the Art Ross winner in 2016-17 and 2017-18, were first and second in points. It's the seventh time in 44 seasons that teammates finished first and second in the scoring race.
For the fifth time in NHL history, the top-four scorers were born in different countries (McDavid, Canada; David Pastrnak of Boston Bruins, 95 points, Czech Republic; Artemi Panarin of New York Rangers, 95 points, Russia). This also occurred in 2018-19, 2005-06 (top five), 1998-99 and 1997-98.
Video: EDM@LAK: Draisaitl buries McDavid's feed for PPG
Richard race ends in tie: Pastrnak and Alex Ovechkin of the Washington Capitals each scored 48 goals to share the Maurice "Rocket" Richard Trophy, introduced in 1998-99 and given annually to the top goal-scorer in the NHL. Pastrnak is 23; Ovechkin is 34. It's the first time in 57 seasons that one player 23 or younger and another 34 or older were the top two goal-scorers in the NHL. Bobby Hull of the Chicago Black Hawks (50 goals) was 23 and Gordie Howe of the Detroit Red Wings (33 goals) was 34 when they finished first and second in 1961-62.
Pastrnak is the first player since Phil Esposito (61 in 1974-75) to lead the NHL in goals for the Bruins. He also joined Esposito (three times) and Bobby Orr (twice) as the third Boston player with at least four hat tricks in one season.
Ovechkin topped the NHL in goals for the third straight season and an NHL-record ninth time overall. He had an NHL career-high four hat tricks and is the fourth player in NHL history to score at least 48 goals in one season at age 34 or older, joining Jaromir Jagr of the New York Rangers (54 in 2005-06 at 34), Johnny Bucyk of the Bruins (51 in 1970-71 at 35) and Teemu Selanne of the Anaheim Ducks (48 in 2006-07 at 34).
Video: WSH@MIN: Ovechkin nets one-timer on two-man advantage
Ovechkin became the eighth player in NHL history to reach the 700-goal mark when he scored against the New Jersey Devils on Feb. 22. He finished the season with 706, passing Hockey Hall of Famers Luc Robitaille (668), Teemu Selanne (684), Lemieux (690), Steve Yzerman (692) and Mark Messier (694) along the way.
Pastrnak and Ovechkin were among 56 NHL players with at least one hat trick.
The five 40-goal scorers in the NHL this season were born in different countries, the seventh time that's happened (Ovechkin, Russia; Pastrnak, Czech Republic; Auston Matthews of Toronto Maple Leafs, 47 goals, United States; Draisaitl, Germany; and Mika Zibanejad of the Rangers, 41, Sweden).
It was the first season in NHL history to end without a Canada-born player among the top eight in goals.
Rookie defensemen shine: Quinn Hughes of the Vancouver Canucks (53 points; eight goals, 45 assists in 68 games) and Cale Makar of the Colorado Avalanche (50 points; 12 goals, 38 assists in 57 games) finished first and second among rookies in points. It's the first time in the NHL modern era (since 1943-44) that defensemen finished first and second in rookie scoring.
Hughes became the third modern-era defenseman to lead rookies in scoring, joining Orr (1966-67) and Brian Leetch of the Rangers (1988-89).
Blackhawks forward Dominik Kubalik topped NHL rookies with 30 goals. He's the first player born in the Czech Republic or the former Czechoslovakia to lead NHL rookies in goals, and the third to reach the 30-goal mark in his first NHL season after Petr Klima of the Red Wings (32 in 1985-86) and Petr Prucha of the Rangers (30 in 2005-06).
Video: CHI@TBL: Kubalik records first career hat trick
D-man leaders: Zach Werenski led defensemen with 20 goals, the most by a Columbus Blue Jackets defenseman since they entered the NHL in 2000-01.
Werenski is the eighth active NHL defenseman to score at least 20 goals in one season.
John Carlson of the Capitals led defensemen with 60 assists and 75 points. He was on pace to finish with 89 points, which would have been the most by an NHL defenseman since Hockey Hall of Famer Sergei Zubov had 89 for the Rangers in 1993-94.
Goalie leaders and achievements: Andrei Vasilevskiy of the Tampa Bay Lightning won 35 games to lead the NHL in victories for the third consecutive season. He's the second goalie to lead the League in wins in at least three seasons before his 26th birthday, joining Terry Sawchuk, who did it in five straight seasons for the Red Wings (1950-55). Vasilevskiy is the first goalie of any age to lead the NHL in wins for at least three consecutive seasons since Martin Brodeur of the Devils did it in four straight (2002-07).
Connor Hellebuyck of the Winnipeg Jets led the NHL with six shutouts, tying the single-season Jets/Atlanta Thrashers record he set in 2017-18. He was second to Vasilevskiy with 31 victories, the third time in his NHL career he won at least 30 games.
Boston's Tuukka Rask was No. 1 in goals-against average (2.12) and second in save percentage (.929) to Anton Khudobin of the Dallas Stars (.930) among goalies who played at least 23 games. Rask and Jaroslav Halak combined to win the William M. Jennings Trophy, awarded to the goalie(s) whose team allows the fewest goals.
Pekka Rinne of the Nashville Predators made NHL history Jan. 9 when he scored the 13th goal credited to a goalie during the regular season (there have been two in the Stanley Cup Playoffs).
Rinne shot the puck into an empty net against the Blackhawks for the first goal by an NHL goalie since Mike Smith of the Phoenix Coyotes scored against the Red Wings on Oct. 19, 2013.
Video: NSH@CHI: Rinne launches home first NHL goal
Comebacks galore: Leads were rarely safe this season.
There were 457 games won by a team that trailed at some point, tied for the second-most comeback wins through 1,082 games in NHL history (474 in 2005-06 and 457 in 2018-19). The Capitals and St. Louis Blues shared the League lead with 21 comeback victories.
Of those 457 comeback wins, 125 came after a team trailed by multiple goals, the most in NHL history through 1,082 games. There were 43 games won by a team that trailed by multiple goals in the third period, the second most in NHL history through 1,082 games (45 in 2009-10). In 21.5 percent of all games (233 of 1,082), a team at least tied the score after trailing by more than one goal.
There were five games when a team won after trailing by at least four goals. That's tied for the most in a single season, matching the mark set in 1983-84 and equaled in 1985-86.
Close games were also the rule, with 70.4 percent (762 of 1,082) decided by one goal or by multiple goals with at least one into an empty net.
Youth will be served: Younger players continue to excel.
Ten of the 17 players to score at least 30 goals were age 24 or younger, and the top three in the points race (Draisaitl, 24; McDavid and Pastrnak, each 23) all were under 25. It's the fifth time in NHL history that's happened, but the first since 2009-10 (also 1983-84, 1984-85, 1994-95).
None of the League's top five in points has reached his 30th birthday (also Panarin, 28, and Colorado Avalanche forward Nathan MacKinnon, 24, who had 93 points).
Rookie goalies accounted for 10 shutouts, with five by Elvis Merzlikins of the Blue Jackets.
A total of 16 players born in the 2000s played at least one game this season. That includes five members of the 2019 NHL Draft class (Jack Hughes of the Devils, Kaapo Kakko of the Rangers, Kirby Dach of the Blackhawks, Ville Heinola of the Jets and Tobias Bjornfot of the Los Angeles Kings).
Projecting the Maple Leafs playoff roster – Pension Plan Puppets
This week, the NHL announced further details in their Return to Play protocol, you can read up on all that in the links below. Along with a 24-team playoff format, the NHL has announced rules for how many roster players each team can carry during training camps and games. Each team is allowed 28 skaters and as many goaltenders as they can carry (that are on NHL contracts), which I'm calling the Dave Ayres Rule.
Let's have a look at who they're bringing.
The Goalies
The Toronto Maple Leafs have five goaltenders under contract for the 2019-20 season. Frederik Andersen, Jack Campbell, Kasimir Kaskisuo, Joseph Woll, and Ian Scott. It seems quite logical that the Leafs will bring the first four with them, with Ian Scott on the maybe list depending on how far he's rehabbed after hip surgery. Four seems like a nice even number, though.
28 Skaters
There are 21 skaters currently on the Leafs active roster according to CapFriendly. They are listed below:
Forwards: Auston Matthews, John Tavares, Mitchell Marner, William Nylander, Alexander Kerfoot, Kasperi Kapanen, Zach Hyman, Kyle Clifford, Pierre Engvall, Denis Malgin, Jason Spezza, Frederik Gauthier
Defense: Morgan Rielly, Cody Ceci, Jake Muzzin, Tyson Barrie, Rasmus Sandin, Travis Dermott, Calle Rosen, Martin Marincin, Justin Holl
There are four players on Long-Term Injury Reserve. Nathan Horton, David Clarkson, Andreas Johnsson, and Ilya Mikheyev. Quite a quartet. Mikheyev is 100% healthy, per his agent. Johnsson was scheduled to be out six months starting in February, putting his return date in August, which is when the NHL expects the playoffs to begin.
Adding those two, the number of skaters up to 23.
Timothy Liljegren is currently with the Marlies, but all indications are that he's a lock to join the Leafs for the playoffs. 24.
Nick Robertson, the Leafs most recent top pick, has made the cut, according to GM Kyle Dubas! He's flown into Toronto from California where he was quarantining with his parents and brother. After destroying the OHL as an 18-year-old, how Robertson fares against NHL players will be a very interesting test. This will almost be a rehearsal for his potential arrival into the league in 2020-21. 25.
Nick Robertson will be included in the #leafs expanded playoff roster, according to Kyle Dubas.

— Chris Johnston (@reporterchris) May 27, 2020
And now is when it gets tricky. With 15 forwards and 10 defensemen essentially locked in, there are only three spots remaining of the 28. I wrote an article a couple weeks ago when Taxi Squads were being discussed. The list of current Marlies with a shot at some playoff action is quite long.
In hindsight, my shortlist was quite long, I was expecting the Leafs to take nine extras, including Liljegren and Robertson. Here's what I had:
Black Aces
F: Nic Petan, Adam Brooks, Pontus Aberg, Kenny Agostino, Egor Korshkov, Nick Robertson
D: Timothy Liljegren, Kevin Gravel, Teemu Kivihalme
Right off the bat, I think I'm comfortable taking Gravel and Kivihalme off the list. The Leafs have six left defensemen and four righties in the 25 above, and both Gravel and Kivihalme shoot left.
At forward, I think the Leafs would really like to have Adam Brooks on their roster. He's tailor-made for spot duty on the fourth line and he's a centre, of which the Leafs only have five that sit naturally at that position (Matthews, Tavares, Kerfoot(ish), Spezza, Gauthier). He would bring the number up to 26.
Kenny Agostino was confirmed to be heading back to Toronto in order to join the Leafs playoff roster, so he's in. I can't say I'm surprised considering he was the best Marlies forward last season and his chance in the NHL was long overdue. Agostino is a quick, deceptive winger with a great shot. He's good enough in his own zone and is valuable on the power play. 27.
Marlies leading scorer Kenny Agostino will soon make his way north from New Jersey and begin serving his 14-day quarantine, so he can practise in Toronto and join Maple Leafs' extended playoff roster.

— luke fox (@lukefoxjukebox) May 27, 2020
The Last Man
Now it gets really tough. Do the Leafs like Egor Korshkov enough to bring him? I think so? I'm not confident in it, especially with Nic Petan and Pontus Aberg both also on the shortlist.
Korshkov was liked during his time with the Leafs, scoring in his one-and-only NHL game. In the AHL, Korshkov succeeded when he was healthy and playing with quality teammates. Unfortunately, he missed time due to injury twice and was shoved on the third line for much of the season, so his results aren't anything to be inspired by. I think Korshkov has a lot of value to the Leafs, and as the 18th forward, it might be more valuable to have him practicing and learning for a shot next season than sitting at home.
Petan and Aberg are the other two options. Based on their NHL performances, Nic Petan edges out Pontus Aberg, though in the AHL it's the other way around. Aberg is a hard-nosed winger who has a chip on his shoulder. He's got skill and he's been in the playoffs before. And the rumours he's heading to the KHL don't seem to be founded. Petan is a creative puck-mover who had great shot metrics with the Leafs and is a different dimension from the other fourth liners the Leafs currently have.
I think both can provide a dimension on the fourth line that currently isn't being filled; someone who can carry the puck in transition and facilitate with some finishers. Maybe they think Malgin and Brooks can do it and they'd rather go with size in Korshkov, or maybe they'll realize a more open, rusty style is something a player like Petan can excel in.
So, you can only pick one. Who do you choose? Petan, Aberg, Agostino.
Poll
Who rounds out the Leafs playoff roster as the 28th skater?
57%

Egor Korshkov

(490 votes)

25%

Nic Petan

(213 votes)

13%

Pontus Aberg

(113 votes)

4%

Someone else.

(36 votes)


852 votes total

Vote Now

Lineup Projection
I don't think we've had a game where the entire Leafs roster has been healthy and included the graduates like Engvall and Sandin. Finding the right seven combinations of players is going to be a very challenging task, and I'm sure lots of people on the internet are going to have their suggestions.
Here's my guess:
It doesn't really seem to matter which right winger lines up next to which centre when it comes to the Big Four. Matthews and Marner are buddies and always wanted to play together under Babcock, if it keeps them happy, why not.
Mikheyev was skating when the pause happened in mid March. It's been 10 weeks since then so I'd be moderately comfortable throwing him right back into the fire like they did to start the regular season, all those many months ago.
3M line, anyone?
I like the idea of Tavares having the puck more and not always having to be the first player to the front of the net. Let Hyman do that and let Tavares be a bit more creative with Nylander. All three of these players are heady forwards who like to score right in the front of the net. They will be absolute havoc together. And for anyone concerned about Nylander's defense, he's got some of the best supporting linemates on the team.
Johnsson has a longer recovery timeline than Mikheyev and is coming off surgery, so having him on a more sheltered third line with his Marlies buddy Kasperi Kapanen feels like a good place to be. They haven't played very much all together, but Kapanen has good numbers with both Kerfoot and Johnsson as duos.
I am a little worried that Keefe will break up this trio if he thinks Mikheyev isn't quite ready for top line minutes and put Kerfoot on the wing. I've never liked when he did that, it made the whole bottom six useless when depth has always been what the Leafs pride themselves on. If Kerfoot does become a winger, Spezza will likely come up to centre the line.
Mathematically, there are 84 combinations for this fourth line with the nine players remaining on the roster. I picked these three because they have the most NHL experience this year and they fit nicely as a trio.
Engvall and Spezza fit the LH-RH centre duo so they can take draws on both sides. All three have size and some snarl to them. Engvall is strong on the penalty kill and forecheck. Spezza is useful to move up the lineup, on second power play unit, and his shot is great. And, honestly, I don't remember much from Clifford as a Leaf but I hear people like him.
If he's prepared, Robertson has a chance to take one of these spots.
Forward Scratches
Frederik Gauthier, Denis Malgin, Adam Brooks, Nick Robertson, Kenny Agostino, Egor Korshkov/Nic Petan/Pontus Aberg.
This is the first pair pretty much entirely through default. They've been a pair all season and they've done as well as you could ask for at 5v5. The Leafs really missed Muzzin when he got injured, so having him back will be great. Both of these guys have contract extensions with nice modest raises coming next season, whenever that is.
Rielly has been the Leafs top-pairing defenseman for some time now. He's played top competition every night and has been as good as one could ask. The thing holding him back from top lines this season has been his partner. He just hasn't had someone on his right side that can live up to the same level of competition.
When he was with Barrie, they played third pair defensive minutes. Rielly and Ceci were a trainwreck as the top pair, and the whole point when acquiring Ceci was that he could thrive more in sheltered minutes. The Leafs would be asking a lot out of Sandin if they put him in the top-four so immediately.
So the role, in my opinion, falls to Dermott. He hasn't had much time on the right side, but he played some top-four this season and did pretty okay. Maybe Rielly is the guy who switches over, who knows.
This pairing will also run double duty as a litmus test for how the Leafs plan to lineup in the future. They have Rielly, Muzzin, Sandin, Dermott, and Mikko Lehtonen under team control for next season, and at least one is going to have to play their off side. Dermott has been widely talked about as the odd-man out on the left side, but if he can prove that he can play the right, it keeps him in his hometown of Toronto.
Rasmus Sandin – Tyson Barrie
Sandin will without a doubt be the defensive conscious of this pairing. They're going to get offensive minutes and spot shifts with Rielly to keep their minutes up, which has been something Keefe has done often.
Defense Scratches
Cody Ceci, Calle Rosen, Martin Marincin, Timothy Liljegren.