Vietnam Economy Grows Slower in First Quarter to 5% on Covid, Oil Surge – Bloomberg
Sask. could win in the zero-carbon economy but isn't seizing opportunities: report – CTV News Saskatoon
Saskatchewan lags behind other provinces in capturing opportunities in the global transition to a net-zero carbon economy, according to a new report.
"I think this needs to be the priority of governments across Canada," said Jonathan Arnold, senior research associate at the Canadian Climate Institute, a national nonpartisan independent think tank that provides policy advice to governments on long-term issues related to climate change.
"The global low carbon transition is accelerating rapidly. We're really talking here about the future livelihoods, jobs and incomes of workers, families and of entire communities. And there is a risk that if we do not prepare ourselves for this transition, then parts of Canada and some provinces are at risk of being left behind. These markets are already becoming increasingly competitive. So it really is incumbent on governments to take this seriously and make sure that the economy and the workforce are geared up for this."
Saskatchewan doesn't have as many companies active in the clean hydrogen and low carbon electricity, transportation and mining technology markets, Arnold said.
The province's oil, gas and coal sectors also lag in decarbonizing their activities to make themselves globally competitive, he said.
"When you consider the transformative investments being made in some provinces, like Ontario in their automotive manufacturing sector to really transform into making EVs or look at some of the activities that are happening even in Alberta to decarbonize some of their heavy industry, we're not quite seeing that same level of activity in Saskatchewan."
However, Saskatchewan has a lot of opportunities for the zero-carbon transition, as it has some of the biggest potential for wind, solar and geothermal energy, he said.
In addition, 43 per cent of the 23 transition sector companies the group identified are involved in agricultural technology and alternative proteins, he said.
"There's lots of room to grow there, we know that demand for agriculture and alternative proteins is going to increase significantly. And then also things that may not be intuitive, necessarily, to some folks, like helium, and this is an area that I know the province has prioritized and is exploring. Helium will play a certain role in the transition as it's an input to lots of different technologies. So that's also another opportunity."
The stakes for a successful transition are high, as six per cent of Saskatchewan's workforce is in transition-vulnerable sectors, the third-highest mark in Canada. Four communities of at least 10,000 people have high workforce concentrations in oil and gas and mining: Lloydminster (14 per cent), Estevan (13 per cent, Weyburn (11 per cent) and Swift Current (three per cent.)
"The transition is incredibly important. We want to make sure that that is as smooth as possible for workers. You know, some sectors have pathways to transition that are clearer than others. The automotive sector, for example, it's pretty clear that the future is in zero-emission vehicles and that transition is already happening.
"For a province like Saskatchewan, oil and gas is a harder nut to crack. I think there are still lots of opportunities there for companies in the sector to, first of all, reduce their emissions to become more globally competitive, as there's a higher premium on carbon emissions, but also to transform into other business lines.
"Instead of remaining as oil and gas companies, they start transforming into energy companies more broadly. That might just mean getting into renewables, it might mean getting into low carbon hydrogen, which is already happening in Alberta. It means really leveraging carbon capture utilization and storage technologies.
"It really is about transforming into other activities where demand is expected to grow. And we're already starting to see that in other provinces. I think Saskatchewan could do a lot more to capture some of those opportunities."
He said one of the most important steps is having policy certainty for businesses and investors, including a price on carbon that increases over time and environmental and climate regulations that encourage things like low carbon vehicle adoption and low carbon fuel adoption.
"I think there's tons of room there for the government to, in some cases, just rebalance how public funds are used to achieve economic benefit in the community and really go after the areas where demand is expected to grow."
Boris Johnson Says the UK Economy Can Dodge a Recession – BNN
(Bloomberg) —
Prime Minister Boris Johnson said the UK can a dodge a recession in the months ahead even as the cost of living crisis sets the stage for a "difficult" period.
Economic pressures are emerging as the gravest political threat to Johnson and his party, beyond the various scandals that have dogged his government such as the row over illegal parties in Downing Street during the pandemic.
Inflation is at a four-decade high of 9%, and predicted to go even higher, while the Bank of England is expecting a sharp contraction in growth later this year, and a prolonged stagnation afterwards.
But Johnson is more bullish on the outlook. Asked on Bloomberg TV whether the UK was headed for a recession, Johnson said "not necessarily at all."
"There are ways forward for the UK that are incredibly exciting," he continued. "If we make sure that we have a proactive approach to talent from abroad — we want to control immigration but allow the talent that we need to come in — we fix our energy supply issues, we fix the issues in the UK labor market."
"One of the incredible things about the economy right now is that unemployment is at its lowest level since I was two years old."
The comments come a day after Johnson's government bowed to intense pressure to do more to tackle the UK's cost-of-living crisis, unveiling billions of pounds of supports for households. While the move was welcomed as short-term fix, families are still facing soaring energy bills and prices in shops. Some lobby groups have called for a longer-term solution.
"We're going to have a difficult period, and we've got to be absolutely clear with people it's going to be difficult, and the government cannot solve every problem," Johnson said. "We can't cover everybody's extra cost. But what we can do is make sure that we deal with the underlying causes of inflation, but also keep our economy strong and open to investment."
With inflation soaring, the government is also grappling with demands for higher pay from public sector workers. Johnson's senior ministers this week discussed the risk of public pay increases fueling inflation, a further hint that the government is preparing a major showdown with UK trade unions.
Johnson returned to that theme on Friday, saying "what we want is a high-wage, high-skill economy. The increases in wages have got to be driven by productivity gains, and not simply by inflation."
"What we don't want to see is a return to the wage-price spiral that we saw in the 1970s," he said.
©2022 Bloomberg L.P.
Concordia invests $2M in the Circular Economy Fund – Concordia University News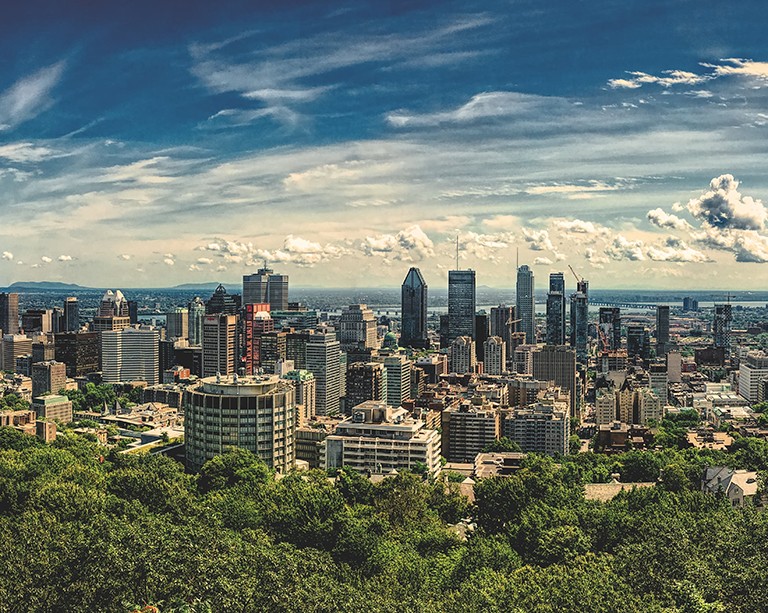 The Concordia University Foundation and the Greater Montreal Climate Fund (GMCF) are investing $2 million and $500,000, respectively, in the Circular Economy Fund (CE Fund).
The commitments total more than $18M, bringing the EC Fund closer to its objective of $25M, to which Fondaction is also adding $5M in co-investment.
Unique in Canada, the EC Fund was launched in March 2021 by Fondaction, in partnership with the City of Montreal and RECYC-QUÉBEC. The fund aims to accelerate ecological transition through the circular economy, notably by reducing the production of residual materials and supporting their recovery, in addition to reducing greenhouse gas emissions.
It encourages innovation and the exchange of solutions between startups and the largest Quebec companies.
Partnerships anchored in the mission of the Circular Economy Fund
Marc Gauthier, treasurer and chief investment officer of Concordia, says this investment with the GMCF and Fondaction in the Circular Economy Fund represents a second important co-investment for the sustainable innovation sector.
"Earlier this year, we joined Fondaction in the Urapi Sustainable Soil Management Fund. It is with great pleasure that the Concordia University Foundation is now co-investing in the Circular Economy Fund," he says.
"Like Urapi, this Fund is perfectly aligned with our goals for sustainable investments and investments with social and environmental impact."
Marie-Claude Bourgie, executive director of the GMCF, says investing in the Circular Economy Fund allows the Greater Montreal Climate Fund to carry out a mission that is close to its heart: to accelerate the implementation of climate solutions in the metropolitan region.
"It is by supporting entrepreneurs dedicated to meeting the challenge of putting raw materials back into circulation that we can rethink the production chain and thus reduce our greenhouse gas emissions."
With this second closing, Fondaction will be able to help more companies that want to optimize the use and recovery of resources as well as the reduction of residual materials and greenhouse gas emissions, explains Marc-André Binette, assistant chief investment officer at the investment fund.
"We are pleased to have wise financial partners who have made the circular economy a major pillar in the fight against climate change," he adds.
Getting involved in the city's ecological transition
Since the EC Fund was deployed, four companies (Still Good, Groupe Onym, Ferme Tournevent and CarbiCrete) have received an investment from the Fund to increase their production, open a new plant, increase research and development and test an innovative product.
These companies operate in different sectors, such as agri-food, recycling, resource recovery and eco-construction, but their missions are all part of the circular economy concept.
According to the Pôle québécois de concertation sur l'économie circulaire, this economy is closely linked to practices that optimize the use of natural resources in order to reduce the environmental footprint and contribute to the well-being of the population.
By creating the EC Fund, Fondaction and its partners are investing for the future and these two new investors open up new investment opportunities for the EC Fund and fuel the development of responsible and sustainable innovations.

Find out more about the Circular Economy Fund (CE Fund).