You can contribute to this pandemic public art project in North Vancouver – North Shore News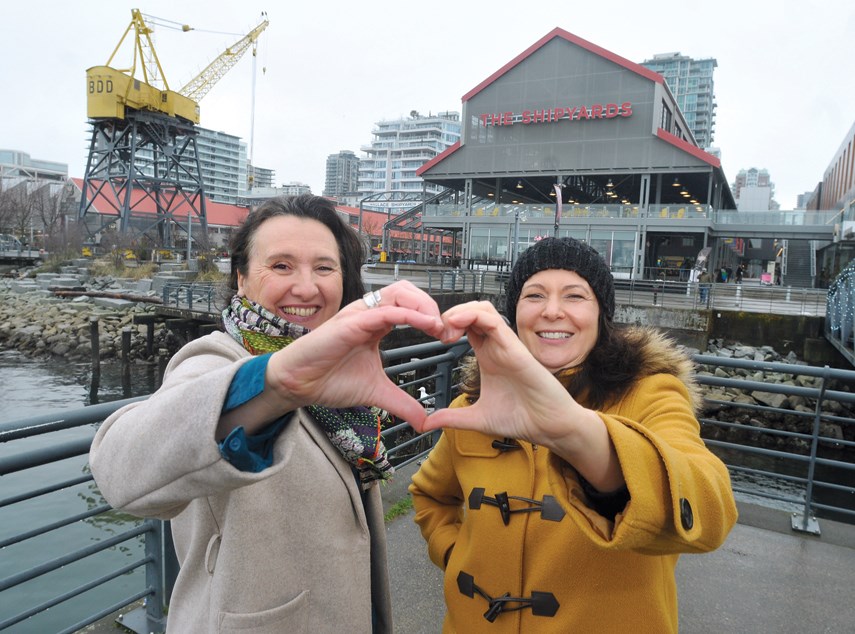 Each individual tile tells its own tale, but put them all together and you've got a picture that tells a full story.
That is the underlying concept of North Van City Mosaic, an ongoing North Van Arts project that gives anyone who lives, works or plays in the City of North Vancouver the chance to submit an image related to their life during COVID-19 for inclusion in a vast digital mosaic. The individual tiles submitted by the public are inserted into a large photo of the North Vancouver waterfront, the many little pieces contributing to a unified whole.
"You can see a mosaic almost as a metaphor for a community where you have people living next to each other, like the little tiles, but everything makes a whole picture, a whole community," said Sandrine Pellesier, a North Vancouver visual artist who has teamed with expressive art therapist Sophie Babeanu to co-ordinate the project, which is run under the umbrella of the City of North Vancouver's Mayor's Healthiest Small City Social Resiliency Collective.
The art-loving duo behind the project want to make it very clear, however, that you don't need to be a talented artist to make a submission. Any artwork, any photo can be used to create your piece of the mosaic puzzle.
"Everybody is an artist," said Pellisier. "You don't need to be super skilled to be allowed to express yourself. … We are trying to get people not to be intimidated by the idea of participating."
So far they have received more than 200 submissions, but there are thousands more spaces in the mosaic that they'd like to see filled. Making a submission is as easy as going onto the project's website, filling in a short form and then uploading the image. Participants can include their name with their submission if they like, or make it anonymously.
"You could go participate now," said Pellisier with a laugh.
"It's easy, it doesn't take a lot of time," added Babeanu. "If people don't want to spend a day drawing something than can use a picture they already have. They can do a stick figure. We don't care. Every submission is welcome. It's easy and it's fast."
The mosaic updates in real time, so after you make a submission you get the instant gratification of seeing your piece pop up on the screen.
There are lots of ways for the public to observe the submissions as well, scrolling through them like a book, or using a search function to pinpoint keywords, themes or the names of the artists.
The project's co-ordinators say it's a powerful experience for them to see the images people are submitting to document their pandemic struggles and triumphs.
"For us it's quite beautiful to see how people are living during these weird times," said Babeanu. "And we relate a lot to what they are saying, we can really relate to our fellow North Vancouverites. It's humbling as well. … It's rewarding."
Many of the submissions share similar themes as people struggle to cope with pandemic problems or share little pieces of their new quarantine quirks.
"For me what stands out is the common experience and the individuality at the same time," said Pellisier. "You feel that we all share the same struggles – it gives a sense of community in a way."
The project is live now and will likely run as long as COVID-19 is a concern – at least until this fall. When the online Mosaic is complete the project will move on to a second phase with an artist commissioned to create a piece of tile art featuring submissions from the public. That piece will be permanently displayed at a yet-to-be-determined location in the City of North Vancouver.
The artists are hoping the online mosaic and accompanying public art piece will provide a snapshot of these strange times that will endure for years to come.
"It'll stay as a testimony of what it was like to be here in 2020 and 2021," said Babeanu, adding that people are still studying the original mosaics that were created in ancient Rome thousands of years ago. "The old mosaics were documenting their lifestyle and what was happening during that time. And our mosaic is documenting how we are living right now, today, in our environment and our circumstances."
The simple act of creating something can be a powerful force at times like these, said Babeanu.
"Art is helping people really cope with and make sense of what they are living, and in that sense it gives them more resilience," she said. "When people are looking at the art they are touched by it, and when they are making it they are saying, 'look, this is how I feel, this is how I see my world.'"
Art and Sandy Zimmerman rock the curling world with their hospitality – CTV Toronto
CALGARY —
Art and Sandy Zimmerman are huge curling fans. That's what makes it so hard about having the Scotties Tournament of Hearts and the Tim Horton's Brier in Calgary, minus fans.
Because the events are taking place in a bubble, the Zimmermans can't go to any of the games or visit any of the dozens of curling friends they've made over the years.
In the curling world, the Zimmermans are rock stars who have opened the doors of their southwest Calgary home to some of the top curlers in the world.
Iit all started years ago when Ben Hebert, a Saskatchewan curler, was in town and looking for a place to stay.
"We are originally from Regina and our daughter was going away to school in Indiana," Art said. "Ben phones up and says 'can I stay at your place for a month or two?"
"I said yeah sure come on up. Well that month or two ended up being two and a half years," he laughed.
LIKE FAMILY
Hebert liked it so much he told other curlers about the Zimmermans. Art and Sandy also took in John Morris and he ended up staying for about a year. Morris said they welcomed him with open arms and they've become a second family to him.
"My folks live in Ottawa and I don't have any family in town and they're my (Calgary) family," Morris said.
"If I have a problem or an issue," he added, "I'm calling Art and Sandy and you know if I just need a break to go play some crib and have a beer, that's where I go."
PERFECT HOSTS
They're not Canada-centric hosts, either. Members of Team Sweden have stayed with the Zimmermans. So has Team Norway and too many others to list. When a curler from anywhere stays at the Zimmermans' place, they treat you like you're one of their own.
Sandy loves having curlers around the house.
"Oh it's great. They were all a lot of fun. I mean, I come from a curling family and you know it's just exciting and a lot of fun."
GREAT STORIES
The Zimmermans' basement is filled with curling photos and memorabilia that, over the years, has produced some great stories. Like the time Sweden's Oscar Eriksson brought a full size cut-out of himself to the Zimmermans.
"They were at WinSport and they were curling and his cut out was there," Sandy said. "They stayed here at the time and we were all saying 'Oscar we need one of those in our house!' And right after one of their games, he comes to the door and has the cut out there."
Art said there are a lot of great stories but it's probably best that they stay within their walls of their home.
"There are stories but I don't know if they're appropriate for (a TV) camera," he said.
REUNITED
Art and Sandy may not be able to see it live but they'll be keeping a close eye on the Brier starting on Friday night. And they'll cheering on Hebert and Morris who are back together again. They'll try to win another Brier title with Kevin Koe's Wild Card rink.
They'll be in action on Friday night in the opening draw against Nova Scotia.
Burned Banksy NFT Sets Art And Crypto Worlds Alight – Forbes
How much would you pay for a piece of art that doesn't exist in the real world, but exists in the Metaverse?
The latest anarchic event to grip the art world saw an anonymous guild of 'art digitalists' buy an original Bansky then set it ablaze – but not before digitizing the work into a non-fungible token (NFT).
For the uninitiated, NFTs are unique blockchain-based digital assets that represent an increasing number of commodities, from art and real estate to collectibles like sports trading cards. This latest pyro-NFT event reflects an unfolding love affair between the art and crypto communities, and it is generating hundreds of millions of dollars and transforming art in the 21st century – the digital century.
From Sotheby's to Superfarm
The incendiary event itself has a historical precedent. In 2018, a Banksy painting entitled 'Girl with Balloon' self-shredded moments after selling for one million pounds (GBP) at Sotheby's auction house. The painting, rechristened 'Love is in the Bin', could now be worth double in the arcane ways of working of the art world.
As for the recent painting set alight in Brooklyn, it marks the first time an artwork has been torched then sold in digital form, with Banksy's agency Pest Control authenticating the event. Entitled Morons, the piece pokes fun at rich collectors for spending exorbitant sums on paintings.
The digital token representing Morons will be listed on Superfarm, a cross-chain DeFi protocol for NFTs. The anarchic art arsonists' plan is to hold an auction where investors can make bids using cryptocurrencies. Although Banksy is not directly involved in the venture, the event organizers claim he is aware of the token event.
Sales of NFT-based art works have surged of late, having hit a record $8.2 million in the month of December. Ownership and authenticity are confirmed on blockchain, which provides a public, immutable record, so there is no ability for fraudsters to dupe investors into buying a forgery. Buyers also get to see how much an item previously sold for, who has owned it, and all dates associated with its sale history. Through the NFT model, artists can open their work up to a wider audience of crypto users looking to spend their digital assets.
NFTs utilize the same distributed ledger technology that enables bitcoin, a cryptocurrency that recently crossed the $1 trillion market cap after Tesla's $1.5 billion purchase helped drive the price to new all-time highs. While each bitcoin can be divided into 100 million smaller units known as satoshis, NFTs are like snowflakes, no two are alike.
NFT Mania Is Heating Up
The NFT market generated over $350 million in sales over the past month, with Hashmasks, a marketplace specializing in unique digital portraits, the third most popular platform. The cryptocurrency market might be sizzling hot, but you might pause to consider the world of digital art before you dismiss art NFTs as a here-today, gone-tomorrow fad.
It might be difficult for some to grasp why art-based digital tokens have value. Alex Atallah, the founder of NFT marketplace OpenSea, believes if you spend hours every day on the computer, in the digital realm, then art in the digital realm makes tonnes of sense, because it is the world.
There is also the prospect of flipping NFTs for profit. Last week, Miami-based art collector Pablo Rodriguez-Fraile proved just how remunerative NFT investments can be, selling an NFT for $6.6 million that he acquired for $66,666 in October. The NFT – a 10-second computer-generated video clip curated by digital artist Beeple – showed a giant Donald Trump collapsing to the ground, his body adorned with countless slogans.
Pablo Rodriguez-Fraile is also a co-founder of The Museum of Crypto Art (MoCA) with long-time friend and venture investor Colborn Bell. MoCa is the leading virtual reality art gallery of the Metaverse. Featuring a collection of over 3,000 digital artworks, the Museum focuses on the exhibition of artworks in native digital environments and the story-telling of artists, having completed six artist solo shows, and running an active incubator arts district where 15 artists have built their own exhibition spaces.
"For those of us who have helped lay the foundations of this space, it's fascinating, but not surprising, to see such an exponential amount of growth and interest. In leveraging emerging technologies and proving NFT use-cases through the display and amplification of artist's narratives, we've helped to usher in a new economic model where digital artists are empowered to bring their creations to global markets and receive a more equitable share of revenues on primary and secondary sales," says Bell.
A digital collage of Beeple's daily artworks produced over a 13-year period was recently minted into an NFT and put under the hammer at Christie's auction house. Entitled Everydays: The First 5000 Days, the collage has attracted over 100 bids, with the highest standing at $3 million. The auction ends on March 11, and it marks the first time a purely digital work of art has been listed by the heritage auctioneer.
It's not just art, either. One platform, Original Protocol, just held an auction for the world's first NFT music album by American DJ 3LAU. Collectively, the artist's fanbase ponied up over $11 million for 33 NFTs constituting 3LAU's album Ultraviolet.
In sport, NBA Top Shot has become the world's most popular NFT portal, giving over 350,000 users the opportunity to acquire digital collectibles of stars from the National Basketball Association. In the last week, NBA Top Shot racked up over $100 million sales. Naturally, the NBA and Players' Association are in on the venture, having inked a revenue-sharing agreement on each transaction with technologist Dapper Labs.
Mark Cuban, billionaire owner of the Dallas Mavericks, recently stated his belief that NFTs 'could turn into a top three revenue source for the NBA over the next 10 years.' If the NBA Top Shot buzz has passed you buy, one user, who paid $208,000 for an iconic Lebron James slam-dunk NFT, called the platform 'day trading meets sports meets fantasy.'
"NFTs are nothing less than a new global entertainment category, on par with movies, music and video games, but with much larger revenue potential. Every consumer product company in the world will need to develop an NFT strategy in 2021, or regret the fact that they didn't. If a consumer product can't be eaten, it will be turned into an NFT.
"When augmented reality emerges in a few years, the digital items populating those virtual environments will also be NFT based. There is no escaping this phenomenon," says William Quigley, Managing Director of Magnetic, and co-founder of Worldwide Asset Exchange (WAX).
Next-Generation Chains Clamor to Host NFTs
With NFTs being touted as 'crypto's next killer use case,' it comes as no surprise that major blockchains are competing to entice developers to build on their networks. In the 11 years since Bitcoin launched, speculation, primarily on the price of cryptocurrencies, has been the primary use case for cryptocurrencies, a number of which are now being viewed as part of a portfolio diversification strategy.
Could NFTs really supplant trading as the main reason for blockchains existing – even if it's merely to replace cryptocurrency speculation with speculating on the value of NFTs in the gaming, entertainment and art worlds?
Polygon certainly thinks so. The scalable blockchain network, which connects to Ethereum by way of a bridge, has been enticing NFT projects promising them an environment where non-fungible tokens can be minted, traded, and auctioned at near-zero cost. NFT projects such as Aavegotchi, Neon District Megacryptopolis, ZedRun, Chain Guardians, Decentral Games, Battle Racers, Doki Doki, and MyCryptoHeroes have already made the move to Polygon, whose infrastructure is suited to supporting high growth games.
Polygon isn't the only chain making overtures to NFT projects. Elrond has also laid out its credentials for hosting the industry's hottest new industry, having onboarded Terra Virtua with its range of NFT collectibles from Paramount Pictures, Legendary Entertainment, Unreal, and Unity.
"Once digital natives and savvy collectors will be able to meaningfully connect with art, movies, video games, or other forms of expression at a whole new level, the multi-billion dollar potential of the NFT industry will be unleashed," says Elrond CEO Beniamin Mincu.
Last year, WAX announced an exclusive partnership with legendary Topps Trading Cards to release the digital versions of Topps' physical collectible cards, as well as exclusive digital collectibles, on the WAX Blockchain.
"NFTs originated on Ethereum but they are rapidly migrating to purpose-built blockchains that can accommodate the consumer mass market at much lower costs. Ethereum is adequate for selling 100 NFTs at $1,000 each. But if you want to reach hundreds of thousands or millions of people, it's not a suitable platform.
"Consumer brands like Topps Trading Cards, the musician Deadmaus, and video game developer Capcom – creator of the hugely successful Street Fighter series – all chose the WAX NFT blockchain to release their products. We have entered the era of specialized blockchains with general purpose chains like Ethereum ceding ground to those with more tailored solutions to the NFT market," says Quigley.
In yet another announcement today, Hex Trust, which is licensed as a trust company in Hong Kong, launched its NFT Safe service to provide custody support to NFT collectors and investors within its Hex Safe platform. Hex says NFT Safe is a 'world first' service for providing collectors and institutions with safe custody of valuable NFT assets. The Hex Safe platform supports NFTs from multiple blockchain platforms, including Ethereum and its ERC-721 and ERC-1155 token standards.
Will the Bubble Burst?
What does this all mean, and where is the NFT craze headed? Those of a bullish disposition suggest that there is no natural end point: the future is digital and it's coming into sharper focus every day. The value of NFTs is assured by their provable scarcity, which drives demand. The price of any good is, as it has always been, determined by what others are willing to pay for it.
The market bears, or rather the naysayers are not convinced. NFTs may be selling like hotcakes right now, but how sustainable is the model – aren't all booms inevitably followed by busts? Can assets that are intangible ever be as valuable as those you can hold in your hand? Interestingly, the same arguments were once made about bitcoin, long before it reached dollar parity. At the time of writing, a single bitcoin is worth circa $50,000. To put that in context, today's gold price is circa $55,000 per kilo.
Whatever happens with NFTs in the near term, the idea of burning and tokenizing a Banksy painting is something one suspects the artist would approve of. It's easy to imagine a slew of artists and innovators jumping on the bandwagon and monetizing their output in the form of NFTs, inspired by this latest event. This may be a bubble, but it appears as if it is in no hurry to pop.
Local art galleries get creative to emerge from 'hibernation' – OrilliaMatters
This week's big news, of course, is that we have been sent back to the grey zone … with some modifications. So, small retail businesses are allowed to be open at 25 per cent capacity. This means your local art galleries are open!
Hibernation Arts at 17 Peter St. S. in the Orillia Arts District is one of those local art galleries, and this week I wanted to shed some light on it, and on the owner, Molly Farquharson.
Molly "retired" to Orillia about six years ago, after an eventful working life teaching English all over the United States, Japan, and Turkey. She also operated a café in Turkey! The stories from these times could fill a book, I have no doubt.
Molly had visited her sister in Orillia for years, so picking Orillia as her retirement home base made a lot of sense. She is also a fibre artist, and she knew about Orillia's vibrant arts scene, and wanted to be part of it. In her art, Molly uses thread, yarn, buttons, and found items for their colours and texture.
Molly showed her work at several galleries in Orillia before opening Hibernation Arts in 2018. Why Hibernation Arts?
"I called the gallery Hibernation Arts because, after being out of Canadian winters for so long, the first couple of winters made me say, 'Not going out today. Or next week. Or next month.' Fortunately, I am more used to it now," she says.
Currently, quite a few artists are showing at Hibernation Arts: Jon Oelrichs, Nicole Rulff, Tammy Henry, Cheryl Sartor, Terry McIntosh, Karen Hollinger, Gayle Schofield, Catherine Cadieux, Barbara Schmidt, and of course Molly herself.
There are also three group shows at the moment: Orillia Fine Arts Association, Zephyr Art Club, and the studio's own group show in lieu of a guest artist (which will resume next month).
"The support of the artists has been crucial in keeping the gallery going, since the gallery does not qualify for government loans or grants," says Farquharson. "In the past, Hibernation Arts hosted poetry readings and local music concerts and hopefully those will resume sooner than later. I also hope to host workshops and classes, once it is safe to do so."
In the meantime, the gallery is open Tuesday to Saturday, from 11 a.m. to 4 p.m. It is a cozy spot to enjoy a chat and view (and purchase) some beautiful works of art, locally and hand made, with care.
Molly adds, "The people in the Arts District hope to do the Art Walks again this summer (and hopefully the slogan is Meet Me Downtown to include other businesses). Last summer's Art Walks were a wonderful opportunity for people to get out safely to enjoy the vibrant art scene."
Don't wait until summer, do stop by Hibernation Arts and the other galleries in the Arts District today!
Speaking of galleries, Peter Street Fine Arts Gallery and Studio at 23 Peter St. S., has a guest artist for the month of March, Tammy Robinson. Tammy uses oil paint and sand to infuse her large landscape work with rich colour and textures. Her work is on display for the whole month, so drop by and check it out!
In other arts news, the Orillia Opera House is partnering with The Oakville Centre and Ontario Presents to help keep music alive until everyone can safely gather once again. The trio is presenting five virtual concerts for your enjoyment, starting on Friday, March 5.
Each concert features a wonderful Canadian musician and is presented at a nominal cost. Friday, March 5, The Spoons will put on a great show for anyone who buys a $15 ticket. The concerts following are: Royal Wood on March 12, Men Behind the Music: The Beatles, on March 20, Molly Johnson on April 17, and finally, Whitehorse on May 8. All concerts start at 8 p.m.
Tickets prices range from $10 to $20 per household. Tickets can be scooped up here; the presale code is Orillia. Enjoy these wonderful events from the safety of your living room, and help keep the music alive!
In other fun virtual events, Lakehead University's Office of Community Engagement and Lifelong Learning (yes that is a mouthful), is partnering with Mariposa Arts Theatre (MAT) and presenting Tea with the Dames!
As part of this hilarious event, you can watch some of the best dames around today, Maggie Smith, Judi Dench, Eileen Atkins and Joan Plowright, in a wonderful British documentary, Tea with the Dames, before Sunday, March 14 at 4 p.m., when you will be zoomed in to a discussion and cuppa with some of MAT's own dames and gents, talking about this amusing and quirky film.
You will also help celebrate one of Orillia's own dames, Sue Mulcahy, on her 100th birthday, in this enjoyable afternoon. For $20 tickets and more information, click here.
Creative Nomad Studios (CNS) is fully embracing the virtual world we are all living in currently, and has several events online each week, while hitting pause on other, in-person events they were hoping to produce in March and April. If you bought a ticket for those events already, don't worry, tickets will be honoured when it is safe and allowable to have in-person events again.
In the meantime, CNS is presenting Colour Theory for Artists Part 2 on Thurs. March 4 at 2:30 p.m., on YouTube. This is a free workshop, so don't hesitate to jump in live, or enjoy later at your leisure, through this link.
On March 5 at 7 p.m. CNS presents another virtual paint night with Steph Whalen, Lone Pine. This workshop is only $10 plus materials, and you will have a beautiful and unique work of art at the end of the night! Click here to sign up for this workshop, and if you need supplies, there is a link there to purchase through curbside pick up at CNS.
Lastly, CNS presents Let's Try Water Soluble Inks, a free workshop live on YouTube March 4 at 1 p.m. Check it out here, live or later. Way to go CNS, for working with what you have and presenting a great variety of fun and interactive workshops!
Finally, another shout out to the Orillia Public Library (OPL). Not only have they been presenting great virtual programming, pivoted quickly to do curbside pick up, supported our seniors, and been a great source of tech support, they are also addressing problems of systemic racism in our culture and in their history.
Check out this statement that OPL put out on Mar. 2:
"The Orillia Public Library recognizes that libraries are rooted in a history of colonialism, anti-Black racism, and white supremacy. While we have always strived to be welcoming and inclusive, we're now examining our role within a system that creates and perpetuates inequality in our community. OPL will prioritize anti-racism work in our 2021-2024 Strategic Plan by working with Orillia's BIPOC community to identify gaps and eliminate racial and social equity barriers in library programs, services, policies and practices. We look forward to better serving our entire community and we're ready to put in the work to do so."
Kudos to you, OPL!
And kudos, so much, to all of our small businesses, live music, culture, art, and more, who are suffering right now. We support you.
Send your arts news to annaproctor111@gmail.com by Tuesdays at noon to be included in this column.