$10bn James Webb Space Telescope unpacked in Kourou – BBC News
Engineers have unboxed the James Webb Space Telescope in French Guiana and will now prepare it for launch.
The $10bn successor to the Hubble observatory arrived at Europe's Kourou spaceport five days ago after being shipped from the US.
It's now been relieved of its transport container and raised into the vertical to allow preflight checks to begin.
JWST is one of the grand scientific projects of the 21st Century and will ride to orbit on 18 December.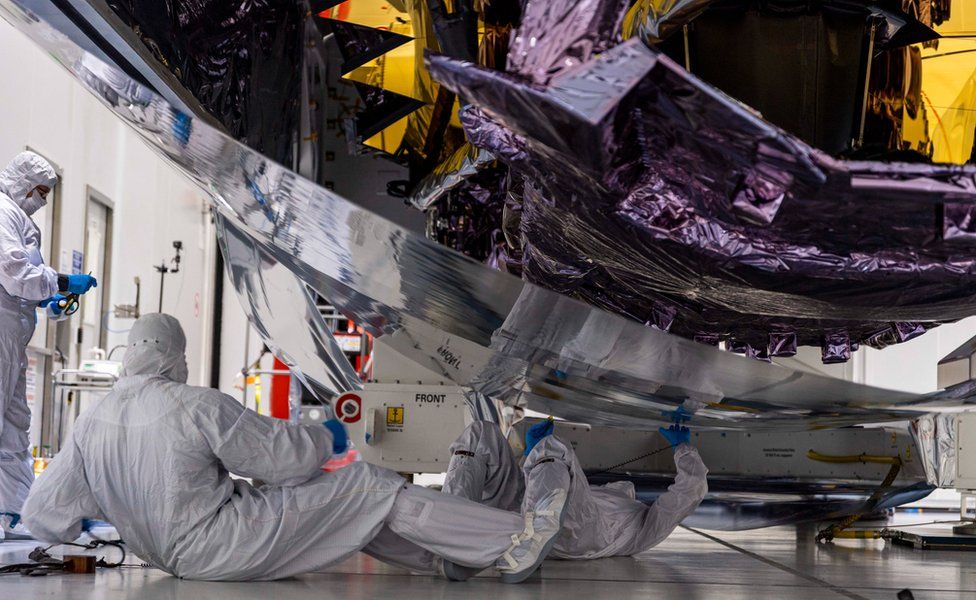 An Ariane-5 rocket will throw the telescope out to an observing position about 1.5 million km from Earth.
From there, it will look deeper into the cosmos – and thus further back in time – than is possible with Hubble.
It will do this with a much bigger mirror (6.5m in diameter versus 2.4m) and instruments that are tuned to the infrared.
Scientists hope this set-up can detect the light from the very first population of stars in the Universe to switch on more than 13.5 billion years ago.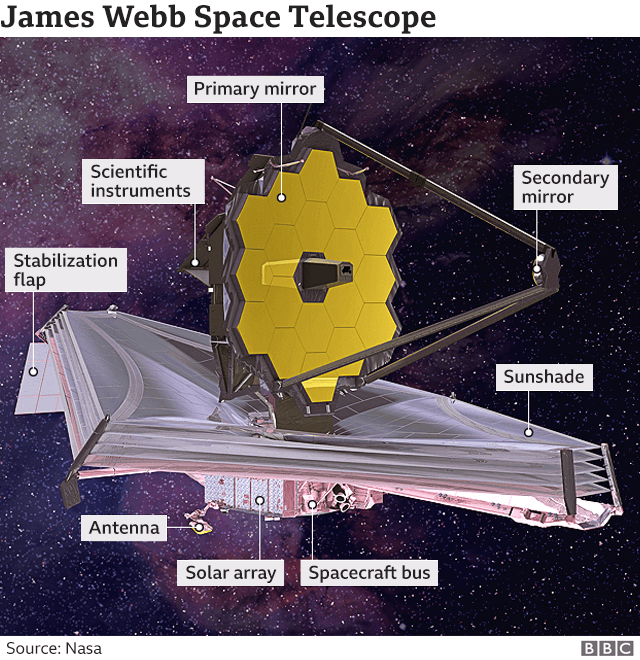 JWST is a joint venture between the US (Nasa), European (Esa) and Canadian space agencies (CSA).
It's taken more than three decades from the original conception to get to this point.
Final assembly and testing was completed in August at the Northrop Grumman factory in Redondo Beach, California, after which the telescope was made ready for a 16-day, 2,500km journey by sea to French Guiana, a trip that took the observatory through the Panama Canal.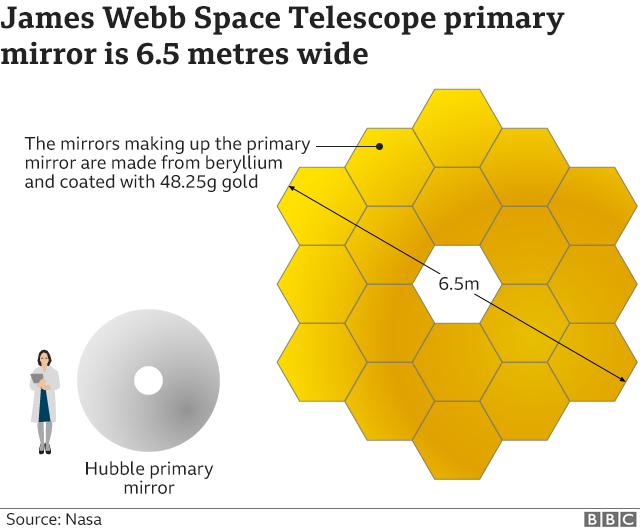 Teams at Europe's spaceport will first inspect JWST to confirm no damage was picked up in transit. The telescope will then be fuelled and mated to the Ariane 5.
Recent weeks have seen cargo planes arrive in French Guiana with the tools and support equipment needed to work on Webb over the coming weeks.
A key milestone in the preparations comes this Friday when another Ariane-5 is due to launch two communications satellites from Kourou. This has to take place to free up the launch table on which Webb's rocket will be integrated.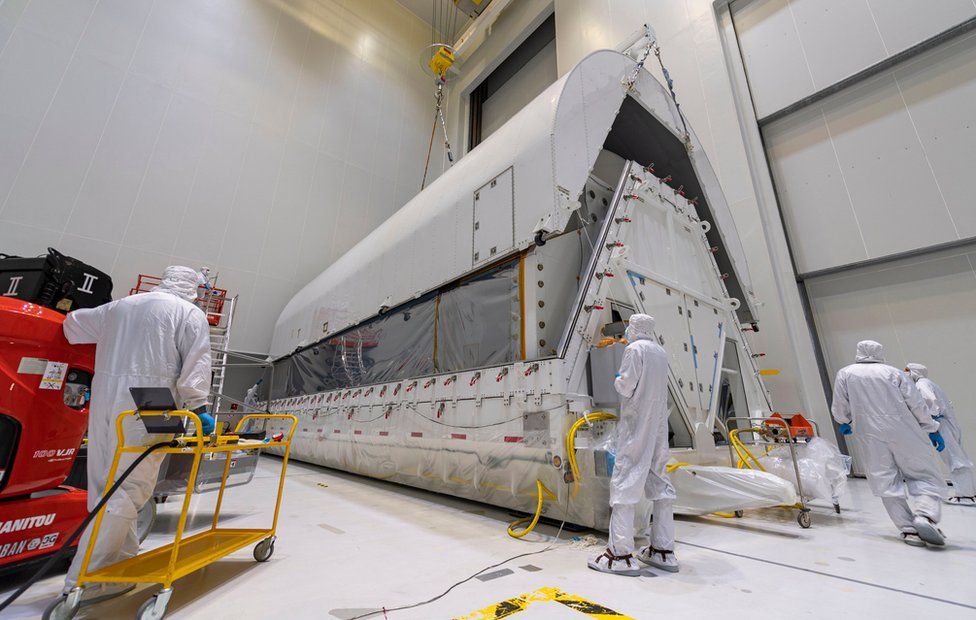 Hubble Looks at Spiral Galaxy NCG 7329 – Sci-News.com
The NASA/ESA Hubble Space Telescope has captured an amazing photo of the spiral galaxy NCG 7329.
NCG 7329 was first discovered by the English astronomer John Herschel on July 20, 1835.
Otherwise known as ESO 109-12, IRAS 22369-6644 and LEDA 69453, it resides 149 million light-years away in the constellation of Tucana.
The galaxy is a member of the NGC 7329 group (LGG 462), an assembly of more than 10 galaxies bound together by gravity.
This new image of NCG 7329 is made up of observations from Hubble's Wide Field Camera 3 (WFC3) in the infrared and optical parts of the spectrum.
"Creating a colorful image such as this one using a telescope such as Hubble is not as straightforward as pointing and clicking a camera," Hubble astronomers said.
"Commercial cameras will typically try to collect as much light of all visible wavelengths as they can, in order to create the most vibrant images possible."
"In contrast, raw images collected by Hubble are always monochromatic, because astronomers typically want to capture very specific ranges of wavelengths of light at any time, in order to do the best, most accurate science possible."
"In order to control which wavelengths of light will be collected, Hubble's cameras are equipped with a wide variety of filters, which only allow certain wavelengths of light to reach the cameras' CCDs (a CCD is a camera's light sensor — phone cameras also have CCDs)."
"How are the colorful Hubble images possible given that the raw Hubble images are monochromatic? This is accomplished by combining multiple different observations of the same object, obtained using different filters," they added.
"This image of NCG 7329, for example, was processed from Hubble observations made using four different filters, each of which spans a different region of the light spectrum."
"Specialized image processors and artists can make informed judgements about which optical colors best correspond to each filter used."
"They can then color the images taken using that filter accordingly."
"Finally, the images taken with different filters are stacked together, and voila!"
"The colorful image of a distant galaxy is complete, with colors as representative of reality as possible."
SpaceX Tapped For 3 More Possible Commercial Crew Flights To Space – Forbes
SpaceX's Crew Dragon is just going to get busier shuttling astronauts in the coming years.
NASA announced it intends to issue a sole-source modification to SpaceX's long-term contract to send astronauts to the International Space Station. This follows an agency call for proposals back in October for more flight options to send people to space.
Boeing's Starliner spacecraft, which is the other major system, is not quite yet ready for humans following a difficult uncrewed test flight in 2019 that never saw the spacecraft reach the ISS. Starliner has spent some time fixing computer glitches and other issues (including a valve problem that delayed an expected 2021 launch) and is now expecting a second uncrewed test flight by 2022.
The October solicitation, NASA noted, confirms SpaceX is the only viable choice for the time being, given the agency's safety requirements and the need to keep the space station staffed continuously in the coming years.
"It's critical we begin to secure additional flights to the space station now so we are ready as these missions are needed to maintain a U.S. presence on station," Kathy Lueders, associate administrator of NASA's space 0perations mission directorate, said in a blog post. "Our U.S. human launch capability is essential to our continued safe operations in orbit and to building our low-Earth orbit economy."
NASA stated it would use these new flights "as early as 2023", and that the contract (in securing flights and allowing the agency to task personnel elsewhere) will help them get Boeing's Starliner system ready to fly astronauts once it's been certified.
"NASA and Boeing will provide additional updates on the status of Starliner's next mission as we work through the investigation and verification efforts to determine root cause and effective vehicle remediation," said Phil McAlister, director of commercial spaceflight at NASA, in the same statement.
The latest issue holding up the flight was an oxidizer isolation valve that was found in August, and NASA and Boeing together elected to pull the spacecraft back to the hanger to figure out how to fix the issue before sending the spacecraft aloft.
Another pressing issue for NASA's future will be extending the planned retirement of the ISS from 2024 to at least 2028, which the agency has said for years it wants to do. It is in negotiations with Congress and with its international partners to do this, and in the meantime, last week the agency also announced it has secured three early-stage contracts for future private space stations to fly late in the 2020s.
See what food challenges astronauts face in space – CGTN America
For the first time ever, NASA and the Canadian Space Agency hosted the Deep Space Food Challenge.
The competition brought universities and companies together to propose solutions on how to feed astronauts on a long mission. Last month, NASA announced that the winners and one of the international winners of the Phase 1 competition came from a group of students in a university in South America.
CGTN's Michelle Begue reports Colombia.
[embedded content]