2021 Ford F-150 Raptor vs. 2021 Ram 1500 TRX: Compare Trucks – The Car Connection
The Ford F-150 Raptor has been roaming the planet for years, unchallenged and unrivaled. That all changed last year when FCA (now Stellantis) shoved the Dodge Hellcat's supercharged V-8 engine into a pickup truck to create the Ram 1500 TRX. Ford responded by launching a new Raptor today.
Both the 2021 Ford F-150 Raptor and 2021 Ram 1500 TRX feature blown engines with lots of power, long-travel suspension, big off-road tires, and the ability to go off-road at high speeds.
2021 Ford F-150 Raptor
2021 Ford F-150 Raptor
2021 Ram 1500 TRX
2021 Ram 1500 TRX
The regular 2021 Ford F-150 and its TCC Rating of 6.5 bests the regular 2021 Ram 1500's TCC Rating of 6.0 but the Raptor and TRX are different beasts. The concept and most of the execution of morphing the F-150 into a Raptor and a Ram 1500 into a TRX is similar, yet there are key differences.
Both these pickup trucks feature forced induction under the hood to create immense amounts of power, but the two trucks go about it differently. The Ram 1500 TRX is powered by a supercharged 6.2-liter V-8 that generates 702 hp and 650 lb-ft of torque. The 2021 Ford F-150 Raptor is powered by a twin-turbocharged 3.5-liter V-6. Ford hasn't said how much power the 2021 Raptor makes, yet, but it likely will surpass the 2020 model's 450 hp and 510 lb-ft of torque. A Raptor R with a V-8 will arrive for 2022 to shake things up and take away the TRX's cylinder-count advantage.
Both trucks feature full-time four-wheel drive with 2-speed transfer cases and an electronic rear locking differential for sticky situations. But the Raptor takes things one step further, and might just take things further down the trail thanks to an available Torsen front limited-slip differential. The TRX has an 8-speed automatic transmission while the Raptor has 10 forward gears.
2021 Ram 1500 TRX
The Raptor doesn't have EPA fuel economy ratings, yet, but the outgoing model had not so good ratings of 12 mpg city, 18 highway, and 16 combined. The TRX chugs gas with ratings of 10 mpg city, 14 highway, and 12 combined. Turns out having fewer cylinders is a good thing when it comes to feeding the beast. Both like to drink the good stuff, 91 octane.
While the twin-turbo V-6 in the Raptor sounds good, the supercharged V-8 in the TRX will wake the dead. The TRX wins the cylinder count, battle of the (power) bands, and likely the power output, with ease.
The outgoing 2020 Raptor ran from 0-60 mph in 5.1 seconds, according to Ford. Expect the new one to match that or improve slightly upon it. The TRX can run from 0-60 mph in 4.5 seconds. We'll see if it holds the line against the forthcoming Raptor R.
Around town the TRX is hilariously audacious to drive. It towers over other vehicles. It could scare the neighbors (or tick them off) on cold starts. Mash the throttle and the front end jumps up while the rear end squats on its soft active shocks as it shifts all that 6,350-pound weight to lunge forward with gut-dropping acceleration.
We'll see how the redesigned Raptor compares when it goes on sale later this summer.
TRXs ride on 18-inch aluminum wheels wrapped in 35-inch Goodyear all-terrain tires. The Raptor rides on smaller 17-inch wheels wrapped in 35- or 37-inch tires (the latter is optional). Both trucks can be optioned with bead-lock capable wheels and both are going to get you where you want to go.
2021 Ford F-150 Raptor
2021 Ram 1500 TRX
The trucks ride on long-travel suspension and a five-link setup with coil springs in the rear. The TRX has an impressive 13-inches of front-wheel travel and 14-inches in the rear, but the Raptor tops it with 14-inches front and 15-inches of rear-wheel travel. Raptors ride on electronic Fox racing shocks while TRXs ride on Bilstein e2 Blackhawk active dampers. The concept with both sets of shocks is the same, using variable compression and resistance to overheating while going over off-road whoops at high rates of speed. In day-to-day driving both will provide a soft ride that mops up the imperfections in the road. We'll get a better sense of the Raptor's latest refinements this summer, but there are no losers when it comes to suspension tech here.
Dimensionally the trucks are similar with four full doors and 12-foot wheelbases. The Raptor is slightly wider at 8 feet to the TRX's 7.3-foot width, but the TRX's 5-foot-7 bed is slightly longer than the Raptor's 5-foot-5 bed.
Despite their suspension setups being designed to tackle Baja instead of the job site, the TRX and Raptor are both capable of doing work when duty calls. The TRX hauls a maximum payload of 1,310 pounds and tows up to 8,100 pounds. The Raptor tops that with a payload capacity of 1,400 pounds and towing capability of 8,200 pounds.
The Ram TRX and Ford Raptor both look mean and tower over other large trucks. They are wider, angrier versions of their lesser, more work-oriented selves. When a car or crossover SUV sees a Raptor or TRX coming up on its rear bumper it just might scare the driver into moving out of the way. The TRX and Raptor swallow a Nissan Rogue in their shadows. The F-150 is more brick-like with a blocky, punched-out stance, while the TRX is more swept back with curves.
2021 Ford F-150 Raptor
2021 Ram 1500 TRX
2021 Ram 1500 TRX
Inside these trucks seat five comfortably, though the rear seat backs on the Ram recline for even more comfort on long road trips. The front seats in both trucks are oversized and aggressively bolstered to hold occupants still during high-speed off-roading adventures.
Both trucks are filled to the brim with features such as LED lighting, 12.0-inch touchscreen infotainment systems, heated and cooled seats, adaptive cruise control, and automatic emergency braking. One distinct difference is the Raptor features a 12.0-inch digital gauge cluster while the TRX features an analog gauge cluster with a 7.0-inch digital information screen between the gauges. Old-school vs new-school.
Neither of these trucks are cheap, and Ford hasn't announced pricing on the 2021 F-150 Raptor. But the outgoing 2020 Raptor crew cab cost $58,135. The 2021 Ram 1500 TRX costs significantly more at $71,690 because of the Hellcat motor and the upgrades that go with it. More power, more cylinders, more money.
2021 Ram 1500 TRX
Of course, both of these trucks are highly capable, fast, and powerful. The TRX is a blunt hammer with all the power, all the brawn, all the cylinders, all the noise, fire, and fury. The Raptor feels like a slightly smarter, more modern, solution with the smaller displacement engine that delivers a truck that is nearly as quick, though far less visceral and angry.
The TRX represents one of the true peaks of an end of an era, and what might become the one of the last of its kind. Ford clearly knows and acknowledges this because the Raptor R is coming next year with a V-8, even if in some weird and twisted way the Raptor seems like the slightly more reasonable and smarter choice today with the twin turbo-6.
Which one is best? We'll have to wait and see. On paper the 2021 Ford F-150 Raptor is as capable and well equipped as the 2021 Ram 1500 TRX while likely costing thousands less. But, it has a power—and cylinder—deficit, for now, and for some that matters.
The Raptor finally has a true competitor, and competition makes everyone better.
Google, Samsung help Android developers sync fitness data between apps – Deccan Herald
Google and Samsung have joined hands to give developers an opportunity to sync users' health and fitness data between Android apps and their devices.
Called 'Health Connect', the platform and API (application programming interface) are for Android app developers to securely access users' health data.
With user permission, developers can use a single set of APIs to securely access and share health and fitness data across Android devices, Google said in a statement.
"We're building this new unified platform in collaboration with Samsung to simplify connectivity between apps" to foster richer app experiences while also providing centralised privacy controls for users," the tech giant added.
Google is working with developers including MyFitnessPal, Leap Fitness, and Withings as part of an early access programme.
In addition, Samsung Health, Google Fit, and Fitbit are adopting Health Connect. All developers can get access to Health Connect's common set of APIs for Android via Android Jetpack," the company informed.
'Health Connect' supports many common health and fitness data types and categories, including activity, sleep, nutrition, body measurements, and vitals like heart rate and blood pressure.
"The users will have full control over their privacy settings, with granular controls to see which apps are requesting access to data at any given time," said Google.
The users will also have the ability to shut off access or delete data they don't want on their device, along with an option to prioritise one data source over another when using multiple apps.
Oppo Reno 8 Series Launch Officially Set for May 23 in China – Beebom
Oppo is all set to unveil its new Reno 8 series to succeed last year's Reno 7 lineup next week. The company has revealed that it will host an online event on May 23 in China to introduce the Oppo Reno 8 mid-range phones, which are expected to boast good looks, various camera-centric features, and more. Here's what to expect.
Oppo Reno 8 Series Launching This Month
Oppo announced this information via a recent Weibo post. It is also revealed that the Reno 8 series will launch in China at 7:00 local time (4:30 pm IST). The company has also shared a short teaser for the same, but it doesn't tell us anything about the devices.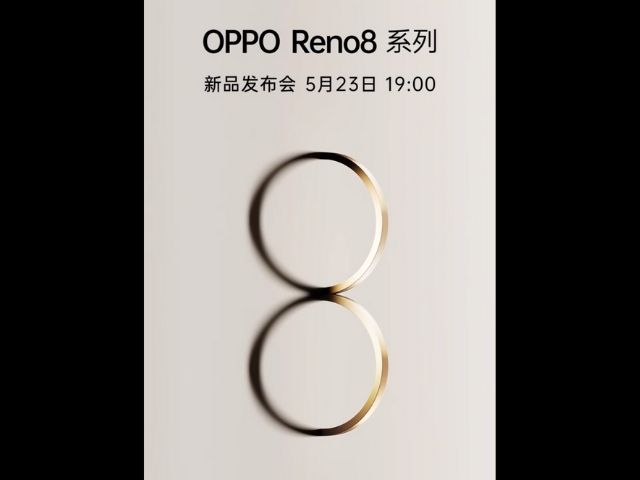 Although, it is suggested that the Reno 8 series will consist of the Reno 8, the Reno 8 Pro, and the Reno 8 SE. A recent leak tells that the Reno 8 Pro will be powered by the Snapdragon 7 Gen 1 chipset, which is expected to be introduced at the Snapdragon Night event on May 20. The Reno 8 could be equipped with a MediaTek Dimensity 8100 SoC, paired with LPDDR5 RAM and UFS 3.1 storage.
It is also reported that the Reno 8 will feature a 6.55-inch Full HD+ AMOLED display with a 120Hz refresh rate. Three rear cameras, including a 50MP Sony IMX766 main camera, an 8MP ultra-wide camera, and a 2MP macro camera, along with a 32MP selfie shooter are also expected. This variant is also likely to be backed by the MariSiliconX NPU.
The Reno 8 is also slated to come equipped with a 4,500mAh battery with support for 80W wired fast charging, much like the OnePlus 10 Pro. This will be a first for an Oppo phone. Other details regarding the Reno 8 series remain unknown. We also don't have an idea of what interesting camera features it will feature. Plus, the design is still a mystery, and our best guess is a center-placed punch-hole screen, and maybe, some design changes too.
While the Reno 8 and the Reno 8 Pro could fall in the upper mid-range price bracket, the Reno 8 SE could be a more affordable offering. That said, proper details still aren't out, and hence, it's best to wait for the launch event to get a better idea. We will keep you in the loop. So, stay tuned for more information.
Featured Image: Representation of Oppo Reno 7
Apple iPod is dead, but check out these iPod alternatives- from Walkman to Mighty Vibe – HT Tech
Apple has discontinued its long-running music player iPod! However, these iPod alternatives are worth checking out.
After a remarkable journey of 21 years, the Apple iPod is no more! Earlier this week, Apple announced the discontinuation of the iPod. It was October 23, 2001, when Apple introduced the first original iPod- the first MP3 player in the world that could load 1000 songs. All that was fancy within a pocket-sized device. It became one of the most iconic products by Apple. This original iPod used to feature a FireWire port to connect to a Mac, and it sold for $399 at that time. And after that, the world has seen various iPod generations come and go. In 2022, Apple added a capacitive-sensing Touch Wheel with click buttons around the sides in the iPod, while its third gen iPod featured a Dock connector. Also Read: Apple iPod is NO more! A flashback at this revolutionary gadget changed the world!
By 2005, Apple expanded the colour display to all models of iPod as well as video capabilities. Over years, the Apple iPod kept on being launched in new avatars. iPod Touch came out in 2007 along with the iPhone. Then in 2009, iPod Classic was Apple's final iPod at that size, and it featured a 160GB hard drive, a Click Wheel, and a widescreen colour display. Now, in 2022, the Apple iPod looks to have lost its essence as its features are now available in almost every Apple device, from iPhone, iPad to even Mac. In fact, Apple Music can be accessed via every other Apple device now. Also Read: iPod is now officially DEAD! Apple kills its superhit gadget after 20 years
Also read:
Looking for a smartphone? To check mobile finder click here.
So, the Apple iPod may be dead but you can still find some top iPod alternatives in the market. If you are a music lover, then these devices will definitely surprise you with their build quality and performance. Here, we have listed some of the iPod alternatives that you can consider now.
Apple iPod alternatives
Sony has been making its own portable audio players for decades with the series named Walkman! Actually, the original Walkman was a portable cassette player, but with its popularity, Walkman has now been converted into an audio player. There are several models that you can buy. Sony NW-A105 Android Walkman with high resolution audio, touch sensor and 26 hours of battery life is available on Amazon at the price of Rs. 21,990. Yes, that is steep, but the Walkman is as iconic a product as Apple iPod was.
Astell & Kern AK Jr
Astell & Kern offers a wide range of mp3 music players. Astell & Kern AK Jr offers high resolution audio, anytime and anywhere. It has a 3.1-inch display size which makes it pocketable along with 9 hours of playback time. It comes with 64GB external memory that supports file formats including WMA, MP3, ALAC, APE(Normal, High, Fast), WAV, FLAC, AIFF, DFF, DSF, OGG, AAC.
Mighty Vibe Spotify and Amazon Music Player
There is another music player which resembles the iPod Shuffle, the Mighty Vibe which plays Spotify playlists and podcasts for phone as well as data free music listening. It can store 1000 plus songs.