2021 NHL Season Predictions: Standings, Playoffs and Awards – Mile High Hockey
With the 2021 NHL season upon us, it's time for the obligatory predictions. The Colorado Avalanche enter the season as the betting favorite to win the Stanley Cup and by all accounts, the team is embracing it. They're a skilled team led by a superstar, a budding Norris Trophy candidate and have a supporting cast that is significantly deeper than last season. That said, anything can happen in an NHL season, particularity one with as many unknowns as this one.
With new divisions, the Avalanche will be doing a ton of traveling this season and they will be counting on their goalies to both stay healthy, and provide a solid backstop for a talented but young defense group.
With a ton of league-wide roster movement over the past few months, this promises to be an incredibly exciting season both in Denver and around the NHL. For the record, I did nail my prediction of Tampa Bay Lightning over the Dallas Stars for the Stanley Cup in my preseason predictions last year.
Now let's let's see if I can get close again this season.
Standings
Honda West Division
Colorado Avalanche
Vegas Golden Knights
St. Louis Blues
San Jose Sharks
Minnesota Wild
Arizona Coyotes
Anaheim Ducks
Los Angeles Kings
Scotia North Division
Toronto Maple Leafs
Winnipeg Jets
Calgary Flames
Edmonton Oilers
Vancouver Canucks
Montreal Canadiens
Ottawa Senators
MassMutual East Division
Philadelphia Flyers
Washington Capitals
Pittsburgh Penguins
Boston Bruins
Buffalo Sabres
New York Rangers
New Jersey Devils
New York Islanders
Discover Central Division
Tampa Bay Lightning
Carolina Hurricanes
Florida Panthers
Nashville Predators
Dallas Stars
Columbus Blue Jackets
Detroit Red Wings
Chicago Blackhawks
Playoffs
With re-alignment and a new format for the playoffs, we still don't know exactly how the postseason tournament will be structured. With that in mind, I am picking Toronto, Washington, Colorado and Carolina as the final four.
The Avalanche make a run but it will be Washington over Colorado for the Stanley Cup.
Awards
Hart Trophy: Nathan MacKinnon (runner up: Auston Matthews)
Art Ross Trophy: Nathan MacKinnon (runner up: Connor McDavid)
Richard Trophy: Andrei Svechnikov (runner up: Auston Matthews)
Norris Trophy: Jaccob Slavin (runner up: Miro Heiskanen)
Calder Trophy: Jack Studnika (runner up: Josh Norris)
Vezina Trophy: Ilya Samsonov (runner up: Tristan Jarry)
Jack Adams Award: Alain Vigneault (runner up: Jared Bednar)
Selke Trophy: Anthony Cirelli (runner up: Sean Couturier )
Lady Byng Trophy: Jonathan Marchessault (runner up: Mitch Marner)
Ted Lindsey Award: Nathan MacKinnon (runner up: Auston Matthews)
If you want more of my spicy prognostications, check out my 10 Bold Predictions for the 2021 NHL season, here.
Ehlers scores OT winner as Jets rally for win over Senators – TSN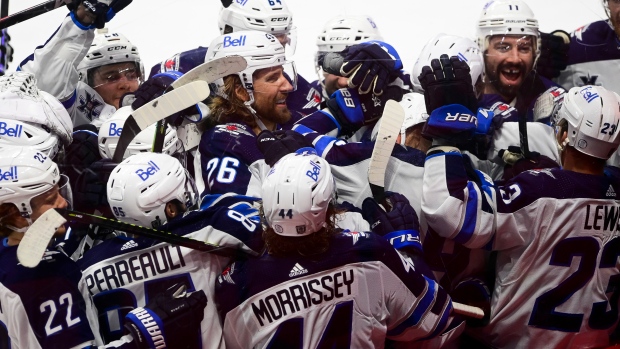 OTTAWA — Nikolaj Ehlers and the Winnipeg Jets have yet to lead a contest in regulation and yet they've won two of their three games to start the NHL season.
Ehlers scored in overtime as Winnipeg twice rallied from a two-goal deficit en route to a 4-3 win over the Ottawa Senators on Tuesday night.
The Jets (2-1-0) opened their season Thursday night with a 4-3 overtime victory over the Calgary Flames and were coming off a 3-1 loss Monday night to the Toronto Maple Leafs.
Ehlers scored his first goal of the season at 2:20 of overtime, moments after Winnipeg goalie Laurent Brossoit made a nice stop on Ottawa's Drake Batherson. Blake Wheeler forced overtime for the Jets, scoring with 1:17 remaining in regulation with Brossoit on the bench for the extra attacker — a goal originally credited to Josh Morrissey before an official scoring change switched it to the Winnipeg captain.
"It (winning despite not leading in regulation) shows we don't give up," said Ehlers. "We battled our (butts) off to stay in the game . . . it feels good to have the two points."
Ehlers heaped lavish praise upon Brossoit, who got the start after Connor Hellebuyck played Monday night.
"He kept us in the game," Ehlers said. "They had a lot of good open chances, especially the last one there before our goal.
"We know we've got two goalies back there that keep us in games and do a great job. We're trying to do our best to limit the shots they get, but if they play the way they're playing right now, we're happy."
Added Winnipeg coach Paul Maurice: "He (Ehlers) can be so dangerous, such a dynamic player late in a game, just the speed to get into that hole and then make the play that finishes it,. We need him to feel confident and healthy and strong and when he is he's just so very dynamic."
Adam Lowry and Kyle Connor also scored for Winnipeg, which was outshot 41-28 in the contest.
"I guess you should wrap all of us up in our goaltending," Maurice said. "That's the key in our game, our goaltending has been outstanding."
Josh Norris, Chris Tierney and Alex Galchenyuk scored for Ottawa (1-1-1).
The game was the first of three in five days between the two clubs. They'll square off again in the nation's capital Thursday night before returning to Winnipeg on Saturday.
Winnipeg was minus forward Patrik Laine (upper-body injury) for a second straight game. He's listed as day to day.
Rookie forward Tim Stutzel, who's dealing with a nagging minor injury, didn't play for Ottawa. The third overall selection in the 2020 NHL draft, who has a goal through two games with the Senators, is also considered day to day.
Maurice said Tuesday's game was an indication of just how important it is for a team to continue playing hard and believing in the process, regardless of the score. Ottawa controlled much of the play and held leads of 2-0 and 3-1 but couldn't break Winnipeg's will.
"That's the most important piece for any team, that the score on the clock doesn't dictate your effort level and your compete level," Maurice said. "The late comeback wins have a really nice impact on your team.
"You carry those for a number of games. You always feel that you have a chance."
Ottawa dominated the first, outshooting Winnipeg 18-9, and was rewarded with the opening two goals of the contest.
Norris opened the scoring on the power play at 4:41. He registered his first NHL goal when he slid the puck in off Brossoit's skate.
Conner came close to putting Winnipeg on the scoresheet when he fired a shot off the goalpost on the power play. But Tierney put Ottawa ahead 2-0 with a deflection at 10:31 for his second of the season.
Lowry pulled Winnipeg to within 2-1 at 18:09. He deflected Neal Pionk's shot from the point past Matt Murray — making his third straight start in goal for Ottawa — for his first of the year.
It was more of the same in the second as Ottawa outshot Winnipeg 14-8 in the period and went back ahead by two goals at 11:47 of the second on Galchenyuk's power-play blast. It was his first of the season but Winnipeg countered with Connor's goal with the man advantage at 16:12.
It was Connor's third of the season. He's scored in all three Jets games in 2021.
"He's scratching the surface here," Maurice said of Connor. "He hasn't been lucky in his start and he's putting up great numbers."
This report by The Canadian Press was first published Jan 19. 2021.
Report: Blue Jays still trying to sign outfielder Michael Brantley – Sportsnet.ca
With George Springer secured, the Toronto Blue Jays are still trying to sign free-agent outfielder Michael Brantley, according to Ken Rosenthal of The Athletic.
Brantley is represented by the same agency as Springer and the pair were teammates for two seasons with the Houston Astros.
Blue Jays president Mark Shapiro and general manager Ross Atkins have history with Brantley when they were in Cleveland. Shapiro acquired the now 33-year-old in the CC Sabathia trade with the Milwaukee Brewers in 2008.
Brantley, 33, batted .300/.364/.476 with five home runs and 22 RBI in 46 games with the Astros last season.
Report: Blue Jays, George Springer closing in on contract – Sportsnet.ca
The Toronto Blue Jays are closing in on signing star outfielder George Springer, MLB Network's Joel Sherman reports.
Sherman adds that while a deal between the two sides is not done, "optimism is strong."
Springer, 31, is widely considered the best free agent hitter on the market and one of the outfielders in baseball. He joins the Jays after spending his entire seven-year career with the Houston Astros and brings three All-Star appearances, two Silver Slugger awards and a World Series MVP award on his resume.
Last season with Houston he hit .265/.359/.540 with 14 home runs and 32 RBIs.