4 Reasons More Canadian Kids Should Learn to Code
It's no secret that coding has become one of the most essential skills Canadians need to develop if they want to understand the modern world. And there is no time to develop these skills like childhood, when the mind is a sponge for new information.
Coding education designed specifically for younger children has never been more accessible, so if you have been on the fence about whether or not coding courses are a good idea for your children, here are four reasons why kids can benefit from learning to code early on.
1. Coding is the New Literacy
Primary school curricula are designed around building a strong knowledge foundation that kids will be able to build on during their secondary and post-secondary years and for the rest of their lives. To this end, a huge amount of time is spent on the basic literacy skills that are the building blocks for modern education.
Many experts have begun to argue that coding is the new literacy insofar as it is increasingly essential if children are to understand the world around them and be prepared for future careers, so getting hands-on experience with the basic principles of coding before entering high school can give kids a major head start.
2. Coding is Fun
Coding might be an essential skill for life in the twenty-first century, but it's also a lot of fun. Learning a coding language like C++ or JavaScript gives children the building blocks they need to start creating their own programs, and knowing that popular games like World of Warcraft and Angry Birds were programmed using these languages makes it all the more interesting.
If you want to give your kids a nudge into the world of coding, enrolling them in online coding classes for kids that will give them real experience with professional coding languages is a great place to start.
3. Coding Helps Kids Develop Problem Solving Skills
One of the things that makes programming such an immersive experience is the way it scratches the same problem-solving itch that makes games so fun. Learning to code in primary school will help children develop these skills early on, and can also serve as a practical complement to the things they are learning in math class.
4. Coding Skills are Under-Represented in the Workplace
Given how important the tech sector has become to Canada's economy, it would be natural to assume there is no shortage of programmers jockeying for all those new jobs. But the reality is that Canada faces a major talent shortage when it comes to filling positions in the world of IT and software development.
And this isn't just a Canadian problem — the United States also has a chronic dearth of coders, with many firms offering huge bonuses to workers with the necessary skills. If you want your kids to have as wide a range of career options as possible, enrolling them in one of the best coding courses Toronto has to offer is a good first step.
Now more than ever, we live in a world that is mediated by electronic communications. Understanding how everything from an automobile to a television set works relies on a basic knowledge of programming.
Giving kids a chance to explore programming early on is a great way to ensure that they have the intellectual tools to grasp the fundamental technologies of our time, so consider signing your kids up for online programming classes for kids this fall.
French iPhone 12 comes in two boxes to accommodate EarPods – GSMArena.com news – GSMArena.com
In 2020 Apple took a stand against unnecessary carbon emissions (and spending money on accessory production) and took away the charger and earbuds from the iPhone 12 and 12 Pro retail package, as well as from that of the iPhone 11, SE (2020) and XR. But France requires manufacturers to ship headphones with phones by law, so Apple had to accommodate the EarPods with its iPhones.
But because Apple's new smaller iPhone retail box is standard across the globe, it packed it inside a bigger box that contains the EarPods. Note that Apple still doesn't include a charger, just the earbuds.

Big box holds EarPods and new standard small iPhone box
Apple advises its customers to use existing chargers and EarPods, but also sells a new $19/€25 20W wired charger and $39/€45 wireless MagSafe charger and has deducted $10 from the price of EarPods – now $19/€19.
[embedded content]
iPhone 12 Models Use Qualcomm's X55 Modem – MacRumors
Apple's iPhone 12 lineup appears to be equipped with Qualcomm's Snapdragon X55 modem, which is in line with rumors that we heard about the new devices prior to their launch.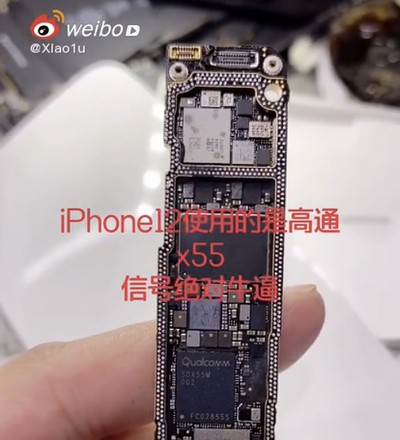 An iPhone 12 teardown video on Chinese social networking site Weibo gives a close look at the L-shaped logic board and the modem chip.
The X55 offers support for both 5G mmWave networks and 5G Sub-6GHz networks, along with 5G/4G spectrum sharing, and it is Qualcomm's second-generation 5G chip after the X50.
Reports in 2019 indicated Apple would use the X55 modem in its ‌iPhone 12‌ lineup, and at the time, the X55 was Qualcomm's fastest and newest 5G modem. Qualcomm in February 2020 introduced the X60 modem built on a 5-nanometer process, which is more power efficient than the 7-nanometer X55.
There was some speculation that Apple could adopt the X60 for the ‌iPhone 12‌ lineup, but the X60 likely came out too late in the ‌iPhone 12‌ development process to be considered for the new devices.
Next year's iPhones will likely use the Snapdragon X60 modem from Qualcomm, which is the third-generation 5G modem chip that Qualcomm has manufactured. It will bring notable performance improvements in terms of battery draw, component size, and connectivity speed because it offers carrier aggregation for combined mmWave and sub-6GHz networks.
Apple used Intel chips for the iPhone 11 lineup, but switched to Qualcomm's technology after it became clear that Intel would not be able to manufacture 5G modem chips. Apple settled a long-running legal battle with Qualcomm to get access to Qualcomm's chip technology.
Early iPhone 12 Teardown Features Smaller Taptic Engine, Magnet Ring and L-Shaped Logic Board – MacRumors
The iPhone 12 and 12 Pro are set to be delivered to customers this Friday, but there are already a few out in the wild. Leaker DuanRui this morning shared a video featuring a short teardown of the new ‌iPhone 12‌, giving us a quick look at the internals.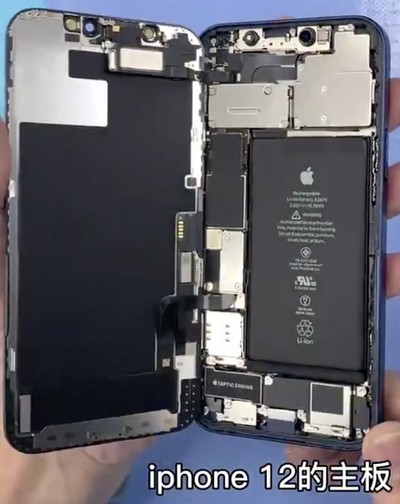 In the video, the ‌iPhone 12‌ is taken apart component by component, with comparisons to corresponding iPhone 11 parts provided. The new ‌iPhone 12‌ has an L-shaped logic board, which we initially saw in a leak in May. The ‌iPhone 12‌ logic board isn't identical to the leaked logic board, so that leaked version is likely from another one of the ‌iPhone 12‌ models.
‌iPhone 12‌ teardown video. pic.twitter.com/XuOJxfuoQh
— DuanRui (@duanrui1205) October 21, 2020
The logic board is longer than the logic board that was used in the ‌iPhone 11‌, and it has the aforementioned L design rather than just a straight design.
There's a 2,815mAh battery in the ‌iPhone 12‌, which was seen in Brazilian regulatory filings last week. Comparatively, the ‌iPhone 11‌ has a higher capacity 3,110mAh battery. Apple lists similar battery lengths for both iPhone models, though, due to efficiency improvements introduced through the A14.
‌iPhone 12‌ pic.twitter.com/4lXm6cs7G3
— 有没有搞措 (@L0vetodream) October 21, 2020
Smaller batteries may have been included because Apple may have needed extra space for the 5G components in this year's iPhones, but there have already been some concerning early tests about faster than normal battery drain when using 5G networks. That's not necessarily a surprise because it's well known that 5G drains battery faster, but it's something ‌iPhone 12‌ and 12 Pro users should be aware of.
The Taptic Engine, which provides haptic feedback, is a good deal smaller in the ‌iPhone 12‌, and the teardown also shows off that magnetic ring that works with MagSafe accessories.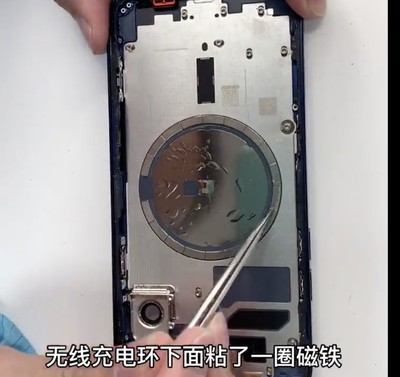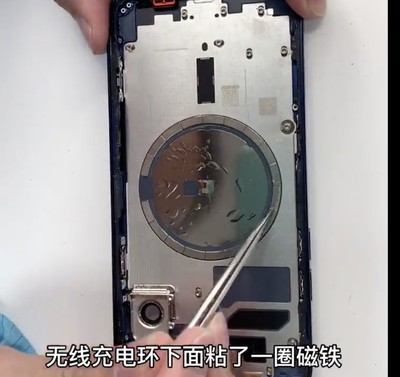 There are also comparisons between other components such as the display, dual-lens camera setup, flash, and more, which those interested can see in the video.
iFixit will have in-depth teardowns of both the ‌iPhone 12‌ and 12 Pro coming in the future, which we can count on seeing after the new devices are released.