5 Ways to Make Wearing a Mask in the Summer More Tolerable – First For Women
Mask mandates have been dropped in offices, grocery stores, and transit hubs nationwide, and as a result many people have (understandably) stopped wearing them. After living through two years of a pandemic, folks are tired of muffled voices, sweaty faces, and fogged-up lenses.
There's been some debate surrounding masks' effectiveness in preventing COVID-19 infection — particularly at the start of the pandemic — but laboratory studies show that masks protect those who wear them.
If you're among those still masking up, you're likely looking for solutions to make masking more comfortable — especially during the warm summer months. Here are five easy tricks to make wearing yours more tolerable.
Ease the Strain of Mask Strings
When you're wearing a mask all day, the ear loops may begin to put a strain on the backs of your ears. Your tender ears will thank you for purchasing some mask clips. There are several options availble, from simple straps with buttons or hooks to silicone and rope accessories.
We like this Candace Cort ear saver, which is clear, bendy, and subtle. Mask extenders can also help you to customize your mask fit (if you, like me, have a head that's far smaller than average). Try this silicone mask extender set from EVGLOW that comes in a variety of colors ($6.99 from Amazon).
De-Fog Your Glasses
If you've ever worn glasses and a mask simultaneously, you know the foggy lens struggle. This problem can range from a mere nuisance to an actual hazard — if you can't see where you're going, it doesn't matter how protected you are from COVID-19. The most effective way to reduce fogging while masking is to improve the seal between the top of the mask and your skin. Masks with adjustable nose-bridge wires (which tend to be the best quality masks anyway, most adept at virus protection) make it easier to close off this seal.
If you have a well-fitting mask that's sealed off at the nose but are still experiencing lens fog, try Ultra Clarifty's Defog kit ($15.99 from Amazon). It's compatible with many different types of lenses; just be warned that it does require frequent reapplication, and you might want to keep a small microfiber cloth on hand to scrub away any vision-blurring streaks.
Make Your Mask Smell Nicer
We've all become intimately familiar with the smell of our own breath over the last two years. Even when you're certain of your minty-freshness, there's something about "mask breath" that's just… unpleasant. To fix this, spritz a nice-smelling refreshing spray in your mask before heading out the door.
Enfusia's mask deodorizer spray ($19.99 from Amazon) is made with pure essential oils — a blend of eucalyptus, spearmint, peppermint, rosemary, lavender, and tea tree. The scent is sure to relax you throughout the day; and even if it doesn't, it's probably better than smelling your breakfast.
Buy a Cute Necklace Chain
If you're like most of us, you periodically take your mask off for a breather and then put it back on when needed. But it's annoying to search frantically for a mask that's lost in your jacket pocket or in the dirty dregs of your handbag. The solution? A cute mask chain. This invention looks like a necklace and functions like an eyeglass chain. It hangs around your neck to ensure your mask rests on your chest like a pair of sunglasses when not in use — and it makes your mask immediately accessible when you do reach for it.
Try the Reuven Designs Gold Face Mask Chain ($14.50 from Etsy), a simple gold chain best-seller with a customizable length. For a classy option that looks like real jewelry, consider the Lima Jewelry Pearl Necklace Chain ($20.64 from Etsy).
Find a Comfortable Fit
Cloth masks are the most breathable options, but health experts don't recommend using them against Omicron. Instead, they suggest wearing an N95, KN95, or KF94 to protect against this more transmissible variant. Surgical masks are slightly better than cloth, and placing a cloth mask on top of a surgical one is more effective than wearing a surgical alone (because it tightens the fit).
KN95s come with ear loops, which are undoubtedly more comfortable to wear than the headstraps of N95s. However, you need to watch out for counterfeit N95s. Get yours from a site like Project N95, the National Clearinghouse for personal protective equipment (PPE) and COVID-19 tests. Their KN95 in stylish black ($14 from Project N95) and N95 ($35 from Project N95) provide the ultimate in protection.
For a more in-depth look at the best kind of masks to protect you from Omicron, check out this thorough breakdown of masks we recommend for the variant. Stay safe out there, and enjoy your summer!
We write about products we think our readers will like. If you buy them, we get a small share of the revenue from the supplier.
iOS 16 Beta 5: Battery Percentage Now Displayed in iPhone Status Bar – MacRumors
With the fifth beta of iOS 16, Apple has updated the battery icon on iPhones with Face ID to display the specific battery percentage rather than just a visual representation of battery level. The new battery indicator is available on iPhone 12 and iPhone 13 models, with the exception of the 5.4-inch ‌iPhone 12‌/13 mini. It is also available on the iPhone 11 Pro and Pro Max, XS and XS Max, and iPhone X.

Battery percent has not been present on iPhones that have ‌Face ID‌ because of the lack of space on either side of the notch that houses the TrueDepth camera hardware. The new design adds the specific battery level to the battery icon, providing a better idea of battery status at a glance.
In iOS 15 and earlier versions of iOS, the battery icon shows a visual of the battery level, but it does not provide a specific percent. To get that information, ‌iPhone‌ users need to swipe down into Control Center or swipe over to the Today center view to see the battery widget.
The battery icon changes colors based on the status of the battery, and the color of the ‌iPhone‌'s wallpaper. When charging, for example, the battery icon is green and shows a charging indicator.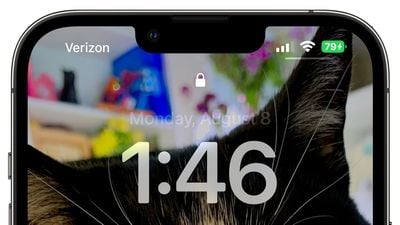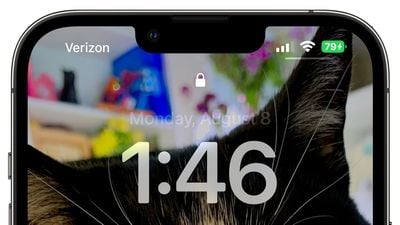 Battery percentage can be toggled on and off in the Settings app in the Battery section. The battery percentage feature appears to be available on most iPhones that have a notch, but it is not an option on the iPhone 12 mini, ‌iPhone 13‌ mini, ‌iPhone 11‌, or ‌iPhone‌ XR perhaps due to space constraints and/or display quality.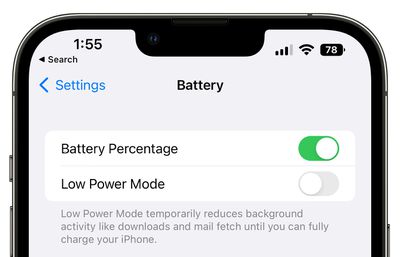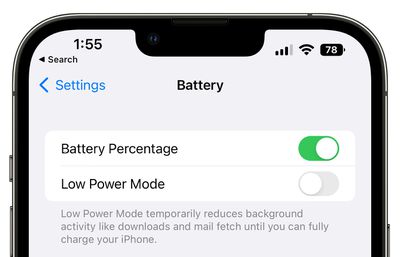 ‌iOS 16‌ beta 5 is available to developers at the current time, and Apple will be releasing a public beta in the near future.
Popular Stories
How to watch Samsung Galaxy Unpacked 2022 in Canada – MobileSyrup
Samsung will hold its next Galaxy Unpacked event today, August 10th, at 6am PT/9am ET.
As usual, we don't know exactly what will be featured there, although it's expected that we'll see the Galaxy Fold 4, Galaxy Flip 4, new Galaxy Watches and more.
Canadians interested in tuning in to the Unpacked 2022 livestream can do so via the Samsung Newsroom, Samsung's website or Samsung's YouTube channel.
It's also worth noting that to coincide with Unpacked 2022, Samsung is offering a $100 e-voucher to use towards your next purchase of any Samsung product. To claim this, you'll need to register through this site and provide some information, including your name, phone number and current device.
What are you looking forward to seeing at Unpacked 2022? Let us know in the comments.
WhatsApp to bring screenshot blocking to THESE types of messages – HT Tech
WhatsApp to now bring the ability to block screenshots to View Once messages. Know when this feature is coming.
WhatsApp is constantly adding new features to enhance the texting experience and these are coming faster than we could get used to them. Lately, the developers have focused on enhancing the privacy for users with a couple of new features. The ability to leave WhatsApp groups silently has draw a lot of attention lately. One can also choose who can see your online status going forward, and who can't. However, there is another new feature that will help those who want to share sensitive media and can't risk someone taking a screenshot of the same.
A while ago, WhatsApp rolled out the ability to send messages that can only be viewed once. The View Once feature currently only allows the media to be shown once but someone can still take a screenshot of the media, thus denying the point of the feature. Now, WhatsApp is modifying the feature, wherein it prevents the ability to take a screenshot. The feature is under development and WhatsApp hasn't revealed the date yet.
WhatsApp to block screenshot
"View Once is already an incredibly popular way to share photos or media that don't need to have a permanent digital record. Now we're enabling screenshot blocking for View Once messages for an added layer of protection. We're testing this feature now and are excited to roll it out to users soon," says WhatsApp in its official blog.
WhatsApp will also reveal more about this and several other features in the days to come via its own campaign. "To spread the word about these new layers of protection, we're also kicking off a campaign to educate people about the new features and our continued commitment to protecting your private conversations on WhatsApp. We hope people enjoy getting to use these new features and benefit from several options that help you keep your messages secure. We look forward to your feedback on what to build next," it says.
Prior to this WhatsApp, recently released the ability to transfer message backups from Android to iOS devices. The same can be done from iOS to Android as well.