A Comprehensive Guide To Starfield's Factions
Starfield, like most other Bethesda RPGs, has several factions that players can choose to align themselves with throughout the game. Though the long-awaited spacefaring RPG has only just come out (unlocking September 1 for buyers of the Premium and Constellation editions, with the full launch coming September 6), there's already plenty of information about Starfield's many factions, and which ones are worth your time.
Diablo IV – Bear Bender Build
As per the Bethesda norm, Starfield lets you join multiple factions at once, and progress along their side-quests for, at least it seems, quite a bit. There are five major factions present, each offering their own unique rewards, storylines, and missions, and a few smaller factions, religions, and corporations that it doesn't appear you can join at the moment. So, which of the five major factions are worth your time? Let's get into it.
Starfield's five major factions
Here are the five factions that, as of the time of writing, you can join in Starfield:
Constellation: It doesn't appear that you have a choice in joining this faction, as it's the main driver of Starfield's story, but nevertheless, Constellation is all about exploration.
United Colonies: The UC is a centralized republic of settled planets, the first of two major human governments in the stars. It's militarized, it's powerful, it's full of bureaucratic red tape, and its long arm of the law is made up of volunteers known as the Vanguard.
Freestar Collective: Think space cowboys, led by space sheriffs called Rangers. Freestar Collective is a collection of separatist systems, with Akila City its capital. The FC broke off from the United Colonies, and Starfield's in-game lore dumps tell us it took a while for them to be officially recognized by the UC.
Crimson Fleet: They're space pirates, simple as that.
Ryujin Industries: Headquartered in the Blade Runner-esque city of Neon, Ryujin Industries is a massive tech corporation that has its fingers in drones, weapons, and spaceships, to name a few.
Aside from Constellation, which you rather unceremoniously join moments after Starfield's opening section, the other four factions require some effort to join. We'll get into that in a moment, but first, let's look at the Starfield factions we know of, but can't seem to join.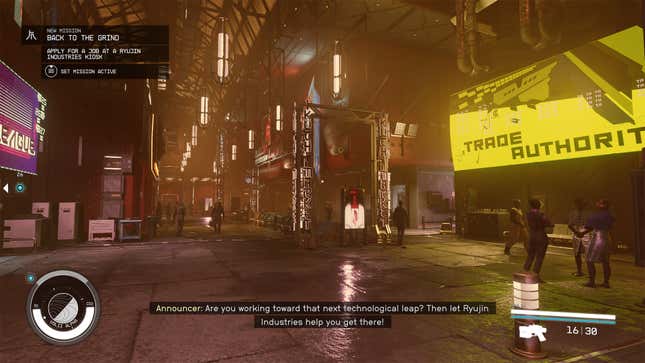 Starfield's minor factions
Aside from the two major governing bodies, pirates, explorers, and tech bros, you'll encounter certain other groups during your hundreds of hours in space—though it seems you can't join any of them during gameplay. Three of them, however, are joinable by selecting certain traits during the game's character creation process: Enlightened, House Va'ruun, and Sanctum Universum, which are all warring religious organizations. Choosing either Enlightened or Sanctum Universum will get you a special chest full of goodies on New Atlantis.
It's unclear if Bethesda will ever make these other factions joinable in future DLC, or if there's a way to join them that we haven't encountered yet, but nevertheless, here are Starfield's minor factions:
Enlightened: These atheists do not believe in a higher power and think that humans should worry about each other, not the whims of some omniscient being.
Sanctum Universum: A burgeoning new religion in the settled systems, their core belief is that God does exist somewhere in the universe and is trying to guide humanity's explorations in space in order to eventually meet Him (or Her, right?).
House Va'ruun: This theocratic faction worships a giant snake and originated on a human colony ship before declaring war on all humanity.
Spacers: This is a generalized term for basically any space raiders who are not associated with the Crimson Fleet.
Argos Extractors: It's the mining company that you start the gaming working for.
Ecliptic Mercenaries: Like Spacers, you'll find these guys in random facilities and planets, but unlike Spacers, Ecliptics are mercenaries.
Trade Authority: They're a collection of vendors who will buy and sell anything—even contraband.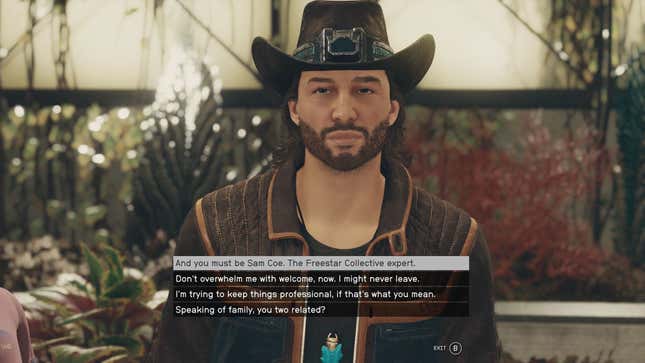 How to join each Starfield faction
Bethesda doesn't believe in unwavering loyalty, so you can join every faction in Starfield without any discernible consequences. Joining one won't prevent you from joining another, for example, but you will naturally find that having membership in both, say, the pirates and the space police may not work out.
If you're interested in joining any of the five major factions, here's how.
How to join Constellation: All you need to do is finish the first main story mission. You can't not join them.
How to join United Colonies: You can join the United Colonies by becoming a UC Vanguard member fairly early on in your Starfield adventure. After the first main mission bounces you around a bit, you'll end up in New Atlantis. Head to the MAST Headquarters and speak to Commander John Tuala. After agreeing to join, you can sign up on a computer in its training hall, register for an exam (there is no exam, don't worry, but you do have to pass a flight test), and go through an optional museum that you should definitely check out, as it's a massive Starfield lore dump. You can also get arrested, as another way into the organization.
How to join Freestar Collective: Head to Akila in the Cheyenne system and land at Akila City. If you want, bring Sam Coe along for the ride (he should be the second Constellation companion that can accompany you after Sarah Morgan), as his family founded Akila. You don't have to, but he adds some great color to your exploration on the planet. After landing in Akila City, you'll immediately be approached about a dangerous matter taking place at the town's bank. Sort it out, and you'll be told to go chat with Emma Wilcox in the Rock, the HQ for Freestar. Emma wants to see if you have what it takes to join the FC, so you'll need to access the mission board terminal in the Rock, select a mission, and complete it. Some of them are harder than others, so beware. After completing that mission, return to Akila City and talk to Emma who will take you up to the marshall to take your oath. You'll get a deputy outfit, hat, badge, and revolver. Welcome to the rangers, baby.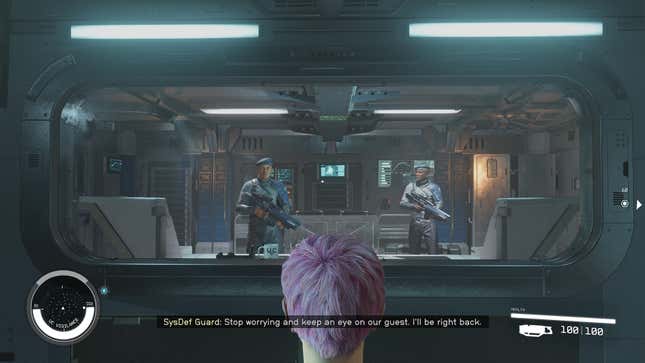 How to join Crimson Fleet: If you're in the mood to be a space pirate (who isn't?), you can join the Crimson Fleet. There are two ways to do this: You can get arrested by the UC Vanguard, which thrusts you straight into the Deep Cover side mission, or you can progress past the introductory UC Vanguard mission, which will then unlock Deep Cover. The mission requires you to go undercover and become a member of the Crimson Fleet, making sure to play both sides if you want to ensure both the pirates and the space cops still like you.
How to join Ryujin Industries: Like any good tech company, you can join Ryujin Industries by applying! You can do so by heading to any of the red Ryujin Industries kiosks in the major Starfield cities (there's one right outside GalBank in New Atlantis) and applying for a job. There's a series of questions, but your answers don't seem to matter. After submitting your application, you'll have to head to the city of Neon for an official interview at Ryujin Tower.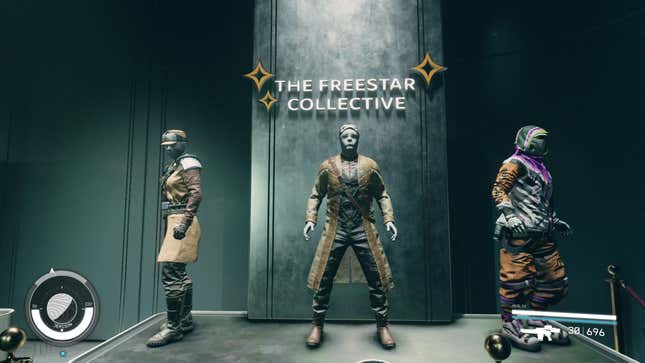 What's the best Starfield faction?
Thus far in my Starfield playthrough, it seems like the "best" faction is really a matter of personal preference and time management, though sites like Polygon report that the Rangers (the faction I'm currently a part of) have the more "predictable mission structure," while Ryujin Industries is similar to Skryim's Thieves Guild (think anti-hero grittiness as opposed to the Rangers' morally upstanding goody-two-shoes bit). Completing the Freestar Collective missions, according to Kotaku's Levi Winslow, gets you "an amazing ship," so it may be worth going down that somewhat predictable route anyway.
The United Colonies' Vanguard missions seem well varied, while the Crimson Fleet's eternal hunt for treasure nets you a nice legendary pistol early on in its questline—and completing earlier missions for the Crimson Fleet will give you the ability to buy secure storage from their ship merchant, which will let you smuggle all that contraband that keeps getting you caught by scanners.
The best part about Starfield is that you can go down all of these faction paths with little to no friction. If you find that being a space sheriff is lame, you can always swap over to the dark side and adopt the pirate's life. That's the beauty of an RPG, right?
The Future of MSP IT Companies
MSPs require tools that enable them to provide a comprehensive managed services experience, which means having one platform with all of the essential productivity, data availability, and security tools combined into an easy-to-use package.
This is one of the many pros of MSPs, as they can offer a one-stop shop for all of your IT needs.
Cybersecurity and emerging technology, including automation, are major trends for MSPs who look forward to the future. In coming research briefs we'll address these topics more in-depth.
Reliability
Opting for the appropriate managed service provider (MSP) for your business is a critical decision, which has far-reaching effects on daily operations. Finding a partner that is reliable and can meet all of its IT needs is essential to meeting those objectives successfully.
A reliable MSP will conduct an intensive assessment of your company's infrastructure and processes to fully comprehend your IT requirements, offering services that best suit them for data plans, telecom options, business applications, and hardware needs.
MSPs also provide 24/7 monitoring and support, meaning if a problem does arise it can be handled instantly compared to waiting for assistance from an overburdened in-house tech team. This ensures consistent service, reducing downtime and lost revenue as a result.
Scalability
As an MSP, your goal should be to expand the services you offer and increase revenue – whether that means expanding customer bases or adding innovative technologies.
But it is also essential to bear in mind that not all changes are scalable; some could impede on your business's efficiency, leading to more expenses than profits – this phenomenon is known as diseconomies of scale, and it could spell doom for your enterprise.
Implementing new software solutions such as Tanium may require upgrading your infrastructure, which takes time and money. Working with an experienced IT partner is highly recommended to ensure that any upgrades made are scalable – they have evaluated many solutions that may work for your business and know which are ideal.
Security
MSP companies can provide businesses with essential cybersecurity services that will assist in maintaining security. MSP companies can assist businesses with software deployment, patch management and configuration control as well as the creation and implementation of an unified threat detection and response platform to detect evolving threats.
An MSP can be an invaluable asset to smaller businesses with limited IT resources, but it must balance client needs against budgetary limitations and the risk of cyber breaches.
Customers should review MSP contracts carefully to ensure they provide adequate security measures, limit attack surface by enforcing multifactor authentication (MFA) on all accounts, and track unexplained failures in authentication. In addition, it's wise to regularly review and delete MSP accounts when they're no longer managing infrastructure.
Flexibility
An outstanding MSP provides more than just scalability; they also have the flexibility needed to help clients find solutions tailored specifically to meet business needs and budget constraints, helping to avoid costly organizational downtime.
Working from home and cloud management are driving managed services market growth well past 2020, so MSPs that offer their clients access to tools and support will be well positioned to capitalize on this market shift and remain profitable long term.
An MSP that can offer additional services will also be able to reduce customer churn and boost its revenue per client, such as IT strategy consulting or backup and recovery solutions.
Efficiency
MSPs offer many businesses an efficient and cost-effective method for handling IT. Their services tend to be much cheaper than what it would cost an enterprise to implement and manage on their own, and provide more flexibility and scalability than when the task falls on them alone.
MSPs typically specialize in specific aspects of technology or vendor management, enabling them to provide more effective IT solutions than an in-house team could. A good MSP also serves as a single point of contact and becomes familiar with their client's business over time.
Outsourcing certain technology functions to a Canadian IT company can also lower overhead costs by freeing up internal employees to focus more on revenue-generating activities, leading to greater productivity and efficiency within a company.
Apple Releases iOS 17 With StandBy, Live Voicemail, Improved Autocorrect, FaceTime Video Messages and Tons More
Apple today released iOS 17 and iPadOS 17, the latest operating system updates that are designed for the iPhone and iPad. As with all of Apple's software updates, ‌iOS 17‌ and ‌iPadOS 17‌ are available for free. ‌iOS 17‌ is compatible with the ‌iPhone‌ XR/‌iPhone‌ XS and later, while ‌iPadOS 17‌ runs on the iPad mini 5 and later, the ‌iPad‌ 6 and later, iPad Air 3 and later, the second-generation 12.9-inch iPad Pro and later, all 11-inch ‌iPad Pro‌ models, and the 10.5-inch ‌iPad Pro‌.
Apple's updated software, which is build 21A329, can be downloaded on eligible iPhones and iPads over-the-air by going to Settings > General > Software Update. It can take a few minutes for the updates to propagate to all users due to high demand.
While you download ‌iOS 17‌, make sure to check out our dedicated iOS 17 roundup for a full rundown of all of the features in the update. We've highlighted a few of the most notable additions below, but this is a huge update with hundreds of changes.
‌iOS 17‌ expands on last year's Lock Screen updates with the addition of interactive widgets and StandBy, a new feature that turns the ‌iPhone‌ into a mini home hub when it is charging. You can now see voicemail transcriptions in real time, and leave video messages in FaceTime. ‌FaceTime‌ also now works on the Apple TV with tvOS 17.
With NameDrop, exchanging contacts is as simple as touching two phones together, and Messages has been overhauled with new safety features and updates to the way that stickers work. Autocorrect is better than ever, Spotlight search has been improved, private browsing in Safari is more secure with Face ID lock, and there's now a mood tracking feature in the Health app.
Passwords can be shared in iCloud Keychain and AirTags can be shared among family members too, plus there are new features for the AirPods Pro. Apple has also added updates to Siri, Mail, Reminders, Notes, Home, and more. Full release notes for the update are below.
iOS 17 brings big updates to Phone, Messages, and FaceTime that give you new ways to express yourself as you communicate. StandBy delivers a new full-screen experience with glanceable information designed to view from a distance when you turn iPhone on its side while charging. AirDrop makes it easier to share and connect with those around you and adds NameDrop for contact sharing. Enhancements to the keyboard make entering text faster and easier than ever before. iOS 17 also includes updates to Widgets, Safari, Music, AirPlay, and more.
Phone
– Contact Posters let you customize how you appear on other people's devices when you call them with a customized poster
– Live Voicemail displays a live transcription as someone leaves a message and allows you to pick up the call
Messages
– Stickers iMessage app brings all your stickers into one place including Live Stickers, Memoji, Animoji, emoji stickers, and your third party sticker packs
– Live Stickers can be created by lifting the subject from photos or videos and stylizing them with effects like Shiny, Puffy, Comic, and Outline
– Check In automatically notifies a family member or friend when you arrive at a destination safely and can share helpful information with them in case of a delay
– Audio message transcription is available for audio messages you receive so you can read them in the moment and listen later
– Search improvements help you find messages faster by allowing you to combine search filters such as people, keywords, and content types like photos or links to find exactly what you are looking for
– Swipe to reply to a message inline by swiping to the right on any bubble
– One-time verification code cleanup automatically deletes verification codes from the Messages app after using them with AutoFill in other apps
FaceTime
– Leave a video or audio message to capture exactly what you want to say when someone does not pick up your FaceTime call
– Enjoy FaceTime calls on Apple TV by using your iPhone as a camera (Apple TV 4K 2nd generation and later)
– Reactions layer 3D effects like hearts, balloons, confetti, and more around you in video calls and can be triggered with gestures
– Video effects allow you to adjust the intensity of Studio Lighting and Portrait mode
StandBy
– Full-screen experience with glanceable information like clocks, photos, and widgets designed to view from a distance when iPhone is on its side and charging in places such as your nightstand, kitchen counter, or desk
– Clocks are available in a variety of styles including Digital, Analog, Solar, Float, and World Clock, with elements you can personalize like the accent color
– Photos automatically shuffle through your best shots or showcase a specific album you choose
– Widgets give you access to information at a distance and appear in Smart Stacks that deliver the right information at the right time
– Night Mode lets clocks, photos, and widgets take on a red tone in low light
– Preferred view per MagSafe charger remembers your preference for each place you charge with MagSafe, whether that's a clock, photos, or widgets
Widgets
– Interactive widgets let you take actions, like mark a reminder as complete, directly from the widget by tapping it on the Home Screen, Lock Screen, or in StandBy
– iPhone widgets on Mac enable you to add widgets from your iPhone to your Mac desktop
AirDrop
– NameDrop lets you exchange contact information with someone new by bringing your iPhones close together
– New way to initiate AirDrop allows you to share content or start a SharePlay session over AirDrop by bringing your iPhones close together
Keyboard
– Improved autocorrect accuracy makes typing even easier by leveraging a powerful transformer-based language model (iPhone 12 and later)
– Easier autocorrect editing temporarily underlines corrected words and lets you revert back to what you originally typed with just a tap
– Enhanced sentence corrections can correct more types of grammatical mistakes when you finish sentences (iPhone 12 and later)
– Inline predictive text shows single and multi-word predictions as you type that can be added by tapping space bar (iPhone 12 and later)
Safari and Passwords
– Profiles keep your browsing separate for topics like work and personal, separating your history, cookies, extensions, Tab Groups, and favorites
– Private Browsing enhancements include locking your private browsing windows when you're not using them, blocking known trackers from loading, and removing identifying tracking from URLs
– Password and passkey sharing lets you create a group of passwords to share with trusted contacts that stays up to date as members of the group make changes
– One-time verification code AutoFill from Mail autofill in Safari so you can log in without leaving the browser
Music
– SharePlay makes it easy for everyone to control and play Apple Music in the car
– Crossfade smoothly transitions between songs by fading out the currently playing song while fading in the next so the music never stops
AirPlay
– Intelligent AirPlay device list makes finding the right AirPlay-compatible TV or speaker even easier by showing your devices in order of relevance, based on your preferences
– Suggested AirPlay device connections are proactively shown to you as a notification to make it even more seamless to connect to your preferred AirPlay devices
– Automatic AirPlay device connections are made between your iPhone and the most relevant AirPlay-compatible device so all you have to do is tap "Play" to begin enjoying your content
AirPods
– Adaptive Audio delivers a new listening mode that dynamically blends Active Noise Cancellation and Transparency to tailor the noise control experience based on the conditions of your environment (AirPods Pro (2nd generation) with firmware version 6A300 or later)
– Personalized Volume adjusts the volume of your media in response to your environment and listening preferences over time (AirPods Pro (2nd generation) with firmware version 6A300 or later)
– Conversation Awareness lowers your media volume and enhances the voices of the people in front of the user, all while reducing background noise (AirPods Pro (2nd generation) with firmware version 6A300 or later)
– Press to mute and unmute your microphone by pressing the AirPods stem or the Digital Crown on AirPods Max when on a call (AirPods (3rd generation), AirPods Pro (1st and 2nd generation), or AirPods Max with firmware version 6A300 or later)
Maps
– Offline Maps allow you to select an area you want to access, search, and explore rich information for places to download for use when your iPhone doesn't have a Wi-Fi or cellular signal
– EV routing improvements give you routes based on real-time EV charger availability for supported chargers
Siri
– Option to say "Siri" in addition to "Hey Siri" for an even more natural way to make requests
– Back-to-back requests can be issued without needing to reactivate Siri in between commands (iPhone 11 and later)
Visual Look Up
– Expanded domains in Visual Look Up help you discover similar recipes from photos of food, Maps information from photos of storefronts, and the meaning of signs and symbols on things like laundry tags
– Multiple or single subjects can be lifted from the background of photos and videos and placed into apps like Messages
– Visual Look Up in Video helps you learn about objects that appear in paused video frames
– Visual Look Up for subjects in photos enables you to look up information about objects you lift from photos directly from the callout bar
Health
– State of Mind reflection allows you to log your momentary emotion and daily mood, choose what factors are having the biggest impact on you, and describe your feelings
– Interactive charts give you insights into your state of mind, how it has changed over time, and what factors may have influence such as exercise, sleep, and mindful minutes
– Mental health assessments help you understand your current risk for depression and anxiety and if you might benefit from getting support
– Screen Distance leverages the TrueDepth camera that powers Face ID to encourage you to increase the distance you view your device to reduce digital eye strain and can help reduce the risk of myopia in children
Privacy
– Sensitive Content Warnings can be enabled to prevent users from unexpectedly being shown images containing nudity in Messages, AirDrop, Contact Posters in the Phone app, and FaceTime messages
– Expanded Communication Safety protections for children now detect videos containing nudity in addition to photos that children may receive or attempt to send in Messages, AirDrop, Contact Posters in the Phone app, FaceTime messages, and the system Photo picker
– Improved sharing permissions give you even more control over what you share with apps, with an embedded photo picker and an add-only Calendar permission
– Link tracking protection removes extra information from links shared in Messages, Mail, and Safari Private Browsing that some websites use in their URLs to track you across other websites, and links still work as expected
Accessibility
– Assistive Access distills apps and experiences to their essential features in Phone and FaceTime, Messages, Camera, Photos, and Music, including large text, visual alternatives, and focused choices to lighten cognitive load
– Live Speech lets you type what you want to say and have it be spoken out loud in phone calls, FaceTime calls, and for in-person conversations
– Personal Voice enables users who are at risk of losing their voice to privately and securely create a voice that sounds like them on iPhone, and use it with Live Speech in phone and FaceTime calls
– Point and Speak in Magnifier Detection Mode uses iPhone to read text out loud on physical objects with small text labels, such as keypads on doors and buttons on appliances
This release also includes other features and improvements:
– Roadside Assistance via satellite lets you contact AAA to help you with vehicle issues when out of Wi-Fi or cellular range (iPhone 14, iPhone 14 Plus, iPhone 14 Pro, iPhone 14 Pro Max)
– Pets in the People album in Photos surfaces individual pets in the album just like friends or family members
– Photos Album widget lets you select a specific album from the Photos app to appear in the widget
– Item sharing in Find My allows you to share an AirTag or Find My network accessory with up to five other people
– Activity History in Home displays a recent history of events for door locks, garage doors, security systems, and contact sensors
– Grid Forecast in Home shows when your electrical grid has cleaner energy sources available (Contiguous US only)
– Grocery Lists in Reminders automatically group related items into sections as you add them
– Inline PDFs and document scans in Notes are presented full-width, making them easy to view and mark them up
– New Memoji stickers in Keyboard include Halo, Smirk, and Peekaboo
– App Shortcuts in Spotlight Top Hit offer you app shortcuts to your next action when you search for an app
– Redesigned Sharing tab in Fitness provides highlights of your friends' activity like workout streaks and awards
– Email or phone number sign-in lets you sign into your iPhone with any email address or phone number listed in your Apple ID account
– New drawing tools in Freeform include a fountain pen, watercolor brush, ruler and more to create expressive boards
– Crash Detection optimizations (iPhone 14, iPhone 14 Plus, iPhone 14 Pro, iPhone 14 Pro Max)
Unity Overhauls Controversial Price Hike After Game Developers Revolt
(Bloomberg) — Video-game tool maker Unity Software Inc. said Monday it's backtracking on major aspects of a controversial new price hike, telling staff in an all-hands meeting that it's now considering changes including a cap on potential fees.
Unity, which operates and licenses a suite of video-game development tools called the Unity Engine, set off a firestorm last week when it announced plans to charge customers for every new installation of their game after a certain threshold. The decision triggered widespread protests, leading several video-game makers to say they would boycott Unity until the policy is changed.
Under the tentative new plan, Unity will limit fees to 4% of a game's revenue for customers making over $1 million and said that installations counted toward reaching the threshold won't be retroactive, according to recording of the meeting reviewed by Bloomberg. Last week, Chief Executive Officer John Riccitiello delayed an all-hands meeting on the pricing changes and closed two offices after the company received what it said was a credible death threat.
The company apologized to customers on Sunday and said it would be making changes to the pricing policy.
Marc Whitten, a Unity executive, said the company hasn't yet announced the latest changes because executives are still running them by partners and don't want to repeat last week's communications debacle, which led to several clarifications.
One of the most controversial elements of the policy concerned how Unity would track installations of its software. Although the company first said it would use proprietary tools, Whitten said Monday management will rely on users to self-report the data.
In the meeting, Riccitiello emphasized that the new policy is designed to generate more revenue from the company's biggest customers and that more than 90% of Unity users won't be affected. Several employees asked during the meeting how Unity would bounce back from what appeared to be a breach of trust. Executives said the company will have to "show, not tell" and handle future communications more carefully.
"I don't think there's any version of this that would have gone down a whole lot differently than what happened," Riccitiello said. "It is a massively transformational change to our business model."
But, he acknowledged, "I think we could have done a lot of things a lot better."