Amazon announces new Echo, Echo Dot, and Echo Show powered by AZ1 Neural Edge processor – XDA Developers
Alongside the launch of the new Fire TV Stick and Fire TV Stick Lite, Amazon today unveiled a new lineup of Alexa-powered Echo smart speakers. The latest additions to the company's Echo product line include the new 4th-Gen Echo, Echo Dot, Echo Dot with clock, Echo Dot Kids Edition, and the Echo Show 10. All the speakers in the lineup are equipped with the company's new AZ1 Neural Edge processor, which is designed to speed up Alexa's ability to complete commands and answer your questions. Here's everything you need to know about the processor and the new Echo devices:
Amazon AZ1 Neural Edge processor
Designed in collaboration with MediaTek, Amazon's AZ1 Neural Edge processor is built into the company's latest Echo, Echo Dot, Echo Dot with Clock, Echo Dot Kids Edition, and Echo Show 10. Amazon claims that the new silicon module is capable of speeding up Alexa's responses by hundreds of milliseconds per response, which is expected to further streamline user interaction with the virtual assistant.

But even though all of the new Echo devices feature the AZ1 processor, only the Echo and Echo Show 10 have the on-device memory needed to support the company's new neural speech models. Thanks to the new speech models, the Echo and Echo Show 10 feature the capability to process audio on-device, which drastically reduces the time Alexa takes to give users a response.
While the remaining smart speakers don't include the new speech models, the AZ1 chip is expected to reduce response latency on those devices as well, albeit not as much. The company claims that these latency benefits will first be available for English in the US. But the company plans to add support for more languages and regions in the near future.
The 4th-Gen Echo smart speaker features an all-new spherical design and fabric finish, with a bright LED ring at the bottom that reflects off the underlying surface for improved visibility. The smart speaker packs in a 3.0-inch woofer, dual-firing tweeters, and Dolby processing, which is expected to deliver better audio performance than the previous generation.
Much like the Echo Studio, the new Echo smart speaker is capable of detecting the acoustics of the space its placed in to fine-tune the audio playback. It comes with a built-in smart home hub with support for Zigbee, Bluetooth Low Energy (BLE), and Amazon Sidewalk. Thanks to the Amazon Sidewalk support, users will be able to easily set up new devices with the smart speaker, extend the range of devices like Ring Smart Lighting, and offer support for devices like Tile to locate misplaced items.
The new Echo smart speaker has been priced at $99.99 (₹9,999) and it will be available in three color variants — Charcoal, Glacier White, and Twilight Blue. The device is already up for pre-order on Amazon and it will start shipping sometime later this year.
Echo Dot and Echo Dot with clock
The 4th-Gen Echo Dot has also received a design refresh and it now has the same spherical design and fabric finish as the more premium Echo smart speaker. However, due to its smaller footprint, the speaker packs in a single 1.6-inch speaker.
The 4th-Gen Echo Dot with clock is exactly what it sounds like. It's an Echo Dot with a simple LED display which shows basic information like time, temperature, timers, and alarms.
The new Echo Dot is priced at $49.99 (₹4,499) and it will be available in three color variants — Charcoal, Glacier White, and Twilight Blue. The Echo Dot with clock, on the other hand, is priced at $59.99 (₹5,499) and it will be available in two color variants — Glacier White and Twilight Blue. Both the new Echo Dots are already up for pre-order on Amazon, with shipping scheduled for sometime later this year.
Echo Dot Kids Edition
The 4th-Gen Echo Dot Kids Edition features the same new spherical design, but it comes with colorful Panda and Tiger prints that will appeal to kids. While it features the same internal hardware, Amazon has customized the Alexa experience on the smart speaker to be better suited to kids.
Alexa's custom-built kids experience will allow children to ask Alexa questions, set animal sound alarms, get help with homework, and call pre-approved contacts. It features an extensive list of parental controls and the ability to create voice profiles for kids. This feature has been extended to all Echo devices, which means that Alexa will automatically switch to a kid-friendly experience when it detects a kid's voice.
On top of that, there's a new Alexa feature called Reading Sidekick which is designed to help children improve reading fluency. To trigger the feature, you can simply say, "Alexa, let's read," and the virtual assistant will take turns reading with your child, provide encouragement when they're reading, and offer support when they struggle. Previews for Alexa voice profiles for kids and Reading Sidekick will be available on all Echo devices in the coming months.
The Echo Dot Kids Edition is priced at $59.99 and it will be available in two animal prints — Panda and Tiger. The device is up for pre-order on Amazon, and it will start shipping to users later this year. All Echo Dot Kids Edition speakers will come with a 1-year Amazon Kids+ subscription, which will give you access to thousands of hours of kid-friendly Audible books, interactive games, and educational skills.
Amazon Echo Show 10
The new Echo Show 10 features a 10-inch adaptive HD display mounted on a rotating base, which can automatically change the direction of the display based on your position when you interact with Alexa. The base features a silent brushless motor that will ensure the device doesn't make any noise as it rotates the display.
The smart display comes with a new 13MP wide-angle camera that can automatically pan and zoom to keep you at the center of the frame. It features dual front-firing speakers and a powerful woofer that also move along with the display. Much like the Echo smart speaker, the Echo Show 10 is capable of detecting the acoustics of your space to adapt its audio performance.
To ensure user privacy, the Echo Show 10 uses a fusion of audio-based localization and computer vision to power its intelligent motion. All processes happen locally and securely on the device, with no data being sent back to Amazon's servers. There's also a built-in camera shutter that automatically turns of motion when closed.
The Echo Show 10 is priced at $249.99 and it will be available in two color variants — Charcoal and Glacier White. The device will start shipping in time for the holidays later this year.
Amazon further notes that all the new Echo devices have the Climate Pledge Friendly badge and are built with 100% post-consumer recycled fabric, 100% recycled die-cast aluminum, and post-consumer recycled plastic. The wood fiber-based material used in Echo device packaging is also sourced from responsibly managed forests or recycled sources. Amazon also plans to introduce a new feature in the Alexa app that will show you the energy consumed by compatible smart home devices sometime later this year.
Pre-order the Echo: Amazon.com || Amazon.in
Pre-order the Echo Dot: Amazon.com || Amazon.in
Pre-order the Echo Dot with Clock: Amazon.com || Amazon.in
Pre-order the Echo Dot Kids Edition: Amazon.com
iPhone 12 boasts latent reverse wireless charging feature, FCC filing suggests – AppleInsider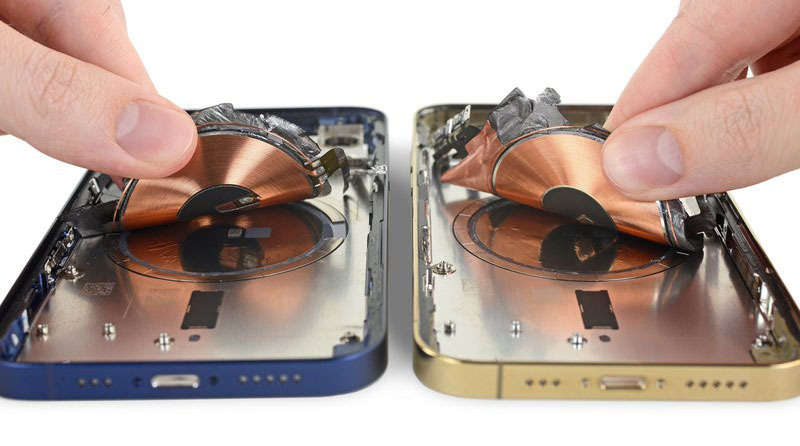 A Federal Communications Commission filing hints at a latent iPhone 12 feature that could one day allow the handset to wirelessly charge other accessories.
Apple's iPhone 12 series could be hiding a major feature that was rumored to debut with last year's iPhone 11 devices. Known as reverse wireless charging or "bilateral" wireless charging, the functionality enables smartphones to use their inductive charging coil to juice up smaller accessories or even other phones.
Evidence that Apple's new iPhone range might support the feature showed up in a recent regulatory filing detailing the company's 2020 handsets. Discovered by VentureBeat's Jeremy Horwitz, the document seemingly references the new MagSafe protocol that debuted alongside iPhone 12 this month.
"In addition to being able to be charged by a desktop WPT charger (puck), 2020 iPhone models also support WPT charging function at 360 kHz to charge accessories [including] an external potential apple accessory in future," the filing reads, according to Horwitz.
While mere speculation, the feature as described could enable charging of attached MagSafe accessories, including unannounced devices like a next-generation AirPods product. Just yesterday, Bloomberg reported that Apple will deliver new AirPods models, including a second-generation AirPods Pro, in early 2021.
Apple was previously rumored to bring reverse charging to iPhone in early 2019. At the time, TF Securities analyst Ming-Chi Kuo predicted that year's iPhone — what would become iPhone 11 — to feature "bilateral" wireless charging. The report was later seconded by supply chain sources, though Apple ultimately nixed those plans.
Today's discovery suggests Apple continued work on the charging feature and integrated functionality into its MagSafe protocol. In theory, reverse wireless charging could be activated via a software update, but it remains unclear if and when Apple intends to do so.
iPhone 12 Models Might Support Reverse Charging of Future Apple Accessories According to FCC Filing – MacRumors
Arun Maini today shared a new side-by-side iPhone battery life video test on his YouTube channel Mrwhosetheboss, timing how long the new iPhone 12 and iPhone 12 Pro models last on a single charge compared to older models, with equal brightness, settings, battery health, and usage. All of the devices are running iOS 14 without a SIM card inserted.
In the test, the iPhone 11 Pro outlasted both …
Apple FCC filing hints at hidden reverse wireless charging feature in iPhone 12 – 9to5Mac
Reverse Wireless Charging was one of the rumored features for iPhone 11 last year, but Apple allegedly removed it from the final version of the devices. Now, FCC filings for iPhone 12 have revealed that this year's devices might have a functional reverse wireless charging system.
Following the iPhone 11 rumors in 2019, iFixit disassembled the new smartphones as usual and then discovered that the iPhone 11 Pro has some components that are part of a bilateral wireless charging system, but that was unfinished — so it doesn't work at all.
While this suggests that Apple indeed tried to implement this technology on last year's iPhones, there were no rumors about bilateral wireless charging on the iPhone 12. However, new FCC files suggest the new phones might have this technology.
As first spotted by Jeremy Horwitz, the FCC documentation for the iPhone 12 models brings some interesting details about how these devices can be wirelessly recharged. FCC says iPhone 12 works with regular Qi chargers and also with a new "charging function at 360 kHz" that can recharge accessories.
This is an interesting fact since Apple hasn't mentioned anything about this feature on stage, and this is clearly disabled on iPhone 12 devices — at least for now. Bloomberg's Mark Gurman then suggested Apple might be holding this new reverse charge through MagSafe for the rumored AirPods 3 and AirPods Pro 2.
Apple, of course, could announce new AirPods that work specifically with the iPhone 12's new MagSafe system — which would explain why they haven't mentioned anything about reverse wireless charging for now. Unfortunately, more details about this are unknown for now.
Are you excited about the possibility of having bilateral wireless charging on iPhone 12? Let us know in the comments below.
FTC: We use income earning auto affiliate links. More.
Check out 9to5Mac on YouTube for more Apple news:
[embedded content]