Animal Crossing: New Horizons Save Recovery Limit Might Get Changed – GameSpot
During its Animal Crossing-focused Direct, Nintendo once again confirmed that the upcoming New Horizons will not make use of Nintendo Switch Online's cloud save backup function, but NSO subscribers will have a way to recover their save data should something unfortunate happen to their system. However, this feature comes with one notable caveat.
[Update] The caveat that previously stated that players would only be able to recover data once in the event a Switch console was damaged or lost resulted in some criticism from the community and became a key subject of discussion around the game. In the time since, Nintendo has re-uploaded the Animal Crossing: New Horizons Direct video–sacrificing a considerable number of views in the process–and changed the language used in the data recovery section to indicate it may be reconsidering the limitation.
Where it previously stated, "Nintendo Switch Online members can only have save data recovered one time due to loss or damage of system" it now says, "More details on save data recovery functionality will be shared at a future date." Of course, there is no guarantee that the limitation will be removed; Nintendo may simply want to justify the restriction better at a later date.
[Original story continues] In fine print during the presentation, Nintendo specifies that you will only be able to recover your Animal Crossing: New Horizons save data one time should your Switch get lost or damaged. As previously mentioned, this service will only be offered to Nintendo Switch Online subscribers, and it won't be available until sometime after the game launches.
This isn't the only unusual save data restriction New Horizons imposes on players. Nintendo recently confirmed that only one island can exist per Nintendo Switch console–so if another player who shares your system would like to start their own island, they'll need their own Switch and game. Additionally, you will not be able to transfer your New Horizons save data from one Switch system to another, at least from launch. Nintendo UK's website says that a function to move your save to another console is "planned for later this year."
We learned a lot of other details about New Horizons during the Animal Crossing Direct. Nintendo showcased a variety of quality-of-life improvements, as well as some new and returning characters you'll meet in the game. New Horizons also lets you change your island's terrain for the first time in the series, and it'll make use of both the Nintendo Switch Online smartphone app and the Animal Crossing Amiibo figures and cards.
Animal Crossing: New Horizons releases worldwide on March 20. You can see what pre-order bonuses are available for the title in our Animal Crossing: New Horizons pre-order guide. For more on the game, be sure to check out our roundup of everything we know about New Horizons.
GameSpot may get a commission from retail offers.
Asmongold calls out Blizzard after brief WoW ban: "You obviously f**ked up" – Dexerto
Asmongold was recently banned from World of Warcraft for a brief period but was quickly allowed back in the game after Blizzard overturned the initial suspension.
In a recent YouTube video, Asmongold described his banning from World of Warcraft as a "glorious day." During this video, the popular content creator began by recounting the events leading up to the moment he found out he had been banned from playing Blizzard's hit MMO.
"I go to log on to World of Warcraft and it tells me this: Blizzard account has been suspended." Jokingly, Asmon then added, "they shut me down, rightfully so." He then went on to address Blizzard directly and offer up his thanks for what he clearly believed was an error on their behalf.
"I wanna say thank you, Blizzard, this is gonna be great clickbait on YouTube. You obviously f***ed up and didn't mean to suspend me but that doesn't mean my editors aren't gonna farm this out for viewers on YouTube. Thank you, Blizzard."
He then went on to read out an email from the devs, explaining why he was banned from World of Warcraft for allegedly engaging with real money transactions (RMT). However, Asmon was quick to shut down the idea that he had done any RMT trading in the video, which appeared to be the reasoning for his banning.
Asmon then called out Blizzard for their recent string of banning players for supposedly unsubstantiated reasons or banning players and then quickly overturning the decision. He did this by reading out tweets from other content creators as well as community members who have found themselves in similar situations when playing World of Warcraft.
Following his video, the World of Warcraft community on Reddit have shown their support for the content creator as well as also voicing their disappointment at Blizzard for banning Asmongold and others and then quickly backflipping after realising it was a mistake.
For all the latest on Asmongold, check out Dexerto's full coverage here.
Samsung unveils prices for Galaxy Z Flip4 and Z Fold4 in India, details discounts and promos – GSMArena.com news – GSMArena.com
We have waited nearly a week for Samsung to unveil the prices for the new Galaxy Z foldables for the Indian market and here they are. Fans can now pre-book a Z Flip4 or Z Fold4 and score some gifts and discounts. This is a special Samsung Live promo event that starts today and ends tomorrow a midnight.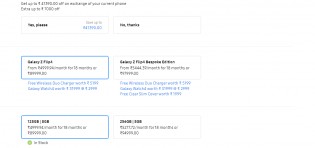 Pre-booking options for Samsung Galaxy Z Fold4 and Z Flip4
First, the prices. The table below has the breakdown by storage capacity. A couple of things to note about the Samsung Galaxy Z Flip4 – the customizable Bespoke Edition is available from Samsung Live and Samsung Exclusive Stores (and only in 256GB trim), the 512GB version is not available in the country. As for the Samsung Galaxy Z Fold4, the top 1TB model is available, but only through Samsung Live and Samsung Exclusive Stores.
Galaxy Z Fold4
256GB
512GB
1TB*
₹155,000
₹165,000
₹185,000
₹8,000 cashback or Upgrade Bonus
* 1TB variant exclusive to Samsung Live and Samsung Exclusive Stores
Galaxy Z Flip4
128GB
256GB
256GB Bespoke*
₹90,000
₹95,000
₹98,000
₹7,000 cashback or Upgrade Bonus
* Bespoke Edition exclusive to Samsung Live and Samsung Exclusive Stores
Note that these are the base prices, the two-day promo event offers some discounts. You can get ₹8,000 cashback with the pre-booking of a Z Fold4 or ₹7,000 with a Z Flip4. You will need an HDFC credit or debit card for that. Alternatively, if you are planning to trade in an old phone for credit, you will get an additional ₹8,000 or ₹7,000 towards purchasing the new foldable.
There's more – you get a free Wireless Charger Duo (normally valued at ₹5,200). The Galaxy Z Flip4 Bespoke Edition also comes with a free Slim Clear Cover (worth ₹2,000).







Some of the possible color combinations for the Galaxy Z Flip4 Bespoke Edition
For some peace of mind you ca get 1 year of Samsung Care+ at half price – ₹6,000. No Cost EMI is available for up to 24 months as well.
Finally, you can get a previous generation Galaxy watch at a hefty discount. Those who pre-book the Galaxy Z Fold4 can pick up a Galaxy Watch4 Classic (46mm, Bluetooth) for ₹3,000 (down from the MSRP of ₹35,000). If you picked the Z Flip4 instead you can grab a Watch4 Classic (42mm, Bluetooth) for ₹3,000 (down from ₹32,000).
If you prefer one of the new Galaxy Watch5 models, those are already on pre-order – here is the pricing info for them. You can pre-book one now and get a discount on the new Galaxy Buds2 Pro.
An exploration of the history of Yorkshire, the Acadians and the Mi'kmaq – Town of Sackville
An exploration of the history of Yorkshire, the Acadians and the Mi'kmaq
August 15
An exploration of the history of Yorkshire, the Acadians and the Mi'kmaq
Facilitated by Renée Belliveau, this online presentation will help us understand what impact the arrival of the Yorkshire Settlers had on the Tantramar area, both the good and the bad.
To join the presentation using the Microsoft Teams platform, type shorturl.at/kmP69 in your browser or contact m.pryde@sackville.com for the link.