Another person has died from COVID-19 in St. Albert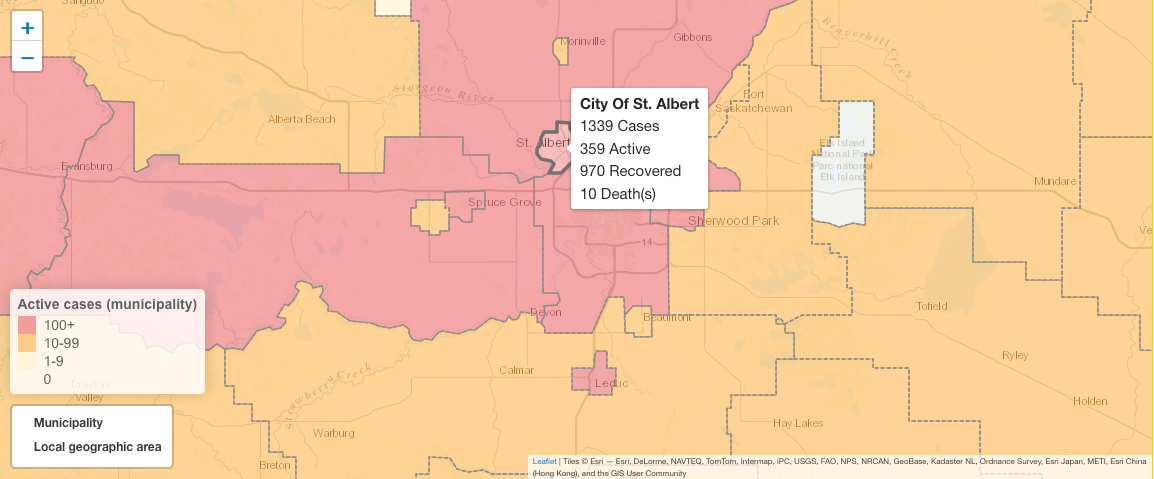 St. Albert is reporting another death from COVID-19 for the fifth day in a row.
On Friday afternoon, provincial data showed 10 people have now died from the virus in St. Albert.
A man in his 80s whose death is linked to the outbreak at Chartwell St. Albert Retirement Residence passed away from the virus Dec. 14.
There have been three deaths linked to the Chartwell retirement residence in St. Albert.
There has also been another death reported in Morinville, bringing the number of people who have died from COVID-19 in the town to three.
The province reported a total of 25 deaths Alberta-wide on Friday. Since the pandemic began, 815 have died from COVID-19 in the province.
In St. Albert, another 33 cases of COVID-19 were reported by Alberta Health on Friday. Twenty-nine people recovered from the virus overnight. St. Albert currently has 359 active cases, up from 356 reported yesterday.
Since the pandemic began, 970 people have recovered from the virus in the city.
Across the province, 1,413 new cases of COVID-19 were diagnosed overnight.
There were 19,500 tests run in the past 24 hours with a positivity rate of 7.4 per cent.
There are currently 759 people in the hospital with 141 of those in the ICU
Alberta chief medical officer of health Deena Hinshaw said they are starting to see some good news in the data.
"We are starting to see some early positive signs in our province," Hinshaw said.
Hinshaw said the provincial positivity rate is on a downward trend from 10.97 per cent on Dec. 3 to 7.4 per cent reported on Friday.
But while there is good news, Hinshaw said the fight is far from over. Hospitalizations and ICU numbers will continue to rise over the coming weeks, as Hinshaw said the are "lagging indicators."
"Our heath system continues to feel the strain, which will increase in the days ahead," Hinshaw said.
"We must do everything possible to protect the care system that we all rely on."
Hinshaw said the positive indicators can be reversed in a matter of days if everyone doesn't continue to do their part.
In Morinville, there are currently 83 active cases with 159 people having recovered. The town has seen a total of 245 cases since the beginning of the pandemic and three deaths.
Sturgeon County has 101 active cases of COVID-19 with 357 people having recovered. There have been 459 cases in the county since the pandemic began and one death.
Source:- St. Albert TODAY
Health Officials provide COVID-19 vaccine rollout plan for upcoming months – MY PG NOW
BC Health officials outlined the provincial COVID-19 vaccine rollout plan for the upcoming months, which plans to make the vaccine readily available to all 4.3 million BC residents over 18 by September.
"The Government of Canada has committed that every Canadian who wants to be vaccinated against COVID-19 will have access to a vaccine before the end of September 2021," explained BC Health Minister, Adrian Dix.
BC's eldest citizens will be the first in line, as they are basing the rollout on 5-year-age cohorts.
"Adults older than 60 years may have at least 5 times increased odds of hospitalization and mortality from COVID-19 compared to those aged less than 45 years," explained Dr.Bonnie Henry, "this increased risk appears to magnify at least to some degree even for those older than 60 years, with those aged over 80 years having double the mortality risk of those aged 65-69 years."
Between April and September, Northern Health is expected to receive 28,000 doses a week, which amounts to 5,600 per day.
"In some cases, if we have a very small community that we're going to for vaccinating the older age group- if it's a very small community and vaccines are available it's possible we may decide to vaccinate the whole community right then rather than coming back three or four times," explained Dr. Penny Ballem, executive lead of the BC immunization rollout.
In March, the province will set up 172 vaccination clinics across the province, there will also be mobile sites set up wherever needed as well as home visits for those unable to go to clinics.
Starting in mid-to-late February, Health Authorities will be reaching out to seniors 80 years and older as well as Indigenous seniors aged 65 and up to give them more insight on how to pre-register for appointments.
Starting in mid-March and by five-year cohorts working backwards from age 75-79, citizens will be able to pre-register for a vaccine 2-4 weeks before they are eligible for their appointment.
Additionally, mobile sites will be set up wherever needed and home visits to support those who are unable to go to clinics will be available.
Health officials will begin pre-registering and setting up vaccination appointments in March, which will be available online.
FOUR PHASE PLAN:
More than 103,000 people in BC received a COVID-19 vaccine during the first phase of the rollout plan that ends in mid-February
Phase 2 expands immunizations to additional vulnerable populations, Indigenous communities and Elders, health-care staff and all seniors over the age of 80
In April, phase 3 begins and will expand to include people between the ages of 79 to 75 and work backwards in five-year cohorts to include anyone aged 60 and older.
People with certain underlying health conditions that make them clinically extremely vulnerable to the virus will be included in phase 3 as well.
Phase 4 is anticipated to begin in July for the rest of the eligible population, starting with people aged 59 to 55 and working backwards in five-year age groups until everyone over the age of 18 who wants a COVID-19 vaccine receives it.
Between July and August, anyone between the ages of 40-59 is expected to receive the vaccine
Anyone aged 18-39 can expect to be eligible for the vaccine between August and September
With each phase, more people will be eligible to be immunized and any extra available vaccines will be given to front-line workers between the ages of 18-64.
Additionally, BC Health officials explained that no one will lose their place in line if you cannot be immunized during your scheduled phase.
PEOPLE DEEMED EXTREMELY CLINICALLY VULNERABLE (REFERENCED IN PHASE 3)
Solid organ transplant recipients
With specific cancers, people with cancer that are undergoing active chemotherapy or anyone with lung cancer undergoing radical radiotherapy
With cancers of the blood or bone marrow such as leukemia, lymphoma or myeloma who are at any stage of treatment
Having immunotherapy or other continuing antibody treatments for cancer
Having other targeted cancer treatments that can affect the immune system, such as protein kinase inhibitors or PARP inhibitors
Who have had bone marrow or stem cell transplants in the last 6 months or who are still taking immunosuppression drugs
With severe respiratory conditions including all cystic fibrosis, severe asthma and severe chronic obstructive pulmonary disease (COPD)
With rare diseases that significantly increase the risk of infections (such as severe combined immunodeficiency (SCID), homozygous sickle cell disease)
On immunosuppression therapies sufficient to significantly increase risk of infection (biologic modifiers, high dose steroids, AZT, cyclophosphamide)
Who had a splenectomy (spleen removed)
Adults with very significant developmental disabilities that increase risk (details to come)
Adults on dialysis or with chronic kidney disease (stage 5)
Women who are pregnant with significant heart disease, congenital or acquired
Significant neuromuscular conditions requiring respiratory support
VACCINE SUPPLY:
Canada has secured 6 million doses of the vaccine to be distributed between January to March
The federal government is expecting to receive another 20 million doses between April and June, then 45 million from July to September
From mid-December 2020 to the end of March, BC expects to receive 792,675 doses
BC expects to receive approximately 2,640,000 doses from April to the end of June
From July to September, BC is expecting to receive nearly 6 million doses
These numbers only account for the two Health Canada approved vaccines, Moderna and Pfizer-BioNtech, and doesn't account for the AstraZeneca vaccine, which health officials claim is likely to be approved before the end of March.
Both the Moderna and Pfizer-BioNtech vaccines require two doses administered about 35 days apart.
BC's entire vaccine rollout plan is based on the findings and predictions of the National Advisory Committee on Immunization and doesn't account for any unexpected delays in distribution.
Three new clinics to open in Vancouver, Surrey for COVID-19 long-haulers – Global News
Three new clinics are set to open in Vancouver and Surrey for British Columbians suffering from long-term effects of COVID-19.
The clinics will open at St. Paul's Hospital, Vancouver General Hospital, and the Jim Pattison Outpatient Care and Surgery Centre in Surrey.
In addition to providing care for those suffering from lingering effects of the virus, the Provincial Health Services Authority said Friday that it will be developing knowledge and best practices for dealing with long-haul patients.
COVID-19 long-haulers are patients who have contracted the virus but continue to live with chronic symptoms months after tests reveal they're virus-free.
"We know some people who recover from COVID-19 experience long-term health effects," Health Minister Adrian Dix said in a release. "Through the dedication of a large team of experts and health leaders across the province, we are working to ensure that specialized care is available to British Columbians, when they need it."

2:16


The struggles of COVID-19 'long-haulers'



The clinics will be staffed with specialists and health professionals with an extensive knowledge of the virus long-haulers, the province said.
[ Sign up for our Health IQ newsletter for the latest coronavirus updates ]
The St. Paul's clinic has already seen more than 160 post-COVID-19 patients, the province said.
"We want patients to feel like they are not alone," physician lead and internist Dr. Jesse Grenier said in a release.
"We are here. We're listening. With patient partners, researchers, specialists, and primary care physicians across many health authorities, we are working together to learn from and support one another to ensure that patients get the care they need."
Three long-hauler clinics are also set to open in Alberta — two in Calgary and one in Edmonton.
Prior to the opening of these new clinics, the long-hauler patients were receiving care from a team of experts from Fraser Health, Providence Health Care, VCH, BC Centre for Disease Control, PHSA and several others.
An early study of COVID-19 long-haulers in B.C. showed more than half of participants had abnormal breathing tests three months after they first started feeling sick with COVID-19. Further examination with CT scans showed one in five had lung scarring, which is permanent damage that will lead to compromised lung function.
"COVID-19 presents a special opportunity for research — we are leveraging the unprecedented focus on a single threat to bring together investigators and patients, who would otherwise be isolated, to create and mobilize new insights to benefit our community and beyond," Dr. Chris Carlsten, Vancouver Coastal Health Scientific Director of Legacy for Airway Health and professor of medicine and head of the division of respiratory medicine at UBC, said in a release.
© 2021 Global News, a division of Corus Entertainment Inc.
Coronavirus: Beware workplace, family spread, new Ottawa Public Health case study warns – Global News
The latest case study documenting coronavirus transmission in Ottawa shows the risks of lowering one's guard in the workplace and when interacting with other households.
Ottawa Public Health tweeted a real-world contact tracing example Friday morning, as the heath unit has done previously, to show how COVID-19 spread through organized sports, weddings and outdoor social events, this time depicting virus transmission from one confirmed case in a few seemingly innocuous settings.
Before showing symptoms, this individual went to work where inconsistent mask use and physical distancing, coupled with some team members sharing a meal together, resulted in six employees testing positive for the virus and 18 more co-workers forced to self-isolate due to their high risk of exposure.
Two additional cases were linked to this workplace outbreak after one of the employees who tested positive brought the case into their home; other household members of the positive cases also had to self-isolate.
The original person who tested positive then developed minor symptoms but still attended a family gathering, where four households came together.
Six additional people tested positive as a result of this gathering and three other high-risk contacts were created.

0:54


How an outdoor gathering in Ottawa led to community transmission



Finally, the original person had a friend over to their home. That contact then tested positive for the virus as well and exposed the other five members of their household.
Within two weeks' time, the original case had become 15 with 40 high-risk contacts.
"We're naturally more relaxed around people we're close to, but this cluster is a reminder that COVID doesn't care how well we know someone. Whether around coworkers we've known for years, friends or family members, we must remain vigilant," OPH said in the tweet.
The local health unit also added one addendum to the case study: don't gather with four households.

5:18


Coronavirus: How scientists track new variants of the virus



© 2021 Global News, a division of Corus Entertainment Inc.