Apple iOS 16.1 Release: Should You Upgrade?
iOS 16.1 is finally here. This is Apple's first major feature update for iOS 16, comes with critical security updates, and coincides with the long-awaited launch of iPadOS 16.1. So what do you get, and is the iOS 16 bug-fest finally under control? Here's everything you need to know.
Tip: bookmark this page because I will keep it up-to-date if/when new problems are found. I will deliver my final verdict in a week.
Who Is It For?
Apple iOS 16.1 has been released for all iOS 16 compatible devices; that's the iPhone 8/iPhone X and newer. iOS 16 dropped support for the iPhone 6S and iPhone 7 ranges, as well as the iPod Touch.
With Apple admitting to auto-update delays, you can trigger the update manually if you have not received a notification. Navigate to Settings > General > Software Update. If you are running newer beta software (see 'The Road Ahead' section at the end), you must unenroll your device before the update appears.
Note: this guide is not focused on older iOS updates, iPadOS or macOS, but I will touch upon pertinent issues in these guides. You can read my iOS 15.7 Upgrade Guide here.
The Deal Breakers
The first 24 hours for iOS 16.1 have been largely positive. Notably, the update has introduced a graphical glitch for some users that causes cellular and WiFi icons to disappear and reappear at random (1,2,3,4 etc).
Further graphical glitches are reported on the lock screen with flashlight and camera buttons missing, and the frustrating copy/paste permissions bug from earlier iOS 16 updates still remains (Apple has promised a fix, but it is not listed in the iOS 16.1 release notes).
I have also seen isolated reports of issues with Back Tap and password management while complaints persist about battery drain — which has plagued iOS 16 since its release. That said, iPhones have to reindex after updates, which causes higher battery drain for 24/48 hours, so it is too early to call this out definitively.
So What Do You Get?
iOS 16.1 is a major update, with Apple publishing lengthy release notes:
iCloud Shared Photo Library
– Separate library for seamlessly sharing photos and videos with up to five other people
– Setup rules allow you to easily contribute past photos based on start date or people in the photos when you set up or join a library
– Library filters for quickly switching between viewing the Shared Library, your Personal Library, or both libraries together
– Shared edits and permissions let everyone add, edit, favorite, caption, and delete photos
– Sharing toggle in Camera lets you choose to send photos you take straight to the Shared Library, or enable a setting to share automatically when other participants are detected nearby using Bluetooth
Live Activities
– Live Activities from third party apps are available in the Dynamic Island and on the Lock Screen for iPhone 14 Pro models
Fitness+
– Apple Fitness+ is supported on iPhone even if you don't have an Apple Watch
Wallet
– Key sharing enables you to securely share car, hotel room, and other keys in Wallet using messaging apps such as Messages and WhatsApp
Home
– Matter, the new smart home connectivity standard, is supported enabling a wide variety of smart home accessories to work together across ecosystems
Clean Energy Charging
New setting that can try to reduce your carbon footprint by selectively charging when lower carbon emission electricity is available
Books
– Reader controls are automatically hidden as you start reading
This update also includes bug fixes for your iPhone:
– Deleted conversations may appear in the conversations list in Messages
– Dynamic Island content is not available when using Reachability
– CarPlay may fail to connect when using a VPN app
iCloud Shared Photo Library is the biggest feature here, allowing up to six people to share a single Photo Library, a boon for family and close friends. Sharing for Apple Wallet also removes similar organizational headaches.
Also worth mentioning are the new customization options for the (troubled) iOS 16 lock screen, Fitness+ for iPhones, and 'Clean Energy Charging,' which selectively charges your iPhone/iPad when low(er) carbon emission electricity is available. In a new support document, Apple says this feature is currently limited to the US and requires Location Services, System Customization, and Significant Locations to be enabled in the System Services section of the Settings app.
iOS 16.1 Security
Apple's official security page reveals that iOS 16.1 contains 20 dedicated security fixes. The standout is CVE-2022-42827 which patches a Zero Day memory vulnerability. Apple explains that hackers could have potentially exploited this to execute arbitrary code with kernel privileges.
It is currently unclear whether this bug affects older iPhones and iPads or older versions of iOS. I have contacted Apple and will update this post when/if I receive an answer.
Apple iOS 16.1 Verdict: Upgrade
For iPhone owners already running iOS 16, updating to iOS 16.1 is a no-brainer. The update brings a lot of useful, new features and critical security updates. The first 24 hours are also promising, though cautious updaters may wish to wait for my final verdict in a week.
As for those running iOS 15, it looks like iOS 16.1 may finally present you with a stable update opportunity, minor graphical glitches aside. The one disappointment is the lack of fixes for ongoing issues with iOS 16, including the copy/paste bug, but expect more dedicated bug fixes in the coming weeks.
Note: bookmark this page because I will track user experiences and deliver my final verdict in a week.
The Road Ahead
While iOS 16.1 is shaping up to be the most stable iOS 16 release so far, there are still plenty of bugs to be squashed. As such, I would expect iOS 16.1.1. to come quickly, followed by iOS 16.1.2 and even iOS 16.1.3 before the arrival of iOS 16.2 in late 2022/early 2023. If you want early access to iOS 16 updates, join the Apple Beta Software Program.
___
Follow Gordon on Facebook
Makeover: How to achieve that perfect flick, no matter your eye shape – The Chatham Daily News
Article content
A winged eyeliner is a classic look loved by many, and surprisingly easy to do.
Article content
Here are a few easy steps, and tips, to help you get that perfect flick no matter your eye shape.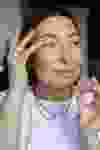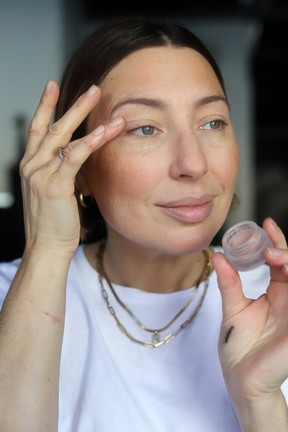 Step 1: Primer
The first and most important step is to prep the eyelid with a smudge proof base. I'm using Charlotte Tilbury's Matte — Eyes to Mesmerize in Nude Cashmere because it goes on smoothly, is long wearing and lasts up to 12 hours.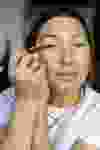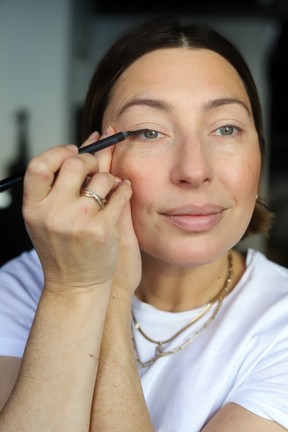 Step 2: Liner
I used Smashbox — Always On Waterproof Gel Eyeliner in Fishnet to draw on my liner. tarting at the middle of my eyelid, I traced a thin line along my lash, which progressively grew thicker toward the outer corner of my eye. I then connected the line from the inner corner to the middle of the eye. The key to a perfect liner is to use short and clean strokes, a sharp eyeliner and a fine angled liner brush to extend the outer wing.
Article content
Tip: For hooded eyes try creating the outer wing where the hood starts first and work your way inward. For round eyes start from the outer corner of the eye and create a sharper angle toward the middle of the lid. For small eyes try keeping your liner and wing thin and short. Use a skin toned eyeliner to draw a line just below the wing and to tight line, making the eyes appear larger and brighter.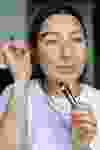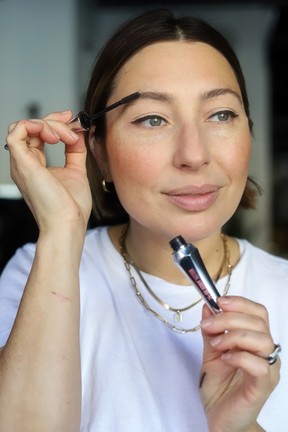 Step 3: Mascara and brows
Curling the lashes and coating them with black mascara will enhance the look, as will filling in your eyebrows. I'm using Benefit Cosmetics — Roller Lash Curling Mascara in black and on my brows, I used Benefit — 24-Hour Brow Setter Clean Brow Gel with Benefit — Precisely My Brow Pencil in #4.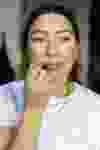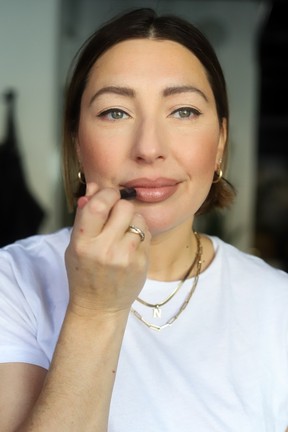 Step 4: Lips and blush
Article content
I lightly contoured my face with Tarte Amazonion Clay Waterproof Bronzing Powder, then swept a hint of Benefit Cosmetics — Dandelion blush on my cheeks. To pull the look together, I lined my lips with NYX — Suede Matte Lip Liner in Sandstorm then layered it with Glo Skin Beauty — Cream Glaze Crayon in Chiffon.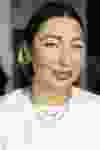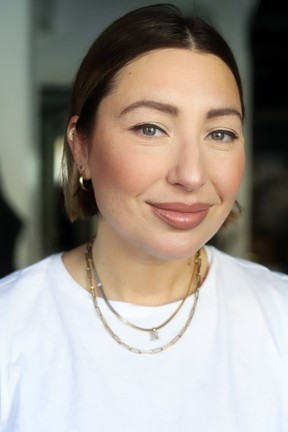 The completed look
---
More news, fewer ads: Our in-depth journalism is possible thanks to the support of our subscribers. For just $3.50 per week, you can get unlimited, ad-lite access to The Vancouver Sun, The Province, National Post and 13 other Canadian news sites. Support us by subscribing today: The Vancouver Sun | The Province.
Fortnite Chapter 4 starts today: See what happened at game's Fracture event finale – Economic Times
The next generation of Fortnite heralds the coming of famous and exciting new characters like
Geralt
of Rivia from The Witcher, the fabled Doomslayer, and The
Hulk
, among others. Other than that, new gameplay mechanics like the addition of motorcycles add a lot more to the latest
Chapter of Epic Game
's most popular battle royale.
Fortnite's last map was quickly devoured by the invading Chrome in a small cutscene last night. The Herald led the Chrome, and despite the Fortnite, heroes making their last stand against him and shooting him down, which only led him to return supersized, the Chrome devoured the island along with The Herald making the island unstable and then finally disintegrating.
This was followed by a 30-minute event mode where the players were tasked to rebuild the island anew with a mix of known and fresh new locations that are set to appear in the New Chapter. At the end of the event, another cutscene appeared where Paradigm succeeds in her mission of fusing the island back as the game's Zero Point puts together the chunks of the landscape together. The second half of the trailer features cameos from characters thought to appear in Chapter 4, such as Geralt from The Witcher, Hulk, YouTuber Mr. Beast, The Doomslayer and another Pickaxe item themed around All Might from My Hero Academia.

FAQs:
When will Chapter 4 of Fortnite be released?
The latest chapter will release on 4 December.
What consumed Fortnite island?
Chrome consumed the Fortnite island.
Disclaimer Statement: This content is authored by an external agency. The views expressed here are that of the respective authors/ entities and do not represent the views of Economic Times (ET). ET does not guarantee, vouch for or endorse any of its contents nor is responsible for them in any manner whatsoever. Please take all steps necessary to ascertain that any information and content provided is correct, updated, and verified. ET hereby disclaims any and all warranties, express or implied, relating to the report and any content therein.
'The Callisto Protocol' Receiving First Post-game Content This February – Bloody Disgusting
After revealing a whack of character posters earlier this week for their upcoming adaptation of The Last of Us, HBO has unleashed the big one with the official trailer. Set to a-ha's "Take On Me" (seriously), the new trailer sports almost entirely new footage, as well as recreating some iconic scenes from the first game.
Co-written and executive produced by Chernobyl creator Craig Mazin and Naughty Dog vice president Neil Druckmann, the series will cover the events of the first game, twenty years after modern civilization has been destroyed due to the Cordyceps infection. Joel, a hardened survivor, is hired to smuggle Ellie, a 14-year-old girl who holds the cure for the infection, out of an oppressive quarantine zone. What starts as a small job soon becomes a brutal, heartbreaking journey, as they both must traverse across the US and depend on each other for survival.
HBO's "The Last of Us" will premiere on January 15, 2023 on HBO Max, and stars Pedro Pascal ("The Mandalorian") as Joel, and Bella Ramsey ("Game of Thrones") as Ellie. Gabriel Luna (Terminator: Dark Fate) is playing Tommy, the brother of Pascal's Joel. Storm Reid, Anna Torv, Jeffrey Pierce, Nick Offerman, Merle Dandridge, Nico Parker, Murray Bartlett and Con O'Neil will also star in the series.
Kantemir Balagov (Beanpole) directed the pilot episode of the series, with Jasmila Žbanić (Quo vadis, Aida) and Ali Abbasi (Border) also directing episodes.