iPhone 15 Pro Leaks, Stunning Apple Watch Upgrade, Apple's Budget AirPods
Updated January 15th, article originally posted Friday January 13th.
Taking a look back at another week of news and headlines from Cupertino, this week's Apple Loop includes the iPhone 15's massive upgrade, the pricey iPhone 15 Pro, the cheaper AirPods Lite, Apple's display ambitions, the mixed reality headset really is coming this year, Mac Pro disappointment, and Apple's entertainment success.
Apple Loop is here to remind you of a few of the very many discussions that have happened around Apple over the last seven days (and you can read my weekly digest of Android news here on Forbes).
Apple Takes Control Of Your Display
Apple will be using the Apple Watch Ultra and other high-end wearables to introduce its own designs of microLED displays, presumably with a view to using its own designs on larger displays in more popular products:
"The screens upgrade the current OLED — organic light-emitting diode — standard to a technology called microLED, and Apple plans to eventually bring the displays to other devices, including the iPhone."
Update: Sunday January 15th: Bloomberg's Mark Gurman has offered more details on Apple's plans to bring this new display technology to its product line. As expected the smaller displays on the Apple Watch range, especially the premium-level Apple Watch Ultra, will debut these brighter and more vivid screens before they roll out across the rest of Apple's portfolio:
"The screens will show up first in an update to the Apple Watch Ultra currently planned for the end of 2024. I'd expect them to then make their way to the iPhone a few years after that, and maybe, one day, iPads and Macs."
(Bloomberg).
iPhone 15's Massive Camera Upgrade
Apple is preparing to make a major change in its approach to the iPhone camera; with the iPhone 15 family, the camera will be upgraded to a 48-megapixel primary camera… up from the long-established 12-megapixel:
"…this will be a three-staked sensor, like its Pro predecessors, which is a major surprise given its additional cost compared to the long-running 12-megapixel sensors Apple had been using. Pu also states that the iPhone 15 and iPhone 15 Plus models will move to USB-C, an upgrade initially thought to be Pro-only."
(Forbes).
The Pricey iPhone 15 Pro
Those looking to upgrade to the iPhone 15 may have been hoping for Apple to hold pricing steady for another year, but the margins look to be too tight. Get ready for the prices – especially of the Pro models – to rise dramatically.
"…prolific leaker LeaksApplePro adds credence to claims last week that Apple will "aggressively" price iPhone 15 models. The big difference is that aggression was assumed to mean lower iPhone 15 and iPhone 15 Plus pricing to reverse underwhelming sales. Instead, LeaksApplePro says Apple will simply make the iPhone 15 Pro and iPhone 15 UItra more unattainable."
(Forbes).
Listening For AirPods Lite
Is Apple preparing a new AirPods product to launch at $99, as opposed to one that is a year old and discounted to $99? That's an intruifging possibility put forward by analyst Ming-Chi Kuo. Forbes' David Phelan looks at the potential:
"Given this predicted price point it seems to me we should imagine that Apple will introduce something reasonably basic, though not necessarily as simple as the second-gen AirPods which, obviously, would disappear when the budget version appears. Newer tech is likely though the enhanced audio and other features introduced in the third-gen AirPods would be absent. I'd also expect the design to match the current second-generation version. A bit like the way the SE iPhones have taken an earlier design and updated the tech on the inside."
(Forbes).
The Headset Is Really Really Coming This Year
The latest details on Apple's mixed reality headset – the game-changer in this space if you read the runes in just the right way – will be launched in Spring this year – ahead of the Worldwide Developer Conference – before a commercial release later in the year. That should give developers time to come up with at least one good reason to buy the headset.
"Apple has been rumored to announce its AR/VR headset for the last several years, with 2023 seeming to be the year it finally happens. According to [Bloomberg Analyst Mark] Gurman, Apple is already working with several "high-profile developers" on experiences and apps for the new headset and the xrOS operating system. Apple's first headset is expected to be a high-end and niche product, tailored towards professionals and developers before a more consumer-friendly headset launches in the next several years."
(MacRumors).
Disappointing Mac Pro Design
While we await the first Apple Silicon Mac Pro (that would be the Mac Pro Apple intimated would be here by the end of 2022), the design of the office-bound powerhouse has leaked. Let's just say 2019 called and wants its box back.
"In another disappointment, the new Mac Pro will look identical to the 2019 model. It will also lack one key feature from the Intel version: user-upgradeable RAM. That's because the memory is tied directly to the M2 Ultra's motherboard. Still, there are two SSD storage slots and [spaces] for graphics, media, and networking cards."
(Mark Gurman via MacRumors).
And Finally…
Apple continued to make waves in the entertainment industry during 2022, and is quick to point out its success stories. Quoting 900 million subscriptions across all Apple Services, there are a lot of eager consumers looking for content:
"When we started Apple TV+ a few years ago, we did so to tell stories that reflect our broader humanity. And whether it was CODA winning the Oscar for Best Picture or Ted Lasso winning back-to-back Emmys for Best Comedy, we have seen, in so many ways, the validation of this kind of storytelling and the strong desire for more of it."
Apple Loop brings you seven days worth of highlights every weekend here on Forbes. Don't forget to follow me so you don't miss any coverage in the future. Last week's Apple Loop can be read here, or this week's edition of Loop's sister column, Android Circuit, is also available on Forbes.
Specialized shutters pioneering women's apparel brand – Canadian Cycling Magazine
Specialized is shutting down the pioneering women's apparel brand, Machine For Freedom. MFF, founded by Jenn Kriske in 2013, built a strong following for promoting a more inclusive vision of the women's cycling community.
MFF was one of the first brands to seriously develop women's riding clothing outside of the traditional, race-focused sizing of most apparel lines. In the years since, other brands have broadened their lines to match the example set by Machined For Freedom.
The boutique California-based apparel brand was bought by Specialized in 2018. Going into the fifth year of partnership, the global bike brand is now disbanding MFF. The news was met with an outpouring of support from riders as well as other women's clothing brands that have followed in MFF's tire tracks.
The end of Machines For Freedom is the latest in a series of big changes for Specialized. Specialized also announced significant layoffs earlier this year as well as shutting down most of its long-running ambassador program.
MFF founder Jenn Kriske posted this note to the brand's community on Instagram:
"It is with a heavy heart that I make this announcement. After eight incredible years, the difficult decision was made to shutter the Machines For Freedom brand.
I am tremendously grateful for everything this brand and this community has accomplished in that time. Our influence in the industry is undeniable, and our industry-leading fit process changed the game for women riders in all shapes and sizes. While the brand will no longer exist, the community – and what we built together – will. What we built is bigger than any single brand or company, and I am eternally grateful to be a part of it.
Machines For Freedom is bigger than cycling.
Always has been.
Always will be."
Cheapest Samsung Galaxy S23 model to arrive with downgraded storage technology – Notebookcheck.net
Oppo Reno8 T 4G Sunset Orange model poses for the camera, revealing key specs – GSMArena.com news – GSMArena.com
Oppo will launch the Reno8 T 4G in the Philippines on February 8, and we already know what it looks like since Oppo has listed it on its online store. The company hasn't divulged the Reno8 T 4G's specs, but rumors claimed it will be powered by the Helio G99 SoC. We can confirm that Reno8 T 4G will have the Helio G99 chip at the helm, thanks to live images of the smartphone we received from an anonymous tipster.
We received three pictures, one of which shows us the "About device" screen of the Reno8 T 4G (CPH2481), displaying the smartphone's specs: Helio G99 SoC, 6.43″ screen, and Android 13-based ColorOS 13. The smartphone has 8GB RAM (+8GB virtual RAM) and 256GB storage, but there could be more memory options that are yet to be officially confirmed.
The Oppo Reno8 T 4G will come with four cameras – a 32MP selfie camera inside the display's punch hole and a 100MP primary camera on the rear joined by two 2MP units.
Another image shows us the screen refresh rate settings, which confirm the Reno8 T 4G will pack a 90Hz screen, and you'll have the option to choose between 60Hz and 90Hz refresh rates. However, there is no Auto option on the Reno8 T 4G, which can automatically switch refresh rates depending on the apps and content displayed on the screen. This picture also shows the NFC icon in the status bar, meaning the Reno8 T 4G will have an NFC chip onboard.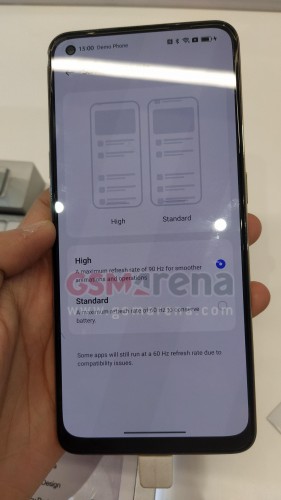 The third photo shows us the Reno8 T 4G's rear. We are looking at the Sunset Orange version with a leather design, but it's unclear if this is the Fibreglass-Leather design we've previously seen on F21 Pro 4G or something different.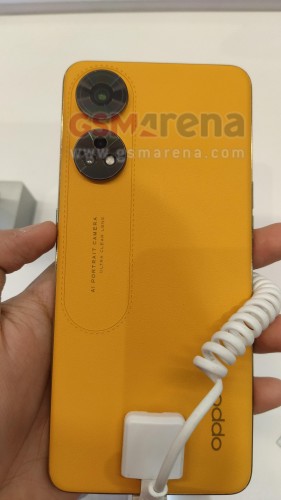 We know the Oppo Reno8 T 4G will also come in Midnight Black color with the Oppo Glow design, and it remains to be seen if there will be more color options or just these two.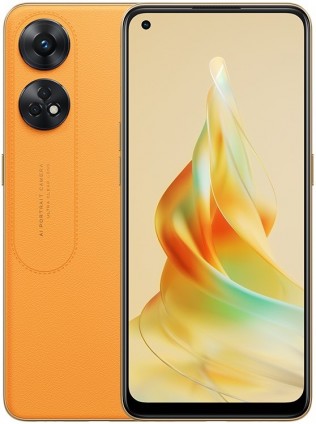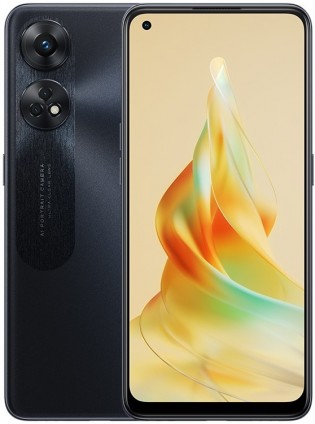 Oppo Reno8 T 4G Sunset Orange • Oppo Reno8 T 4G Midnight Black
There's also a 5G variant of the Oppo Reno8 T, which packs a curved screen with a centered punch hole. It's rumored to come with the Snapdragon 695 chip, and we are expecting it to be launched in the first or second week of February.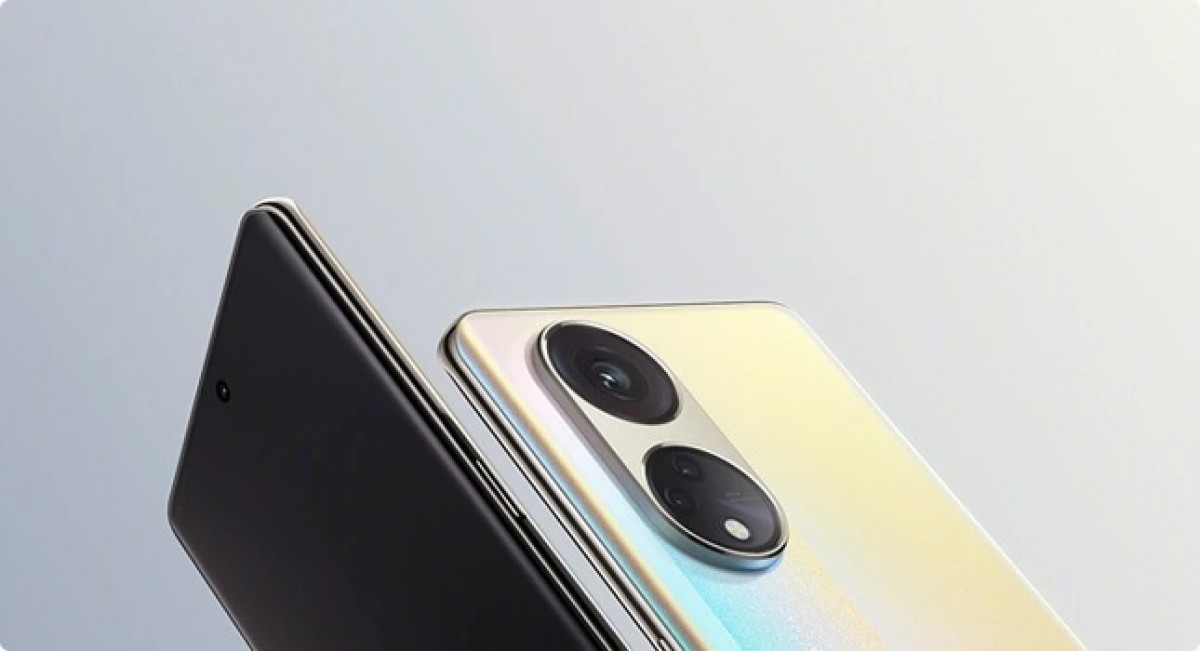 Oppo Reno8 T 5G
Thanks for the tip, anonymous tipster!