Apple Says Record 2020 Mac Sales Attributed Primarily to MacBook Pro – MacRumors
Apple on Thursday reported its earnings for the fourth quarter of the 2020 fiscal year, including Mac revenue of $9 billion, a new quarterly record. Apple ended the year with annual Mac revenue of $28.6 billion, an all-time high.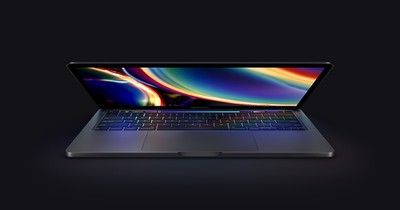 In its annual Form 10-K report [PDF], filed with the U.S. Securities and Exchange Commission today, Apple said increased Mac sales in fiscal 2020 compared to fiscal 2019 were primarily due to higher sales of the MacBook Pro. Apple introduced a new 16-inch MacBook Pro in the first quarter of the fiscal year, followed by a refreshed 13-inch MacBook Pro in the third quarter, both with faster Intel processors and a more reliable Magic Keyboard.
Apple's financial chief Luca Maestri said the company also saw "amazing customer response" to the new MacBook Air during the back to school season.
Apple has thrived during the pandemic in spite of economic uncertainty, with both Macs and iPads recording strong sales as many people continue to work, learn, and connect with family and friends from home. During its earnings call Thursday, Apple said that its products outside of the iPhone grew a combined 30 percent last quarter, despite supply constraints impacting the iPad, Mac, and Apple Watch throughout the quarter.
Apple's Form 10-K also revealed the following details:
As of September 26, 2020, Apple had approximately 147,000 full-time equivalent employees, an increase of 10,000 employees from one year prior.
Apple spent $18.75 billion on research and development in the 2020 fiscal year, up approximately 16 percent from $16.21 billion in the 2019 fiscal year. Apple said this increase was primarily due to "headcount-related expenses."
Apple spent $2.95 billion on warranty claims in the 2020 fiscal year, down approximately 23 percent from $3.85 billion in the 2019 fiscal year.
Amid mounting scrutiny over its App Store practices, Apple acknowledged that if the commission it collects on certain purchases were to decline, the company's financial results could be "materially adversely affected."
For more, see our coverage of Apple's earnings report.
Cyber Monday phone deals: Big savings on Samsung Galaxy S20, iPhone 11, Google Pixel and Moto Razr – CNET
This story is part of Holiday Gift Guide 2020, CNET's gift picks with expert advice, reviews and recommendations for the latest tech gifts for you and your family.

Black Friday may be over, but Cyber Monday is just getting started. You'll find big discounts on smartphones from Apple, Samsung, Motorola, Nokia and others, on both the individual phone-makers' websites as well as online retailers like Amazon and Best Buy. In many cases, these cell phone deals are a return to the prices we saw on Prime Day— and in some cases, the savings are even better.
If you're looking to snag a new iPhone, check the Apple Store for the latest discounts. Apple has now permanently cut prices on older models, including the iPhone XR and iPhone 11 (check out our iPhone 12 Black Friday deals roundup too).
Note that prices and availability were accurate at the time of publication, but are subject to change. Make sure to check back often for the latest deal prices, as we're updating this article on a rolling basis to account for newer, better deals and expired offers.
Offers expired/out of stock
These offers are gone for now — keep checking back as they may return at some point.
Walmart's Cyber Monday deals are even better than its Black Friday discounts – Yahoo Canada Sports
CBC
It was during one of the early planning sessions for the 2010 Vancouver Winter Olympics that Chief Gibby Jacob heard a provincial government official talking about the Callahan Valley, which would eventually host cross-country skiing and ski jumping during the Games. Jacob, who participated in the bidding process for the Olympics and was a member of the Games organizing committee board, finally put up his hand. "I asked who the hell is this Callahan and how the hell did he get his name on our lands," the Squamish Nation hereditary chief said with a chuckle. "They all looked at each other. I said find out and let us know." It turns out the Callahan Valley, located near Whistler, B.C., was named after one of the early surveyors in the region. "That was the start of our big push to get our names back on places," said Jacob. Indigenous groups had a voice in organizing and hosting the 2010 Games. But Vancouver Mayor Kennedy Stewart has suggested any movement to bring another Games to the city should be headed by Indigenous leaders. In early November, Vancouver city council voted to postpone a decision on whether it wants to explore making a bid. City staff are expected to present a report to council in early 2021. Stewart has said one of his conditions for supporting a bid is that the Musqueam, Squamish and Tsleil-Waututh — the three Indigenous First Nations whose traditional territory includes Vancouver — head the Olympic bid committee. "I have talked to the Nations about this and there's interest there," the Vancouver Sun reported Stewart saying in a state-of-the-city address to the Greater Vancouver Board of Trade. Emails to Stewart's office asking to explain the mayor's proposal were not immediately answered. Khelsilem, a councillor with the Squamish Nation Council, isn't aware of any formal talks about leading a bid. "We haven't had any formal discussion about it," he said. "We haven't made any formal decision about whether we want or don't want. And we haven't had any formal discussions with our neighbouring nations." Representatives of the Musqueam and Tsleil-Waututh did not respond to interview requests. Khelsilem said before any decision is made, the pros and cons of hosting an Olympics must be weighed. "The reality is that something like hosting an Olympics requires a significant amount of investment and support from both the federal and provincial governments," he said. "While there are a number of reported advantages, there's also a number of drawbacks. "I think a lot of that workflow needs to be figured out, especially in the context of the challenges that we're going to face over the next decade and the challenges that we're facing on a number of fronts." Furthermore, Jacob said: "there's a lot to be gained by being involved [in a bid] for our people." "I don't think that our nations, given what we have as far as leadership resources and how fast they seem to change, would be able to take things right from scratch to completion," he said. Creating a common agenda With 15 of the venues used for the 2010 Olympics built on First Nation traditional territories, Indigenous support was crucial for the Games success. The Squamish, Tsleil-Waututh, Musqueam and Lil'Wat nations formed The Four Host First Nations, a non-profit organization with the goals of uniting Canada's Indigenous people and encouraging inclusion across the country. "I think it created a common agenda," said Jacob. "By doing that and achieving what we set out, it was totally outstanding. "I think it showed leadership that the four separate First nations could work together for a common purpose and get benefits from it." WATCH | President of 2010 Games says Vancouver should bid for 2030: Involvement in the Games raised awareness of Indigenous issues across Canada, he said. "When we first started out, we were pretty invisible in our own territories," said Jacob. Indigenous groups did "fairly well in compensation for the use of our lands," he said. The Olympics also led to traditional Indigenous names being returned to locations and landmarks plus recognition of First Nation arts and culture. John Furlong, who was head of the Vancouver Organizing Committee for the 2010 Olympic and Paralympic Winter Games (VANOC), is part of the group looking at the 2030 Games. He said any bid would be impossible without Indigenous participation. "I see no scenario at all in which First Nations are not involved," he said. "They were a difference maker in 2010. "First Nations are in multiple new business since 2010. My instincts tell me they will be keenly interested in being involved again."
Italy's antitrust fines Apple 10 million euros for misleading commercial practices – The Journal Pioneer
ROME (Reuters) – Italy's antitrust authority said on Monday it had fined Apple 10 million euros ($12 million) for "aggressive and misleading" commercial practices regarding its iPhones.
The regulator said in a statement the company advertised that several iPhone models were water-resistant without clarifying they were only so under certain circumstances.
It added that the company's disclaimer, saying that its phones were not covered by warranty in case of damage from liquids, tricked clients, who were also not provided support when their phones were damaged by water or other liquids.
Apple declined to comment.
(Reporting by Elvira Pollina, writing by Giulia Segreti; editing by Valentina Za)