Art thieves make off with sculptures from Kelowna gallery – CBC.ca
Kelowna RCMP are investigating a brazen early morning art heist at Gallery 421 in the city's South Pandosy district.
Gallery co-owner Ken Moen said two masked men took a crowbar to the front doors just before 2 a.m. Saturday and made off with almost $70,000 of Canadian fine art.
"It was a total of three minutes. They were in, they were out," he said.
"All things considered, we feel fairly lucky because they did zero vandalism. We have paintings on the walls they didn't touch. It was very targeted."
Moen said the criminals immediately ran for the most expensive, heaviest works on display at the back of the gallery: two bronze sculptures by noted Calgary area cowboy artist Vilem Zach, each weighing about 40 kilograms.
The thieves quickly loaded up a vehicle, re-entered and snatched three smaller bronze sculptures cast by Summerland's Michael Hermesh, three glass bowls blown by Jeff Holmwood, and two soapstone bear carvings from Vance Theoret.
"They knew what they were getting," Moen told CBC News.
"I think someone has a shopping list and they sent them here … somebody probably said go grab the most expensive sculptures and get in and get out."
Moen says the bronze has little value smelted down or sold as scrap. Selling the works of art will be difficult at any Canadian galleries or auction houses.
The break and enter was caught on the gallery's security cameras.
The RCMP are seeking information on two male suspects.
"One suspect is described as wearing a red bandana over his face, a grey tuque, grey sweater, black track pants with white pin stripes and white shoes. The second male suspect is described as wearing a mask over his face, a black hoodie, grey sweatpants and with black Adidas shoes," said RCMP Cst. Solana Paré.

Art was a battlefield for Italian painter Artemisia Gentileschi, a feminist before the word was invented – CBC.ca
Sexual assault. The battle for control over a woman's body. The silencing of women's voices. Italian artist Artemisia Gentileschi lived it all in the 1600s, resisted and ultimately won.
Gentileschi carved a name for herself as the daring painter of biblical and Roman heroines — Judith, Esther, Susanna, Lucretia. Her bold history paintings upended traditional depictions of women by male artists and delivered instead complex female figures: gutsy, intelligent and strong.
"I will show your illustrious Lordship what a woman can do," she wrote in a note to her patron in 1649.
Gentileschi achieved extraordinary success in her own time. In the centuries that followed her death, however, the artist's standing faded. Art books referred to her in passing as the daughter of her artist father, Orazio Gentileschi.
That changed in 1971 with the publication of an article titled, Why Have There Been No Great Women Artists? Five years later, several of her paintings were included in a groundbreaking exhibition about women artists that opened in Los Angeles and Brooklyn.
Since then, Gentileschi has been the subject of exhibitions, books, movies and plays. She is now often known by her first name, Artemisia, like superstar male artists Michelangelo, Caravaggio, Picasso and Basquiat.
But the drama of her biography has often eclipsed her sensational and subversive paintings. At age 17, she was raped by a fellow artist and had to endure a humilating trial, during which she underwent torture to prove the veracity of her statement. The 400-year-old court transcripts are today held in the State Archives in Rome.
Curators and art historians are now working to refocus attention where it belongs: with her paintings.
A new vision of Susana
Artemisia painted Susanna and The Elders in 1610. Based on the apocryphal Old Testament story of Susanna, the painting shows a young woman, nude, seated by a bath. Two much older, fully-clothed, leering men hover over her threateningly. Fingers to their lips, they try in vain to silence her. Susanna bravely resists their demands for sexual favours.
This was Artemisia's first known work. She was 17 years old.
"It's astonishing for its maturity, both in its storytelling, but also just in the sheer skill, in the way it's painted," said Letizia Treves, curator of Later Italian Paintings at the National Gallery in London, England.
The story of Susanna and the Elders had been painted many times before, but Artemisia's was the first by a woman's hand. And it was a revolutionary first.
"Her male contemporaries saw this as an excuse to paint quite an erotic subject — a half naked woman, a titillating subject," said Treves. "What Artemisia focuses on is that very strong, I would say violent physical rejection of the elders. This is the first picture in my mind where Susanna is very clearly saying, 'no.'"
The work is also a rare example of a female artist painting the female nude, said art historian Sheila Barker. As a woman, Artemisia understood the intimate details of the female body.
The painting's greatest strengths live in its contrasts, she said.
"The contrasts between her beautiful, smooth, shining, clean flesh — it's tender, it's plump, it's feminine, it's round, it looks motherly, it looks warm, it looks inviting — and the harshness of that stone wall behind her and the red cloth, red blood-red, danger-red of one of the elders who was leaning over it."
It was just a few months after she painted Susanna that Artemisia was raped by fellow painter, Agostino Tassi. "In the months leading up to that point," precisely when she would have been painting Susanna, said Treves, "Artemisia was likely being harassed by Tassi."
'A gauntlet thrown down to the world'
Artemisia included some of her own features in her depiction of Susanna.
This was a radical gesture for a female artist who would have known that this painting, with her likened nude image, would hang in a collector's home, "always with her name prominently displayed on it," said Barker. "[It] was an act of incredible courage and self-confidence and a gauntlet thrown down to the world."
Artemisia's most famous painting, the one that catapulted her to fame, is Judith Beheading Holofernes. The blood splattered image is based on the biblical tale of the Israelite widow Judith who, with the help of her servant, murders the Assyrian general in order to save her people. Artemisia painted the moment of the beheading, when Judith thrusts a large sword into Holofernes' neck.
Male artists — most famously Caravaggio — had previously painted this well-known story. But Artemisia delivered a Judith unlike any other. "She spares us none of the horror and the violence," said Treves. "There's a truthfulness here. She imagines how hard it would be for a woman to actually cut off the head of a man as strong as Holofernes, and you can sense the sheer strength of brute force needed to carry out this really gory task."
Barker added that only Artemisia "succeeded in painting Judith as a figure worthy of having changed the course of history with a single stroke of a sword."
"This painting shows us the courage of women, the fearlessness of women. And that includes the ability to do violence," she said.
The iconic work is often described as Artemisia's revenge in paint against her rapist.
"For me, that's rather diminutive," said Treves, "I think there's a danger there to diminish the achievements and the extraordinary originality of these pictures by just reading them in that vein."
A feminist before the term was invented
With her paintbrush, as in her life, Artemisia fought gender inequality and helped to reimagine womanhood and what it meant to be a female artist.
"She was fighting for all the things that we're fighting for today," said Treves, "and she was a feminist in the truest sense of the word before the term feminism had even been invented."
Mary Garrard, an art historian and author of Artemisia Gentileschi and Feminism in Early Modern Europe, said "feminism was a vital force before it was given a name."
Gender debates figured prominently at the time, particularly among writers. "Artemisia dealt with the same issues — sexual violence, political power, the myth of female inferiority, and the cultural silencing of women's voices and achievements."
"This art was her battlefield," said Barker. "And the victory she won with this art was a victory that all women have benefited from. Artemisia made it possible for women in the future to imagine that it might be possible to remake the world as it needed to be for them to succeed."
Guests in this episode:
Sheila Barker is an art historian and director of the Jane Fortune Research Program on Women Artists at the Medici Archive Project. She is the author most recently of Artemisia Gentileschi (Getty Publications, 2022).
Alessandra Masu is co-founder of the Associazione culturale Artemisia Gentileschi in Rome and director of The Artemisie Museum, the first virtual museum and database dedicated to women in the arts.
Letizia Treves is the Sassoon curator of Later Italian Paintings at the National Gallery in London, England. In 2020-2021, she curated the retrospective, Artemisia, at The National Gallery, London — the first exhibition dedicated to the painter ever to be held in Britain.
Artemisia Gentileschi and Feminism in Early Modern Europe by Mary D. Garrard (University of Chicago Press, 2020).
---
*Written and produced by Alisa Siegel.
Application window now open for this year's Ice Hut Art project – BarrieToday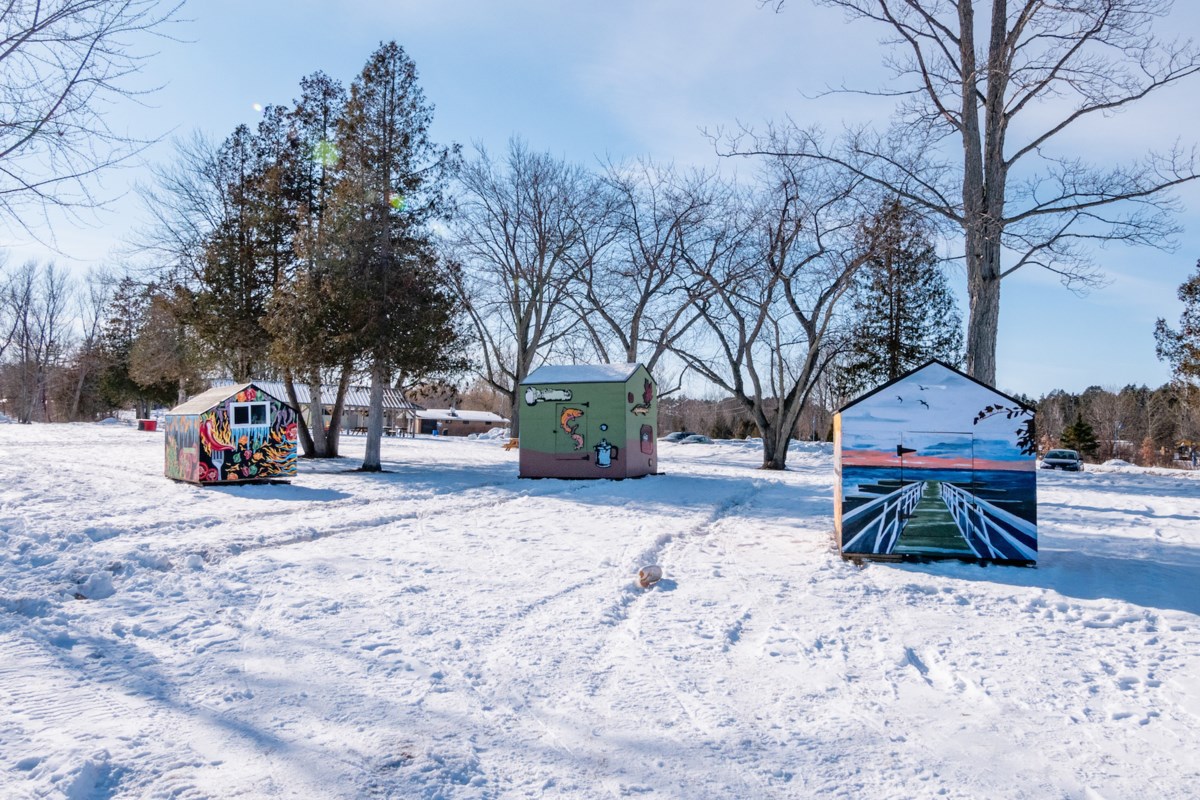 NEWS RELEASE
INNISFIL IDEALAB AND LIBRARY
*********************************
Ice Hut Art will be returning to Innisfil! Last winter, the Town of Innisfil and the Innisfil ideaLAB & Library, in partnership with local ice fishing hut operator Gail's Hotbox Ice Huts, collaborated on a public art installation that located an array of vibrant ice huts throughout Innisfil. Once again, individual artists or artists' collectives to, will be invited to transform wooden structures into engaging, and thought-provoking pieces of art for the 2022-23 winter season.
We are excited to announce that this new Ice Hut Art project will be funded by the County of Simcoe 2022 Tourism, Culture and Sport Enhancement Fund. These new huts will form an outdoor art gallery in Innisfil Beach Park while the huts of 2021-22 will be located directly on ice at Gail's Hot Box Ice Huts.
The Ice Hut public art project was created to connect residents to their community and our shared history and to highlight the importance of Lake Simcoe Innisfil and the surrounding areas. With an emphasis on supporting the local arts community, the Ice Hut Art project shines a spotlight on local talent. Not only will this project promote local tourism, but it will encourage a family-friendly Canadian pastime.
"One thing is certain, Innisfil is a gem in Simcoe County, and I look forward to once again turning our community into an outdoor art gallery. The Ice Hut Art is just another reason to explore your own backyard," said Mayor Lynn Dollin. "I eagerly look forward to watching the arts continue to grow in our community. Projects like the Ice Hut Art that bring together community, creativity and connection are vital to community well being."
The call for artists application process opens on Tuesday, May 24, 2022, and will provide an opportunity to inspire the creative community and residents alike. Eligibility will focus on local artists from the municipality and wider Simcoe County area. Members of the BIPOC, 2SLGBTQQIA+, Indigenous, Senior, and Youth communities are encouraged to apply. We are hoping to include a diverse blend of participants and designs. A jury, comprised of citizens from a variety of community partners, will announce the successful artists in early July and artists will paint their structures on-site at a designated location August through September; completed designs will be on display in November. For more information and how to submit, visit Ice Hut Art.
An artist information session will be held, virtually, on Tuesday, June 1, 2022 at 7 p.m. For details and to register, click here.
Opportunities for safe community building experiences were identified by Innisfil residents as a top priority of Innisfil's Community Needs Assessment. The needs assessment identified a number of areas necessary for pandemic recovery, and has been the baseline for creating numerous projects and initiatives to support the community over the past two years. By investing in the health and vibrancy of the community, this project addresses issues of social isolation, belonging, mental health, and well-being in a post-pandemic environment.
About the County of Simcoe 2022 Tourism, Culture and Sport Enhancement Fund
The County of Simcoe 2022 Tourism, Culture and Sport Enhancement Fund is a program aiming to enhance existing tourism, culture, and sport projects throughout the county. The County of Simcoe has approved 87 successful applications totalling more than $485,000 through the 2022 Tourism, Culture and Sport Enhancement Fund.
Visit Experience Simcoe County to see the other funding recipients.
*********************************
Fans of rare art deco Edmonton building raise money to preserve its history – CBC.ca
Fans of Edmonton's Graphic Arts Building say they are disappointed the building will be demolished but excited about a new plan to preserve its architectural history.
Since fences were installed Friday around the building at 9523 Jasper Ave., Yasushi Ohki, executive director of the non-profit Green Violin Community Development Company, thinks demolition is imminent.
He tried to save the building and submitted a proposal to the City of Edmonton last year to move it, salvage its parts and level the land, but he learned a few months ago that a demolition contract had already been awarded.
Ohki's next move is to have an architectural model made to preserve the building's history.
He launched a $16,000 crowdfunding campaign on ATB's BoostR platform over the long weekend to fund the project. Jeff Pelton will build the model and Edmonton Public Library's downtown Stanley A. Milner branch has agreed to display it.
"It's going to be amazing to keep the memory of the building alive," Ohki told CBC News on Monday.
Encased in acrylic, the 1/64 scale model will sit on a concrete pedestal that contains a time capsule.
When demolition crews arrive, Ohki plans to ask if he can keep a few of the building's features, including the side door.
He said the library has agreed to display the model in the short term, but he hopes it will permanently live inside whatever building replaces it on Jasper Avenue. He expects a tower will eventually be built on the land.
According to a walking tour brochure published by the city and the province in 2004, a tinsmithing business in 1913 was the building's earliest known occupant.
It received its art-deco exterior when it became a graphic arts and photography studio in the 1930s, Ohki said.
"This was a time Edmonton was weathering through the Depression," said architect Darrel Babuk, principal of Boreas Architecture & Civic Design.
"Art deco was an architectural style that was meant to liven people up, to bring up their spirits, and it certainly did that," he said.
Though it is not designated as a municipal historic resource, Babuk said the Graphic Arts Building is significant because it is one of very few art deco structures left in the city.
Ohki said over the years, the building has been home to many businesses, punk rock bands and, from 1999 on, a tattoo parlour. The city bought the building in 2015.
Finding the doors open on one occasion, he looked inside and surveyed the old hardwood floors and caved-in roof.
"The interior is in quite bad shape, but you still get the feel of what it must have been like when the Graphic Arts Building was one of many buildings on that block and a hub of activity, excitement and entertainment."