Artists stage mass protest against AI-generated artwork on ArtStation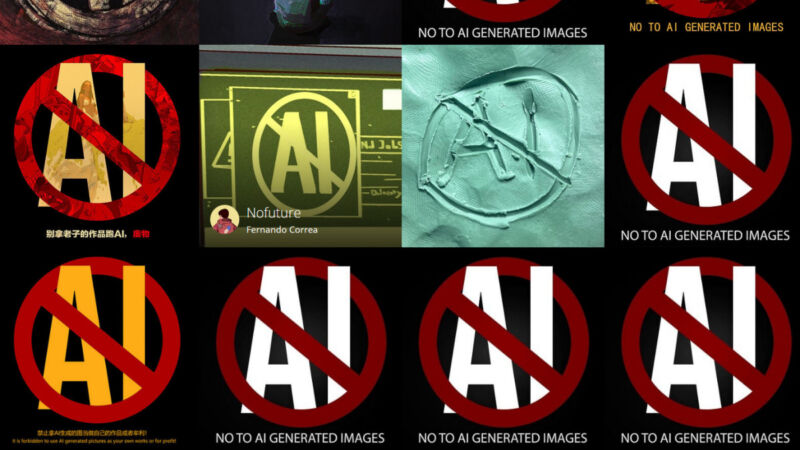 On Tuesday, members of the online community ArtStation began widely protesting AI-generated artwork by placing "No AI Art" images in their portfolios. By Wednesday, the protest images dominated ArtStation's trending page. The artists seek to criticize the presence of AI-generated work on ArtStation and to potentially disrupt future AI models trained using artwork found on the site.
Early rumblings of the protest began on December 5 when Bulgarian artist Alexander Nanitchkov tweeted, "Current AI 'art' is created on the backs of hundreds of thousands of artists and photographers who made billions of images and spend time, love and dedication to have their work soullessly stolen and used by selfish people for profit without the slightest concept of ethics."
Nanitchkov also posted a stark logo featuring the letters "AI" in white uppercase behind the circular strike-through symbol. Below, a caption reads "NO TO AI GENERATED IMAGES." This logo soon spread on ArtStation and became the basis of many protest images currently on the site.
On December 9, criticism of AI art on ArtStation sped up when character artist Dan Eder tweeted, "Seeing AI art being featured on the main page of Artstation saddens me. I love playing with MJ as much as anyone else, but putting something that was generated using a prompt alongside artwork that took hundreds of hours and years of experience to make is beyond disrespectful."
1/6 I created this image for everyone to use wherever they want.
Ai creates the "art" you see on the backs of artists being exploited. Ai "art" is currently scraping the web for art and uses it in datasets. No artist gave consent to have their art used. We were not compensated pic.twitter.com/eGn352MyCj

— 🏮 Zakuga Art 🏮 (@ZakugaMignon) December 13, 2022
Four days later, a widely shared tweet from Zekuga Art promoted the protest further on Twitter, bringing larger awareness to the movement. As of press time on Wednesday, searching for "No AI Art" on ArtStation returned 2,099 results, and "no to AI generated images" returned 2,111 results. Each result represents a separate artist account.
By participating in the protest, some artists want to disrupt how Stable Diffusion training works, which led to several jokes on Twitter showing garbled AI-generated image results that some people took seriously. In reality, whatever ArtStation artwork Stable Diffusion currently draws upon was trained into the Stable Diffusion model long ago, and the protest will not have an immediate effect on images generated with AI models currently in use.
Later on Wednesday, ArtStation's management responded to the protest with a FAQ called "Use of AI Software on ArtStation." The FAQ states that AI-generated artwork on the site will not be banned and that the site plans to add tags "enabling artists to choose to explicitly allow or disallow the use of their art for (1) training non-commercial AI research, and (2) training commercial AI."
SD and ArtStation: Like peanut butter and jelly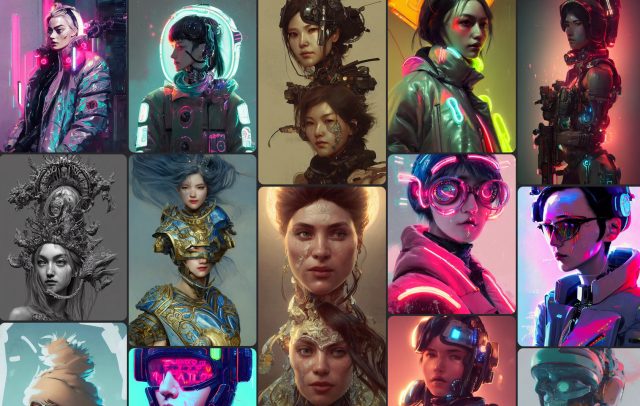 The relationship between ArtStation and AI image synthesis dates back to the beta test of Stable Diffusion on its Discord server during the summer of 2022. Stable Diffusion is a popular open source image-synthesis model that creates novel images from text descriptions called prompts.
Soon after the Discord opened, people using Stable Diffusion discovered that adding "trending on ArtStation" to a prompt would almost magically add a distinctive digital art style to any image it generated. That's because the creators of Stable Diffusion's training dataset—the images that "taught" Stable Diffusion how to create images—included publicly accessible artwork scraped from the ArtStation website. (It did this scraping without artists' permission, which is another key element of the debate over AI-generated artwork.)
Like "Greg Rutkowski," the prompt text "trending on ArtStation" became an easy way to get high-quality results from almost any prompt, and the idea spread quickly among users of Stable Diffusion until it became something of a trope in the image-synthesis community.
In the long term, the popularity of "trending on ArtStation" in Stable Diffusion prompts will likely become a historical curiosity. Recent releases of Stable Diffusion 2.0 and 2.1 integrated a new way of processing text that means "trending on ArtStation" won't work as a prompt anymore—but the underlying data from ArtStation was likely still included in the Stable Diffusion 2.x training dataset.
"Trending on artstation" doesn't actually work on #StableDiffusion2 as we stopped using the OpenAI CLIP as is used in DALLE2 and SD1 which over-represented on this and artists in general.

Will be interesting to see how this whole area develops with some upcoming releases.

— Emad (@EMostaque) December 14, 2022
Text parsing changes aside, there's still the open question of seeking consent when including an artist's work in an AI training dataset.
On Wednesday, as the ArtStation protest reached a fever pitch, Stability AI and artist advocacy group Spawning announced that artists would be able to opt out of training for the upcoming Stable Diffusion 3.0 release by registering through the "Have I Been Trained?" website. Although, judging by the recent controversy on DeviantArt, some artists might argue that not being included (and having to manually opt in) should be the default state.
This artwork is going to be on the moon 'for eternity' – CNN
In 1977, the Voyager 1 and Voyager 2 spacecraft launched from Cape Canaveral, Florida. Their mission was to explore the solar system and beyond. Aboard each was a "golden record," a copper phonograph disk containing
images
, sounds from nature, and music to provide a snapshot of life on Earth to any intelligent life the craft might encounter. These were the first images to be sent into outer space.
Jafri's work, "We Rise Together — By the Light of the Moon," is scheduled to fly into space on a United Launch Alliance rocket powered by engines developed by Jeff Bezos' Blue Origin. The launch is scheduled to take place at the Kennedy Space Center in Cape Canaveral, Florida, in the first week of March.
The work is an engraving depicting a male and a female figure surrounded by 88 hearts.
"The original artwork was this beautiful heart motif. Two figures entwined, reconnecting and around them is blossoming flora, fauna," explained Jafri. He says he wanted to capture "the unification of humanity through love and empathy" in his design.

"We Rise Together — By the Light of the Moon," by Sacha Jafri. Credit: Selenian
For his canvas, a gold alloy was developed over two years to withstand the extreme environment on the lunar surface whilst keeping the artwork intact. But the piece isn't intended only for extraterrestrial art lovers.
"When we land the physical work of art on the moon, a little beep sounds in the control room," said Jafri. On that signal, 88 NFTs will be released for sale back on Earth.
Jafri plans to donate all proceeds to humanitarian charities. "I'm hoping to raise a huge amount of money for the four main charitable concerns of our world — health, education, sustainability, and equality," he said.
The work was commissioned by Spacebit, a UK-based company that develops space robotics technology and data analytics tools, and will be sent to the moon by Spacebit and
NASA Commercial Payload Services
(CLPS). UAE-based company Selenian Network, which specializes in blockchain technologies, will facilitate the launch of the NFTs.
A lunar lander will place the work in a crater known as Lacus Mortis (the Lake of Death) where it will remain "for eternity." According to Jafri, the mission will take between five days and two weeks to reach the moon, depending on conditions.
Art on the ISS
Jafri's isn't the only artwork to leave Earth in recent years. In 2017, a work by Israeli artist Eyal Gever was
3D printed on the International Space Station [ISS]
. Gever crowdsourced recordings of laughter and used the sound wave signatures to create his sculpture.
In April last year, another Israeli artist, Liat Segal, and Yasmine Meroz, a physicist at Tel Aviv University, created an artwork that can only exist in space.
Making use of the lack of gravity in space, "Impossible Object" is a tiered structure of gold-colored metal tubes released water. On Earth the water would fall to the ground but in space it created floating elements around the sculpture.
It was activated as the ISS orbited at around 400 kilometers above the Earth. Meroz and Segal had predicted that the water might wrap around the structure, forming a liquid shell, but in practice it behaved quite differently, forming floating orbs.

"Impossible Object," by Liat Segal and Yasmine Meroz. Credit: Eytan Stibbe and Rakia Art Mission (Ramon Foundation)
"We didn't know what the dynamics of water will be in microgravity — what does a piece of water look like?" said Segal. "We're used to filling our hands with water, filling vessels. In this case the water isn't held by any vessel. It's only held by this skeleton structure."
As artists get creative in space, Segal anticipates innovation.
"Many technologies were developed as a result of the space race, to accommodate for a new physical reality," Segal added. "Now art and culture can enter this new physical reality. It will force the creation of things that we cannot expect, that could not happen otherwise."
Jafri is also enthused about the creative possibilities and believes private space missions will open up new opportunities for artists. "I think people are tapping into people's obsession with space," he said. "It's a new market for the art world to tap into."
Rich Russians' Art Buying Is Target of US Crackdown on Trade-Sanction Cheats – BNN Bloomberg
(Bloomberg) — The US crackdown on trade-sanction violators is turning to the art world as authorities track down works bought or sold by ultra-rich Russian tycoons.
Through a series of subpoenas, federal prosecutors in New York are demanding high-end auction houses in the US turn over years of records as they seek to determine if art was smuggled offshore or if proceeds from sales were transferred illegally, according to a person familiar with the investigation.
Among those named in the subpoenas are sanctioned Russian tycoons Andrey Melnichenko, Viktor Vekselberg and Roman Abramovich, along with Ukrainian billionaire Ihor Kolomoisky, said the person, who asked not to be identified because the information isn't yet public. The records requested of auction houses include any previous dealings with the men, according to the person, who didn't disclose all the companies that were served subpoenas.
Of the major auction houses contacted by Bloomberg, Christie's International Plc said it "cooperates and complies fully with law enforcement as and when we are required to do so." Phillips Auction House said it has measures in place "to ensure that no individual or institution targeted by sanctions are able to do business directly or indirectly through our salerooms." Sotheby's and Bonhams & Butterfields Auctioneers Corp. didn't immediately respond to requests for comment.
Since Russia's invasion of Ukraine, the US has expanded sanctions targeting Russian businessmen and companies with ties to Vladamir Putin. That's led to seizures of luxury assets, from a yacht in the South Pacific to art work in a French gallery. The US Justice Department also plans to seize a Greenwich Village townhouse linked to Russian billionaire Oleg Deripaska.
Read more: Art Seized at US Homes Part of Crackdown on Wealthy Russians
With its search of auction houses, the department is looking to track down "professional sanctions evaders" — people who help the wealthy avoid restrictions and launder money. This month, prosecutors charged two men, including a former FBI special agent, with aiding Deripaska and violating sanctions.
According to Georges Lederman, an attorney who specializes art crime and asset forfeiture cases, the crackdown has been the result of greater coordination between the Treasury Department's Office of Foreign Assets Control, which oversees the sanctions list, and prosecutors trying to stop money laundering.
"In the past if you violated a sanction, you got a big fine and then you had to implement a more sophisticated anti-money laundering program," Lederman said. "But now, because of Russia sanctions and heightened awareness, there is a greater referral of money laundering prosecutions."
In recent months, prosecutors in Manhattan have narrowed the focus of their inquiries, asking about specific artworks bought years ago, as well as some real estate, according to the person familiar with the matter. The probe is being led by the US Attorney's Office in the Southern District of New York and the federal KleptoCapture task force, which was set up to police Russian sanctions. A spokesman for KleptoCapture declined to comment.
$50 Million Monet
Fertilizer tycoon Melnichenko, with a net worth estimated at $12.7 billion by the Bloomberg Billionaires Index, is said to have purchased Monet's "Le Bassin aux Nympheas" for 40.9 million pounds ($49.6 million) in 2009. Abramovich is Russia's second-largest steelmaker and previously owned London's Chelsea Football Club. His ex wife, Daria Zhukova, was a Russian art collector.
KleptoCapture's lead prosecutor Andrew Adams told the NYC Bar Association in November that his team was focused on taking "assets off the table" before they could be moved to other jurisdictions.
One such alleged facilitator was UK businessman Graham Bonham-Carter, who was indicted in October and accused of trying to transfer artwork owned by Deripaska, who is under US sanctions. Using a shell company, Deripaska purchased 18 pieces of art at a New York auction in 2008, a decade before he was sanctioned, according to an indictment. The art works were kept in a New York storage facility until Bonham-Carter allegedly try to ship them out of the country in 2021.
Bonham-Carter is fighting extradition from the UK to the US to face charges.
In the wake of a 2020 Senate report on sanctions evasion in the art world, major auction houses and private sellers started including as a standard condition in contracts that the buyer or seller not be sanctioned or engaged in criminal activity, said Thomas C. Danziger, a New York-based attorney specializing in art law.
The leading auction houses have implemented voluntary anti-money laundering programs, but that may not be enough to prevent the true owners of art works from shielding themselves themselves behind webs of corporate structures or relatives.
"Putin's banker is unlikely to walk into a gallery on Madison Avenue and buy a Picasso," Danziger said.
©2023 Bloomberg L.P.
St. John's International Airport Unveils New Art Installation – VOCM
St. John's International Airport has unveiled a brand new art installation to welcome arriving passengers.
The piece, Art Upon Arrival, includes 24 illustrations on eight structural columns in the arrivals area are adorned with brightly colored, graphic images that harken to all things St John's such as food, plants, nature and music.
Artist Molly Margaret says after an extended period working on the project it's fun to see public reaction to the piece.
A glimpse of some of the Art Upon Arrival @stjohnsairport created by Artist, Molly Margaret. @VOCMNEWS pic.twitter.com/ZxxHiPPvYg

— Gerri Lynn Mackey (@GerriLynnMackey) January 31, 2023