Artworks Worth $20 M. or More Made Up Nearly Half of Art Sold at Auction Between 2018 and 2022
As the art fair calendar continues in full swing and a Johannes Vermeer retrospective at the Rijksmuseum sold out, a new report from Sotheby's further confirms a robust recovery in the high-end art market.
The new report, published Tuesday,says the biggest area of growth for pieces sold at auction is the $20 million and up range, which accounted for 45.2% of all sales of $1 million or more in 2022.
For the report, art market analytics firm ArtTactic analyzed auction sales data from Sotheby's, Christie's, and Phillips between 2018 and 2022 in the categories of Impressionist, Modern, Old Masters, and contemporary art. Additionally, it includes information from Sotheby's private sales department.
ArtTactic produced the "insight report" for the auction house and similar surveys in the series are set to be released in the future.
The $1 million benchmark is significant because while the financial figure for art works represents just 4% of lots sold, the report notes that this tier "accounts for 74% of total sales by value in the collecting categories covered in this report." While private sales of art at $1 million or greater fell to $1.05 billion in 2022, down from the peak of $1.41 billion in 2020, the report noted that is still 30.8% higher than that tier of sales in 2019 at $803.5 million.
Two specific trends cited in the report are the rise of Asian collectors just before the COVID-19 pandemic and the growing number of bidders from Generation X and the Millennial generation.
Asian collectors now make up nearly a third (32%) of those who placed bids for art over $1 million at Sotheby's in the years analyzed, according the auction house. While this group's buying is most prevalent in the sales category of Chinese Traditional Paintings and Works of Art, there was also an increase of Asian collectors bidding on Contemporary (18%), as well as for Impressionist and Modern works (17%) between 2018 and 2022.
"Almost as many bidders came from Asia as North America, where the largest number are based (34%), and they outnumbered Europeans, who accounted for 29% of bidders," the report said.
Baby Boomers are still the largest age demographic of bidders in the $1 million+ market at 40.6% in 2022, but that fell from 48% in 2020. The share of Millennial bidders grew from 7% in 2018 to 16% in 2022.
Is This The Actual Cover-Art For 'The Winds Of Winter'? – Forbes
I've penned many an article and blog post about the long, long wait between books in George R.R. Martin's fantasy series A Song Of Ice And Fire upon which the HBO hit show Game Of Thrones was based. Mostly, when I post these it's some kind of grappling with disappointment, some attempt to give up the ghost and move on from what used to be my favorite fantasy series of all time.
After all, the world has changed since A Dance With Dragons released back in 2011. I've changed, too. Maybe I should be able to move on now, nearly twelve years later. I wish I could.
Today, however, I come to you with that terrible, wonderful poisoned chalice: Hope. Winter may be coming at last, and just in time for spring. Don't get me wrong, I'm still a "chalice half-empty" kind of guy when it comes to Martin's novels. I love his writing—just not the pace of his prose.
But now we have this possible cover art for The Winds Of Winter and while it might not be the official cover art for the book it also might be. The artist, Ertaç Altınöz, released the below image a few days ago on Instagram and Art Station and it's possible this is more than just fan-art. This is, after all, the same artist who did the cover art for The Rise Of The Dragon, the new illustrated book set in Martin's fictional realm of Westeros.
I reviewed that book not too long ago, and it really does have a bunch of lovely art.
That lovely artwork on the cover of Belarion the Black Dread? That's by Ertaç Altınöz. So when he posted this cover of The Winds Of Winter, I stopped and took note:
When a follower on Instagram asked the artist if this was the official cover, since he's worked with Martin before, Altınöz replied "I have my moments David, so who knows, my friend?"
That's what we call 'playing coy' and could mean a lot of things. It doesn't rule out the possibility that this is, indeed, the long-awaited Winds Of Winter cover. Then again, it's far from a sure thing.
Let's pretend it's the real deal for a moment. If it is, that could also mean that we're getting an official announcement of some kind—perhaps even a release date!—in the not-so-distant future. In the artist's other Instagram posts, he typically notes when something is a fan poster or fan-art and he doesn't do that here. Then again, when he posts the official artwork, it usually is accompanied with some kind of publisher copyright—and this, I'm afraid, has none.
I know what you're thinking. I'm thinking it, too. This is probably nothing, signifying nothing, a bit of fan-art from an artist as hopeful as the rest of us that Martin will finish the damn book and we can all wait another decade for the last one (to probably never come out). I'm not bitter, you're bitter.
Imaginary Friends: Barcelona art show aims to connect with our inner child – The Guardian
Nine leading contemporary artists have come together to create an interactive exhibition in Barcelona for kids – and anyone in touch with their inner child.
"Before the pandemic we had the idea of mounting an exhibition of contemporary art for people of all ages, something that children could relate to but also so that older people could relive the experience of being a child and participate as if they were children," said Martina Millà, who jointly curated the show at the Fundació Joan Miró with Patrick Ronse, the artistic director of the Be-Part contemporary art platform in Belgium.
Millà added: "There's much in this exhibition that's therapeutic, above all a return to a pre-pandemic spirit after we've all suffered so much."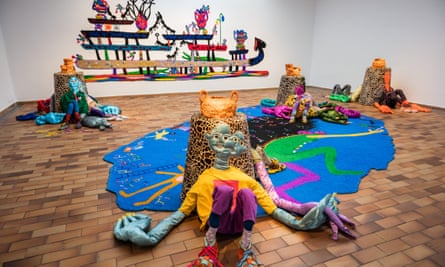 The show, titled Imaginary Friends, brings together installations from nine contemporary artists, several of whom are known to Ronse from his involvement in the 2018 Play festival of contemporary art.
Outside, at the entrance to the exhibition, visitors are invited to sit on Jeppe Hein's beguilingly convoluted bench, conceived as a riposte to the hostile architecture of street furniture, such as benches designed so that homeless people cannot sleep on them.
One of the most striking installations is We Are the Baby Gang, a collection of colourful, feathered polar bears created by Paola Pivi, an Italian artist who lives in Alaska, which Millà says is designed to make us consider the anthropomorphic way we look at animals.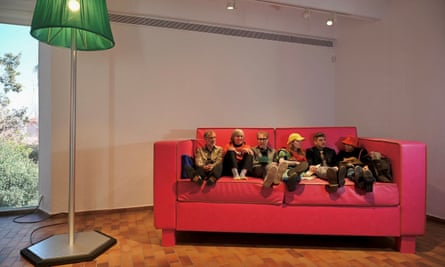 The creatures are very tactile but this part of the show is not interactive, leaving one small and disappointed boy to go into a screaming meltdown when he was told off for touching the exhibit.
That aside, the gallery is filled with the babble of excited children and the British artist Martin Creed's Half the Air in a Given Space gives them plenty of opportunity to let off steam.
Creed has filled a room almost to the ceiling with large orange balloons, creating an immediate feeling of disorientation and claustrophobia accompanied by an irresistible impulse to burst out laughing.
Perhaps the most engaging work in the show is the Swiss artist Pipilotti Rist's oversized sofa and armchair. Sitting on the enormous sofa, with your feet barely reaching the edge of the seat, never mind the floor, is an Alice in Wonderland moment that provokes a powerful physical memory of childhood.
"These works are a way of inventing a parallel life," said Millà. "It's like having an imaginary friend, and also a means of escape."
Imaginary Friends is at the Fundació Joan Miró in Barcelona until 2 July
Inspired by a Lifetime exhibition showcases art by nonagenarians – CollingwoodToday.ca
A local artist is capturing the beauty in sunset years by teaching seniors how to paint. Their work has made the walls of a local gallery.
"I thought I'd be dead before I got famous. Thank God that's not the case," jokes 92-year-old Keith Sumner, one of the many seniors whose original art is displayed at the exhibit titled Inspired by a Lifetime at Stonebridge Art Gallery.
A resident of Leacock Retirement Lodge in Orillia, he is one of the students taking lessons with Lisa Harpell, an Elmvale-based artist who has been teaching art classes to seniors in retirement homes in the region.
The work of about 40 senior artists ranging in age from 81 to 101 years old from seven retirement communities is on display at the Wasaga Beach gallery until March 27. The show includes work done by residents from Waterside Retirement Lodge (Wasaga Beach), Chartwell Whispering Pines (Barrie), Aspira Waterford Retirement Residents (Barrie), Allandale Station (Barrie), Lavita Barrington Retirement Lodge (Barrie), Bayfield House (Penetanguishene), and Leacock Retirement Lodge (Orillia).
The exhibition also includes Harpell's paintings and sculptures.
True to its title, each painting displayed for Inspired by a Lifetime has an impactful story to tell.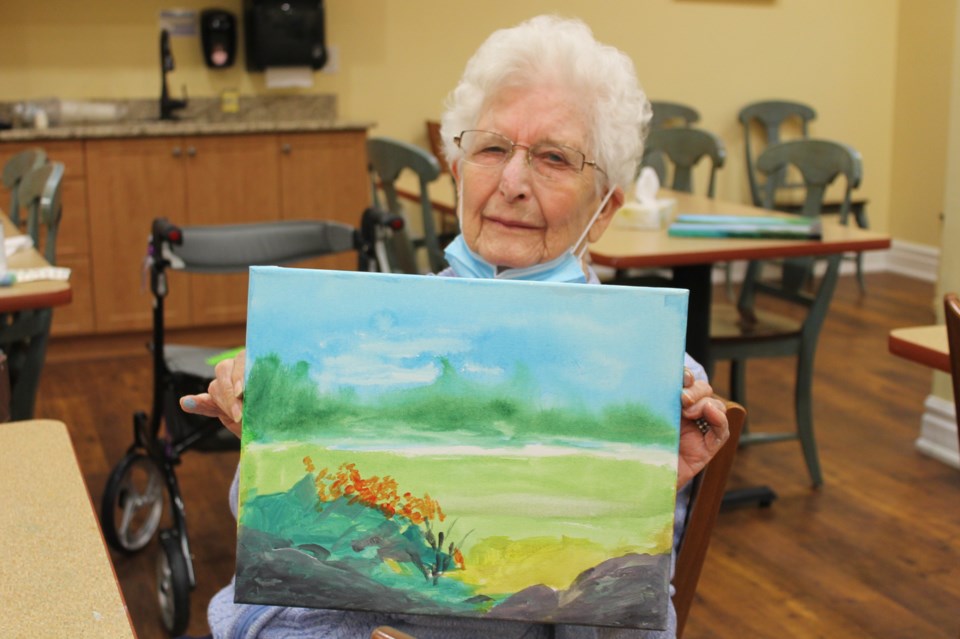 Verna Stovold, who lives with macular degeneration, is one of the many seniors attending the classes.
"Verna paints beautifully because her body remembers how to paint background, middle ground and foreground," said her teacher, Harpell. "She tells us the paint that she wants and she dabs her brush and goes right ahead and paints. She asks me all the time if it's okay if she comes to class … I say, 'Verna, you're the one that's inspiring everyone else.' Because I am holding up [her] paintings and everybody goes 'wow.'"
Stovold has two large paintings and ten studies included in the exhibition.
The process of training seniors to paint has been extremely gratifying for Harpell.
"It is deeply satisfying to the soul. It brings me to tears all the time," she said. "Because I know that what they created is worth showing. And it needs to be brought to the community not only for their sake, but for the community to realize that anyone can do this. Creativity is something that gives us hope. And that is something that is necessary in this world right now."
In her early days, Georgian College, Barrie, grad worked with the late Canadian artist, William Ronald.
"He really did bring out the kid in me. He was such a kid himself. And that [thought] is what I really try to pass on, not only his legacy. I also find that the child in every one of my students wants to just play with paint and get their hands dirty. And have some fun and laughs," says the mother of four.
Alysanne Dever, lifestyle and programs manager at Chartwell Whispering Pines Retirement Residence, said the exhibition and art classes have brought a wave of positivity for the artists, their family, and their caretakers.
"This is the first time that I have ever seen or heard of an art gallery showing for seniors with no prior experience," says Dever, noting the opening day reception crowd packed the gallery. "Really, that's what it's all about! The residents were so proud that people were complimenting and wanting to learn about what inspired them to paint specific photos. One of our residents actually sold an art piece as well and she was so thrilled!"
Dever is a strong proponent of the benefits of art therapy, and says it provides residents with a creative outlet to express what might otherwise stay bottled up.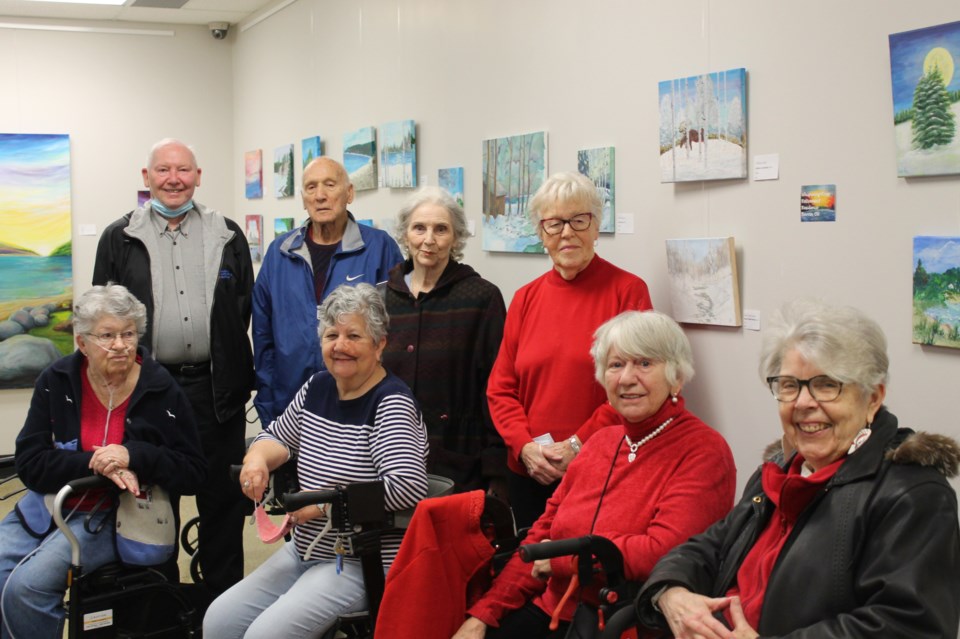 "This allows them to escape from reality, even for a little bit as they immerse themselves in their art piece in that moment," says Dever. "Art therapy encourages seniors to use their creativity and gives them a sense of control and independence, which are essential qualities as you age."
Not every brush stroke is smooth, and not every day was wrinkle-free for Harpell while she taught lessons in retirement homes. From outbreaks and whiteouts to loss of confidence, the behind-the-scenes training and coordination to make the exhibit happen meant clearing several hurdles.
And yet, Harpell says, it is during the most trying circumstances that intuitive art therapy has a larger role to play, especially among the community's vulnerable ones. Art has played such a role in Sumner's life, after he picked up the brush in his 90s.
"Painting puts you in a different mindset. Takes you away from everyday things," says Sumner. "My perception of things has changed. The sky is different every day… and it intrigues me. I am observing things more critically, in more detail…and painting has encouraged that."
The exhibit is supported by the Wasaga Society for the Arts, in part because it helps accomplish the society's mandate of making art accessible.
The society's interim president, Steve Wallace, said the group aims to introduce the community to all kinds of art, and to promote diversity and inclusion for artists and patrons.
The Inspired by a Lifetime exhibition runs at the Stonebridge Art Gallery until March 27 on Thursdays and Saturdays and on Monday, March 27 from 1 p.m. to 4 p.m.