Belkin releases MagSafe-compatible 3-in-1 wireless charger and car vent mount – GSMArena.com news – GSMArena.com
Predictably, mobile accessory makers jumped on the MagSafe bandwagon to offer a variety of products that use Apple's new wireless charging magnetic attachment system. Belkin already has a few interesting designs that will be available soon.
First up is a MagSafe version of its 3-in-1 charging station. This one leverages the magnets to hold up an iPhone 12. An Apple Watch is held magnetically as well, only the AirPod case is loosely placed over the wireless charging coil.
The magnets are apparently strong enough to hold the phone in place even as you swipe across the screen. You can also place the phone horizontally so you can watch a video while it charges.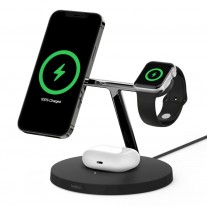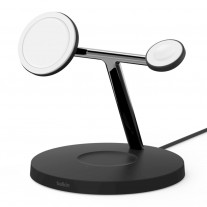 The Belkin MagSafe 3-in-1 Wireless Charger for iPhone 12 (available in White and Black)
This MagSafe 3-in-1 Wireless Charger can power up your iPhone at the 15W supported by the new system, double the power of the base Qi charging system and almost as fast as the 20W wired charger.
Then there's the MagSafe Car Vent Mount Pro. Note that this is indeed a mount and not a charger, if you want to charge your phone you'll have to connect a cable into the Lightnight port.
Again, the magnets are quite strong and can even absorb the shocks from a bumpy road. You can adjust the angle of the phone thanks to a ball joint and even rotate it horizontally.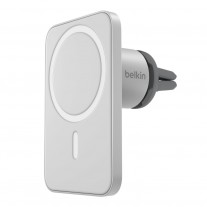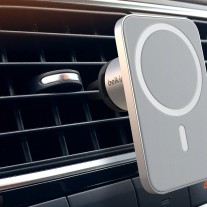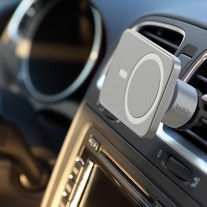 Belkin MagSafe car vent mount for iPhone 12
The MagSafe 3-in-1 Wireless Charger will go for $150 while the Car Vent Mount will be $40. Both will become available this Winter.
Belkin naturally has a number of chargers with a USB-C port, the kind you'll need with your new iPhone 12, 12 Pro, 12 Pro Max and 12 mini. And do need one as Apple no longer includes a power brick in the retail package (the iPhone 11, new SE and XR also lose the charger and EarPods).
While the new Ceramic Shield is four times more resistant to drops, you may still want a screen protector. The Belkin UltraGlass is made out of German-engineered lithium aluminosilicate glass and is twice as strong as tempered glass typically used in screen protectors.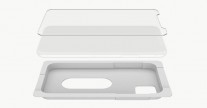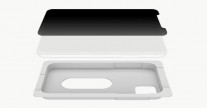 Belkin UltraGlass screen protector for iPhone 12 • Privacy version
These have a Privacy version too, which makes the screen appear black unless you're looking at it head on. However, if you hold the phone horizontally, the display becomes visible from all angles (here's a demo).
iPhone 12 Models Might Support Reverse Charging of Future Apple Accessories According to FCC Filing – MacRumors
Arun Maini today shared a new side-by-side iPhone battery life video test on his YouTube channel Mrwhosetheboss, timing how long the new iPhone 12 and iPhone 12 Pro models last on a single charge compared to older models, with equal brightness, settings, battery health, and usage. All of the devices are running iOS 14 without a SIM card inserted.
In the test, the iPhone 11 Pro outlasted both …
Apple FCC filing hints at hidden reverse wireless charging feature in iPhone 12 – 9to5Mac
Reverse Wireless Charging was one of the rumored features for iPhone 11 last year, but Apple allegedly removed it from the final version of the devices. Now, FCC filings for iPhone 12 have revealed that this year's devices might have a functional reverse wireless charging system.
Following the iPhone 11 rumors in 2019, iFixit disassembled the new smartphones as usual and then discovered that the iPhone 11 Pro has some components that are part of a bilateral wireless charging system, but that was unfinished — so it doesn't work at all.
While this suggests that Apple indeed tried to implement this technology on last year's iPhones, there were no rumors about bilateral wireless charging on the iPhone 12. However, new FCC files suggest the new phones might have this technology.
As first spotted by Jeremy Horwitz, the FCC documentation for the iPhone 12 models brings some interesting details about how these devices can be wirelessly recharged. FCC says iPhone 12 works with regular Qi chargers and also with a new "charging function at 360 kHz" that can recharge accessories.
This is an interesting fact since Apple hasn't mentioned anything about this feature on stage, and this is clearly disabled on iPhone 12 devices — at least for now. Bloomberg's Mark Gurman then suggested Apple might be holding this new reverse charge through MagSafe for the rumored AirPods 3 and AirPods Pro 2.
Apple, of course, could announce new AirPods that work specifically with the iPhone 12's new MagSafe system — which would explain why they haven't mentioned anything about reverse wireless charging for now. Unfortunately, more details about this are unknown for now.
Are you excited about the possibility of having bilateral wireless charging on iPhone 12? Let us know in the comments below.
FTC: We use income earning auto affiliate links. More.
Check out 9to5Mac on YouTube for more Apple news:
[embedded content]
Samsung's rumored Galaxy S21 may not include charger or headphones – CNET
Samsung's social media recently mocked Apple's decision to not include a charger or earphones in the box with the recent iPhone 12. Now reports indicate the electronics giant may follow suit with its next flagship lineup in 2021.
Tech site SamMobile on Tuesday detailed rumors that Samsung may cut the charger and corded earphones from the package for the next Galaxy product — which could either be called the Galaxy S21 or Galaxy S30. There's also a chance Samsung removes the earphones from the box and ships the rumored phone with a charger only, according to SamMobile, citing Korean media reports.
Apple cited environmental concerns for its cuts, saying the change will help reduce electronic waste. You can still buy a separate Apple power adapter for $19 to charge your iPhone, though there are lots of alternatives.
Samsung did charge extra for a faster charger for previous phones, but still included the basic one in the box.
Samsung didn't respond to a request for comment.