Bell Media exec who fired Lisa LaFlamme has been removed from CTV
It's been months since the abrupt termination of longtime CTV anchor Lisa LaFlamme, and a new internal memo reveals that former vice president of news at Bell Media, Michael Melling, has been permanently replaced.
"Michael Melling has been reassigned to VP Shared Services, and will not be returning to CTV's news operations," reads an internal memo from Bell Media seen by blogTO.
The internal memo stated that Richard Gray, Interim VP, News will be assigned to the role on a permanent basis.
Since LaFlamme's ouster in August, Melling has received considerable backlash and been accused of orchestrating the dismissal after "butting heads" with the 35-year-long CTV journalist.
Just a few days after the journalist herself revealed that she'd been "blindsided" by the cancellation of her contract, Bell Canada CEO Mirko Bibic issued a statement on LinkedIn stating that Melling was "on leave effective immediately, pending the outcome of the workplace review that is proceeding."
An independent third-party review of the CTV National newsroom was initiated in late August and conducted by leading employment lawyer, Sarah Crossley, according to the memo.
Bell Media launching internal review after outrage over Lisa LaFlamme's exit from CTV https://t.co/qHEgYY4Mms #Bell #CTV #LisaLaFlamme

— blogTO (@blogTO) August 19, 2022
Crossley, along with a fellow associate conducted interviews with more than 100 members of the CTV National News team.
"The goal of this review was to gather information about the culture, environment and practices in the CTV National newsroom, with a view to identifying any issues, concerns or areas for improvement so that we could then work to address them," reads the statement.
With the review now complete, Bell Media stated their commitment to developing an actionable, clear and timely plan.
Some key themes identified in the independent review include:
A culture where people are sometimes afraid to raise concerns for fear of reprisal or inaction
A need for greater civility and respect in the newsroom
A desire to improve working conditions
A need to continuously share a clear vision for the future of CTV National News and engage staff in the long-term strategy for the newsroom
A need for greater dialogue regarding changing news consumption habits and the economic realities of broadcast news
A need for strong human resources support
The memo also listed several action plan objectives to address the key themes, through increasing trust, valuing the work, and improving transparency and engagement.
Some of the key actions listed to deliver on these objectives include:
A new approach to working hours for all newsroom employees and implementing a new overtime policy
The status of freelance staff will be reviewed, with some potentially converted to full-time permanent staff where warranted
Assigning a dedicated HR team to work directly with the CTV News team
Communication regularly to ensure all team members are aware of what support channels are available to appropriately handle workplace complaints
Continue to enhance and promote the Employee and Family Assistance Program (EFAP) to ensure employees know about how to access free, confidential counselling, coaching services, online support and wellness resources
Mandatory in-person training for team members on respect and civility in the newsroom
Watch Live: Montreal Canadiens' Cole Caufield speaks to media about injury – Sportsnet.ca
* public_profileBlurb *
* public_name *
* public_gender *
* public_birthdate *
* public_emailAddress *
* public_address *
* public_phoneNumber *
The Stanchies: The great tankathon battle, Mikheyev's ACL surgery, and the media thing – Canucks Army
[unable to retrieve full-text content]
The Stanchies: The great tankathon battle, Mikheyev's ACL surgery, and the media thing Canucks Army




Source link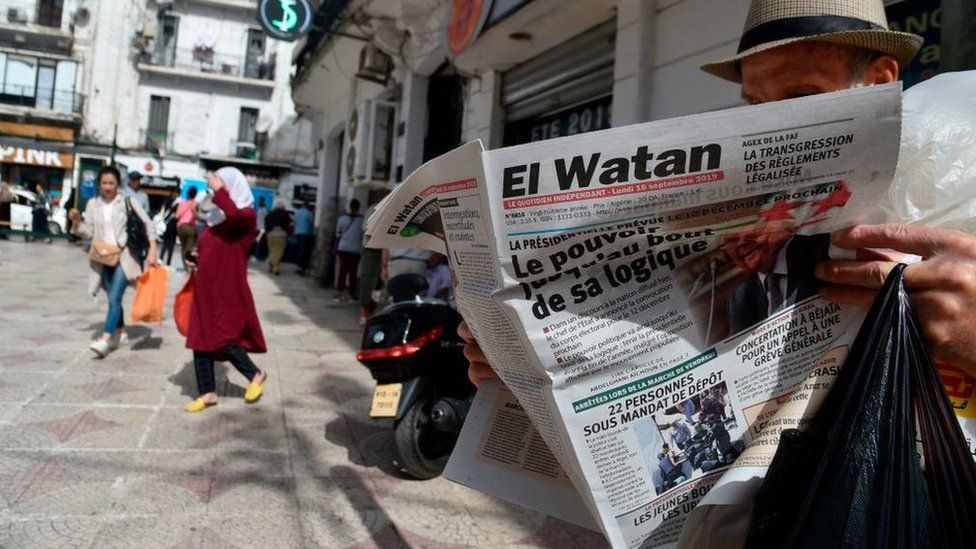 The Algerian media are less free and less diverse than in some other North African countries. The authorities have blocked websites and detained journalists since the start of the Hirak protest movement in early 2019.
Parliament has passed a law criminalising fake news.
Privately-owned channels receive the lion's share of viewers. State TV and radio steer clear of critical voices and dissenting views.
With the exception of online stations, the state has a monopoly in the radio sector.
Foreign media are also subject to government interference. In 2021, the government withdrew France 24's authorization to operate and revoked the accreditation of Saudi media outlet Al Arabiya.
There were 37 million internet users by December 2021, comprising 83% of the population (Worldintnetstats.com). Facebook is the leading social network with 26 million subscribers by April 2022.
Radio Algérienne – public radio broadcaster, it manages three national broadcast stations
Radio Corona Internationale – US-based internet radio news channel offers a mix of music, news and commentary in Arabic and French