Bills advance to AFC Championship after beating Ravens – TSN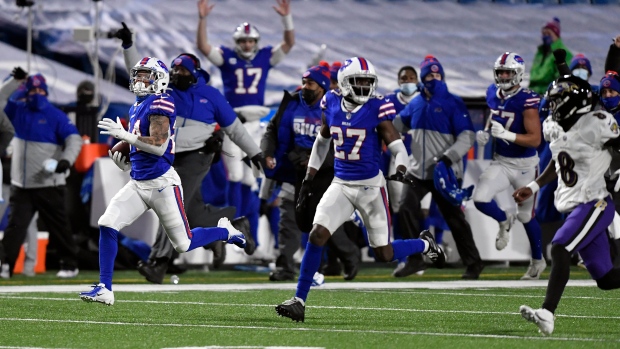 ORCHARD PARK, N.Y. — Taron Johnson could've kept running into next week on a 101-yard interception that carried the Buffalo Bills to their first AFC championship game appearance in 27 years.
Johnson's pick-6 of Lamar Jackson's pass with 41 seconds remaining in the third quarter secured a 17-3 win over the Baltimore Ravens in a divisional-round playoff game Saturday night.
The interception return matched the longest in NFL history and punctuated a stellar defensive outing in which Buffalo (15-3) limited the NFL's top running offence to 150 yards on 32 carries.
Jackson was sacked four times and did not return after being evaluated for a concussion following the final play of the third quarter, and two plays after Johnson scored.
Facing second-and-10 at Baltimore's 25, centre Patrick Mekari snapped the ball over Jackson's head. The quarterback turned and chased the bouncing ball down inside the 5, turned and quickly threw it away as Tremaine Edmunds had him by the legs and Trent Murphy fell down on top of him.
Jackson's injury left Tyler Huntley to finish the game after being promoted off the practice squad.
Buffalo's defence took the pressure off of a Josh Allen-led offence that was limited to 223 yards offence, and made up for rookie kicker Tyler Bass missing two of three field goal attempts — a 43-yarder that was wide right in the second quarter and a 44-yarder that sailed wide left with 5:30 remaining.
The game was decided in the third quarter, when the Bills went up 10-3 on Allen's 3-yard touchdown pass to Stefon Diggs to cap an 11-play, 66-yard opening drive.
Jackson responded by marching the Ravens 66 yards on 15 plays before throwing the interception while facing third-and-goal from the 9. Johnson jumped in front of the pass intended for Mark Andrews and took off up the right sideline. He followed teammate Tre'Davious White, who made sure Jackson didn't have an angle to push Johnson out of bounds.
Johnson, who also returned an interception for a score in a 26-15 win over Pittsburgh on Dec. 13, said he initially thought about going down after catching the ball, before seeing no one in front of him.
"I caught the ball and kind of looked down, but then I looked up and saw a whole bunch of green grass to that side of me," he said. "At that point, there's one person I have to beat. And that's No. 8 (Jackson)."
Johnson wasn't touched until a mob of Bills players jumped on his back and brought him down in the end zone.
The Bills advanced to the AFC championship game for the first time since 1994 on their way to making — and losing — their four consecutive Super Bowl appearance. Buffalo also extended a season in which it has broken numerous droughts by claiming its first AFC East division title in 25 years and, with last week's victory over Indianapolis, winning its first post-season game since the same year.
The Bills will play the winner of the AFC's other divisional playoff between Cleveland and Kansas City on Sunday.
Buffalo has won eight straight, matching its best streak since 1990. The 13 regular-season victories matched a franchise record set in both 1990 and '91 in a season they set numerous single-season records on offence, including scoring 501 points.
The fifth-seeded Ravens (12-6) had their season come to an end after leading the NFL in yards rushing for a second consecutive year.
Baltimore clinched its third playoff berth in three years by winning its final five regular-season games. The winning streak came after a 1-4 skid capped by a 19-14 loss at Pittsburgh on Dec. 2 in a game rescheduled three times due to COVID-19 issues.
Johnson's interception return matched Packers defensive back George Teague's 101-yard fumble return in Green Bay's 28-24 win over Detroit in a wild-card playoff on Jan. 8, 1994.
Jackson finished 14 of 24 for 162 yards passing, while being limited to 42 yards rushing on nine carries.
The Bills also limited Jackson to just 40 yards on 11 carries in the Ravens' 24-17 win at Buffalo in Week 14 of the 2019 season.
Huntley, who had attempted just five passes in two appearances this season, finished 6 of 13 for 60 yards on three drives, the final two in which Baltimore turned the ball over on downs.
Allen was 23 of 37 for 206 yards passing.
"You saw our defence. The game plan our coaching staff put for that offence was unbelievable," Allen said. "You don't get style points for winning in the playoffs. You either go home or you advance to the next round. We're on to the next one."
A game that was supposed to highlight two dynamic third-year quarterbacks instead turned into a defensive struggle with the score tied at 3 after the first half.
The Ravens came up empty on two drives that ended inside Buffalo's 30, with Justin Tucker missing his first two field goal attempts. He hit the left upright from 41 yards on Baltimore's opening drive, and then hit the right upright on a 46-yard attempt in the second half.
It marked the first time Tucker, the NFL's most accurate kicker, has missed twice from inside 50 yards in the same game. Tucker finally tied the score at 3 by hitting a 34-yard attempt with 4 seconds left in the first half to cap an eight-play, 57-yard drive
ONE CARRY
Aside from Allen's 4-yard scramble on an aborted pass play and an end-of-half kneel-down, the Bills had one carry in the first half on Devin Singletary's 3-yard gain to open Buffalo's final possession of the second quarter.
Buffalo became just the third team since the 1991 playoffs to have a running back have just one carry in the first half. The St. Louis Rams had one carry in a half in a 49-37 divisional-round playoff win against Minnesota on Jan. 16, 2000. The Raiders had one carry in a half of a 41-24 win over Tennessee in the 2003 AFC championship game.
UP NEXT
Ravens: Season over.
Bills: Advance to AFC championship game for first time since 1994, where they'll face Cleveland or play Kansas City for a second time this season following a 26-17 loss to the Chiefs on Oct. 19.
___
More AP NFL: https://apnews.com/NFL and https://twitter.com/AP_NFL
Duhatschek: Darryl Sutter's assignment is clear – light a fire under the middling Flames – The Athletic
Wayne Gretzky's Father Walter Gretzky Dead at 82 After Parkinson's Battle – TMZ
Sad news out of Canada … Wayne Gretzky's father, Walter Gretzky, has died after a battle with Parkinson's disease. He was 82.
"It's with deep sadness that Janet and I share the news of the passing of my dad," Wayne said in a statement late Thursday evening.
"He bravely battled Parkinson's and other health issues these last few years, but he never let it get him down."
"For me, he was the reason I fell in love with the game of hockey. He inspired me to be the best I could be not just in the game of hockey, but in life."
The stories about Walter Gretzky's role in Wayne's career are legendary — he served as The Great One's personal coach growing up, hammering home the fundamentals of the game.
One of his most famous lessons for Wayne focused on ANTICIPATING the action — skate to where the puck is going, not where it's been.
Walter loved hockey — but never played at the pro level. He played junior and senior hockey growing up in Canada but realized he wasn't good enough to make a career out of it.
His son, however … well, we all know how that turned out.
In fact, Walter basically built a shrine to his son at the family home in Ontario — which somebody actually burglarized back in 2020.
Family members reported roughly $500,000 worth of Wayne Gretzky memorabilia was stolen from the home .. including game-used sticks, jerseys, gloves, pants and even a Player of the Year award.
But, the story had a happy ending for Walter … after a 3-month investigation, cops recovered a bunch of the items.
Wayne concluded his tribute to his father by saying the family is at peace knowing Wayne has been reunited with his late wife, Phyllis, who passed away in 2005.
"He was truly the Great One and the proudest Canadian we know. We love you dad."
Calgary Flames fire Geoff Ward, name Darryl Sutter as new head coach – ESPN
The Calgary Flames fired head coach Geoff Ward on Thursday night, replacing him with former coach and two-time Stanley Cup champion Darryl Sutter.
The Flames routed the Ottawa Senators 7-3 at home on Thursday night, but Ward's fate was apparently sealed after going 11-11-2 to start the season. He was officially hired in the offseason after replacing Bill Peters on an interim basis last season.
Overall, Ward was 35-26-5 in his first NHL head-coaching stint.
Sutter has been a head coach for 18 seasons in the NHL with the Chicago Blackhawks, San Jose Sharks, Flames and Los Angeles Kings. Sutter led the Kings to the Stanley Cup in 2012 and 2014, playing a puck-possessing system that made Los Angeles one of the league's top defensive teams.
He has a career coaching record of 634-467-101-83, including 107-73-15-15 as head coach of the Flames from 2002 to '06, leading them to the Stanley Cup Final in 2004. He also served as the team's general manager from 2003 to '10. Sutter has had winning seasons in 15 of his 18 years behind an NHL bench as head coach. His last NHL job was as an advisor to the Anaheim Ducks.
Sutter's deal with Calgary is for three years.
This is the fifth head coach hired by general manager Brad Treliving since he took over the Flames in 2014. Calgary is two points out of the final playoff spot in the West Division, although the Montreal Canadiens — who fired their head coach last week — have two games in hand.
Ward held court with the media after the win over Ottawa and appeared unaware of his fate.
"We've got to get ourselves ready again for another hard hockey game," Ward said. "We're really not thinking about what's happened in the past; we're thinking about what we need to do to prepare ourselves [for] the next one."