Brady, Buccaneers top Lions to end 13-year playoff drought – TSN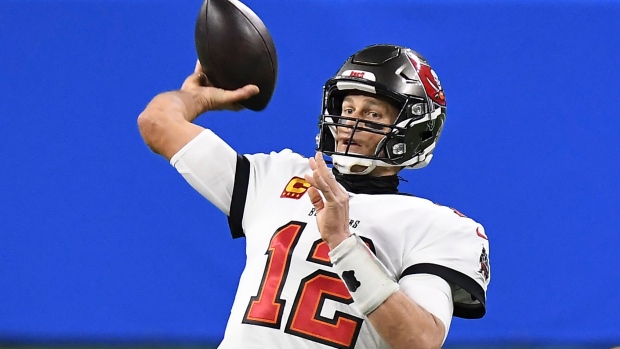 DETROIT — Tom Brady was so dominant in Detroit that he could've left Ford Field at halftime to get his favourite chicken wings near the University of Michigan's campus and still made it back to fly to Florida with his team.
Brady threw four touchdown passes in the only half he needed to play and the Tampa Bay Buccaneers went on to rout the Lions 47-7 Saturday, sealing a spot in the playoffs for the first time since 2007.
"When we do play the way we're capable of playing, we're pretty tough to beat," Brady said.
The Bucs (10-5) set a franchise record with 588 yards and snapped the NFL's second-longest post-season drought behind Cleveland's 18-year run that can end Sunday.
"We've been scratching and clawing every single year to make the tournament," said receiver Mike Evans, who was drafted by Tampa Bay six years ago. "It's been a journey and we're happy that we finally accomplished it."
Tampa Bay rested Brady ahead 34-0, its largest halftime lead in franchise history.
Brady was 22 of 27 for 348 yards with a mix of passes deep down the field and darts in traffic. The six-time Super Bowl-winning quarterback threw touchdown passes to Rob Gronkowski, Evans, Chris Godwin, who made a one-handed catch, and Antonio Brown from 33, 27, 7 and 12 yards.
"When we can keep Tom standing, he's going to deliver for us," coach Bruce Arians said.
The 43-year-old Brady, who split time with Drew Henson in college, started his 298th game to tie Brett Favre's record for an NFL quarterback and played in his 300th game.
The Lions (5-10) started the game without interim coach Darrell Bevell along with assistants on the defensive staff because of COVID-19 contact tracing. And they played much of the game without quarterback Matthew Stafford. He was questionable to play with hip and thumb injuries and then hurt his right ankle on the opening drive and did not return.
Chase Daniel struggled to move the ball much for the Lions, who avoided getting shut out for the second time this season when Jamal Agnew returned a punt 74 yards for a touchdown in the third quarter. Daniel was replaced in the fourth by David Blough, an undrafted rookie last year.
"It's obviously tough when you've got a lot of coaches shifting around, but those guys did a great job of getting us ready," Blough said. "No one feels sorry for us."
BUCS BACKUP
Tampa Bay's Blaine Gabbert threw a 25-yard touchdown pass to Gronkowski on his first snap, one play after Detroit running back D'Andre Swift fumbled, and a 22-yard pass to Evans later in the third quarter.
RECORD WATCH
Brady has thrown a franchise-record 36 touchdowns and set a personal record with 348 yards passing by halftime. Brady and Gabbert combined to throw a Bucs-record six touchdowns. Tampa Bay set team records in points (34) and yards (410) in the first half. Evans, who had 10 catches for 181 yards, scored twice to set a team record with 13 receiving touchdowns.
FOR STARTERS
The Bucs were outscored 59-7 in the opening quarter of their previous six games. It looked as if they might start slow again when Brady was sacked on third down of the opening drive. Detroit, though, negated the play by being offside.
"There's no doubt, their discipline or lack of, helped us tremendously," Arians acknowledged. "I love what our guys did with that opportunity and went right down to score."
After defensive end Everson Griffen was offside, Brady converted the ensuing third down with a short throw. He later went downfield to connect with Evans on a 33-yard throw and to perfectly loft a 33-yard touchdown pass over a defender and into Gronkowski's hands.
Detroit wide receiver coach Robert Prince made his first big decision as head coach for the day on the ensuing drive when he had the offence with a fourth-and-1 at midfield. Alas, offensive tackle Taylor Decker was flagged for a false start and the Lions punted.
"I've been involved in at least one loss like this," Prince said. "You can't blame the defence for all of this. The offence has to stay on the field. If they can't do that, it is going to wear the defence out."
INJURY REPORT
Bucs: S Mike Edwards hurt his hip during the game and didn't return.. CB Carlton Davis was inactive with a groin injury.
Lions: Stafford left the game with an ankle injury after he was 2 of 3 for 17 yards on his only possession and was not available for comment after the game.
UP NEXT
Bucs host on Atlanta on Jan. 3.
Lions host Minnesota on Jan. 3.
___
Follow Larry Lage at https://twitter.com/larrylage
___
More AP NFL: https://apnews.com/NFL and https://twitter.com/AP_NFL
Montreal Canadiens recall Corey Perry from taxi squad – Habs Eyes on the Prize
The Montreal Canadiens have announced the recall of Corey Perry from the taxi squad, making the winger available for Saturday night's game against the Vancouver Canucks.
Les Canadiens ont annoncé avoir rappelé l'attaquant Corey Perry de l'escouade de réserve. Perry sera disponible pour le match de ce soir à VAN.

The Canadiens announced they recalled Corey Perry from the team's Taxi Squad. Perry will be available for tonight's game in VAN. pic.twitter.com/NWjYC5DUXa

— Canadiens Montréal (@CanadiensMTL) January 23, 2021
Perry's recall was necessary because of the concussion that Joel Armia suffered on Thursday night. Perry will likely slot into Armia's position on the third line with Jesperi Kotkaniemi and Tyler Toffoli.
This will be Perry's NHL debut with the Montreal Canadiens. The veteran winger signed a 1-year $750,000 contract during the offseason after tallying 21 points in 56 games with the Dallas Stars the previous season.
The absence of additional recalls likely means that Paul Byron will be in the lineup or — at the very least — that the team is comfortable placing Victor Mete in the lineup. This move allows the team to evaluate the cap situation and their injury situation during the upcoming four-day break prior to their home opener on Thursday.
Perry can stay on the NHL roster for 30 days or play 10 games without requiring waivers to return to the taxi squad.
Player grades: McDavid's brilliance not quite enough as Edmonton Oilers drop a tight one in T.O. – Edmonton Journal
Article content continued
#56 Kailer Yamamoto, 7. Robbed by Andersen in the early going off a great Draisaitl feed, though if he could have found the upper half of the net it likely would have been a different story. Was all over the puck again, winning an important shorthanded puck battle against Morgan Rielly to feed the disc into Draisaitl's territory and earn his fifth point of the young season. Had a few other chances of his own but failed to hit the target. Blocked 4 shots at the other end, which is to say 3 more than all the other forwards combined. Has been like a dog on a bone around the puck all season.
#63 Tyler Ennis, 6. His standout moment was a great stretch pass to send Puljujarvi in on a breakaway. A couple of shots of his own. Drew a penalty.
#74 Ethan Bear, 6. A solid night on the back end, though his ice time was down a tad at 18:12. Earned an assist, firing a point shot that McDavid was able to deflect home from the slot. 3 hits and some decent puck movement.
#93 Ryan Nugent-Hopkins, 7. A key part of the dominant McDavid unit, which had the puck on a string for much of the night. Earned an assist with a good puck recovery and pass that led to the McDavid tally early in the third. Involved in 5 Oilers Grade A chances and was clean at the other end, unless you want to consider a lost battle at centre ice that led to Marner's empty netter with under a second on the clock. Played 22:39 but an unusual 0:00 on the penalty kill, which in retrospect may have been a mistake.
#97 Connor McDavid, 8.Best player on the ice for either team. Had one early issue when he was caught puckwatching as Wayne Simmonds swooped in for an early chance, but more than made up for that by later contributing to 11 (eleven) of Edmonton's 17 chances on the night, with 7 of those Grade A shots coming off his own stick. Indeed his 7 shots were 3 more than any other player on either team. Burst around the defence for one close in jam shot and a behind-the-back rebound. Robbed by a superb Andersen glove grab when he pounced on Koekkoek's rebound that had the Oilers' ace smiling in disbelief. Hammered a one-timer from centre slot that the Leafs netminder rejected, Oilers' best powerplay chance of the night. Scored the 2-2 goal on a superb mid-air deflection. 9/17=53% on the dot. Edmonton dominated the shot clock to the tune of 16-4 during his 19 minutes at 5v5.
Recently at the Cult of Hockey
STAPLES: Barrie, Shore, Kahun, Koekkoek making good first impressions
LEAVINS: Game grades in big win over Leafs
STAPLES: Oilers fans still want the dynamite line back toghether
McCURDY: 5 things the Oilers need to do better to win
McCURDY: Player grades from second Oilers' loss to Montreal
Follow me on Twitter @BruceMcCurdy
Jets trading Laine, Roslovic to Blue Jackets for Dubois in blockbuster – Sportsnet.ca
Two teams with disgruntled superstars have completed one of the more significant blockbusters in recent NHL history.
On Saturday morning, the Winnipeg Jets traded star winger Patrik Laine and centre Jack Roslovic to the Columbus Blue Jackets for star centre Pierre-Luc Dubois and a third-round pick in 2022. Laine, Roslovic and Dubois had all requested a trade in recent months.
"Pierre-Luc has been an important part of our team the past four seasons, but this was the right time for both parties to move in a different direction," said Blue Jackets general manager Jarmo Kekalainen in a statement. "Strengthening our lineup offensively has been a priority for us and the additions of Patrik Laine and Jack Roslovic accomplish just that."
#NHLJets have acquired forward Pierre-Luc Dubois and a third-round pick in the 2022 #NHLDraft in exchange for forwards Patrik Laine and Jack Roslovic.
DETAILS https://t.co/nh9a2XK00Z pic.twitter.com/xQAYVAysWb

— Winnipeg Jets (@NHLJets) January 23, 2021
It's no exaggeration to say this trade will define these franchises for years to come. In Laine, the Blue Jackets get a perennial 40-goal scorer still coming into his prime while Dubois gives the Jets one of the best one-two punches down the middle behind Mark Scheifele.
The 22-year-old Dubois requested a trade shortly after signing a two-year, $10-million bridge contract just days before the season started and teams have been aggressive in their pursuit of him. Trade negotiations hit a fever pitch on Friday after Blue Jackets head coach John Tortorella benched Dubois in Thursday's overtime loss to the Tampa Bay Lightning.
According to Sportsnet's Elliotte Friedman, the Calgary Flames and Montreal Canadiens were some of the other teams who pitched trade offers to Blue Jackets GM Kekalainen.
In Dubois, the Jets get a six-foot-three centre with smooth hands and a nose for the net. Originally drafted third overall in 2016, Dubois has yet to hit his prime but still managed to score at least 48 points in each of his first three NHL seasons. His best season came in 2018-19, when he had 27 goals and 61 points.
Laine, also 22, had a long contract negotiation before the 2019-20 season and then found himself playing much of the season on the second line. Entering this season, the final year on his current contract, Laine's representatives floated the idea that a change of scenery might be mutually beneficial.
When a trade didn't come together during the off-season, Laine reported to the Jets and had a massive performance in the season opener, scoring twice – including the overtime winner – and adding an assist. Since breaking into the league in 2016-17, only eight players have more than Laine's 140 goals.
Laine and Dubois were the second and third picks, respectively, in the 2016 NHL Draft. The Jets will retain 26 per cent of Laine's contract to balance the money with Dubois's salary.
Roslovic, 23, was a restricted free agent who agreed to a two-year contract with the Blue Jackets on Saturday. A native of Columbus, Roslovic returns home seeking a bigger opportunity after not being able to crack the top-two lines in Winnipeg over the past two-and-a-half seasons.