Brady-led Bucs top Lions 47-7 to end 13-year playoff drought – Yahoo Canada Sports
The Canadian Press
NEW YORK — Joel Embiid had 27 points and 10 rebounds while remaining unbeaten at Madison Square Garden, and the Philadelphia 76ers beat the New York Knicks 109-89 on Saturday night.Ben Simmons had 15 points, nine rebounds and six assists while also leading the defensive effort that forced New York's RJ Barrett into a miserable shooting performance. Embiid and Simmons have never dropped a game at MSG and the Sixers have won the last 13 meetings overall.Tobias Harris and Seth Curry each scored 17 points to help Philadelphia improve to 2-0. New coach Doc Rivers earned his 945th victory, moving ahead of Bill Fitch into sole possession of 10th place.Julius Randle scored 25 points for the Knicks, who fell to 0-2 under Tom Thibodeau. Barrett, after a 26-point opener, shot 2 for 15 and had 10 points.SPURS 119, RAPTORS 114SAN ANTONIO (AP) — DeMar DeRozan had 27 points and San Antonio rallied in the final minute to beat Toronto.DeRozan's 3-pointer with a minute remaining pulled the Spurs to 114-113, and they took a 115-114 lead on LaMarcus Aldridge's fadeaway put-back with 29.9 seconds remaining.Toronto's Kyle Lowry missed a pull-up 19-footer with 22.3 seconds left, and Rudy Gay made two free throws at the other end.Fred VanVleet had 27 points and Chris Boucher added 22 points for the Raptors.Patty Mills added 21 points for San Antonio. Aldridge had 12 points and Dejounte Murray had 11 points, 10 assists and 10 rebounds.THUNDER 109, HORNETS 107CHARLOTTE, N.C. (AP) — Shai Gilgeous-Alexander hit a tiebreaking jumper with 1.4 seconds left and finished with 24 points, helping Oklahoma City hold off Charlotte in the Thunder's opener.The Thunder led by 13 with 1:50 to go, but Miles Bridges spurred Charlotte with 11 of his 14 points in the final 1:06 — including three 3s in the last 25 seconds. His final 3 tied it at 107 with 10.3 seconds left.Gilgeous-Alexander then took the inbound pass, brought the ball up the floor and pulled up from 23 feet to drain a contested jumper over Caleb Martin from the top of the key.George Hill was 8 of 9 from the field and finished with 21 points, and Darius Bazley and Luguentz Dort each had 15 points for the Thunder.Terry Rozier had 19 points for Charlotte.MAGIC 120, WIZARDS 120WASHINGTON (AP) — Terrence Ross scored 25 points and Orlando overcame Russell Westbrook triple-double in his home debut for Washington.Westbrook had 15 points, 15 rebounds and 12 assistst to become the fourth player in NBA history to record triple-doubles in his team's first two games. Magic Johnson (twice), Jerry Lucas and Oscar Robertson previously accomplished the feat. Westbrook is the first player to do it with a new team after being acquired from Houston in the off-season for John Wall.Nikola Vucevic had 22 points and 17 rebounds, and Markelle Fultz added 21 points to help the Magic improve to 2-0. Bradley Beal had 39 points for the Wizards. They are 0-2.CAVALIERS 128, PISTONS 119, 2OTDETROIT (AP) — Collin Sexton scored 32 points and three of his teammates had at least 21 points, helping Cleveland outlast Detroit in double-overtime.The Cavs took advantage of Detroit wasting opportunities to win in regulation and the first overtime, improving to 2-0 and dropping the Pistons to 0-2.Cleveland centre Andre Drummond had 23 points and 16 rebounds, Darius Garland added 21 points and 12 assists, and Cedi Osman had 22 points. Kevin Love, who scored 15 points, returned after missing the opener with a calf injury and JaVale McGee had 11 points off the bench for the Cavs.Jerami Grant had 14 of his 28 points in the third quarter for Detroit. Blake Griffin had 26 points.HAWKS 122, GRIZZLIES 112MEMPHIS, Tenn. (AP) — Trae Young scored eight straight points down the stretch and finished with 36 to help Atlanta beat Memphis for its second straight victory to open the season.Kevin Huerter had 21 points, De'Andre Hunter added 15 points and rookie Nathan Knight had 14, going 4 of 5 from the field and 2-for-3 shooting from 3-point range.Ja Morant led Memphis with 28 points and seven assists,PACERS 125, BULLS 106CHICAGO (AP) — Domantas Sobonis had 22 points, 11 assists and 10 rebounds and Indiana used big scoring runs in the second and third quarters to rout Chicago,T.J. Warren scored 23 points and Victor Oladipo added 22 to help Indiana beat its Central Division rival for the 10th straight time.Zach LaVine scored 17 points and Lauri Markkanen had 16 points and nine rebounds for Chicago.The Associated Press
No players elected to Baseball Hall of Fame for first time since 2013 – Sportsnet.ca
NEW YORK — The baseball Hall of Fame won't have any new players in the class of 2021 after voters decided no one had the merits — on-the-field or off — for enshrinement in Cooperstown on this year's ballot.
Curt Schilling, Barry Bonds and Roger Clemens were among the closest in voting by members of the Baseball Writers' Association of America released Tuesday, and the trio will have one more chance at election next year. It's the first time the BBWAA didn't choose anyone since 2013.
Schilling, a right-handed ace who won three World Series titles, finished 16 votes short of the 75% threshold necessary for enshrinement. He got 71.1% per cent this time after coming up 20 votes shy at 70% last year.
Schilling's on-field accomplishments face little dispute, but Schilling has ostracized himself in retirement by directing hateful remarks toward Muslims, transgender people, journalists and others.
"It's all right, the game doesn't owe me anything," Schilling said during a live video stream on his Twitter account.
Bonds (61.8 joined Schilling in falling short on their ninth tries on the ballot. Both face strong PED suspicions, but Bonds has also been accused of domestic violence and Clemens of maintaining a decade-long relationship with a singer who was 15 when they met.
Schilling, Clemens and Bonds will be joined on next year's ballot by sluggers Alex Rodriguez and David Ortiz. Rodriguez was suspended for all of the 2014 season for violating MLB's PED policy and collective bargaining agreement, and Ortiz's name allegedly appeared on a list of players who tested positive in 2003.
Omar Vizquel, an 11-time Gold Glove winner, dropped from 52.6% last year to 49.1% after his wife accused him of repeated domestic abuses in December. Braves star Andruw Jones, arrested in 2012 on a domestic violence charge, got 33.9% in his fourth year. Rockies slugger Todd Helton, who pleaded guilty to driving under the influence and was sentenced to two days in jail last year, got 44.9% in his third time on the ballot.
Some players missed out over old-fashioned baseball disagreements, too. Slick-fielding third baseman Scott Rolen moved from 35.3% to 52.9% and hard-throwing closer Billy Wagner from 31.7% to 46.4%.
It's the 19th time the BBWAA has failed to elect a Hall member and just the third time since 1971. With the Hall of Fame's Era Committees postponing their scheduled elections until next off-season because of the pandemic, there won't be a 2021 Hall class.
Cooperstown won't be without celebration next summer, though. After the 2020 ceremony in the upstate New York village was cancelled due to the pandemic, Yankees great Derek Jeter and five-tool star Larry Walker will take centre stage on July 25, a year later than planned. They'll be honoured alongside catcher Ted Simmons and late players' association chief Marvin Miller.
BBWAA members are instructed to elect Hall members "based upon the player's record, playing ability, integrity, sportsmanship, character, and contributions to the team(s) on which the player played."
At a time when social justice movements are pushing for a broader reckoning on sexual misconduct and racial inequality, character evaluation took on an outsized role in this election cycle. While the Hall's inductees already include racists, cheaters, philanderers and criminals, the current voting bloc has — narrowly, in many cases — taken a stand against candidates they think have insufficient integrity.
Schilling — a six-time All-Star over 20 seasons with Baltimore, Houston, Philadelphia, Arizona and Boston — has been embroiled in controversy throughout his retirement.
He launched a video game company, 38 Studios, that went bankrupt shortly after receiving a $75 million loan guarantee from Rhode Island, then was fired as an ESPN analyst after he sent tweets comparing Muslim extremists to Nazi-era Germans and posted derogatory Facebook comments about transgender people.
Months later, Schilling was again criticized after using social media to applaud a T-shirt calling for journalists to be lynched.
On Jan. 6, the day of the attack on the U.S. Capitol, he said the following in a message on his Twitter account:
"You cowards sat on your hands, did nothing while liberal trash looted rioted and burned for air Jordan's and big screens, sit back …. and watch folks start a confrontation for (expletive) that matters like rights, democracy and the end of govt corruption."
That tweet was sent a few days after Hall of Fame ballots were due.
Bonds' ex-wife testified in 1995 during divorce proceedings that he beat and kicked her. Bonds said he never physically abused her but once kicked her after she kicked him.
In 2008, the New York Daily News reported that Clemens had a decade-long relationship with country singer Mindy McCready that began when she was 15 and he was a star for the Boston Red Sox. Clemens apologized for unspecified mistakes in his personal life and denied having an affair with a 15-year-old. McCready later told "Inside Edition" she met Clemens when she was 16 and that the relationship didn't turn sexual until several years later.
The BBWAA recently voted overwhelmingly to remove the name and imprint of former Commissioner Kenesaw Mountain Landis from MVP plaques. Landis became commissioner in 1920, and there were no Black players in the majors during his more than two decades in charge.
Further down the ballot, outfielder Gary Sheffield jumped from 30.5% to 40.6% on his seventh time on the ballot and Jeff Kent improved from 27.5% to 32.4 narrowly surpassed the 5 and Mark Buehrle (11%) in their initial turns.
Aramis Ramirez, LaTroy Hawkins and Barry Zito drew votes but were eliminated from future consideration.
The 2022 ballot also will include Phillies stars Jimmy Rollins and Ryan Howard, switch-hitting slugger Mark Teixeira and two-time Cy Young Award winner Tim Lincecum.
Hinchcliffe inks full-time ride with Andretti – TSN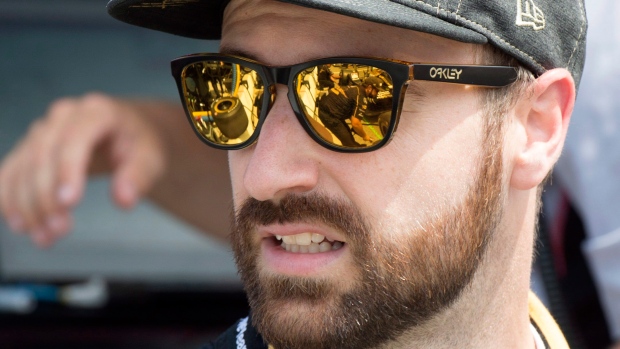 Canada's James Hinchcliffe will return as a full-time driver on the IndyCar circuit in 2021.
Andretti Autosport announced Tuesday that Hinchcliffe will drive the No. 29 Honda this season.
The 34-year-old Hinchcliffe, from Oakville, Ont., lost his full-time ride with Arrow McLaren SP after the 2019 season.
The Canadian competed in six races last year on a part-time deal with Andretti Autosport.
Hinchcliffe will be sponsored by Genesys for 10 race in 2021, including the Indianapolis 500. Remaining partnerships for Hinchcliffe's 2021 season will be announced in the coming weeks, Andretti Autosport says.
The 2021 campaign will mark Hinchcliffe's 11th year in IndyCar. He has won six races in his career.
"This program is something we've been working on since the day we signed our three-race deal with Andretti Autosport last March," Hinchcliffe said in a statement. "Being back full time has always been the goal, and it feels so great to know that I will be back on the grid and with such an amazing team, one I've had a lot of great memories and success with."
Hinchcliffe will be one of four drivers on the team this year, joining Colton Herta, Alexander Rossi and Ryan Hunter-Reay.
"We're really excited to have Hinch back in the car for 2021 and thrilled to welcome Genesys again to the Andretti family, this year in an expanded role," Andretti Autosport chairman and CEO Michael Andretti said in a statement.
Hinchcliffe will be one of two Canadian full-time drivers on the IndyCar circuit. Dalton Kellett of Stouffville, Ont., is preparing for his second season with A.J. Foyt Racing.
The first IndyCar race is scheduled for April 18 in Birmingham, Ala.
The Honda Indy Toronto, the lone Canadian race, is scheduled for July 11. It was cancelled last year because of the COVID-19 pandemic.
This report by The Canadian Press was first published Jan. 26, 2021.
Michael Hutchinson returns to the backup seat as Jack Campbell out "weeks" with LBI – Maple Leafs Hot Stove
Man plans, the hockey Gods laugh.
The Leafs' robust strategy for addressing their goaltending depth throughout 2020 —acquiring Jack Campbell from LA last February with good early returns, and signing Aaron Dell, who started 33 games for the San Jose Sharks last season (.907), to be their #3 this past offseason — has been undermined, at least for the next several weeks, by a collection of conspiring forces: injuries, lack of cap space, and a waiver claim.
Jack Campbell is out for weeks with a leg injury, according to Sheldon Keefe. Michael Hutchinson is the #leafs No. 2 for the forseeable future.

— Chris Johnston (@reporterchris) January 26, 2021
The Leafs are now left with Michael Hutchinson in the backup position again just seven games into the 2021 season — at least while Jack Campbell recovers from his leg injury sustained in Calgary.
To recap the timeline:
After the botched Curtis McElhinney – Garret Sparks decision in October 2018, the Leafs were left to scramble for backup help and ended up acquiring Michael Hutchinson in December 2018 from the Florida Panthers. Hutchinson recorded a .887 save percentage in nine appearances that season while passing through waivers once. The Leafs re-signed him the following offseason.
After bringing Michal Neuvirth to camp on a PTO in hopes he could grab the backup reins only for Neuvirth to bail to Europe, Hutchinson entered the 2019-20 season as the Leafs' backup and posted a .888 in 16 appearances.
The Leafs acquired Jack Campbell in early February of 2020.

Hutchinson was waived and sent to the minors a week later, then traded to Colorado in the deal for Calle Rosen at the trade deadline.
The Leafs signed Aaron Dell as their #3 before signing Hutchinson, who had made his playoff debut in the Avalanche crease for three starts in the playoffs (winning Games 5 and 6 but losing Game 7), as the Leafs' #4 in October of 2020.
An injury to Nick Robertson forced the Leafs to expose Aaron Dell to waivers earlier than they would've hoped due to cap constraints (though it was somewhat inevitable this would occur at some point this season). Dell was claimed by New Jersey. Hutchinson was called up to the taxi squad.
Jack Campbell went down to an injury versus Calgary in game #7 of the 2021 season, returning Hutchinson to the backup position for the next several weeks.
It's not how you would've drawn it up in a year where the games are coming fast and furious and more rest for Frederik Andersen was a clear priority entering the season. But them's the breaks.
The good news for the Leafs is that they do not have any back-to-backs until February 17-18 against the Ottawa Senators. That means they can roll with Andersen if they'd like for the next 10 games without starting him two nights in a row, and the next back-to-back comes against the worst team in the division. They also don't have another two-games-in-two-nights after the Feb. 17-18 games versus Ottawa until March 13-14. They could still look to give Hutchinson a softer-looking start — the Leafs are an improved defensive team so far this season, and Hutchinson was competent in the playoffs — at some point in the next 10 games to give Andersen a breather.
The Leafs could also keep an eye on the waiver wire in the next few weeks, although knowing the above about the schedule, they could just ride this out with Andersen and Hutchinson. Cap wise, the Leafs are already into LTIR with the Joe Thornton and Nick Robertson contracts, and they can move Campbell onto LTIR now as well, giving them the ability to add another option if they would like.