Brown works out with Seahawks QB Wilson – TSN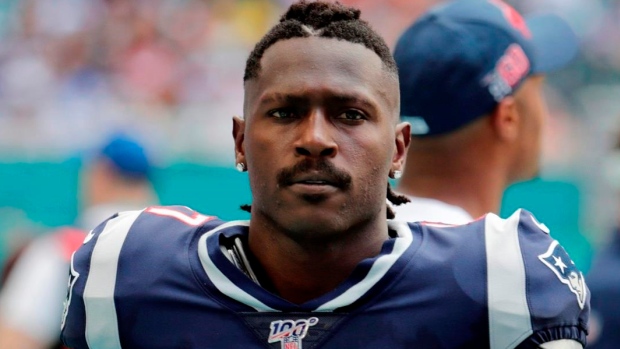 Free agent wide receiver Antonio Brown posted a video on Instagram of him working out with Seattle Seahawks quarterback Russell Wilson.
Brown captioned the video, which shows him catching a deep pass from Wilson, "Who wants to see this on Sundays? That was fun!"
The 31-year-old Brown could be suspended if he were to be signed by a team ahead of the 2020 season. The former star player has been involved in a number of legal issues stemming back from the 2019 season.
Brown played in just one game during the 2019 campaign after being released by the New England Patriots in September of 2019. The wide receiver signed with the Patriots that same month after he was cut by the Oakland Raiders, who acquired him in March of 2019 in a deal with the Pittsburgh Steelers.
Brown, who spent nine of his 10 career seasons with the Steelers, has amassed 11,263 receiving yards and 75 touchdowns with 841 receptions over his career and has seven Pro Bowl nominations.
Toronto's No-Frills Formula Could Lead to a Raptors Repeat – Sports Illustrated
LAKE BUENA VISTA, Fla. – The scene was different, virtual fans replacing real ones, the silence of a near-empty arena broken only by hip hop music and digital crowd noise pumped through hanging speakers. But for Masai Ujiri, it all felt familiar.
A year ago, in Las Vegas, Ujiri implored Raptors fans not to panic. "Don't lose one second of sleep," said Ujiri, just days after Kawhi Leonard packed his bags for Los Angeles. "We're going to be just fine." Now here was Ujiri, the Raptors president, a few feet from the NBA branded floor, in a hooded sweatshirt watching Toronto batter Orlando, its likely first-round opponent.
For the Raptors, a win, and a 3-0 restart.
For Ujiri, perhaps, further vindication.
The Magic are just recovering from dealing Dwight Howard. Cleveland has cratered, twice. Oklahoma City made the playoffs a year after Kevin Durant left, but that took a history-making season from Russell Westbrook and ended with a quick first-round exit. History isn't kind to NBA teams that lose superstars. It took New Orleans years to dig itself out from the Chris Paul trade. The Magic are just recovering from dealing Dwight Howard. Cleveland has cratered, twice. Oklahoma City made the playoffs a year after Kevin Durant left, but that took a history-making season from Russell Westbrook and ended with a quick first-round exit.
Toronto won't be first-round fodder for anyone, and really—how did that happen? Leonard was an All-Star, a top-five talent, the reigning Finals MVP. And after beating the Magic, Toronto's winning percentage (.731) stands as the best in franchise history.
There is no voodoo to the Raptors success, no secret sauce. Probe for one and you are met with a string of blank stares and collective shrugs, as if you are the crazy one for thinking they shouldn't be here.
"We don't spend any energy in having that 'sports talk,'" Marc Gasol told me. "It's good bar talk. We understand the media has to do that. We know we're not easy to beat. We believe in ourselves. We have a lot of tools, a lot of great players and, to me, the best coaching staff in the NBA."
Indeed. The Raptors are good because they have Pascal Siakam, the reigning Most Improved Player and 2019 playoffs breakout star, who has ratcheted his game to yet another level. There are traces of Leonard in Siakam, embers from a season-long education that remain. Teammates describe Siakam as a workaholic, driven to be great, empowered by head coach Nick Nurse to be the playmaker few saw when Siakam was an undersized center at New Mexico State. Siakam has built upon a breakthrough third season, becoming a more willing three-point shooter.
They are good because of Fred VanVleet, the fourth-year guard enjoying a breakout season of his own. Defense has keyed Toronto's success, and VanVleet has emerged as an integral part of it. Once something of a liability, VanVleet leads the NBA in deflections and ranks in the top five in steals. Inside the Raptors locker room, everyone knows: If you don't defend, you don't play.
"You look bad when you don't play defense," said VanVleet. "You stick out like a sore thumb … you don't want to be that guy."
The Raptors are good because of Kyle Lowry, the stalwart, Mr. Raptor, arguably the greatest player in franchise history and the tone setter for this group. A competitive fire still burns inside Lowry, the same flame that pushed him past the blacktops in North Philadelphia to Villanova, to the NBA, to an eventual NBA championship. Up 16 points against Orlando, Lowry is barking at Evan Fournier at the free throw line. Up double digits in the final minutes, Lowry is battling Nikola Vucevic on the offensive glass.
Before the season, Nurse met with Lowry. We need more scoring, Nurse said. Lowry agreed. "It was a short meeting," Nurse told SI. Lowry has responded by increasing his scoring average six points, ticking his three-point percentage up to 36% this season.
Ujiri saw this talent, this coaching staff and any thought of tearing the team down was fleeting, at best. For months, the Raptors were peppered with trade calls, with rivals probing if Gasol, Serge Ibaka, even Lowry were available. Ujiri didn't bite. First-round picks are valuable, sure, but the Raptors believe they can find talent anywhere. Siakam and O.G. Anunoby were picked up late in the first round, Norman Powell in the second while VanVleet and rising rookie Terence Davis were undrafted free agents. Draft assets, Ujiri reasoned, weren't worth breaking up this core.
Months later, Toronto is firmly entrenched as the No. 2 seed in the Eastern Conference and, really—are we sure anyone can beat them? The Raptors have stomped the Lakers, outlasted the Heat and put a 10-point loss on Orlando. LeBron James himself has declared them true contenders. Milwaukee will enter the postseason as the conference favorite, but the Raptors have beaten the Bucks before and have the size to body up with them. Siakam and VanVleet will have to step forward and make shots in bigger roles, but they have a championship run to lean on.
"We're a no-excuse team," Gasol said. "I don't need someone to tell me to believe in something. You go out there and you compete and you can beat anybody. It doesn't take a genius to know that we have a lot of pieces. I don't need someone to tell me 'you guys can win it.' It's really hard, and it's a different year, obviously, but on any given night we can be one of the good teams."
Here comes Toronto, impossibly, improbably determined to defend its title from the beginning, armed with the personnel and confidence now to do it. The four-month hiatus healed lingering injuries, handing Nurse the deepest, most talented roster he's had all season.
Minutes after beating Orlando, Ibaka emerged from the Raptors makeshift locker room, beelining up the stairs to the weight room, anxious to squeeze in 15 minutes on the one treadmill available before the last bus pulled out. Behind him, Stanley Johnson, eager to do the same.
"You played 25 minutes, Serge," Johnson said. "Let me get on first."
"Five minutes," Ibaka replied, before disappearing up the steps.
For Ibaka, for Toronto, the work has just begun.
Raptors' deep-rooted defensive culture key to championship aspirations – Sportsnet.ca
TORONTO — The Toronto Raptors had an internal goal after the NBA season went on hiatus on March 11: Win the pause.
That was the focus for the organization, from team president Masai Ujiri on down — find ways to use the time at hand to prepare, analyze and improve.
Through the first three games of the schedule since play resumed in the league's quarantine bubble on the campus of Walt Disney World Resort, the Raptors seem to have nailed it.
Not only are the defending NBA champions 3-0 in their eight-game reseeding schedule after their 109-99 win over the Orlando Magic, a potential first-round playoff opponent, it's the way they've done it that is serving notice that they are serious contenders to advance to the Eastern Conference Finals — and significant threats to do some damage to whichever superstar-driven team ends up emerging from the West.
Toronto was already either the first- or second-best defensive team in the league before the hiatus, and now? They are somehow better, having barely played for five months.
In the 142 days they went between games, the Raptors have gone from being really, really good at keeping other teams from scoring to being really, really good at making other teams look around at each other and wonder what the point was of even trying.
They are a better team, defensively, than they were last season when they had two all-defensive team starters in their lineup — including Kawhi Leonard, arguably one of the greatest defenders the league has ever seen.
They believe they are a good enough team, defensively, to repeat as NBA champions.
Three games isn't the largest of sample sizes, but tell that to the Magic, who were held to 25 per cent shooting in the first quarter Wednesday night, and then 35 per cent in the second quarter and found themselves trailing 55-35 at half.
The Raptors took their foot of the gas a little in the second half, but never enough to give up control of their victim. The Magic were going down and the Raptors would decide when they would be allowed up.
Then again, the Magic don't need much convincing. They've now lost eight straight games to Toronto going back to their first-round playoff series last season, while scoring an average of 91.25 points a game.
But the Magic shouldn't feel too badly. The Raptors held LeBron James and Anthony Davis and their Los Angeles Lakers to 92 points in their first seeding game, so.
Livestream the Raptors' quest to defend their NBA title with select NBA playoff games on Sportsnet NOW.
It's becoming clear that this is who the Raptors are — an amorphous blob of bodies and limbs that operates with a single, shared defensive brain. Opponents don't get the luxury of beating one Raptor at a time, they have to beat all five, and more often than not, it's not going to happen.
"It's a matter of will," said Marc Gasol after helping limit Magic All-Star centre Nikola Vucevic to an ineffectual 12 points on 10 shots, a Raptors tradition. "Defensively, it's like believing in what the coaches are telling you, and everybody having each other's backs. It's a matter of continuous effort. It's not one effort that's going to stop the play. It's not two, it's not three. We'll continue to make efforts and make it as tough as possible for the other team and continuing possessions with rebounding.
"It's a matter of will, right? And I think, in our locker room, if you don't have the will, or the discipline, to play defence, it is going to be really hard for you to see the floor, and that gives the coaches a lot of credit …they have high standards defensively, and I think that's what separates the good teams from the great teams.
"I think that's who we are."
They are a coach's dream, in other words.
While the appetite for defence in the NBA is far undersold by the general public — anyone who has had the privilege to see even regular-season games played up close would be shocked at the overall intensity on both sides of the ball – it is something that doesn't come naturally to all teams, and not all teams want to make the sacrifices necessary to play great team defence all the time.
The Raptors don't have that problem.
"Before a pass is ever made you've got to have some desire, you have to have some readiness, you got to have some anticipation, you've got to have some IQ before the ball's even started in an offensive sequence," said Raptors head coach Nick Nurse. "We've got a bunch of guys that are locked in on that.
"They pay attention to the game plans, they're basketball guys, they watch the other teams, they study them, they like stopping them, it's kind of an interesting thing that they got going. They come to the game and they start figuring out how we're going to stop them. They really try to make adjustments, there's communication amongst them, each other.
"[It] kind of feeds it from there."
The current buzzword for it is 'culture' – where habits and expectations are in place almost without anyone being aware of them. There are no longer rules and demands but an understanding of how things are done that gets passed on within the group, organically.
The Raptors have that in many ways and right now it's manifesting itself in their defensive approach. The results are remarkable. Toronto had a defensive rating of 104.9 before the hiatus, which was good for second in the NBA.
Over their past three games they've dropped that to 96.1, which is first by a mile. They held teams to 106 points a game before the season was stopped, tops in the league, and now they're holding opponents to 98.9 points a game, best again. Through three games teams are shooting just 39.5 per cent from the floor, compared to 42.7 before March 11, which was second in the league at the time.
The Raptors have high standards for themselves, and they're exceeding them.
"I think it just starts from the top down, obviously Nick kind of sets the tone, and the coaching staff sets the tone and then it's just a collection of what kind of guys you've got, like what is your character like?" said Fred VanVleet, who leads the NBA in deflections and is among the league leaders in steals. "Do you have defensive-minded guys? Do you have guys who are pissed off when they get scored on?
"That's kind of the beginning of it, and then it gets to the point — once you've got enough of that — [where] you look bad when you don't play defence. Like you stick out like a sore thumb. So when guys are watching the game you can tell when a guy's not on the same page as everybody else, it looks bad, and guys feel that, and you don't want to be that guy — ever — on the court.
"So, I think we're just learning and growing and pulling some of the new guys along with this. Obviously to win a championship you have to play extremely great defence for a long time and we did that. And that just gave us even more confidence on that end of the floor that what we're doing is working."
You want some culture? The Raptors have some culture, and their culture is about stopping other teams in their tracks, about making the game very unenjoyable for them, and they're very good at it.
The Raptors look like they may well have 'won the pause,' and more importantly have the look of a team that's ready to win much more than that.
Strange times for Rory McIlroy, but he has signed some autographs – Golf Channel
SAN FRANCISCO – Rory McIlroy has conceded that the lack of fans since the PGA Tour's restart in June has been a distraction and that he's had to work to maintain his focus during rounds.
"Honestly for me, if anything, I've found myself looking at leaderboards a little more just to see where I am on there and see where other people are," he said on Wednesday at TPC Harding Park. "There's no feedback from anywhere else, so the leaderboards are the only thing you have to see how you're doing in a tournament."
There was, however, one familiar moment last week at the WGC-FedEx St. Jude Invitational that made things feel somewhat normal. When he was asked the last time he signed an autograph, McIlroy laughed: "Last week," he said.
PGA Championship: Tee times | Full coverage
---
McIlroy explained that he rented a house in the TPC Southwind neighborhood last week, and one afternoon he received some visitors.
"A couple of kids came to the door and I said, 'Let me just go get a Sharpie out of my own bag,' because they came with a Sharpie," McIlroy said. "Even that, you go and you take your own Sharpie and make sure that it's sanitized and all that stuff. But yeah, I've signed a lot less autographs the last few months."
The USGA announced plans to play the U.S. Open in September without fans, and it's currently unclear when the PGA Tour will allow fans back on courses. Many believe the Masters in November is the next possible event that could include spectators.