By the Numbers: Comparing Metcalf to Megatron – TSN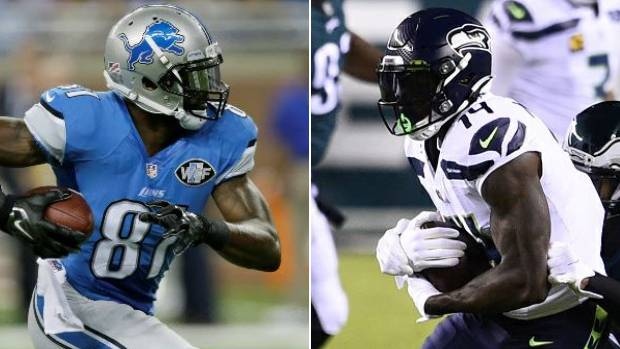 After D.K. Metcalf's monster performance against the Philadelphia Eagles on Monday Night Football, the second-year wide receiver said he had a chip on his shoulder following comments made to him by Eagles defensive coordinator Jim Schwartz.
Metcalf revealed after the game Schwartz said to him, "I was in Detroit with Megatron, but you're not there yet."
While there may have been a misunderstanding about the comment – Schwartz later clarified he meant to compliment Metcalf as the closest thing to Calvin Johnson, the three-time All-Pro receiver that retired after the 2015 season, Schwartz has seen – Metcalf used it as motivation to finish the game with 10 receptions for a career-high 177 yards.
The 22-year-old Metcalf has been outstanding for the Seahawks since the club selected him in the second round of the 2019 NFL Draft. Has he been as good as Johnson through the first year and a half of their careers? Is he on his way to becoming the next Megatron?
TSN.ca takes a closer look at Metcalf's early-career numbers and compares them to Johnson's statistics at the same time of his career.
Metcalf accounted for 77 per cent of the Seahawks' 230 passing yards. It was the third-highest percentage by a single receiver in the past five seasons, but strangely not even the highest percentage of Week 12. Denver Broncos tight end Noah Fant caught the lone completion by fill-in QB Kendall Hinton against the New Orleans Saints.
Metcalf's 177 receiving yards were the fifth-most in Seahawks' history, behind three games by Hall of Famer Steve Largent and one by fullback John Williams.
Metcalf leads the league with 1,039 receiving yards and his nine receiving touchdowns are fifth in the NFL.
With his 177 receiving yards on Monday, Metcalf became the fastest Seahawks receiver to eclipse the mark in just the 11th game of the season.
His 1,039 receiving yards are also the fifth-most by a player in his first or second year in the league through 11 games in the past 30 years.
His 1,939 career receiving yards are just 88 behind Joey Galloway's 2,027 for most through two seasons in Seahawks franchise history.
Metcalf vs. Megatron (through the first 27 games of their career)
Metcalf has 116 receptions on 190 targets for 1,939 yards and 16 touchdowns.
Johnson had 101 receptions on 200 targets for 1,727 yards and 12 touchdowns in 2007-2008.
Johnson would finish his sophomore campaign with 78 receptions for 1,331 yards and 12 touchdowns.
Metcalf is on pace to finish his sophomore season with 84 receptions for 1,511 yards and 13 touchdowns, projected over a full 16-game schedule.
Johnson wouldn't earn a trip to the Pro Bowl until his fourth season with the Lions and his best work came in seasons 5-7 when he named an All-Pro in three straight seasons.
He would twice surpass Metcalf's projected receiving yards total for this season (1,511) with 1,681 yards in 2011 and 1,964 yards in 2012.
Advantages of Live Casino Games
Seeing as the Internet has taken the world by storm, playing a mega role in day to day human life, more betting businesses are taking advantage of the numerous opportunities that the online gambling scene presents them. Today, any huge casino that you can think of has some form of online presence. As a matter of fact, playing Live casino with real money on the go has become so easy, as gaming websites are being developed to be highly mobile friendly!
The Good Side of Online Casinos
As mentioned before, live casinos are seemingly blowing up, given the tons of opportunities that are available online. Ever since live casino games were introduced online, gaming enthusiasts have had a reason to smile. The convenience that online gaming brings, alongside the same thrill gotten from a physical casino location is just out of this world.
Let us highlight just some of the pros of live casino gaming now, explained in the live casino guide prepared by industry experts from CanadaCasinoHub.com.
Get to enjoy games in real time with Live Dealers!
This one tops the list of online casino games pros. The fact that you can enjoy your favorite table game with a real dealer in real time is just mind blowing! With this special feature, you get to witness state of the art gambling in a super authentic setting, giving off the land based casino version vibes. Players can follow through the Dealer's actions closely and observe the gaming action as it unfolds. In addition to this, the dealers in leading live casino brands are all well trained professionals, leaving players rest assured of proper, safe and fair gaming.
Indulge in your favorite Live Casino Games from anywhere and at any Time!
Playing on the go has never been so easy. Never has it ever been so effortless and easy to access fun gaming, with the best thing being the fact that you need not travel for miles on end to be able to do this. Not only do you get to cut on all those travel expenses, but you also get the chance to enjoy high quality gaming just as if you were in an actual brick and mortar location.
Top notch quality technology
Nearly all leading live casinos will integrate high quality gaming technology and systems, offering players a smooth wagering process. Thanks to the live streaming feature, gamers can observe all action to detail as it happens from the beginning of the game to the end of it. This high level tech also comes with high level kind of protection to user information, adding on to the peace of mind.
 Live Chat
Thanks to cutting edge technology, bettors can interact with other game participants and the dealer as well. This not only makes the game more enjoyable and real, but the personal connection established takes things to a whole new level.
LeBron James re-injures ankle
Los Angeles Lakers forward LeBron James reinjured his right ankle on Sunday night and his status is unclear for Monday night's game against the visiting Denver Nuggets.
James departed the 121-114 loss to the Toronto Raptors with 6:42 remaining in the contest.
"His ankle is battling some soreness," Los Angeles coach Frank Vogel said afterward. "We decided not to bring him back."
James was playing for the second time since missing 20 games due to the injured ankle. He said it has tightened up on him at halftime in both games.
Vogel and James were both in wait-and-see mode per whether the star forward could play against Denver.
"The plan is to see how I feel and go from there," James said.
James also was thinking about the big picture.
"The most important thing for me is to be healthy and be at full strength when it really matters," James said.
James recorded 19 points, seven rebounds and six assists against Toronto as the slumping Lakers lost for the sixth time in seven games. They are 0-2 since James returned.
"I think our team is predicated on health," James said. "That is the No. 1 thing for our ball club. We need to be healthy and we need to be at full strength."
–Field Level Media
FTB: What's in store for the Maple Leafs in their final five games? – Pension Plan Puppets
The Maple Leafs played their last game for this season against the Canucks last night, and they made it a game the Canucks would like to forget, easily defeating them 5-1.
So that's it for the Canucks, and the Leafs have already finished up with the Oilers and the Flames for the season, so what's left?
Next week the Leafs have three games against the Habs; Monday, Thursday and Saturday. Monday's game is in Montreal, while the others are in Toronto. Saturday's game is also the final home game for the regular season. These games could help determine who the Leafs play in the first round since the Jets continue to flounder, losing six games in a row, and are now only two points up on the Habs. Some Montreal wins next week could put them in third place, knocking the Jets down to fourth where they would face the Leafs in the playoffs. That would also mean the Leafs would have to lose to the Habs all week, which… I don't like any of these options! Just win all the games, Leafs.
The following week the Leafs wrap up the season on the road, with a trip to Ottawa, and then ending it rather unceremoniously on Friday in Winnipeg in what looks to be a regionally blacked-out game broadcast only on TSN4 in Toronto. That certainly lacks the grandeur of the final scheduled game of previous seasons, but hopefully it will be the start of a very long playoff run. The playoff games will all be on Sportsnet with no blackouts on NHL Live.
ICYMI
Hardev caught us up on the Marlies yesterday morning.
The Marlies played the Senators yesterday afternoon and lost 5-3. Joseph Woll was in net. He's being backed up by Veini Vehvilainen who you may recall the Leafs picked up in exchange for Mikko Lehtonen in early March.
The Marlies host the Senators again this afternoon at 3:00 p.m.
Other News
Sportsnet is at it again with the wonky charts. I don't even know what to do with this one. As Fulemin noted, if Matthew Tkachuk is down to bringing nothing but "size" to his line, it's no wonder the Flames are having such a bad season.
Then again, this all sort of played out last night as the Flames lost 4-1 and Tkachuk fought (checks notes) Tyson Barrie? What?! Yes, it actually happened. Here's the video!
The Hurricanes' goalie picked up a primary assist on this game winner. Also <3 Dougie
The next Connor: Hockey's latest phenom went distance to find a game in pandemic – CBC
Connor Bedard, the first player granted exceptional status to suit up in the WHL a year early and tabbed as the likely first pick in the 2023 NHL draft, saw his inaugural junior season put on ice by COVID-19. That began a long road, including a trip to Sweden with his sister, to where he is now.
Capital Gains: Van Riemsdyk Making Most of Opportunity – Japers' Rink
The 29-year-old has maintained a positive attitude despite an up-and-down season, and it's paying off in his return to the lineup and sudden resurgence.
High school hockey in desert flourishing despite lack of AIA sanction – PBS
Hockey is one of the few sports not sanctioned by the AIA, but it has managed to be successful. Much of that has to do with the Arizona High School Hockey Association.
---
Enjoy your Sunday. Our Back to Excited podcast has been postponed until Tuesday this week.