Canada's internet outage caused by 'maintenance' – BBC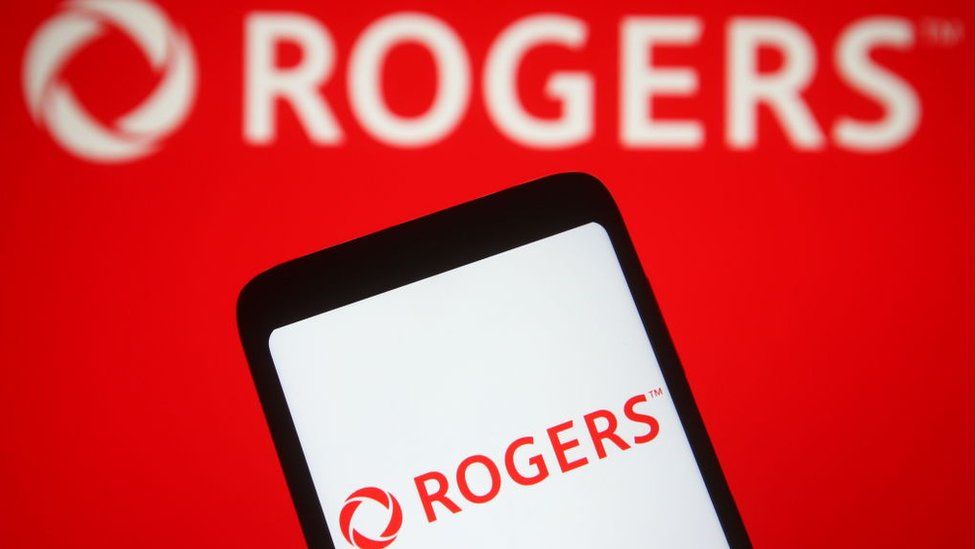 One of Canada's largest mobile and internet providers, Rogers, has apologised for the country-wide outage of its services which began on Friday.
The company's CEO Tony Staffieri said the failure followed "a maintenance update in our core network".
Transport, banking and emergency services were all hit by Friday's blackout, with 911 hotlines and bank ATMs left unavailable.
Canadians flocked to coffee shops and libraries to find a connection.
The service outage began at 04:30 local time (08:30 GMT) on Friday and lasted for more than 15 hours, but most services have now been restored.
Mr Staffieri said the maintenance work "caused some of our routers to malfunction early Friday morning".
The outage had a huge effect on a wide range of services across Canada, serving as a reminder of how reliant society has become on modern communications.
Many 911 services reported difficulties with incoming calls and hospitals asked on-call staff to come into work until the issue was resolved.
One mother, Lara Morgan, described how she struggled to contact emergency services after her son was injured in a rugby game with a suspected spinal injury.
Speaking to the Globe and Mail newspaper, she said she eventually found someone with a non-Rogers mobile phone to call 911, only to discover that ambulance services also relied on the Rogers network and were having difficulties dispatching paramedics. Her son eventually made it to hospital and was not badly injured.
In a statement, Mr Staffieri said the company was "particularly troubled that some customers could not reach emergency services".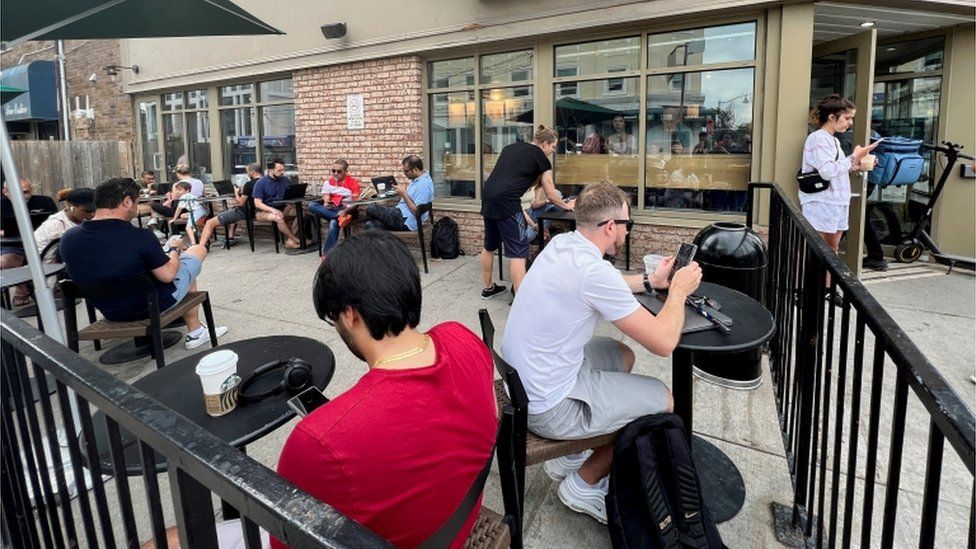 The outage also caused some events to be cancelled, including the Toronto tour date of Canadian singer The Weeknd. The gig was due to take place at the home of the Toronto Blue Jays, which is owned by Rogers Communications.
In Quebec province, a Montreal court had to delay a trial hearing for disgraced fashion mogul Peter Nygard after jail officials were unable to connect him to a videoconference system.
Critics say the outage demonstrated a need for more competition in the Canadian telecoms sector.
Three companies – Rogers, BCE Inc and Telus Corp – control 90% of the market share in Canada.
Rogers alone is the mobile carrier of nearly 11 million Canadians, with a stake in everything from hockey to cable television.
Toronto continues investigation into cause of massive power outage – CP24
Hydro One says it will take "several days" to repair hydro lines that were damaged after an upright crane in the lake slammed into them and caused a massive power outage downtown on Thursday.
The outage occurred in the city's financial district at around 12:30 p.m., leaving approximately 10,000 customers without power at its peak.
A portion of the Eaton Centre was left in the dark, forcing hundreds of stores to temporarily close. The outage also knocked out power in parts of the Hospital for Sick Children's campus.
Traffic lights were down in some intersections causing heavy traffic and significant streetcar delays. However, the outage did not affect subways.
Toronto Fire said crews responded to a number of elevator rescues, but no injuries connected to the outage were reported yesterday.
Hydro One says the outage was caused when a barge moving an upright crane in the Port Lands area hit overhead high voltage transmission lines.
"Now, what happened when that crane hit the line resulted in a downstream effect where a surge of power affected a nearby station on the Esplanade that we were actually using to reroute power to Toronto Hydro," Hydro One Spokesperson Tiziana Baccega Rosa told CP24 Friday morning.
The City of Toronto says the barge was being operated by a subcontractor to Southland-Astaldi Joint Venture (SAJV), which is a contractor for the Ashbridges Bay Treatment Plant outfall project.
Crews were reportedly preparing to move equipment into the lake for the project when the incident occurred.
"We're going to use stone that needs to be placed out in the lake and the subcontractors were going to do that work for us but they were moving equipment. The event occurred off-site while they were doing their preparatory work," Lou Di Gironimo, Toronto Water's general manager told CP24 Friday.
Baccega Rosa said Hydro One crews were able to reroute about 50 per cent of the power shortly after the incident, which resulted in power being restored in some areas quicker than others.
Crews then had to stop their efforts and wait for the fire department to clear the site for workers to safely enter and reroute the rest of the power.
Once crews gained access, they were able to reroute all power to Toronto Hydro and power was fully restored downtown by 8 p.m.
Baccega Rosa said there are established safety protocols to stay a minimum of 10 metres away from power lines, which were not followed yesterday.
"And that's (for) anyone whether, you know, you're a barge passing under them (power lines) or if you're doing work around your house and you need to trim the tree branches around the line connecting your home. You know, everyone was very lucky yesterday that there was not a safety incident and no one was hurt as a result of this," she said.
The city has launched an investigation into the incident and has requested a full report from SAJV to understand what happened.
"So the big thing that we're going to look at is what happened? Who was in charge of the subcontractor work? What were the safety procedures in place at the time? And then what exactly happened when the crane hit the wires?," Di Gironimo said.
Di Gironimo could not confirm if the subcontractors will face any consequences for the incident.
"That will be part of the investigation to find out what happened. What were those precautions that were supposed to be in place. What was followed? What wasn't?"
He said the city is meeting with SAJV next week and plans to complete the investigation within a matter of weeks.
B.C. couple still owes $19M despite bankruptcy, appeal court rules – Business in Vancouver
​Rogers, Shaw formalize planned Freedom sale to Quebecor – BNN Bloomberg
Rogers Communications Inc., Shaw Communications Inc. and Quebecor Inc. announced Friday they reached a definitive agreement for the previously-announced proposed sale of Shaw's Freedom Mobile wireless business.

The three companies said that the terms of the definitive pact are "substantially consistent" with their original announcement on June 17, when they said Montreal-based Quebecor agreed to pay $2.85 billion to purchase Freedom. Originally, July 15 was the target to reach the definitive agreement.
"We are very pleased with this agreement, and we are determined to continue building on Freedom's assets," said Quebecor president and chief executive officer Pierre Karl Péladeau in a release Friday. "Quebecor has shown that it is the best player to create real competition and disrupt the market."

The transaction is conditional on Rogers receiving final regulatory approvals for its planned $20-billion takeover of Shaw, which was announced in March 2021.

The road to regulatory approval has become more treacherous for Rogers after Competition Commissioner Matthew Boswell stated his objections to the plan, warning it would diminish competition in the telecom market, notwithstanding Rogers' long-stated intent to divest Freedom Mobile.

Rogers' legal counsel has argued vociferously against Boswell's claims, saying in a June 3 filing with the Competition Tribunal that Boswell's stance "is unreasonable, contrary to both the economic and fact evidence presented to the Bureau, and not supportable at law."

The Competition Tribunal is currently scheduled to begin a hearing on the matter Nov. 7.

Rogers also has to clear another regulatory hurdle: its planned acquisition of Shaw requires approval from Innovation, Science and Industry Minister François-Philippe Champagne, who has previously said he won't allow the wholesale transfer of Shaw's wireless assets to Rogers.

The process became more complicated for Rogers after a national network outage knocked out service to its customers in early July.
Champagne subsequently said the outage would "certainly be in [his] mind" when weighing the merit of the Shaw sale.

For its part, the Canadian Radio-television and Telecommunications Communications announced its conditional approval of the transaction in March.

Shaw investors have consistently demonstrated skepticism that the deal will go ahead as planned, as evidenced by its shares never once attaining the $40.50-per-share takeover offer from Rogers since the takeover was announced last year.