Canadian researchers say Pfizer vaccine's second dose can be delayed as first is highly effective – CTV News
The second dose of Pfizer Inc's COVID-19 vaccine could be delayed in order to cover all priority groups as the first one is highly protective, two Canada-based researchers said in a letter published in the New England Journal of Medicine.
The vaccine had an efficacy of 92.6% after the first dose, Danuta Skowronski and Gaston De Serres said, based on an analysis of the documents submitted by the drugmaker to the U.S. Food and Drug Administration (FDA).
These findings were similar to the first-dose efficacy of 92.1% reported for Moderna Inc's mRNA-1273 vaccine, according to the letter on Wednesday.
In its response, Pfizer said alternative dosing regimens of the vaccine had not been evaluated yet and that the decision resided with the health authorities.
Some countries, grappling with low supplies, are looking at dosing patterns or volumes that differ from how the vaccines were tested in clinical trials.
There are differences over the merits of such strategies, with some arguing the urgency of the pandemic requires flexibility, while others oppose abandoning data-driven approaches for the sake of expediency.
Skowronski and De Serres cautioned that there may be uncertainty about the duration of protection with a single dose, but said the administration of the second dose a month after the first provided "little added benefit in the short term."
Skowronski works at the British Columbia Centre for Disease Control, while De Serres is from the Institut National de Santé Publique du Québec
In Britain, authorities have said that data supported its decision to move to a 12-week dosing schedule forPfizer's COVID vaccine. BothPfizer and partner BioNTech have warned that they had no evidence to prove it.
Pfizer's vaccine is authorized to be taken 21 days apart.
The U.S. FDA and the European Medicines agency have stuck by the interval tested in the trials.
(Reporting by Shubham Kalia and Ann Maria Shibu in Bengaluru; Editing by Vinay Dwivedi and Sriraj Kalluvila)
Coronavirus: What's happening in Canada and around the world on Thursday – CBC.ca
The latest:
U.S. President Joe Biden said on Wednesday decisions to end the required wearing of masks — such as those by the governors of Texas and Mississippi — amounted to "Neanderthal thinking," given the rising death toll from the coronavirus pandemic.
Asked if he had a message for Texas and Mississippi, Biden told reporters, "I think it's a big mistake. Look, I hope everybody's realized by now, these masks make a difference."
Cases in the U.S. have declined from peaks seen earlier this year, but remain above 50,000 a day — even after the government has distributed more than 100 million doses of vaccine, putting shots into more than 50 million arms, according to federal data.
The U.S. alone has seen more than 28.7 million reported cases of COVID-19 and more than 518,000 recorded deaths, according to a tracking tool maintained by Johns Hopkins University.
Biden's comments about masks came as the Senate delayed the start of debate on the president's $1.9-trillion US COVID-19 relief bill until at least Thursday after reaching a deal to phase out $1,400 payments to higher-income Americans in a compromise with moderate Democratic senators.
The Democratic-controlled Senate is hoping for a final vote later in the week on passage of Biden's top legislative priority. Before the bill hits the chamber floor, Democrats are negotiating limits to a measure Republicans have attacked as wasteful.
The bill would pay for vaccines and medical supplies, boost jobless assistance and send a new round of emergency financial aid to households, small businesses, and state and local governments. Democrats aim to get it to Biden to sign into law before March 14, when some current benefits expire.
"The plan that we are going to vote on this week is going to provide real, robust relief for all of us," Senate Majority Leader Chuck Schumer said.
Republicans, led by Senate Minority Leader Mitch McConnell, have denounced the bill.
On Wednesday, McConnell called it a "vast catalogue of liberal spending" and a partisan "smorgasbord of borrowed money" packed with "crazy provisions" unrelated to the pandemic, which has killed more than 517,000 Americans and left millions more jobless.
-From Reuters, last updated at 7 a.m. ET
---
What's happening across Canada
WATCH | The science behind delaying the 2nd dose of COVID-19 vaccines:
Federal government scientists have put their support behind delayed second doses of COVID-19 vaccines — which several provinces were already doing — and ongoing research shows some of the benefits of the adapted strategy. 2:04
As of 11:20 a.m. ET on Thursday, Canada had reported 877,268 cases of COVID-19, with 29,884 cases considered active. A CBC News tally of deaths stood at 22,134.
Ontario on Thursday reported 994 new cases of COVID-19 and 10 additional deaths. COVID-19 hospitalizations in the province stood at 649, with 281 people in intensive care units.
In Atlantic Canada, Nova Scotia reported three new cases of COVID-19 on Thursday.
Newfoundland and Labrador reported three new cases of COVID-19 on Wednesday — but health officials also reported the most recoveries ever recorded in a single day in the province, bringing the number of active cases to 149.
There were also three new cases of COVID-19 reported Wednesday in New Brunswick, with one new case reported in Prince Edward Island.
In Quebec, health officials reported 707 new cases of COVID-19 on Thursday and 20 additional deaths. Hospitalizations in the province stood at 626, a COVID-19 dashboard said, with 115 people in intensive care units.
The update came a day after officials announced next steps around easing restrictions, saying the province will be moving more regions into the lower "orange" pandemic-alert level, including Quebec City and the Eastern Townships, starting on March 8.
Premier François Legault said the greater Montreal area will remain in the highest "red" level, because of fear of novel coronavirus variants.
WATCH | How businesses and schools use rapid COVID-19 tests:
Many businesses and schools across Canada are utilizing rapid COVID-19 tests and onsite testing technology to help catch asymptomatic cases and prevent spread of the virus. 7:41
In the Prairie provinces, Manitoba reported 51 new cases of COVID-19 and three additional deaths on Wednesday. In neighbouring Saskatchewan, health officials reported 121 new cases and two additional deaths.
In Alberta, meanwhile, health officials reported 402 new cases of COVID-19 and 12 additional deaths. The province said there were 251 people in hospital with the illness, with 48 in intensive care units.
British Columbia on Wednesday reported 542 new cases of the illness, along with seven more deaths. Hospitalizations in the province stood at 246, with 64 COVID-19 patients in intensive care.
The update came as health officials in the province said it was pleased with a national vaccine panel's endorsement of its approach to wait up to four months before a second dose of COVID-19 vaccine is offered.The Council of Chief Medical Officers of Health has also given its nod to the province's four-month interval between shots, up from 42 days.
Across the North, there were no new cases reported in Yukon, the Northwest Territories or Nunavut on Wednesday.
-From CBC News and The Canadian Press, last updated at 10:50 a.m. ET
---
What's happening around the world
As of early Thursday morning, more than 115.2 million cases of COVID-19 had been reported around the world, with more than 65.1 million listed on the Johns Hopkins University tracking site as recovered. The global death toll stood at more than 2.5 million.
In the Americas, Brazil's second-biggest city of Rio de Janeiro will be the latest to adopt new COVID-related restrictions on Friday, including a night curfew, in a bid to slow a deadly second wave that is ravaging the South American country.
The city of 6.7 million people will impose a curfew from 11 p.m. to 5 a.m. and order restaurants to close at 5 p.m., while certain businesses, such as clubs, will be shut altogether, according to information published in the city's official bulletin on Thursday.
While COVID-19 deaths and infections are falling globally, that is not the case in Brazil, where a record 1,910 people died from the virus on Wednesday. In response, various states and cities have adopted new restrictions on commerce in recent days, including the Federal District, home of capital Brasilia, and Sao Paulo state, Brazil's most populous.
The new restrictions in Rio are due to last through March 11.
In Europe, the medicines regulator said on Thursday it has started a real-time review of the Sputnik V COVID-19 vaccine developed by Russia's Gamaleya Institute for possible approval in the region.
Germany's health minister says the country's independent vaccine committee has formally approved giving the AstraZeneca shot to people age 65 and over.
Minister Jens Spahn said the decision was, "good news for older people who are waiting for a vaccination. They will get vaccinated faster."
The vaccine made by British-Swedish company AstraZeneca is one of three authorized for use in the 27-nation European Union. But several countries, including Germany, initially restricted it to people under 65, or in some cases under 55, citing a lack of data on its effectiveness in older people.
The World Health Organization (WHO) is seeing a resurgence of cases in central and eastern Europe as well as a rise of new cases in several western European countries, the head of its European office said.
Chancellor Angela Merkel and German state leaders have agreed to a phased easing of coronavirus curbs along with an "emergency brake" to let authorities reimpose restrictions if case numbers spike again, while France is preparing for a possible easing of restrictions from mid-April.
Italy will administer a single vaccine dose to those who have already been infected with COVID-19, the health ministry said.
In Africa, Kenya received over a million doses of the AstraZeneca vaccine this week, while Rwanda said it was the first in Africa to secure shots from Pfizer.
Egypt, meanwhile, expanded its vaccination rollout to include the elderly and people with chronic diseases after several weeks of vaccinating medical staff.
In the Middle East, Iran remained the hardest-hit country in the region, with more than 1.6 million cases COVID-19 and more than 60,000 reported deaths.
In the Asia-Pacific region, Sri Lanka's drug regulatory body has approved the Russian Sputnik V vaccine as the second available for use in the Indian Ocean island nation.
South Korea's central bank says the country's economy shrank for the first time in 22 years in 2020 as the coronavirus pandemic destroyed service industry jobs and depressed consumer spending.
Preliminary data released by the Bank of Korea on Thursday showed that the country's gross domestic product last year contracted 1 per cent from 2019. It marked the first annual contraction for the country's economy since 1998, when it was in the midst of a crippling financial crisis.
The economy would have been even worse if not for the country's technology exports, which saw increased demand driven by personal computers and servers as the pandemic forced millions around the world to work at home.
-From The Associated Press and Reuters, last updated at 8:20 a.m. ET
The latest news on COVID-19 developments in Canada – Alaska Highway News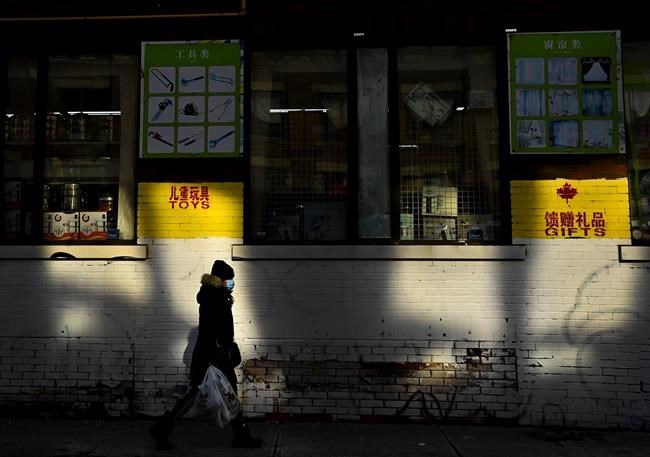 OTTAWA — The latest news on COVID-19 developments in Canada (all times eastern):
7:20 p.m.
Health officials in British Columbia are pleased with a national vaccine panel's endorsement of their approach to wait four months before a second dose of COVID-19 vaccine is offered.
The Council of Chief Medical Officers of Health has also given its nod to the province's four-month interval between shots, up from 42 days.
Provincial health officer Dr. Bonnie Henry and Health Minister Adrian Dix say setting the booster dose at four months allows more people to access a vaccine, and the wait may even provide longer-lasting protection against COVID-19.
British Columbia has recorded 524 new cases of the illness, along with seven more deaths.
Two hundred people are now infected with a variant, with the vast majority of cases involving the one first identified in the United Kingdom.
—
6:20 p.m.
Alberta says it will begin extending second doses of COVID-19 for up to four months as recommended by the National Advisory Committee on Immunization, starting March 10.
The province is reporting 402 new cases and 4,649 active ones.
There are 251 people in hospital with the illness.
There were 12 more deaths, bringing that total to 1,902.
More than 255,000 Albertans have received one or both vaccine doses.
—
5:30 p.m.
A national panel of vaccine experts is recommending extending the interval between the two doses of a COVID-19 shot to up to four months.
The National Advisory Committee on Immunization says that would help provinces quickly vaccinate more people when faced with a limited supply.
The new guidance applies to all COVID-19 vaccines currently approved for use in Canada.
Several provinces, including British Columbia and Manitoba, have already indicated they would opt for a four-month interval between doses.
—
5:15 p.m.
Quebec is moving more regions into the lower, "orange" pandemic-alert level, including Quebec City and the Eastern Townships, starting on March 8.
Premier Francois Legault said today the greater Montreal area will remain in the highest, "red" level, because of fear of novel coronavirus variants.
Residents of Quebec City, Chaudiere-Appalaches, Mauricie, Estrie and Centre-du-Quebec will be permitted to eat inside restaurants and go to the gym, and the nighttime curfew will be pushed back from 8 p.m. to 9:30 p.m.
Legault is also reporting that Quebec will wait up to four months to administer a second dose of COVID-19 vaccine, up from the current 90-day interval.
—
3:10 p.m.
Manitoba expects to receive its first batch of the Oxford-AstraZeneca vaccine by mid-March and plans to target people aged 50 to 64 with high-risk underlying conditions.
Dr. Joss Reimer, the medical lead on the province's vaccine task force, says people on dialysis because of kidney failure could be one example, but details are being worked out.
Reimer says she is following the advice of a national panel that's recommended against using the Oxford-AstraZeneca shot on people aged 65 and over.
Manitoba is focusing on older people with other vaccines.
—
2:55 p.m.
Saskatchewan is reporting 121 new cases of COVID-19.
Two more residents who were 80 and older have also died.
There are 153 people in hospital, with 20 in intensive care.
Health officials say around 7,000 more shots of the Pfizer-BioNTech vaccine have arrived and another 7,000 doses are expected by the end of today.
To date, around 81,000 vaccinations have been done across the province.
—
2:45 p.m.
Yukon Premier Sandy Silver says uptake of COVID-19 vaccines has been "fantastic" as just over half the territory's residents have received their first dose.
However, Silver says he's concerned about the rising numbers of variants elsewhere in Canada, even though Yukon currently has no active cases of COVID-19.
Chief medical health officer Dr. Brendan Hanley says vaccine hesitancy is a reality and he's urging everyone to get vaccinated at a mass clinic in Whitehorse or through mobile vans that are making their way around Yukon.
Seventy-one people have recovered from COVID-19 and one person has died since the pandemic began.
—
2:30 p.m.
Nova Scotia is reporting three new cases of COVID-19, and now has 30 known active infections.
Health officials say two of the new cases have been identified in the Halifax area and the other in the northern zone.
All are close contacts of previously reported cases.
As of Tuesday, officials say 35,291 doses of COVID-19 vaccine have been administered, with 13,512 people having received their second dose.
—
2:25 p.m.
New Brunswick is reporting three new cases of COVID-19 today.
Health officials say two travel-related cases are in the Fredericton area and involve people in their 20s, while the third case is in the Miramichi region and involves a person in their 50s.
Officials have identified a list of locations in Miramichi where there may have been public exposures, and a mass testing clinic will be held to determine whether there has been any further spread in the area.
There are now 37 active reported cases in the province and three people are hospitalized with the disease, including two in intensive care.
—
2:20 p.m.
Health Canada says the Pfizer-BioNTech vaccine can be shipped and stored for up to two weeks in standard freezer temperatures.
When it was approved in December, Health Canada said the vaccine had to remain in ultra-low temperatures until just before it is thawed for use.
It limited the distribution of the vaccine mainly to bigger urban areas which were equipped with the specialty freezers required.
Last week, the companies asked the regulator to make the change after their own data showed their messenger RNA vaccine remained stabled stored for two weeks in -15 C to -25 C.
Health Canada says the vaccine can be returned to ultra-low temperatures after being warmed up to the standard freezer temperatures.
The change should make it easier for provinces to distribute the vaccine, and could open up the possibility it can go to remote communities and the territories as well.
—
2:05 p.m.
Manitoba health officials say they will delay second doses of all vaccines in order to focus on getting first doses to more people more quickly.
Dr. Joss Reimer, the medical lead of the province's vaccine task force, says it's in response to studies that show first doses may be more effective than first thought.
She says details will be worked out in accordance with a national panel's guidelines, and second-dose appointments already booked will be honoured.
—
1:45 p.m.
Ontario will give the newly approved Oxford-AstraZeneca COVID-19 vaccine to residents aged 60 to 64.
Solicitor General Sylvia Jones says the province feels the targeted use of that shot will help cut illness and death across Ontario.
Jones says the Oxford-AstraZeneca shot will not be administered through mass immunization clinics but through a "different pathway," although she did not elaborate what that would be.
Ontario said yesterday it plans to follow the advice of a national panel that's recommended against using the Oxford-AstraZeneca shot on people aged 65 and older.
—
1:35 p.m.
Manitoba is reporting 50 additional COVID-19 cases and three deaths.
The province is also dropping its age for vaccinations in the general public by one year.
Vaccinations can now be booked for First Nations people aged 69 and up and for other people aged 89 and up.
—
1:05 p.m.
Prime Minister Justin Trudeau says he's optimistic the timeline to vaccinate Canadians against COVID-19 can be sped up.
He says his government's plan to administer COVID-19 shots to all Canadians who want one by the end of September didn't factor in the approval of new drugs.
Trudeau says that includes the Oxford-AstraZeneca vaccine, which was delivered today.
Canada has received its first 500,000 doses of the shot — the third COVID-19 vaccine approved for use in the country.
—
1 p.m.
Quebec's statistics agency says life expectancy in the province declined by five months for men and eight months for women between 2019 and 2020.
It says the number of deaths reported in the province in 2020 was 10 per cent higher than in 2019 — an increase of 6,750 deaths.
The agency says the decline is largely due to an increase in deaths reported last year during the pandemic.
—
12:45 p.m.
Newfoundland and Labrador is extending the interval between the first and second doses of the COVID-19 vaccine to four months.
Public health officials announced the new measures Wednesday, saying it will help close to 40,000 more people be vaccinated with a single dose by the end of March.
Officials also reported three new cases of COVID-19 Wednesday and said all are linked to previously identified cases.
Chief medical officer of health Dr. Janice Fitzgerald said the low case numbers and clear sources of infections are a good sign following the outbreak that spread rapidly through St. John's in February.
—
11:40 a.m.
Prime Minister Justin Trudeau says three federal aid programs designed to blunt the fallout from COVID-19 are being extended.
Trudeau says the federal wage subsidy, rent support and lockdown programs will remain in place until June.
Finance Minister Chrystia Freeland says all three programs will keep support at the current levels.
She says the trio of programs are being extended because the economy is still struggling even with encouraging signs of a recovery on the horizon.
—
11:15 a.m.
Prince Edward Island will lift restrictions that closed schools and most businesses at midnight.
Premier Dennis King says results from 11,000 COVID-19 tests conducted since the weekend provide confidence that restrictions can be eased.
The health orders were imposed after COVID-19 case clusters emerged in Charlottetown and Summerside.
Chief medical officer of health Dr. Heather Morrison is reporting one new COVID-19 case today; P.E.I. has 22 active reported infections.
—
11:15 a.m.
Quebec is reporting 729 new cases of COVID-19 today and 19 more deaths from the virus, including two within the past 24 hours.
Health officials say hospitalizations dropped to 618 and the number of people in intensive care dropped to 120.
—
10:30 a.m.
Ontario is reporting 958 new COVID-19 cases today.
The province says 17 more people have died from the virus.
More than 27,000 tests were completed to compile the data.
The province says 27,398 COVID-19 vaccine doses were administered since the last daily update.
—
This report by The Canadian Press was first published March 3, 2021.
The Canadian Press
Man found guilty of murder in 2018 Toronto van attack, life in prison likely
By Anna Mehler Paperny
TORONTO (Reuters) – A man who plowed a rented van into dozens of people in Toronto in 2018 is guilty of murdering 10 people and attempting to murder 16, a judge ruled on Wednesday, dismissing a defense argument that a mental disorder left the driver unaware of how horrific his actions were.
Alek Minassian, 28, told police he was motivated by a desire to punish society for his perceived status as an "incel" – short for involuntary celibate – because he believed women would not have sex with him. Minassian had pleaded that he was not criminally responsible.
The defense failed to prove Minassian's autism spectrum disorder deprived him of the capacity to know his actions were wrong, Judge Anne Molloy said in a verdict, live-streamed on YouTube following a trial held virtually due to the pandemic.
Molloy referred to Minassian as "John Doe" to try to deny him the notoriety he said he desired.
"Mr. Doe thought about committing these crimes over a considerable period of time and made a considered decision to proceed. His attack on these 26 victims that day was an act of a reasoning mind notwithstanding its horrific nature and notwithstanding that he has no remorse for it, and no empathy for his victims."
"This case has in many ways and on many days been a struggle," Molloy said. "This accused committed a horrific crime – one of the most devastating tragedies this city has ever endured – for the purpose of achieving fame."
Minassian's lawyer argued his autism spectrum disorder prevented him from knowing what he was doing was wrong when he drove the van into pedestrians on a crowded sidewalk.
The attack took place in April 2018 when Minassian drove a rented van down a busy sidewalk on a major street just north of Toronto, hitting one person after another. Those killed ranged in age from 22 to 94.
A sentencing hearing will be scheduled and Minassian is likely to automatically get a life sentence, according to criminal lawyers following the case. A sentencing hearing will also allow for victim impact statements.
Minassian's lawyer Boris Bytensky said he had not yet had a chance to read the entire ruling but he had "tremendous respect" for Molloy even if the verdict was "disappointing."
He would not say whether Minassian would appeal. "Whether he chooses to appeal or not to appeal is his decision."
Molloy read the names of the people Minassian killed and injured, listing their injuries: from fractured bones to bleeding brains.
"He had a functioning, rational brain, one that perceived the reality of what he was doing…. He chose to commit the crimes anyway. Because it was what he really wanted to do."
The outcome was unsurprising given the evidence presented at trial, said Toronto criminal lawyer Daniel Brown.
"It's not to say that others couldn't avail themselves of a 'not criminally responsible' defence but in Mr. Minassian's situation, he simply couldn't."
First-degree murder carries a life sentence without parole eligibility for 25 years. The question, Brown said, is whether the prosecution will seek to "stack" parole ineligibilities, for example so that 10 first-degree murder convictions render Minassian ineligible for parole for 250 years.
(Reporting by Anna Mehler Paperny; Editing by Grant McCool, Jonathan Oatis, Howard Goller and David Gregorio)