Canadiens legend Guy Lafleur strives to raise awareness as he continues to battle lung cancer – The Globe and Mail
Guy Lafleur is never sure what's around the next corner.
When his cancer treatments aren't quite as draining, the Montreal Canadiens great has energy.
And then there are other times when all he wants to do is rest.
"I get the immunotherapy the first three weeks, and then the fourth week I have the big chemo," Lafleur said of his regimen in a recent interview with The Canadian Press. "It's the chemotherapy that really hurts you badly. There's not a week that's the same. The last two weeks, I was feeling very, very bad and sleeping a lot.
"But the last three days I feel a lot better – a lot of ups and downs."
A cancerous white spot was discovered on Lafleur's right lung by chance in September 2019 when he was undergoing quadruple bypass heart surgery. Two months later, the Hockey Hall of Fame winger went under the knife again to remove both the upper lobe of his lung and lymph nodes.
"I had no idea," Lafleur said of his cancer, thankful it was caught early. "I maybe would have ended up with Stage 4 and maybe it would have been too late."
But he received bad news in October 2020 that the cancer was back, which is when Lafleur began his current treatment.
"There's not too many people that have a chance to grab it from the beginning," said the 70-year-old Lafleur, who has partnered with Merck Canada for its new "Be The MVP" campaign to raise awareness about early lung cancer detection.
The Canadian Cancer Society estimates 21,000 people will die of lung cancer in this country in 2021 – some 25 per cent of all cancer deaths.
"Most people when they find out, it's Stage 4," added Lafleur, a chain smoker until quitting cold turkey due to his health concerns in 2019. "It's not too late, because there's miracles out there, and there's people that are surviving.
"But it's better to find out yourself."
Lafleur, who won five Stanley Cups as part of the Canadiens' dynasty of the 1970s during a sparkling career, continues to watch his old team with a keen eye.
The man nicknamed "The Flower" doesn't attend many games – although Lafleur did get a thunderous ovation at the Bell Centre during last season's improbable run to the final – but has been disappointed by a start that's seen Montreal win just five times in 20 outings to sit 29th in the NHL standings.
"They went for the Stanley Cup and now are almost last place," said Lafleur, who registered 560 goals and 1,353 points in 1,126 games with the Canadiens, New York Rangers and Quebec Nordiques.
"If you're not ready and if you don't have the right players, you're not going to win."
Montreal has, of course, been minus two big pieces in 2021-22. Canadiens captain Shea Weber is dealing with injuries that could force his retirement, while goaltender Carey Price entered a residential treatment facility for "substance use" prior to the season and continues to work his way back.
"That's two big guys missing," Lafleur said. "But it's not normal to have losing streaks like that. Even if you're missing two guys you should be able to compensate."
While critical of the team's on-ice performance, Lafleur has plenty of admiration for Price and winger Jonathan Drouin, who left the team last spring to deal with insomnia and anxiety, for addressing their mental health needs – and then sharing details publicly.
"They were hiding it for a while, their problems, but it came out and it's going to help," Lafleur said. "First of all, themselves. And also people will understand what they go through. It's a good thing.
"They're not the only two in the league, I'll tell you that."
Lafleur believes the Canadiens need to name a captain, with Weber on the shelf indefinitely. Gritty forward Brendan Gallagher is his choice.
"Right now," he said emphatically. "Sorry for Shea, but he's not playing. You need somebody that players look up to.
"And Brendan … he's the guy that shows up for every game, he pays the price every game."
Meanwhile, the game's declining interest among Quebec's youth has pushed the provincial government to unveil a strategy aimed at increasing the number of Quebeckers in the NHL.
Lafleur isn't part of the committee announced last week, but he has a few ideas.
"Times change," he said. "Minor hockey, it's so expensive. For parents to bring their kids up to the junior (level), it's unbelievable. In our day, we didn't have that.
"It was not that much money because we didn't travel much. Minor hockey, it's organized like the NHL now."
Lafleur also pointed the finger at some parents.
"They put so much pressure on the kids," he said. "They think about winning the lottery if they make (the NHL).
"That's why a lot of kids are quitting … there's too much pressure. They have to perform all the time."
Pressure to perform, however, comes with the territory for a storied franchise with 24 Cup banners.
"You have to go to war together," Lafleur said of the current Canadiens. "Not one guy one night, two guys the next night. It's 20 guys on the team, and you go out there and you do everything in your power to win.
"Montreal is the best city in the world to play in, if you win. If you don't win, it's hell."
Lafleur has lived in his own form of that the last 26 months with his surgeries, the COVID-19 pandemic, the cancer's return, and treatments that can take a heavy toll.
But the support of family, friends and fans – the Quebec Major Junior Hockey League retired his number last month – has been immeasurable.
"I've been mostly stuck in the house since 2019," he said. "Mentally, it's tough. Hopefully I get through this and get out of it with a victory.
"It's the hope for everybody that has cancer."
Fantasy: Start, Sit, Stash, Quit – Week 12 – thescore.com
SSSQ is a weekly look at under-the-radar fantasy players to consider starting and potential busts you should leave on your bench. We also identify breakout candidates to stash on your roster and players you can safely cut.
For the rest of your lineup decisions, consult our Week 12 rankings. You can also listen to the Week 12 preview episode of theScore Fantasy Football Podcast.
Start
Cam Newton, Panthers
at Dolphins
In his first start since returning to the Panthers, Newton made his presence felt by throwing for 189 yards and two touchdowns while adding another 46 yards and a score on the ground.
It made Newton the QB4 overall on the week and gave fantasy managers hope that he can be a potential starting option the rest of the season.
Next up is a Dolphins defense allowing the fifth-most fantasy points to quarterbacks.
Boone's projection: 228 passing yards, passing TD, 37 rushing yards, rushing TD
Other QBs to start
Russell Wilson at Washington
Carson Wentz vs. Buccaneers
Taylor Heinicke vs. Seahawks
Miles Sanders, Eagles
at Giants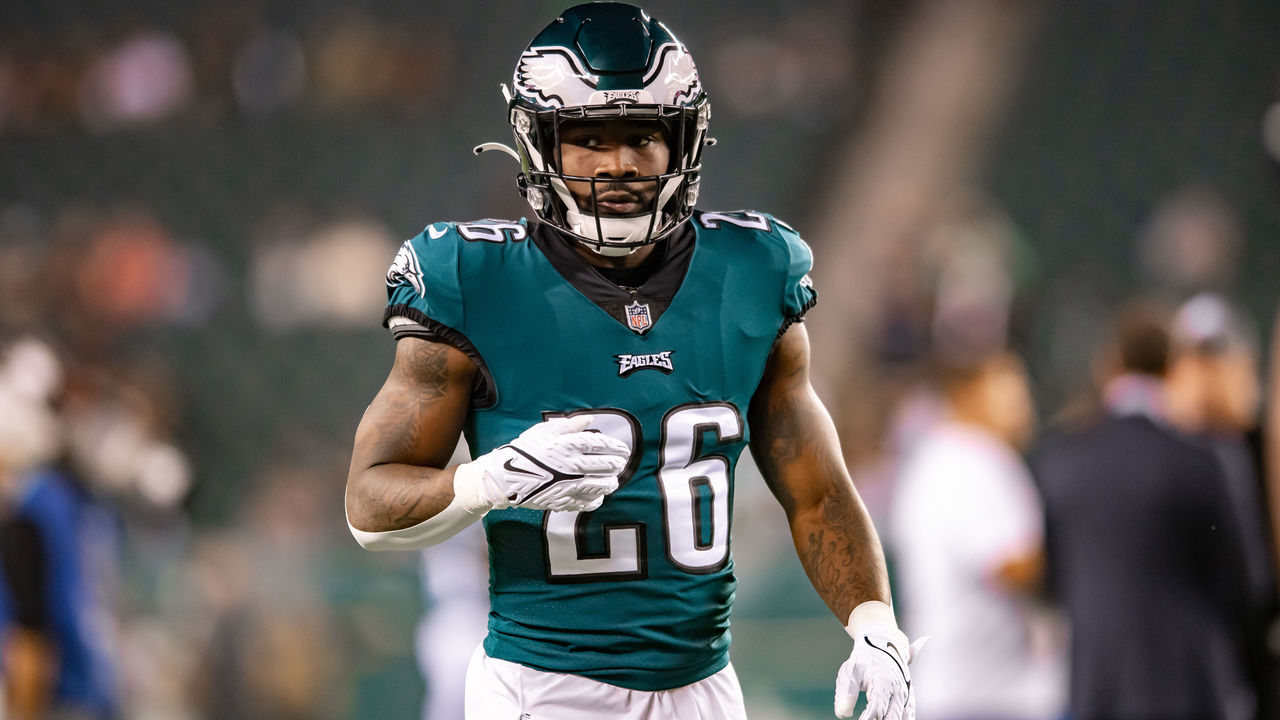 Sanders quietly tallied 94 rushing yards on 16 carries last week in his first game back off injured reserve. The reason his fantasy stat line didn't jump off the page was because he failed to reach the end zone and fumbled once.
However, with teammate Jordan Howard dealing with a knee injury that will sideline him for Week 12 and perhaps longer, Sanders is in a position to see plenty of volume in the Eagles' revived rushing attack.
Philadelphia's schedule is excellent the rest of the way, starting with a matchup against the Giants who are the seventh-easiest opponent for fantasy running backs.
Boone's projection: 77 rushing yards, TD, 16 receiving yards
Other RBs to start
James Robinson vs. Falcons
Antonio Gibson vs. Seahawks
Javonte Williams/Melvin Gordon vs. Chargers
Elijah Moore, Jets
at Texans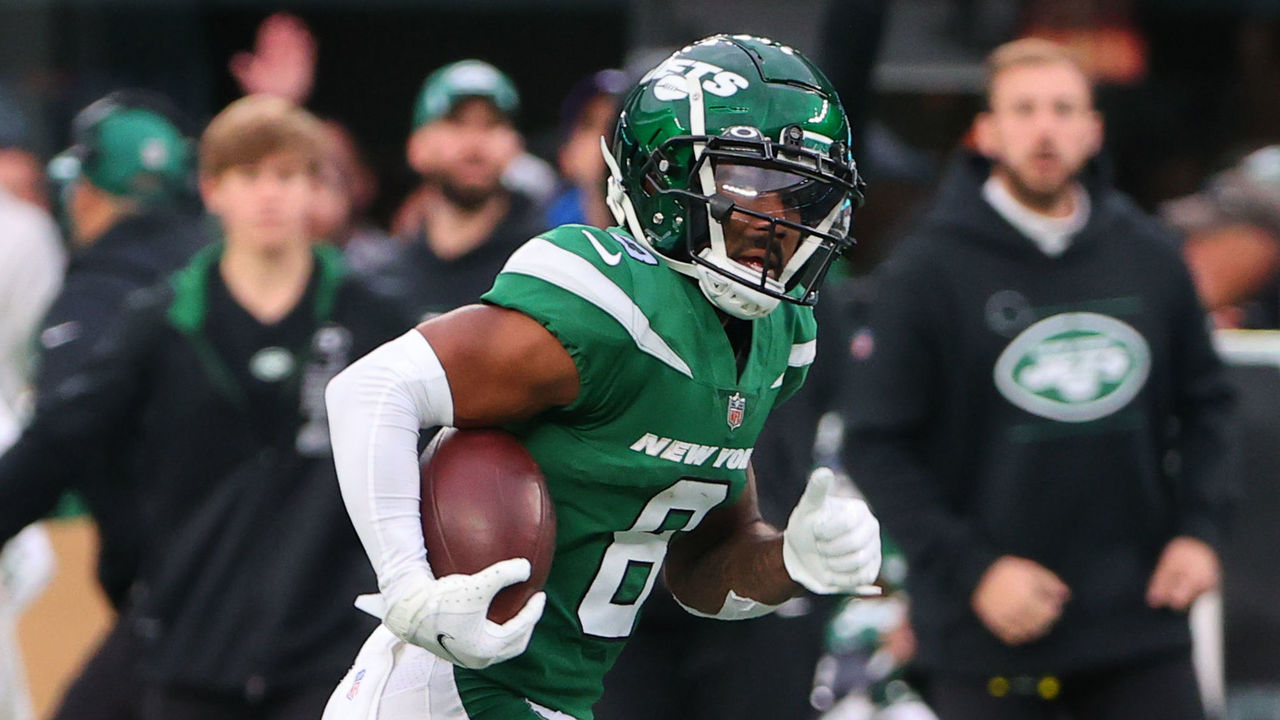 Rookies often get off to a slow start in their debut campaign before taking on a larger role in the second half of the season.
Moore has been on that track, and the days of him being underutilized appear to be over.
Over the last few weeks, he's emerged as a dangerous weapon in the Jets' offense, with stat lines of 6-67-0, 7-84-2, 3-44-1, and most recently 8-141-1. He's also done it with a revolving door at quarterback.
Zach Wilson is slated to return under center this week and there's nothing to fear about the Texans' pass defense. With teammate Corey Davis nursing a groin injury, this should be another chance for Moore to showcase his skills.
Boone's projection: 89 receiving yards, TD
Other WRs to start
Brandin Cooks vs. Jets
Brandon Aiyuk vs. Vikings
Marvin Jones vs. Falcons
Pat Freiermuth, Steelers
at Bengals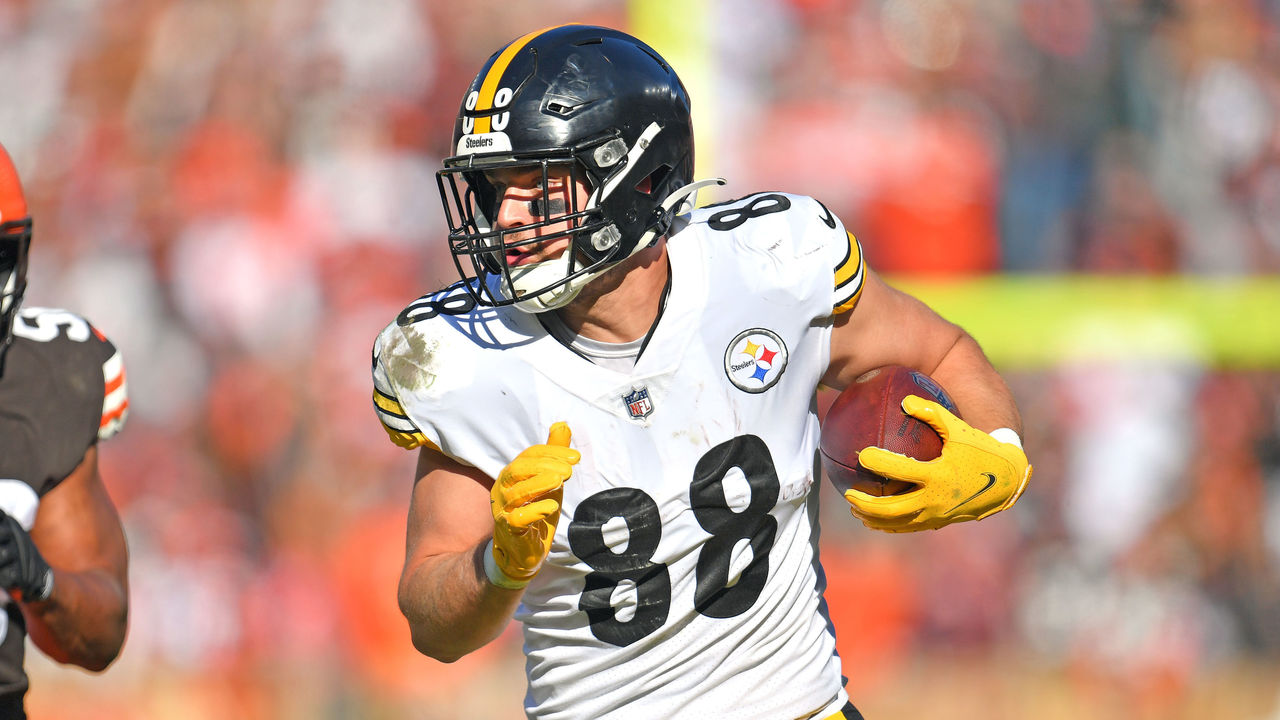 Freiermuth has averaged the fifth-most fantasy points among tight ends since Week 6.
His breakout coincided with Eric Ebron missing time a few weeks back. In the two games Ebron was sidelined, Freiermuth finished as the TE3 overall (Week 8) and TE1 overall (Week 9).
When the veteran returned to the lineup, Freiermuth's playing time and production took a hit.
Now, with Ebron expected to miss time with a knee injury, the rookie will be unleashed as a true top-10 fantasy option.
Boone's projection: 63 receiving yards, TD
Other TEs to start
Rob Gronkowski at Colts
Dallas Goedert at Giants
Dan Arnold vs. Falcons
Sit
Ryan Tannehill, Titans
at Patriots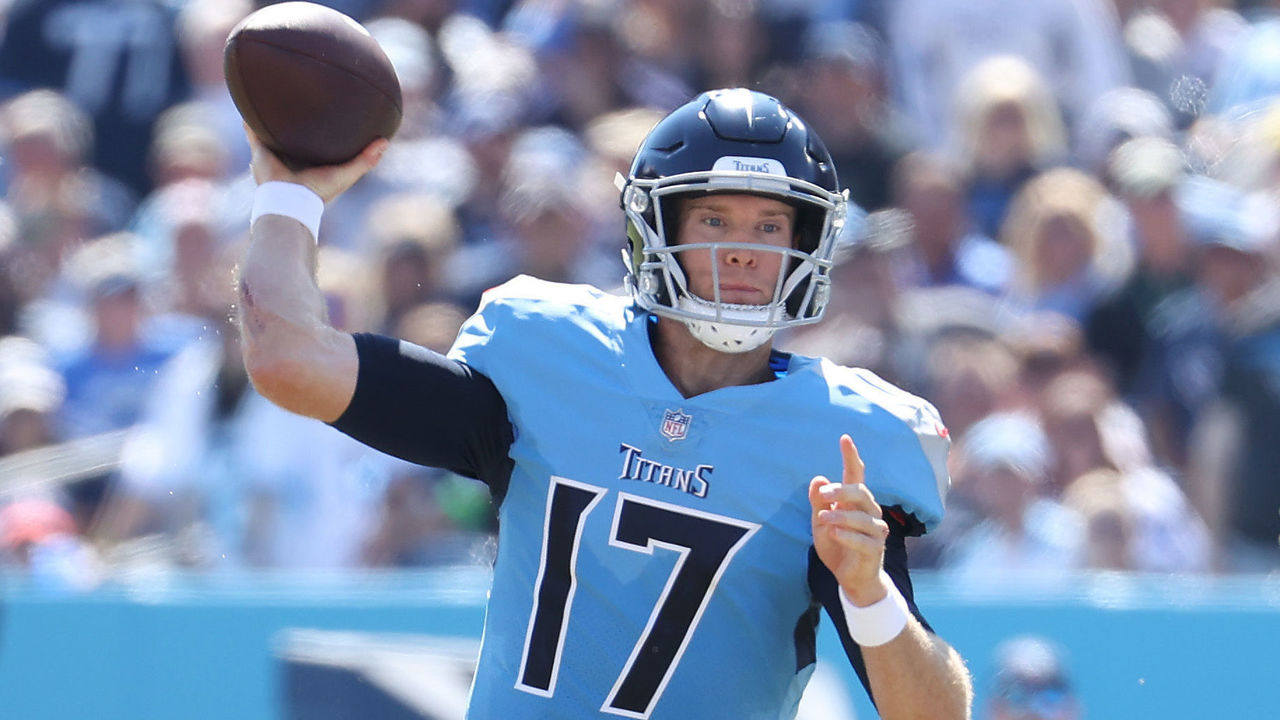 Don't start fantasy quarterbacks against the Patriots. Just don't do it.
Here's a list of recent QBs and where they've finished after taking on Bill Belichick's defense.
| QB | Week | Result |
| --- | --- | --- |
| Mike White | 7 | QB21 |
| Justin Herbert | 8 | QB18 |
| Sam Darnold | 9 | QB29 |
| Baker Mayfield | 10 | QB29 |
| Matt Ryan | 11 | QB30 |
Tannehill is already without Derrick Henry and big offseason acquisition Julio Jones.
To make matters worse, A.J. Brown's status is in doubt after he left last week's game with a chest injury and didn't practice Wednesday or Thursday.
You should be avoiding Tannehill at all costs this week.
Boone's projection: 194 passing yards, TD, INT, 21 rushing yards
Other QBs to sit
Tua Tagovailoa vs. Panthers
Ben Roethlisberger at Bengals
Baker Mayfield at Ravens
Myles Gaskin, Dolphins
vs. Panthers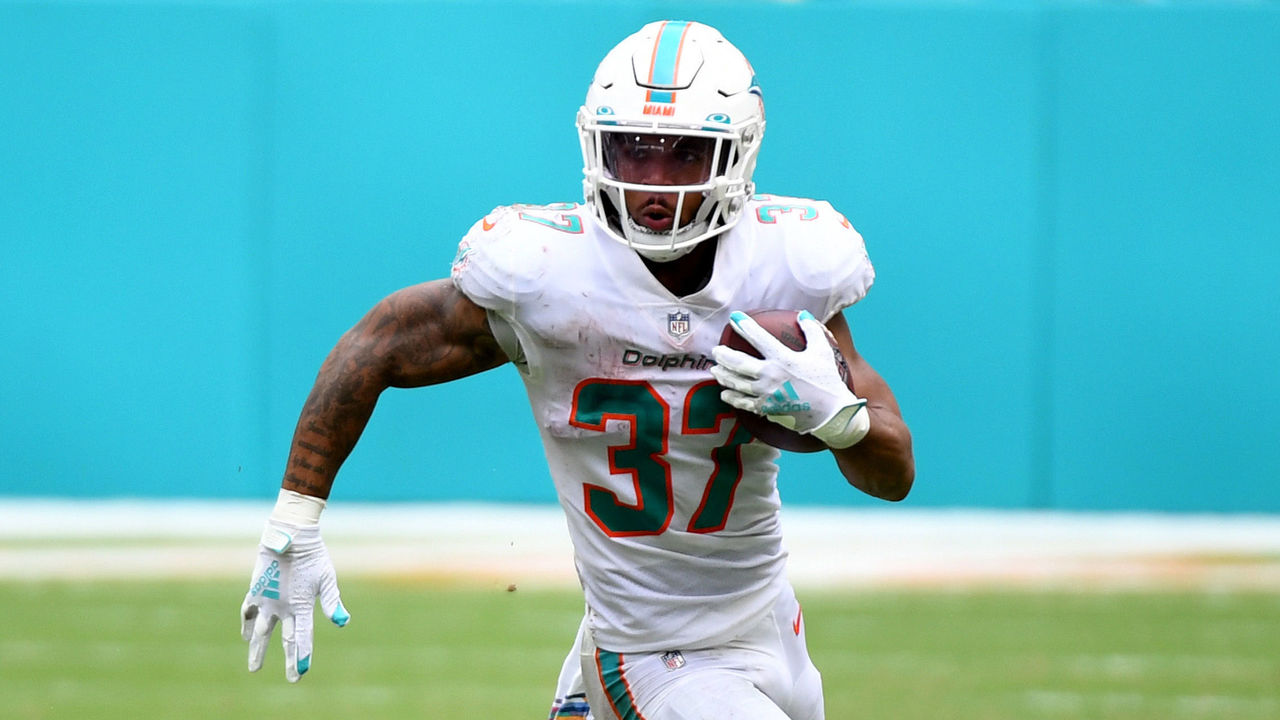 Gaskin has been an extremely boom or bust fantasy back with most of the booms coming against easier opponents and most of the busts happening versus tough run defenses.
Some recent bust examples include the Ravens in Week 10 (RB42) and Bills in Week 8 (RB34).
The Panthers are permitting the third-fewest fantasy points to running backs, which should make you question using Gaskin this week.
There's also the addition of Phillip Lindsay to consider, though that's more of an issue for Gaskin's value the rest of the season.
Boone's projection: 37 rushing yards, 14 receiving yards
Other RBs to sit
Devonta Freeman/Latavius Murray vs. Browns
Alex Collins at Washington
D'Onta Foreman at Patriots
Courtland Sutton, Broncos
vs. Chargers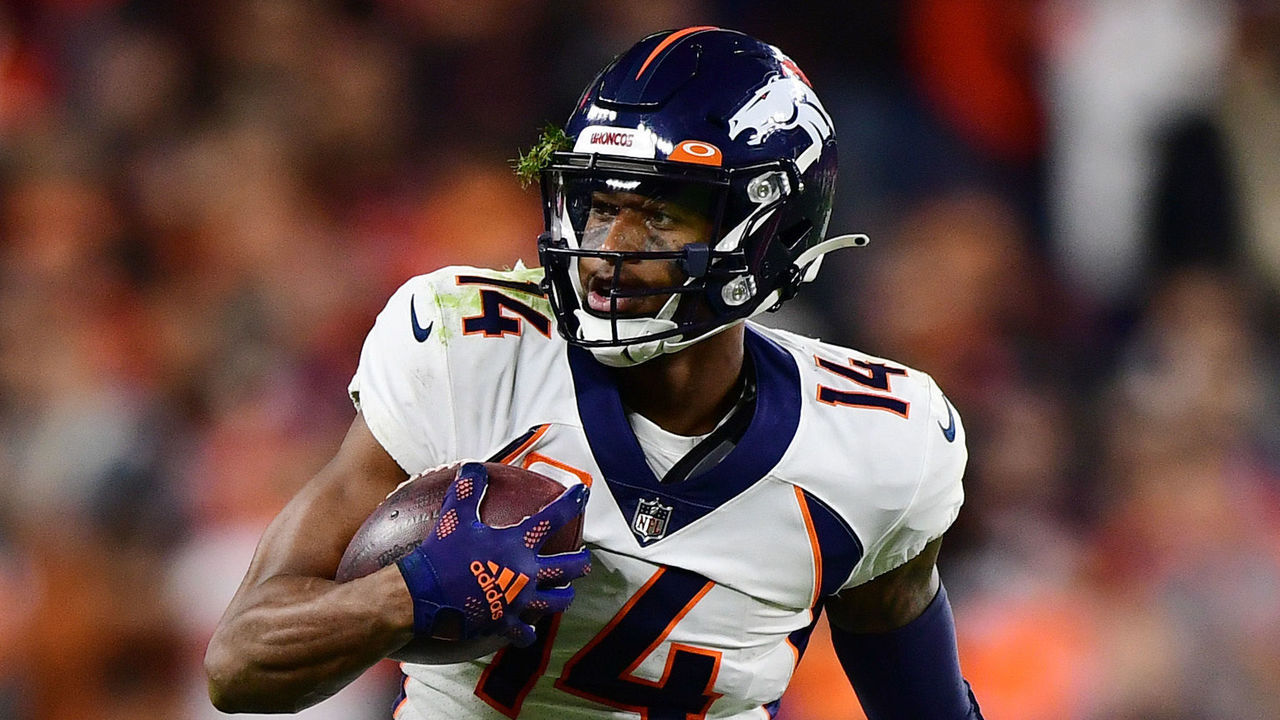 Despite the new contract extension he signed this week, Sutton has been underperforming ever since Jerry Jeudy returned to the field. He's caught just five passes over the last three outings.
A player of his caliber is destined to bounce back eventually, but this isn't the game to bet on Sutton escaping his slump.
The Chargers rank ninth in Football Outsiders' pass defense DVOA and are giving up the second-fewest fantasy points to receivers.
Boone's projection: 48 receiving yards
Other WRs to sit
Kenny Golladay vs. Eagles
Jarvis Landry at Ravens
Tyler Boyd vs. Steelers
Hunter Henry, Patriots
vs. Titans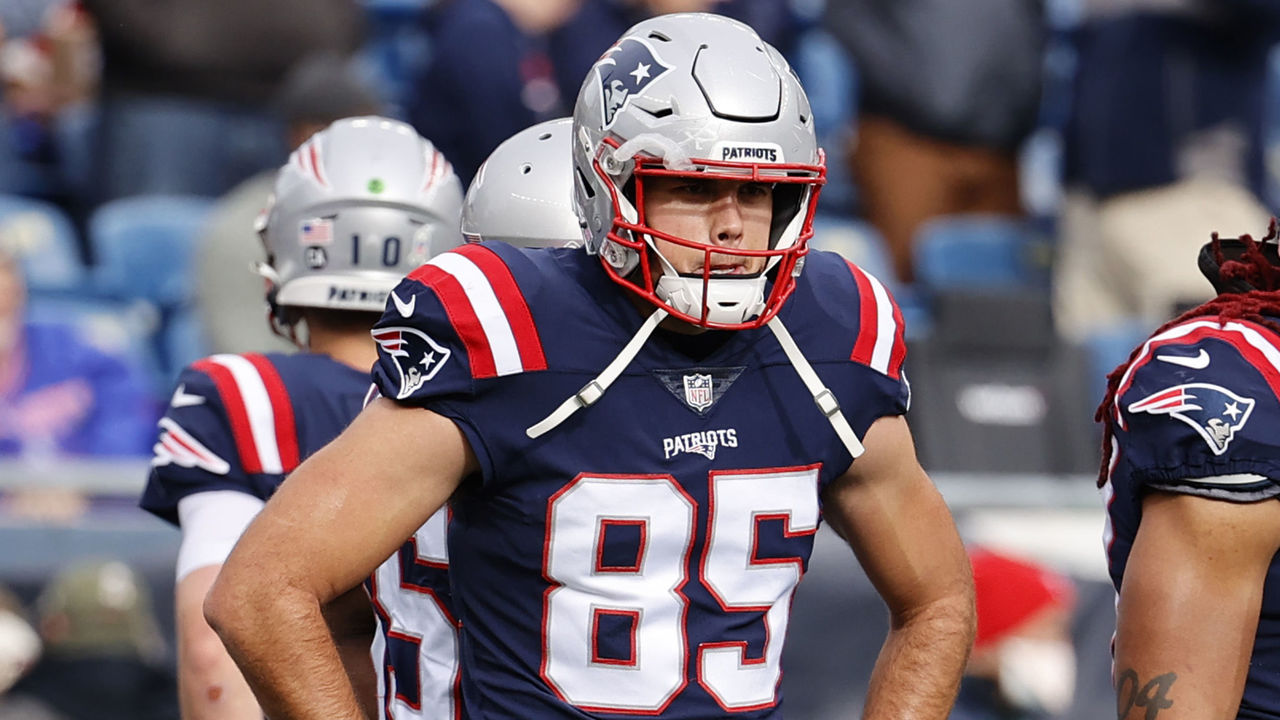 Henry has only topped 42 yards once this season, but his touchdown scoring has kept him fantasy relevant.
With seven trips to the end zone over the last eight games, Henry is the definition of a touchdown-dependent play.
Unfortunately for him, the Titans – who are a bottom-five matchup for fantasy tight ends – have only allowed three touchdowns to the position this season.
Boone's projection: 37 receiving yards
Other TEs to sit
Tyler Higbee at Packers
Tyler Conklin at 49ers
Jared Cook at Broncos
Stash
DeeJay Dallas, Seahawks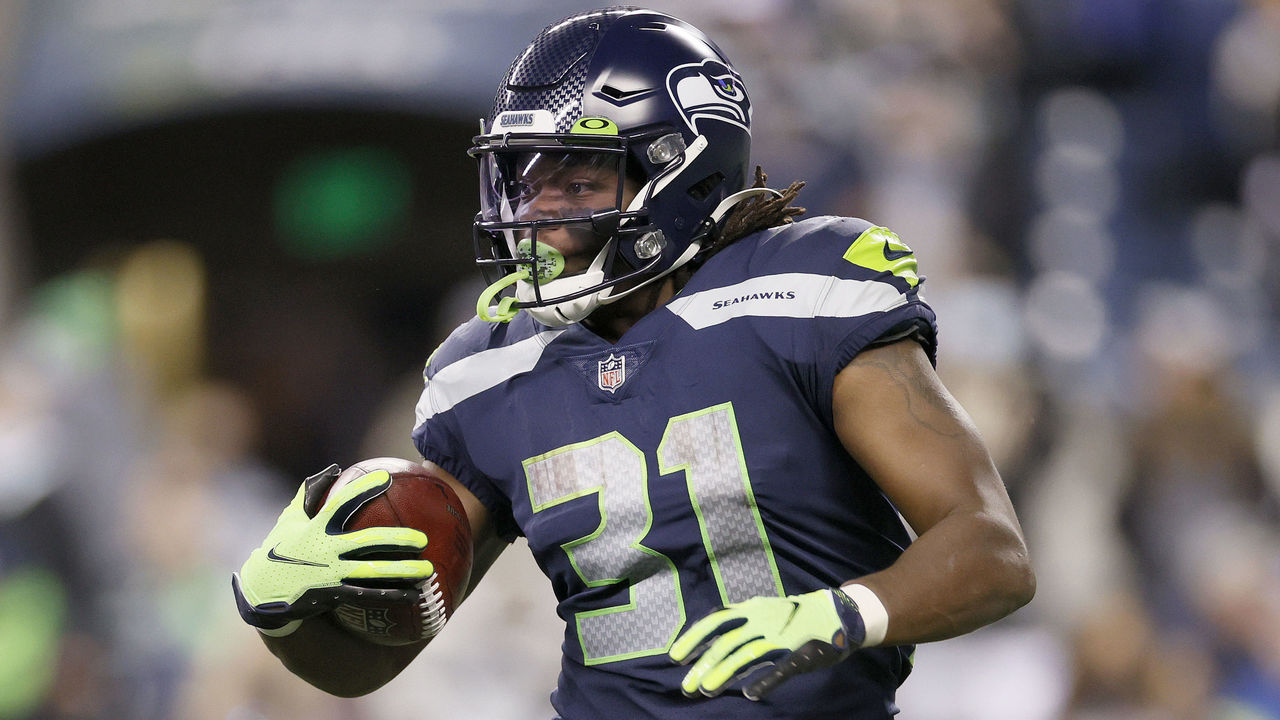 Chris Carson is officially done for the year and former first-round pick Rashaad Penny is once again dealing with an injury that will likely keep him on the sidelines.
Alex Collins has taken the lead in Seattle's backfield, but the coaching staff seems reluctant to use him as a pass-catcher – capping his upside.
Meanwhile, Dallas (3% rostered) saw his largest snap share of the season in Week 11 and began to carve out a role. He even scored a rushing touchdown in the game.
Though waiver wires tend to be picked apart at this point in the season, Dallas has a shot to earn significant touches on a depth chart desperate for someone to create a spark.
Curtis Samuel, Washington
It's been a long and disappointing season for Samuel (12% rostered) in Washington. Injuries have kept the versatile receiver out of all but two contests, and he was limited to just 30 combined snaps in those appearances.
However, Samuel is finally back at practice and may actually suit up for a Monday night matchup with the Seahawks.
While there's still a long way to go before we can trust him in our fantasy lineups, now is the time to scoop Samuel up and get him on your bench.
Quit
Mike Davis, Falcons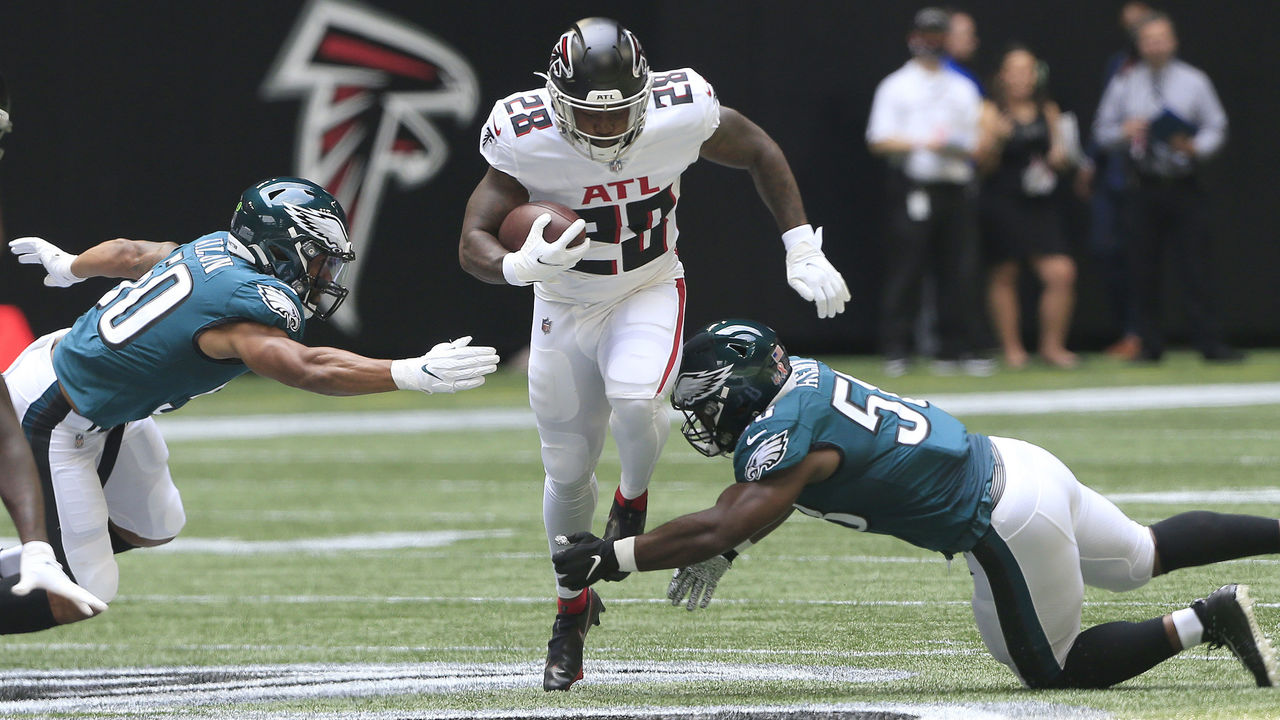 Davis was outplayed by Cordarrelle Patterson early in the season, but at least he was getting volume over the first five weeks.
Since the Falcons' Week 6 bye, the 28-year-old has fallen off the fantasy map. Davis has just one game with more than 21 yards from scrimmage in the past five outings and hasn't found the end zone during that span.
With Patterson sidelined in Week 11, Davis managed just three carries for one yard while gaining 20 yards on three receptions.
Unlike other backup runners around the league, Davis doesn't come with upside … regardless of how many injuries strike Atlanta's running back room.
The roster spot he's occupying is being wasted. Drop him and find someone who at least has a path to more production.
Connor McDavid's Edmonton mansion gets misconduct for lack of colour – Toronto Sun
McDavid and Lauren Kyle opened the doors of their uber-modern mansion to Architectural Digest
Article content
Oilers superstar Connor McDavid and his gal pal's design choices for their Edmonton mansion have been slammed into the boards.
McDavid and Lauren Kyle opened the doors of their uber-modern mansion to design bible Architectural Digest.
But the star was hit with a two-minute minor for bad taste — and lack of colour.
One wag tweeted: "After seeing Connor McDavid's house I no longer wish to be rich. If it means living in a monochromatic home with no personality, how the hell am I supposed to eat pizza rolls in that house?"
Another added: "Fantastic, it's McDavid House Tour time again, when we continue to ask the question: what did colours do to offend these two?"
But the Edmonton sniper seems proud of his posh abode that features a basketball court and a snazzy wine cellar. However, he spends a lot of his spare time rollerblading.
Article content
"We live in Edmonton, Alberta, which for people (who) don't know, that is a very cold place," the 24-year-old told the magazine.
Kyle added: "Connor being the captain, we knew we were going to have to host a lot. This house feels like it's definitely an entertainer's home."
Richmond Hill native McDavid agreed: "I think our house has kind of become the designated team party house."
The couple had boffo bucks when they began their home search after he signed a monstrous, eight-year contract with the Oilers in 2017.
And the pair seem at home in the minimalist manse — haters aside.
"I like that everything's hidden," Kyle says. "Even our bar, we have this brass door that slides over (it). We really wanted everything to stay clean, but then have a little bit of intrigue. Like, What's behind?"
Still, that didn't stop catcalls from the cheap seats, with at least one wag likening it to a serial killer's abode.
"McDavid's house is cool in like a hedge-fund billionaire who is secretly a serial killer kind of way," one Twitter user commented.
@HunterTOSun
Raptors' Birch out Friday vs. Pacers, Anunoby questionable – Sportsnet.ca
Toronto Raptors centre Khem Birch remains out for Friday's game against the Indiana Pacers while forward OG Anunoby is listed as questionable, according to Sportsnet's Blake Murphy.
Murphy reported Wednesday that Birch is dealing with a lingering wear-and-tear knee issue with swelling having gone up and down over a course of weeks. The Montreal native missed a week with the same injury earlier this month. The 29-year-old is averaging 6.9 points and 5.7 rebounds over 22.9 minutes per game this season.
Anunoby, 24, hasn't played since Nov. 15 because of an injured left hip pointer. He's averaging a career-high 20.1 points through 15 games so far this season.