Canucks eliminate favoured Blues in Stanley Cup playoffs – Sports – Castanet.net
With their first playoff series win since 2011, the Canucks move on to face the Vegas Golden Knights in the second round of the Stanley Cup playoffs.
The series between the Vancouver Canucks and St. Louis Blues was as tight as they come, with three one-goal games, including two that went to overtime. Even the Canucks' Game 5 victory was a narrow one, with the Blues nearly tying the game up in the dying seconds, with video review showing that time had expired just in the nick of time.
Throughout the series, the Blues looked like the better team. They out-shot the Canucks by a wide margin in every game, with the shots 173-to-141 through the first five games. Even in the games the Canucks won, it took heroics by Jacob Markstrom, the power play, or even Tyler Motte to make up for the dominance the Blues showed at 5-on-5.
Game 6 wasn't even close. The Canucks took the lead just a few minutes in, then made that lead insurmountable before the game was even 30 minutes old. For the first time all series, the game wasn't close and the Canucks clearly looked like the better team.
There was no overtime needed, no come-from-behind heroics, no last minute scramble to defend the net — there was just pure, unadulterated domination. It might have been the best complete game the Canucks have played in years.
"It was impressive by our group," said head coach Travis Green. "We wanted to come out and play extremely fast. We wanted to spend time in their zone. Again, the caliber of team that we played is exceptional and that was a 60-minute game."
The Canucks have made a habit this season of letting their play lapse for five or ten-minute stretches, losing games they should have won in that time. In this game, there was no lapse, no moment where the Canucks got completely lost in the defensive zone. The closest they came was late in the second period, when Brandon Sutter, Antoine Roussel, Adam Gaudette, Jordie Benn, and Oscar Fantenberg got stuck on the ice for a shift that lasted 2:38, but even then, the Canucks kept their cool and played stalwart defence, not allowing a single shot on goal despite all the zone time for the Blues.
Instead of a five-minute lapse, the Canucks had a six-minute surge. They were all over the Blues early in the second period, forcing turnovers, creating chances, and scoring goals — three of them, putting the game out of reach and sending the Blues reeling.
"We were pushing hard, skating hard, backchecking hard, and everything kind of fell into the places," said the delightfully-French Antoine Roussel, who scored the 2-0 goal. "We kind of killed their spirit there with a couple good goals back-to-back."
From there, it was all about defence for the Canucks, even as they added two more goals in the third period. Defensively, they didn't give up much, even as the defending Stanley Cup Champions threw everything they had towards the net. They didn't get a goal until the third period and wouldn't score again until there were less than two minutes left in the game. It was far too little and far too late.
"It's commitment," said Tyler Motte to explain their defensive game. "Everyone in the room, throughout the lineup, has beared down in the D zone. It's something we talked a lot about in camp, we worked on a lot in camp. We came into the Minnesota series, I don't think we gave up a lot 5-on-5 in that series.
"Again it's just commitment, it's the will to pay the price, we had a lot of guys blocking shots, some guys that you don't even expect to block shots — Boes had a few tonight, Huggy had a few in Game 5 — guys are laying it on the line."
A lot of it has to do with Jacob Markstrom, who has been stellar in his first ever NHL postseason. He made another 34 saves, giving him a playoff-leading 325 saves through the first round.
"I don't know if we're in this spot without Marky," said Troy Stecher. "It's absolutely mindboggling to me that he wasn't a Vezina candidate. We're very thankful to have him on our team."
Winter's Coming. Will Canada's Pandemic Bicycle Boom Last? – The New York Times
Since 1992, July for me has often meant spending three weeks driving thousands of kilometers to report on the cyclists competing in the Tour de France.
So even though I'm not there this year, it has still taken a bit of adjustment to deal with the tour being in September. Delayed and being held under special pandemic protocols, the race is nevertheless going on as coronavirus cases spike in France. Indeed, Nice was declared an infection red zone just as it was about to host the opening stages.
[Read: Masks in Place, the Tour de France Puts On a Brave Face]
Within the race, it looks as if the protocols have more or less worked. No team has had two positive tests, which would have forced it to withdraw. Although there has been a sprinkling of positives, including one from Christian Prudhomme, the race director.
[Read: A Relieved Tour de France Has the Finish in Sight]
While I'm not in France to experience the tour, another development in the world of cycling — a local one — has helped offset my disappointment. Canadians have gone crazy about cycling.
I don't just write about cycling. As a low-performance athlete, I usually spend my summers putting in dismal results in time trials, races against the clock, and preparing for cyclocross, the end-of-season racing that mixes in some running and nearly every possible riding surface on its circuits, including deep mud and smooth tarmac. Lately, when I've been riding outdoors, I've been doing it with a lot more people.
By late spring, it was becoming nearly impossible to buy a bike anywhere in the world. That was a reflection both of the unexpected surge in demand and a supply chain that was disrupted by the coronavirus pandemic. Most bikes, aside from high-end, customized offerings, are churned out by a small number of companies based in Taiwan that have extensive operations in China. My colleague Raymond Zhong recently profiled the biggest of those companies, the aptly named Giant, and its chairwoman, Bonnie Tu.
[Read: Sorry, the World's Biggest Bike Maker Can't Help You Buy a Bike Right Now]
In Ottawa, Canada's bicycle boom has exhibited itself in an unusual way. The morning and afternoon bicycle rush hour didn't return. But when I'm out doing errands by bike, it's now often a struggle to find a parking space outside stores. And on weekends, when I'm on rides measured in hours, it's increasingly common to see people on very inexpensive bicycles, who are not wearing fancy cycling clothes, cycling well outside the city.
Many cities have responded. Cars have been temporarily barred from some lanes or entire roads in Vancouver, Winnipeg, Ottawa, Montreal and elsewhere. In addition to closing streets, Halifax has moved to slow motor traffic on some streets and limit vehicles to residents.
The question now is, will this enthusiasm for cycling survive winter and the post-pandemic period?
To get some sense of what's to come and how cities might keep cycling fever going, I spoke with Beth Savan, a senior lecturer and adjunct professor in the geography and planning department of the University of Toronto. Dr. Savan was the main investigator in a study published last year by researchers at her university, along with others at McGill University and Simon Fraser University, about how to increase cycling in Canada.
She said she was encouraged that people rushed out to buy new bikes rather than dust off old ones because it suggests that they may be more invested in sticking with cycling. She also noted that this is the first bicycle boom since the advent of the e-bike. (Gretchen Reynolds recently reported on studies looking at whether electrically assisted bikes are safe and if they actually provide good exercise.)
Dr. Savan has also noticed in recent months that the lines between recreational and transportation uses of bikes are blurring, another sign that the national interest in cycling might persist.
"People will now take a nice route to go on their errands to get some exercise or some pleasure along the way," she said. "It's kind of a new situation."
Augmenting that effect has been the large number of people working from home who are now also largely shopping within their neighborhoods. Many of those people, she said, have discovered that bicycles are more effective than cars for those short trips.
For the winter, Dr. Savan said that Canadian cities should think about adopting the model of some places in Scandinavia, where sidewalks are cleared first, then bike paths and finally roads. Her group's study, by the way, shows that winter cycling before the pandemic was strong in many places that bore the full brunt of the season.
Dr. Savan urged local government to view their current cycling accommodations as pilot projects to cycling rather than as temporary pandemic measures.
"To try and engineer lower a lower proportion of trips undertaken by car, that's really where the challenge is," she said. "As people start to feel more confident about going back to work in indoor spaces, they will be tempted to drive more."
---
Trans Canada
---
A native of Windsor, Ontario, Ian Austen was educated in Toronto, lives in Ottawa and has reported about Canada for The New York Times for the past 16 years. Follow him on Twitter at @ianrausten.
---
How are we doing?
We're eager to have your thoughts about this newsletter and events in Canada in general. Please send them to nytcanada@nytimes.com.
Like this email?
Forward it to your friends, and let them know they can sign up here.
Novak Djokovic damages racket in fit of anger during Italian Open quarter-finals – CBC.ca
Less than two weeks after getting defaulted from the U.S. Open, Novak Djokovic lost his cool again midway through a 6-3, 4-6, 6-3 win over German qualifier Dominik Koepfer in the Italian Open quarter-finals Saturday.
When Djokovic was broken at love to even the second set at 3-3, he slammed his racket to the red clay in anger in Rome.
With the frame broken and the strings all mangled, Djokovic was forced to get a new racket and received a warning from the chair umpire.
"It's not the first nor the last racket that I'll break in my career," Djokovic said. "I've done it before and I'll probably do it again. I don't want to do it but when it comes, it happens.
"That's how, I guess, I release sometimes my anger and it's definitely not the best message out there, especially for the young tennis players looking at me, and I don't encourage that — definitely."
WATCH | Djokovic loses his temper yet again:
The top-ranked Djokovic had said Monday that he learned "a big lesson" after he was thrown out of the U.S. Open for unintentionally hitting a line judge in the throat with a ball in a fit of anger. Djokovic also acknowledged then "that I have outbursts and this is kind of the personality and the player that I have always been."
At the Foro Italico, Djokovic had already appeared frustrated during the game before he broke his racket, glaring toward the umpire following a couple of overrules and a point that was ordered to be replayed.
"That's just me," Djokovic said. "Of course I'm not perfect and I'm doing my best."
WATCH | Novak Djokovic hits line judge with ball at U.S. Open:
Ruud 1st Norwegian to reach semis of Masters 1000 tourney
The 97th-ranked Koepfer, who screamed at himself in frustration throughout the match, was also warned for misbehaviour early in the third set.
Aiming for his fifth title in Rome, Djokovic's semifinal opponent will be Casper Ruud, who eliminated local favourite Matteo Berrettini 4-6, 6-3, 7-6 (5) in a match that lasted two hours 57 minutes.
Ruud is the first Norwegian to reach the semifinals of a Masters 1000 tournament. His father, Christian Ruud, got as far as the quarter-finals of the Monte Carlo Masters in 1997.
Shapovalov into semis
The other semifinal will feature No. 12 seed Denis Shapovalov of Richmond Hill, Ont., against No. 8 seed Diego Schwartzman of Argentina.
Shapovalov edged No. 15 seed Grigor Dimitrov 6-2, 3-6, 6-2, while Schwartzman upset clay court specialist and world No. 2 Rafael Nadal 6-2, 7-5.
WATCH | Shapovalov's 100th win sends him into semis:
While fans have not been admitted to the tournament yet — Italy's sports minister said Friday that 1,000 spectators will be allowed in for the semifinals and finals — workers, family members and other onlookers inside the picturesque Pietrangeli stadium provided some support for Berrettini, who is from Rome.
Nicola Pietrangeli, the 1957 and 1961 Rome champion and the man the stadium is named after, was also among those sitting on the white marble stands.
"There would have been a lot more adrenaline with fans," Berrettini said.
NBA Playoffs 2020: The Boston Celtics need Gordon Hayward now more than ever – NBA CA
The Boston Celtics could be up 2-0 in the Eastern Conference Finals just as easily as they are down 2-0.
Blowing double-digit leads in each of the first two games of the series, the Miami Heat have out-hustled the Celtics for 48 (and some change) minutes in back-to-back games to give themselves a commanding lead.
With Boston on the brink of the infamous 3-0 deficit that no NBA team has ever come back from, Game 3 becomes a must-win if the Celtics are going to continue their push for their first NBA Finals appearance since 2010.
There's been a common thread in Games 1 and 2 (aside from the double-digit comebacks) that have placed Boston in this situation: Miami's 2-3 zone defence. Our Scott Rafferty analyzed that issue in detail, and it's been a glaring weakness for Boston's offence all season.
But luckily for the Celtics, they still haven't used all the cards up their sleeve. They still have a weapon stored away that could present itself at any moment now, as former All-Star forward Gordon Hayward's return is on the horizon.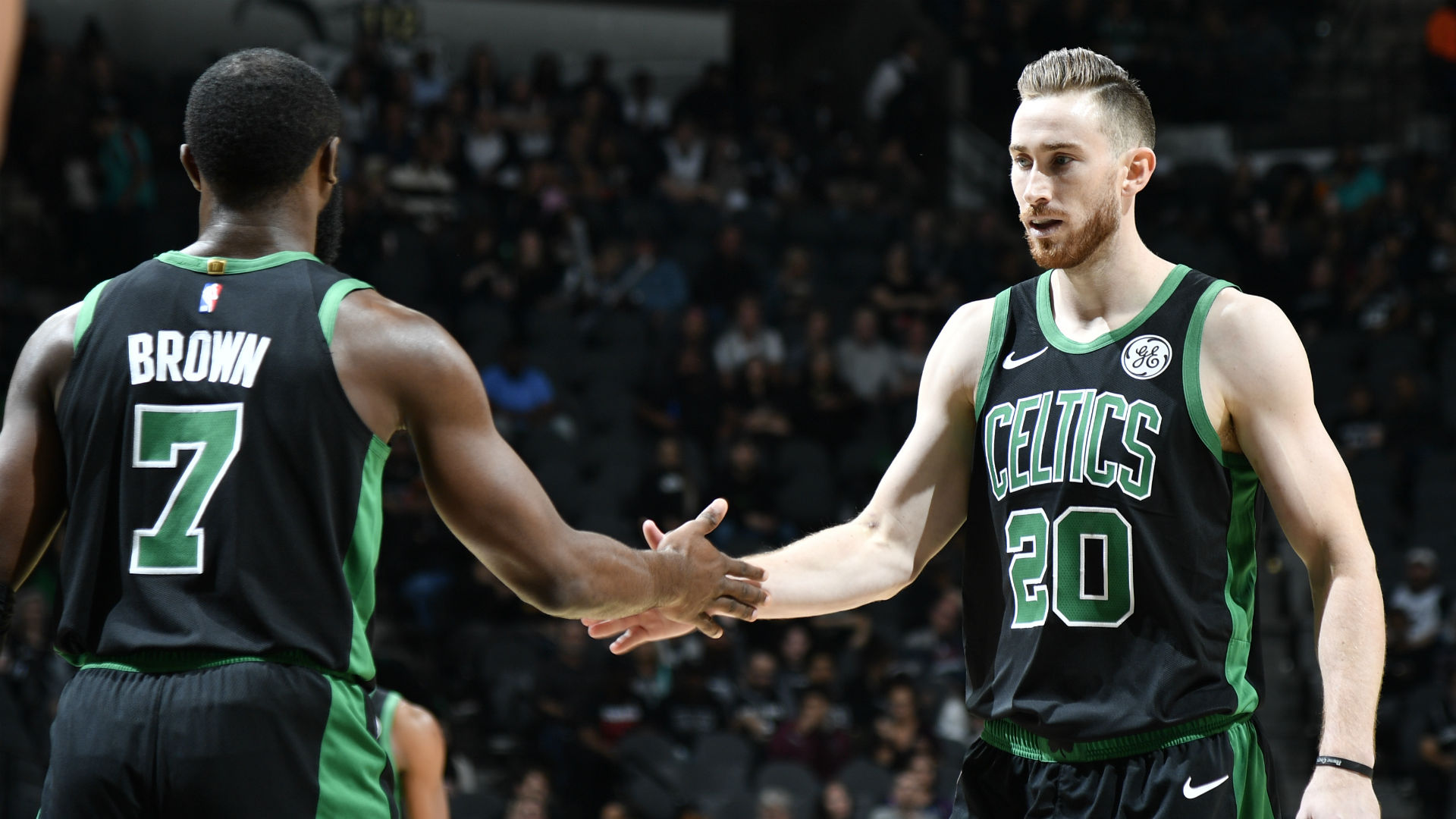 Hayward, who suffered an ankle injury in the Celtics' first game of the postseason and has been out since, was upgraded to "doubtful" before Game 2. While that wasn't much of an update, it showed he was getting closer to returning to the floor. The Athletic's Jared Weiss confirmed that following Thursday's loss, stating that Hayward is "progressing toward a return for Game 3," adding that he felt good after Wednesday's practice and will "get more on-court work Friday with the hope of playing Saturday."
On Friday, he was officially listed by the team as "questionable" for Game 3.
It will surely take some time for Hayward to get back into the flow of things after missing one month of action, but he immediately helps Boston take steps toward breaking that impenetrable zone defence.
His 19.0 points per game in the bubble speaks for itself, giving the Celtics an extra scoring threat that the Heat will have to worry about. He can shoot from the perimeter (converting 38.3% of his 3s this season), he's a solid slasher with the ball and cutter without the ball, and he's a strong midrange shooter, pairing well with sharp playmaking skills that should help dissect that zone.
Most importantly, Hayward loves working in the soft spot of the 2-3 zone (right at the foul line), which should give Miami's defence more trouble than its seen thus far.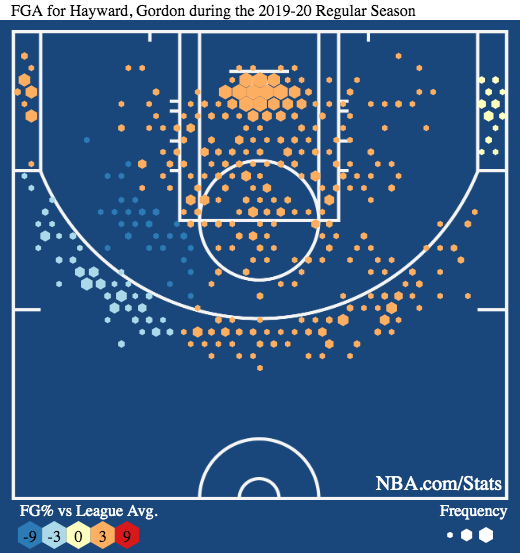 In Games 1 and 2, the Celtics elected to go with Marcus Smart or Daniel Theis to try and pierce the heart of that zone. Smart's passing makes him an OK option for that middle spot, but he's better off on the perimeter, where he's converting 42.1% of his 3s this series. The Heat will live with him or Theis taking that midrange pull-up, whereas it becomes a much more efficient source of offence for Boston with Hayward taking that shot.
According to NBA Stats, Hayward shot 49.3% on midrange jumpers and 43.4% on shots in the paint (non-restricted area) this season. Having him in the middle will prevent the zone's two defenders up top from expanding so far out, shrinking that long and athletic defence even just a tad bit more.
The Heat will be forced to collapse on Hayward, where he can showcase his playmaking ability to find open shooters on the perimeter. That makes Miami much more reliant on perfect and quick rotations to challenge Boston's 3-point shooters.
If the Heat's defenders don't collapse on him or the centre (typically Bam Adebayo) doesn't take a step up, Hayward will gladly take looks like the one below over and over again.
Even though he misses that particular jumper, it's a shot Miami is much less likely to live with compared to Smart or Theis pulling up from there. Even when Hayward attacks from the perimeter, he has no problem stopping short of that centre defender for little pull-up jumpers like this one against the Heat earlier this season:
The Celtics have been dependent on quick passes for (often contested) 3-pointers, which has also developed into bad decisions for live ball turnovers or long rebounds going the other way to spark Miami runs off of offensive droughts. Having someone that can hit shots like the ones above makes that zone defence much more vulnerable than it has been so far.
Hayward's return wouldn't just be a luxury for the Celtics, it's essential for them to keep their season alive in trying to even the series.
The Celtics need Gordon Hayward now more than ever if their title pursuit is going to continue.
The views on this page do not necessarily represent the views of the NBA or its clubs.