Cases for iPhone 12 models now up for preorder from Totallee – 9to5Mac
Totallee is now taking pre-orders for its super thin cases for the soon-to-be-announced iPhone 12 models expected at Apple's event next week. They are guaranteed to fit the new iPhones 12 and come with a 100% money back guarantee.
If you're like us, your phone is in your hand all day, everyday. The last thing you want is a case that adds a ton of extra weight and bulk. Totallee's unbranded cases are made for people who don't like having a case on their phone, but want extra protection. The sleek design will keep your phone looking the way it was designed to look and help showcase the beautiful design of the new iPhone 12. Plus, all totallee products come with a 2-year warranty. If your case cracks or your dog eats it, it will send you a replacement, no questions asked.
Totallee's iPhone 12 cases are available in 5 different colors and 2 different styles: matte and transparent. Head below for a look at the whole collection.
SUPER THIN iPHONE 12 CASES | $35
Shop iPhone 12 Mini Case | iPhone 12 Case | iPhone 12 Pro Case | iPhone 12 Pro Max Case
These are the signature cases totallee is known for. They are all only 0.02" thick and weigh only 0.01oz. If you generally don't like cases but also don't want to go completely case-less, these are your best bet. It helps keep your iPhone 12 looking like new and preserves and protects it from daily wear and scuffs, all while retaining its original form factor. Totallee has a new navy blue color that perfectly matches the highly anticipated new navy blue color of the iPhone 12 Pro.
TRANSPARENT iPHONE 12 CASES | $35
Shop iPhone 12 Mini Case | iPhone 12 Case | iPhone 12 Pro Case | iPhone 12 Pro Max Case
If you want to show off your new iPhone 12 while protecting it at the same time, totallee offers a premium transparent TPU case. Being made of a shock absorbent material this case offers full protection despite its slim form factor. The case is free of branding and completely transparent. Unlike other clear cases, it is designed to not turn yellow over time.
All totallee cases are backed by a 2-year warranty and will start shipping 10/13. They tend to sell out fast so we recommend to place your order now and have your new iPhone 12 be protected from day one.
Totallee makes no claims regarding the look of the iPhone 12 phone and is using publicly available mockups to illustrate what its cases look like on the new phone. The actual iPhone 12 might look slightly different. However, the cases are the right dimension and are 100% guaranteed to fit – or your money back.
You can explore totallee's full collection of cases for the iPhone 12 series on its website. It of course also offer cases for older model iPhones and host of minimalist accessories like a premium seamless edge-to-edge screen protector for $29. The screen protectors pair perfectly with totallee's cases for the ultimate sleek, protective combo. Orders over $50 ship free, so pairing a screen protector with your case is highly recommended. Shop now as these cases tend to sell out quickly.
FTC: We use income earning auto affiliate links. More.
Check out 9to5Mac on YouTube for more Apple news:
[embedded content]
iPhone 12 Pro Max battery smaller than iPhone 11 Pro Max, according to regulatory filing – AppleInsider
A Chinese regulatory filing spotted on Tuesday suggests Apple's iPhone 12 Pro Max sports a less capacious battery than last year's iPhone 11 Pro Max.
A filing with the Chinese Ministry of Industry and Information Technology's Telecommunication Equipment Certification Center (TENAA) cites iPhone 12 Pro Max's battery capacity as 3,687 mAh. By comparison, iPhone 11 Pro Max, which the 12 Pro Max replaces, was powered by a 3,969 mAh cell.
Lending credence to the document, the 3,687 mAh figure matches listings discovered on hardware certification platforms in July.
The TENAA page also says the 12 Pro Max comes with 6GB of RAM, mirroring information discovered in plist files included with Apple's Xcode 12.1 beta last week.
Despite the apparent reduction in capacity, Apple says the iPhone 12 Pro Max performs similarly to last year's handset. A comparison tool — somewhat vaguely — claims both iPhone models offer up to 20 hours of video playback between charges. That could be a negative for existing 11 Pro Max owners who need a midday top up.
This year's iPhone includes a number of enhancements, some of which are major power sinks. New photography capabilities like 10-bit HDR and Dolby Vision HDR video recording are perhaps high on the list, but the main check to a long-lasting handset is the inclusion of power-hungry 5G connectivity. Nowhere will that be more noticeable than in the U.S., where iPhone supports speedy mmWave technology.
Apple is doing its best to balance 5G support with handset longevity. As part of that effort, a new battery-saving feature dubbed "Smart Data Mode" automatically transitions iPhone 12 series devices between 4G LTE and 5G as iOS deems necessary. For example, iPhone might remain on 4G for web browsing and listening to music, but will switch to the faster, low-latency 5G for a FaceTime call.
Last week, regulatory filings from Brazil's ANATEL revealed battery specifications for iPhone 12 mini and iPhone 12 Pro, which boast 2,227 mAh and 2,815 mAh cells, respectively.
Apple is due to initiate iPhone 12 Pro Max pre-orders on Nov. 6 ahead of wide availability a week later.
The Moon Is Getting Cell Service – Futurism
Zero Bars
NASA wants any human presence on the Moon to have a great cell signal, so it's investing in a lunar 4G network.
The Space Agency gave Nokia's Bell Labs a $14.1 million in grant money to build out the Moon's telecom infrastructure, Business Insider reports. With the goal of having a network up and running by 2030, the goal is to get a network in place that could help any sort of outpost on the Moon manage life off-world.
Roaming
NASA wants anyone on a Moon base to be able to use the network to navigate their area — sort of like how we look up directions — as well as stream video messages and remotely steer rovers and other space robots, Business Insider reports.
"This mission will validate the future of other operational deployments and the potential for human habitation on the moon," Bell Labs tweeted last week.
This mission will validate the future of other operational deployments and the potential for human habitation on the moon. (6/6)

Learn more about the "Tipping Point" project here: https://t.co/M372GpU09q

— Bell Labs (@BellLabs) October 15, 2020
Moon Base Operational
The planned 4G network is just one of several investments NASA made recently with the goal of setting up a long-term base of operations on the Moon and, eventually, beyond.
"Together, NASA and industry are building up an array of mission-ready capabilities to support a sustainable presence on the Moon and future human missions to Mars," NASA administrator Jim Bridenstine said in a press release.
READ MORE: NASA gave Nokia $14.1 million to build a 4G network on the moon [Business Insider]
More on Moon exploration: Scientists: Astronauts Could Build Moon Base Using Human Urine
iPhone 12 Pro Max Has Smaller 3,687 mAh Battery According to Regulatory Filing
Apple's new iPhone 12 Pro Max is equipped with a 3,687 mAh battery, which is around 7% less capacity than the 3,969 mAh battery in the iPhone 11 Pro Max, according to a regulatory filing published by TENAA, the Chinese equivalent of the FCC.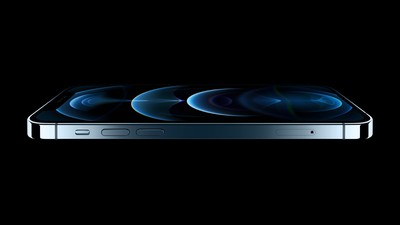 The regulatory filing, spotted by MacRumors, also lists the iPhone 12 Pro Max with 6GB of RAM as seen in benchmark results last week.
Apple has filed many products with TENAA over the years, and the listings have proven to be accurate on multiple occasions. Last year, for example, accurate battery capacities and RAM in the iPhone 11, iPhone 11 Pro, and iPhone 11 Pro Max appeared in the database a few days prior to those devices launching. A rumor also suggested that the iPhone 12 Pro Max would have a 3,687 mAh battery earlier this year.
Despite having a smaller battery, Apple's tech specs indicate that the iPhone 12 Pro Max has the same battery life as the iPhone 11 Pro Max, with both devices providing up to 20 hours of video playback and up to 80 hours of audio playback.
Apple never discloses battery capacities or RAM in iPhones, but teardowns of the new devices should confirm these details in the coming days.
Source:- MacRumors