Celebs, fashion, 24k chicken wings kick of Miami's Art Basel – Lethbridge News Now
Maddox Gallery is also showing at Art Miami, selling Banksy's Charlie Brown for $4 million dollars on Tuesday. A spokeswoman for the gallery said this is the first year they've had a profound collection of Banksy canvases including many original works.
Basel's annual prestigious December art fair draws collectors, socialites and celebrities from around the world. But fashion has also played a prominent role in recent years with Christian Dior hosting its first ever U.S. show in 2019 as a sort of unofficial kick-off to Miami's art week.
Louis Vuitton did the same on Tuesday night, with its first ever U.S. fashion show. But the sudden death of its 41-year-old legendary designer Virgil Abloh turned the show into a somber yet whimsical celebration of life attended by Rihanna, Kim Kardashian West and her daughter North, Ye, the rapper formerly known as Kanye West, model Bella Hadid, Joe Jonas, Maluma and Pharrell. Kid Cudi and Erykah Badu performed at an after-party. Ivanka Trump and hubby Jared Kushner were also in the crowd.
And Chanel collaborated with artist Es Devlin for a monumental sculptural installation to celebrate its iconic fragrance. The fashion house is taking over Jungle Plaza to create a multi-sensory experience using hundreds of plants and trees. The installation is open to the public, but several big name celebs are expected to attend Friday's VIP dinner with a top-secret performance.
Gucci is hosting a party Thursday night to celebrate Mickalene Thomas' Monograph.
Alicia Keys, Lizzo and Cardi B are also among those performing around town this week. The rapper is launching a new line of Vodka infused whipped cream on Saturday. After-party performances at various clubs this weekend include Migos, Meek Mill, Diplo and Marshmello.
While Miami's art week is a draw for serious collectors, it is also full of the absurd, including diamond and gold chicken wings. Yep, Miami's DJ Khaled dropped "bling wings" topped with 24-karat gold dust and edible diamonds to promote his restaurant Another Wing.
There's also an 18 carat gold bagel avocado toast on sale for $2.9 million at Galerie Rother at Art Miami.
Celebrity sightings included Marta Stewart in a gold coat and walking cane at Komodo restaurant and the Denver Nuggets and Venus Williams popped bottles all night at Pharrell and David Grutman's restaurant Swan.
Hailey Bieber, Olivia Rodrigo, Brooklyn Beckham, Nicola Peltz were spotted loading up on cocktails and caviar at Papi Steak and singer Camila Cabello was spotted in the trendy art district of Wynwood on Monday for an unveiling at Wynwood Walls to celebrate 14 new artists with murals and sculptures.
Kelli Kennedy, The Associated Press
Mystery black diamond called 'The Enigma' goes up for auction
A black diamond weighing a staggering 555.55 carats is going up for auction at Sotheby's and living up to its name "The Enigma."
Bidding opens on Feb. 3 at 6 a.m. PST (1400 GMT) and closes on Feb. 9, Sotheby's said, adding cryptocurrency will be accepted for payment of the diamond.
Sotheby's said it is the largest faceted Fancy Black Diamond known to ever appear at auction and was listed as the largest cut diamond in the world in the 2006 Guinness Book of World Records.
Also known as a carbonado diamond, it is possible the black diamond came from outer space. Carbonados of this structure have only been found in Brazil and the Central African Republic, and scientists have long theorized about their origins.
"They are shrouded in mystery as to the origin or formation because there's not that many of them found on Earth," geologist Aaron Celestian, the curator of mineral sciences at the Natural History Museum of Los Angeles, told Reuters on Wednesday.
Celestian said most carbonados are about 2.6 to 3.2 billion years old. As Earth itself dates back to 4.65 billion years ago, carbonados were formed when Earth's plates were still moving and the oxygenation of the atmosphere was taking place, he said.
"We think that they could have formed super deep within the Earth's interior, far deeper than what we know already of diamonds. There's hypotheses that suggest that they formed at impact sites where a large asteroid hit Earth," Celestian said.
"There's also interstellar hypotheses that suggest that they grew in space and then later fell on the surface of Earth."
The Enigma has not been exhibited before and is expected to sell for between $4 million and $7 million. Its owner has had it for two decades, but little is known about its history before that.
Celestian believes research into the diamond would tell us a lot about deep-Earth mineralogy or the evolution of our solar system.
The diamond, which was exhibited in Dubai last week, was shown in Beverly Hills this week before heading back to London for the auction.
(Reporting by Rollo Ross; Editing by Karishma Singh and Sandra Maler)
Picasso heirs launch digital art piece to ride 'crypto' wave – Coast Reporter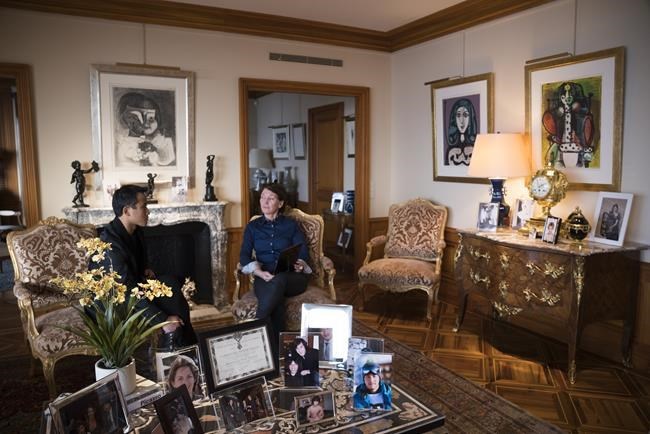 GENEVA (AP) — Pablo, meet Crypto.
Heirs of Pablo Picasso, the famed 20th-century Spanish artist, are vaulting into 21st-century commerce by selling 1,010 digital art pieces of one of his ceramic works that has never before been seen publicly — riding a fad for "crypto" assets that have taken the art and financial worlds by storm.
For an exclusive interview before the formal launch this week, Picasso's granddaughter, Marina Picasso, and her son Florian Picasso opened up their apartment — which is swimming in works from their illustrious ancestor — in an upscale Geneva neighborhood. There they offered up a glimpse, however tantalizingly slim, of the piece behind what they're billing as an unprecedented fusion of old-school fine art and digital assets.
They're looking to cash in on and ride a wave of interest in non-fungible tokens, or NFTs, which have netted millions for far-less-known artists and been criticized by some as environmentally costly get rich schemes.
A Picasso, his family's promoters say, would mark the entry of a Grand Master into the game.
In economics jargon, a fungible token is an asset that can be exchanged on a one-for-one basis. Think of dollars or bitcoins — each one has the exact same value and can be traded freely. A non-fungible object, by contrast, has its own distinct value, like an old house or a classic car.
Cross this notion with cryptocurrency technology known as the blockchain and you get NFTs. They are effectively digital certificates of authenticity that can be attached to digital art or, well, pretty much anything else that comes in digital form — audio files, video clips, animated stickers, even a news article read online.
"We're trying to build a bridge between the NFT world and the fine art world," said Florian Picasso, the artist's great-grandson.
The artist's descendants are playing close to the vest, to drum up interest and protect — for now — a family heirloom. They're showing only a sliver of the underside of the work linked to the NFTs, a ceramic piece about the size of a large salad bowl. The exposed parts show forms like a thick yellow line, a dribbling green splotch, and a brushed-on number "58" at the base.
Marina Picasso says the cherished pottery piece dates to October 1958, when she was a child.
"It's a work that represents a face, and it's very expressive," she said. "It's joyful, happy. It represents life … It's one of those objects that have been part of our life, our intimate lives — my life with my children."
Sotheby's is hosting an auction in March that will include a unique NFT as well as the actual ceramic bowl. A first-phase, online sale of more than 1,000 other NFTs starts Friday through the Nifty Gateway and Origin Protocol platforms.
Florian Picasso said they agreed on the colorful ceramic piece because it was "a fun one" to start.
An NFT Picasso brings with it almost epochal symbolism, something like when the Beatles collection was finally put up on iTunes. The family and its business managers say the aim is to create a younger community of Picasso fans.
"Everything is evolving," said Florian Picasso, insisting that the NFT honors the great artist.
"I think it fits within Picasso's legacies because we are paying tribute to him and his way of working, which was always being creative," he said.
How quaint seem those days of yore when Picasso, as the legend has it, would simply doodle on a napkin as payment for a restaurant meal — his handiwork supposedly carrying a value far in excess of the cost of the food and drinks he had enjoyed.
Some of the proceeds will be donated — one portion to a charity that aims to help overcome a shortage of nurses, and another to a nongovernmental organization that wants to help reduce carbon in the atmosphere. The NFTs will also come with music put together by Florian Picasso, who is a DJ and music producer, along with songwriter John Legend and rapper Nas.
Even a full rendering of that track isn't being publicly released just yet: Florian Picasso played a snippet for a reporter, then turned it off.
"And to hear more, you gotta purchase the NFT," he quipped.
___
AP video journalist Boris Heger contributed to this report.
Jamey Keaten, The Associated Press
Art Basel to Run New Paris Art Fair. Just Don't Call it 'Art Basel Paris.' – The New York Times
Art Basel already runs glamour-filled art fairs in Switzerland, Miami Beach and Hong Kong. Now, it's heading to Paris.
In an announcement likely to stun the art world, the organization that runs the glittering Grand Palais in Paris announced on Wednesday that MCH Group, the owner of the Art Basel brand, would set up a new contemporary art fair to run in the venue each October.
MCH Group will take over the slot previously held by the FIAC contemporary art fair, the organization, the Réunion des Musées Nationaux-Grand Palais, added.
The news will surprise many in the art world, as FIAC was a venerable French institution that has held fairs there for decades. Last year, President Emmanuel Macron of France held a reception for the fair, calling it the "nerve center of the art world."
But a president's backing was not enough to stop the change.
Chris Dercon, president of the Réunion des Musées Nationaux-Grand Palais, said in a telephone interview that he hoped Art Basel would set up an event that was more than an art fair, something he hoped would be "immersive."
"That means art plus fashion, art plus design," he said. "The plus is very important."
He said that he wanted to see an art fair that engaged with the wider culture of Paris. Dercon, previously director of the Tate Modern art museum in London and the Volksbühne theater in Berlin, has long been known for pushing an interdisciplinary approach to art.
Although Art Basel was "the mother" of art fairs, Dercon said, he did not want the new art fair to simply be another outpost for the brand. The new event will not be called Art Basel Paris, he said, adding that its name would be unveiled soon.
Marc Spiegler, Art Basel's global director, said in a telephone interview that the company only had "a short runway" to the first event, but that he hoped to work with Paris's whole "creative class," not just its art galleries, museums and dealers. Much of that work would occur "outside the halls."
The fair will have "a French touch," he added. "People coming to Paris will expect to see the various French movements of the last 12 decades well reflected at high-level quality from strong galleries."
The number of French galleries appearing in the fair will not be below the number seen at FIAC, he said, and the new fair will be organized by a largely French team.
RX Group, the organizers of FIAC, did not respond to a request for comment. Last December, they challenged the decision to call for bidders to host a new art fair at the Grand Palais.
Spiegler wouldn't comment on how the fair would be an improvement on FIAC, but said his cellphone had been "blowing up with text messages and DMs all day long" from galleries hoping to work with the fair given "the type of promotion we can do for them all over the world."
The first two events will take place at the Grand Palais Éphémère, a temporary venue on the Champ-de-Mars in Paris, as the Grand Palais itself is undergoing renovations.