Central Alberta real estate agent changes up how small town Alberta sells homes – Red Deer Advocate
A Bashaw real estate agent has developed a clever way to promote his hometown.
Ty Wilson returned to his hometown after playing football for the Edmonton Wildcats and now works as a real estate agent. He recently started creating clever, humorous and innovative social media and YouTube videos on real estate.
Referring to selling real estate, Wilson says, "I wanted to come in and do a little twist on it."
He says a little bit of the industry was stuck in the past and that most real estate agents just do what has been done in the past.
"I think we're in a real transition on how we a sell homes thanks to the internet. If you can inject a little personality and use social media there is real opportunity there," said Ty Wilson, real estate agent at Ramstad realty.
He says that his marketing videos have been getting a lot of attention lately and he hasn't been a real estate agent all that long.
He also says that real estate market in rural Alberta is hot right now.
"I was born and raised on the farm that I still live at. I did leave to the city for a couple of years to play football," said Wilson.
He says that he came back to his hometown because he loves his hometown, people and the landscape.
Growing up he always disliked that the folks he grew up around couldn't wait to leave. He aims to change that narrative and promote the love of country life and small town living.
"It's a case of you kinda don't know what you got until," said Wilson.
He says what would help this area is someone telling the story about the town and local area.
Wilson says that Bashaw is its central location: right in between Ponoka, Camrose, Stettler and Red Deer.
When he got into real estate he wanted to approach it a new, innovative and clever way.
"I just didn't want to sell the homes but I wanted to (sell) the area," said Wilson.
But then COVID-19 came along and changed everything on how we communicate with each other and conduct business.
"It might have been best thing that happened to rural real estate. It changed the world as we know it because now people realized they can do there jobs from a computer," said Wilson.
He says that if you can do your job from anywhere, as long as you got a computer and internet, "why wouldn't you want to come out where it's beautiful? low cost if living and people are nice," said Wilson.
He said his aunt Laurie King's husband is Robin King, who is the pastor at the United Church in Ponoka and Bashaw.
"The United Church (for example) painted their steps in rainbows to promote inclusive and welcoming communities," said Wilson.
He say that Bashaw is building something.
"I don't know what it is or how it happened but in the last five years has been nothing short of phenomenal," said Wilson
On the Bashaw municipal website highlights the town art community, culture, recent expansions and new vista developments.
"New residential development include: Schultz subdivision and Vistas subdivision.
The town is well known for it famed Majestic theatre. "Bashaw's Majestic Theatre was not the first of its kind to be built in Alberta but is now believed to be the last remaining theatre of its kind in Western Canada.
"Not a "grand theatre" by any means, the Majestic is nonetheless of historical and architectural significance as part of the overall history of theatre development in Alberta.
"There are great nature trails and ponds across the town.
"The town has two golf courses called Bashaw Golf & Country Club and Country 9 Golf & RV Resort."
Find Ty Wilson's YouTube channel: Buy With Ty.
US real estate heir Robert Durst convicted of murdering friend – Al Jazeera English
A California jury has found multimillionaire real estate heir Robert Durst guilty of murdering his longtime friend Susan Berman in 2000, the first homicide conviction for a man suspected of killing three people in three states over the past 39 years.
Durst, 78 and frail, will likely die in prison as the jury also found him guilty on Friday of the special circumstances of lying in wait and killing a witness, which carry a mandatory life sentence. Superior Court Judge Mark Windham, who oversaw the trial, set a sentencing hearing for October 18.
The trial came six years after Durst's apparent confession was aired in the HBO television documentary series The Jinx, in which Durst was caught on a hot microphone in the toilet saying to himself, "What the hell did I do? … Killed them all, of course."
The nine-woman, three-man jury had deliberated for seven and a half hours over three days for Friday's decision. Durst, who has been in jail for the duration of the trial, was not present for the reading of the verdict because he was in isolation after having been exposed to somebody with COVID-19.
Windham decided to have the verdict read in Durst's absence. Speaking to lawyers for both sides later, he called the case "the most extraordinary trial that I've ever seen or even heard about".
Lead prosecutor John Lewin, who had pursued Durst for years, credited The Jinx filmmakers Andrew Jarecki and Marc Smerling for their revealing interviews with Durst, telling reporters after the verdict: "Without them having conducted the interviews, we wouldn't be where we are."
In closing arguments, Lewin called Durst a "narcissistic psychopath" who killed Berman in an attempt to cover up the disappearance of his wife, Kathleen McCormack Durst, in New York in 1982.
Durst was only on trial for killing Berman in California, but prosecutors argued he murdered three people: his missing wife, Berman and a neighbour in Texas who discovered his identity when Durst was hiding from the law.
Despite long being a suspect in the disappearance of his wife, a 29-year-old medical student, Durst was never charged. Prosecutors said he killed her, then decided to kill Berman 18 years later because she had told others that she helped Durst cover up the crime. Berman, 55, was shot in the back of her head inside her Beverly Hills home.
Shortly after the verdict, the McCormack family issued a statement urging prosecutors in Westchester County, New York, to prosecute Durst.
"The justice system in Los Angeles has finally served the Berman family. It is now time for Westchester to do the same for the McCormack family," the statement said.
Westchester County District Attorney Mimi Rocah reopened the case in May, shortly after taking office.
Her office issued a statement on Friday commending those involved in securing the conviction, but a spokesperson said the Westchester investigation "remains ongoing and we will have no further comment at this time".
'Sick old man'
Defence lawyers portrayed Durst, a cancer survivor who testified from a wheelchair wearing a baggy jail uniform, as a "sick old man". But he withstood 15 days as a witness, nine of them under cross-examination.
During a 58-day trial spread over a year and a half, including a one-year delay due to the coronavirus pandemic, Durst testified that he discovered Berman's murdered body when he went to visit her but did not call the police.
The prosecution also delved into the 2001 death and dismemberment of Morris Black, who was Durst's neighbour in Galveston, Texas. A Galveston jury acquitted Durst of murder, even though Durst admitted he chopped up Black's body and dumped it in Galveston Bay.
Durst said Black pulled a gun on him and was shot accidentally when the two men wrestled over the firearm.
Black's death marked the second time Durst had a dead body at his feet, according to his testimony.
In both cases, Durst said he at first tried to call the 911 emergency number, but later decided against it, fearing nobody would believe he was not guilty.
Besides The Jinx audio, two other pieces of evidence appeared to damage Durst's defence. One was the recorded 2017 testimony of Nick Chavin, a mutual friend who said Durst admitted to him in 2014 that he had killed Berman.
"It was her or me. I had no choice," Chavin recounted Durst telling him.
Durst also admitted he authored a handwritten letter to Beverly Hills police with the word "cadaver" and Berman's address, directing them to her undiscovered body. Durst had denied writing the note for 20 years.
Durst is the grandson of the founder of The Durst Organization, one of New York City's premier real estate companies.
He long ago left the company, now run by his estranged brother Douglas Durst, who testified at trial and said of his sibling: "He'd like to murder me."
Detached home in Toronto is attainable for $700,000 says real estate agent – NOW Toronto
The two-bedroom listing at 15 Beechwood is appealing to renovators and first-time home buyers
---
A detached home listed for just under $700,000 sounds too good to be true in the Toronto real estate market. The average price for a home in the city is at $1,000,008, the lowest it's been since February, according to the Toronto Regional Real Estate Board (TRREB). Meanwhile the average for detached homes in the city is still hovering around $1.7 million, a full six figures more than the listed $699,900 price for 15 Beechwood in the Jane and Eglinton area.
According to WE Realty broker of record Odeen Eccleston that price may actually be attainable, even though similar lots on the street sold between $865,000 and $880,000 over the summer.
"We don't have enough information yet about the condition inside the home," says Eccleston. She adds that any potential buyers should consider booking a home inspector, especially since the listing is marketed to investors and renovators along with first-time buyers without providing any photos of the interior.
Listing agent Lino Arci of Re/MAX Hallmark Lino Arci Group Realty told NOW that the home is currently being rented, which is why photos of the interior have not been made available. He understands that the tenants will be moving out in a couple of weeks. He also adds that the house has been priced fairly, and is not purposefully priced hundreds of thousands below its value to spark a bidding war, a practice that buyers have been wary of in this heated market.
"If we get the asking price, they'll probably sell it," says Arci. "I always like to price it right on the money so we sell it quickly."
The two-bedroom bungalow with a mutual driveway was already listed earlier in the summer, sitting on the market for 48 days before being taken off the market, which Eccleston says bodes well for buyers. Arci explains that the sellers were not happy with their previous real estate agent.
"These are older people," says Arci. "Sometime a seller expects their agent to be there when they call them and take them through step-by-step. We're a small team. We can do that."
Eccleston adds that the bungalow resembles other common listings on the Toronto real estate market, where a home that has been in the family for nearly a century is finally being sold by the family or estate.
Several listings in the Toronto real estate market appeal to builders to tear down old dwellings and build modern new homes. But Eccleston warns buyers to do their math before considering such a venture. Building prices have risen to between $250 to $350 per square foot. On the lower end of the spectrum, a 2,000-square-foot home could cost $500,000 plus soft costs such as municipal permits, surveys and architectural plans, which could add up to upwards of $1.2 million when you add the purchase price. For comparison's sake, a newly renovated home on the street sold in 2020 for $1.1 million.
But Eccleston says this house could appeal to buyers who have no interest to tear down and build anew, and instead just choose to buy the property cheaply and spend less to renovate the interior.
"Some people are paying more than that for 600-square-foot condos," says Eccleston. "So they may be willing to put up the money to renovate a detached home that frees them up from paying condo fees."
"Anyone thinking of getting into the marketplace, they should," says Arci. "Rates are good. Just jump in."
Special Feature: Safety net invaluable in current real estate market – Canadian Lawyer Magazine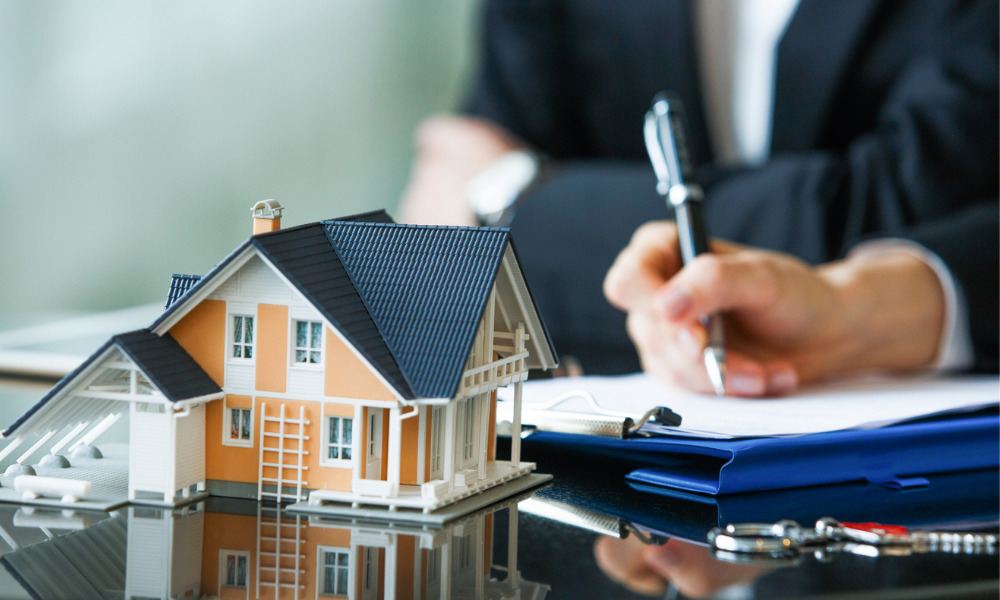 Real estate has always been considered a high-risk area of practice, and in 2020, real estate reached its highest recorded portion of claims in the market. Running a successful law practice that deals in real estate comes with unique challenges and competition.
Lawyers must ensure that all internal processes are properly adhered to, but it's not uncommon for experienced lawyers to accidentally overlook details.
This special feature from FCT highlights the benefits of E&O products in real estate practice.