China's Hubei province reports 13 new coronavirus deaths – state media – National Post
SHANGHAI — China's central Hubei province, at the center of the Wuhan coronavirus outbreak, reported 13 new deaths caused by the new virus on Jan. 25, state media CCTV reported on Sunday.
Shanghai also reported its first death from the virus.
Hubei also reported 323 new confirmed cases of coronavirus infections.
Separately, the province of Henan reported one death from coronavirus infection. (Reporting by Samuel Shen, Yilei Sun and Vincent Lee; Editing by Sandra Maler)
India's media is failing in its democratic duty – Al Jazeera English
The protests in India against the Citizenship Amendment Act (CAA), which grants a fast track to citizenship for certain religious-minority immigrants, have underlined the importance of not just the democratic process, which includes the right to peaceful protest, but also the role of the media in covering the government's response to the protesters.
I work as a journalist in India and am happy and proud to be part of what I regard as a free press in the country. The website I helped found four years ago, The Wire, shines a critical light – a pretty harsh one – on the government, on politics and on big business. And there are others like us.
Sure, the politicians and ministers and captains of industry do not like what we do and have made their displeasure known in various ways; but show me a democracy where the government loves the media and chances are the media is not doing its job.
So why is it then that India – a country with a free press and an independent judiciary – does so badly on global indices measuring media freedom? In 2019, the country slipped two places down to 140 out of 180 in the World Press Freedom index compiled by Reporters Without Borders. How do we reconcile the fact that there is a constitution, laws guaranteeing press freedom, and media platforms fiercely doing their job, with India's falling rank?
What has happened over the past few years is that a major section of the media has crossed over to the dark side.
Without being formally censored or compelled by other means to comply with official diktats, these media houses have simply stopped doing their job. They have stopped asking difficult questions about the government and its policies. They are in awe of Prime Minister Narendra Modi and his senior ministers and are reluctant to be critical of them.
Many, sadly, have become mouthpieces of official propaganda. Some do not think twice about promoting religious polarisation and even hatred in pursuit of the political agenda of the ruling Bharatiya Janata Party (BJP).
There is also a major section of the media which is reluctant to be seen rocking the boat mainly because their proprietors have business interests that could be jeopardised. It is commonplace for governments at the central and state level to use official advertising as a lever of influence on the media. But there is also a darker side: With most investigative agencies functioning at the beck and call of ruling politicians, proprietors fear becoming the target of a vendetta if their reporters are seen as taking on the establishment.
For those of us still willing to do our job, there are indirect financial pressures, of course, but also legal tactics aimed at silencing critical coverage. Defamation laws are misused to embroil editors and reporters in frivolous cases that can take us years to shake off. At one time, The Wire was facing 14 defamation suits filed by governing party politicians and their family members, businessmen and even a godman – a high-profile guru – known to be close to the establishment. Total damages currently being sought in these bogus cases against us run to over one billion dollars.
In the past few months, the government has sought new ways to get a grip on the country's scrappy digital media. It has announced new restrictions on foreign investment in digital media, including approval on a case-by-case basis, and is also proposing to introduce a compulsory registration process for news and current affairs websites.
A new tactic, which affects not just media freedom but the freedom of speech and communication of ordinary citizens, is the imposition of bans on the usage of the internet and social media. In Jammu and Kashmir, a "temporary" ban on social media has lasted more than 200 days now.
Broadband internet remains banned and limited data internet access was permitted after a two-month hiatus but only for low-speed access to "whitelisted" sites.
The latest assault on freedom of speech is the government's decision to charge Kashmiris who access the internet via VPNs under the draconian Unlawful Activities (Prevention) Act. Given the growing interface between social media and news media, this clampdown can only have a further chilling effect on press freedom.
While the media in India has always had to contend with unfriendly politicians in the past, they could, with the exception of the 1975-1977 Emergency, at least count on the support of the country's judges if the going got tough. What makes the current phase so dangerous is both the Modi government's level of intolerance and the reluctance of the courts to defend free speech and press freedom.
The press freedom we have in India should no longer be taken for granted. And it is only if we use our freedom – fiercely and fearlessly – that we can stave off future assaults on it.
The views expressed in this article are the author's own and do not necessarily reflect Al Jazeera's editorial stance
Sanders campaign prods media outlets: 'What are they missing about Bernie's appeal?' – CNN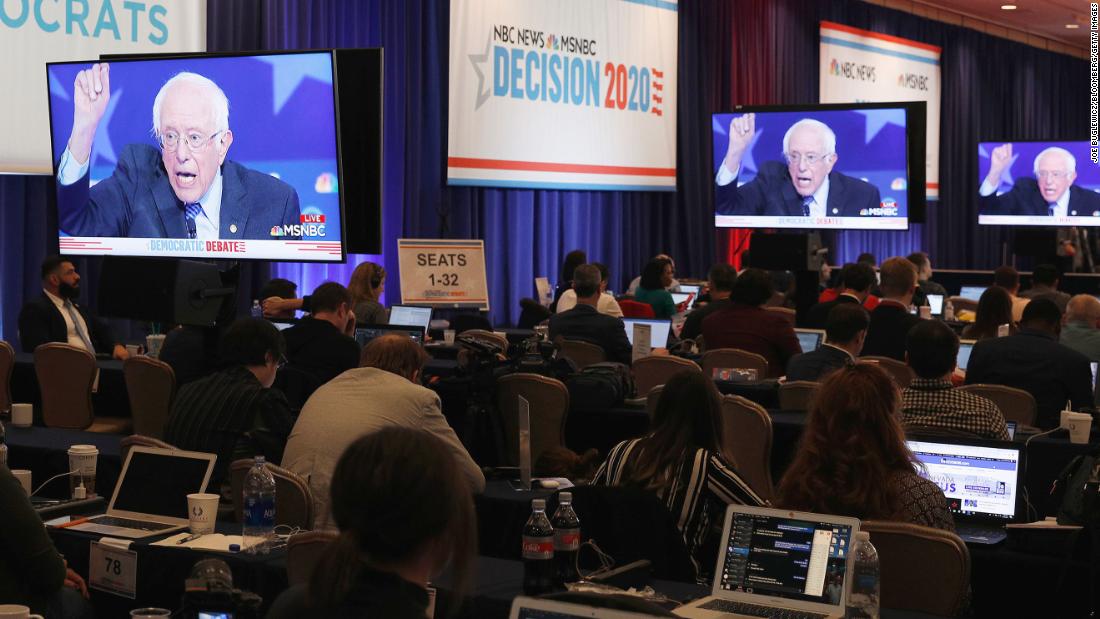 Bernie Sanders' big win in Nevada over the weekend highlighted the hostility between his campaign and MSNBC, the network with a progressive brand but an establishment bent.
The campaign continued to criticize the network over the weekend — in response to highly controversial remarks by Chris Matthews and others. One MSNBC regular, Anand Giridharadas, called out Matthews on the air and said "something is happening in America right now that actually does not fit our mental models. It certainly doesn't fit the mental models of a lot of people on TV."
So I'm wondering: Is this the big media story of the 2020 race?
In 2016, all roads led to Trump, who frequently sparred with Fox News despite all of the natural overlaps between the Fox audience and the Trump base. Something similar, though not the same, is happening now with Sanders and MSNBC. Page Six
reported
Friday night that Sanders loudly criticized NBC and MSNBC officials before last week's Dem debate.
According to the story
, Sanders approached MSNBC president Phil Griffin and said "Phil, your network has not been playing a fair role in this campaign. I am upset. Is anything going to change?"
What Matthews said
When Sanders took an early lead in Saturday's NV caucuses, Matthews likened it "to the shock of France falling to Germany during WWII," as The Daily Beast
wrote here
. This analogy placed Sanders in the shoes of Nazi soldiers. Sanders comms director Mike Casca tweeted
this
in response: "Never thought part of my job would be pleading with a national news network to stop likening the campaign of a Jewish presidential candidate whose family was wiped out by the Nazis to the Third Reich."
What Giridharadas said
Sanders' wins are a "wake-up moment for the American power establishment," he said
on "AM Joy"
Sunday morning. "For Michael Bloomberg, to those of us in the media, to Democratic Party, to donors, to CEOs. Many in this establishment are behaving, in my view, as they face the prospect of a Bernie Sanders nomination, like out-of-touch aristocrats in a dying aristocracy." Instead, he said, they should be asking "Why is this happening? What is going on in the lives of my fellow citizens that they may be voting for something I find so hard to understand?"
Giridharadas, a paid contributor to NBC and MSNBC, then
asked
, "Why is Chris Matthews on this air talking about the victory of Bernie Sanders, who had kin murdered in the Holocaust, analogizing it to the Nazi conquest of France? The people who are stuck in an old way of thinking, in 20th century frameworks, in gulag thinking, are missing what is going on." MSNBC declined to comment…
→ Marie Harf
said on Fox
that Matthews should "personally apologize to Bernie Sanders…"
The view from Sanders HQ
"I think one of the big questions is how and whether news outlets reassess whether they got it right on Bernie," campaign manager Faiz Shakir told me Sunday. "And if not, how does that change coverage going forward? What are they missing about Bernie's appeal?"
Shakir has called out MSNBC by name and challenged print outlets that, in his view, have been exceedingly negative. The more delegates Sanders gains, the more of a megaphone Shakir has regarding this subject…
FOR THE RECORD
— CNN's David Chalian explaining the delegate math that favors Sanders: "It's getting late early…" (
Mediaite
)
— "Meet the Press" moderator Chuck Todd: "If nobody drops out before Super Tuesday, is it even possible to stop Bernie Sanders?" Dan Pfeiffer: "I do not believe it is." (
MTP
)
— During CNN's coverage on Saturday, Van Jones cited Latino and youth support for Sanders: "You got a new generation stepping up. They're not scared of any of these ideas and they're tired of hearing Republicans calling everything we say socialist. They ruined the word socialist…" (
Beast
)
— Coming up: "Sanders plans to be up on the air with commercials in every South Carolina media market this week, and his staff is scrambling to add new rallies to his schedule as they take aim at their next big target:" overtaking Joe Biden… (
NYT
)
Sanders cites CBS polls
Per CNN's Annie Grayer, Sanders did something on Sunday that's unusual for him: He read poll numbers aloud at a rally. "Some of the folks in the corporate media are getting a little bit nervous," he told supporters in Houston. "They say, you know, Bernie can't beat Trump. So let's look at some of the polls out today."
Sanders read results from Sunday morning's new CBS/YouGov poll that showed him beating Trump in a general election match-up and in key battleground states…
The view from Jacobin
Jacobin, the leading socialist magazine in the US,
published
a piece after the Nevada "blowout" that said "face it, establishment Democrats —
it's his party now.
"
Jacobin has been allied with Sanders for years. The mag's publisher Bhaskar Sunkara told me, "I think the key is that the Never Bernie wave won't materialize. Most Dems like him and his lead is growing. They'll reconcile themselves to him just like Republican media to Trump." Sunkara's prediction: "Bernie will be just a regular Dem candidate which fits his actual profile — not radical but someone who's been in Washington for a long time and who proposes popular economic and social reforms."
Sunkara said web traffic to Jacobin "is up year over year around 60 percent." Print subscriptions are up 40 percent year over year. "People are really dialed in right now," he said…
This video has circulated in media reports since at least October 2019 — months before the novel coronavirus outbreak – AFP Factcheck
A video has been viewed tens of thousands of times in multiple posts on Facebook and Twitter that claim its shows shoppers scrambling to enter a supermarket in China after the novel coronavirus outbreak in the Chinese city of Wuhan. The claim is false; the video has circulated in media reports since at least October 2019, two months before the viral outbreak was first reported.
The video was published here on Facebook on February 7, 2020.
It has been viewed more than 23,000 times and shared more than 1,000 times.
The 15-second video, filmed from inside a supermarket, shows scores of people scrambling under the shop's shutters as it opens.
Below is a screenshot of the misleading post:
Screenshot of misleading Facebook post
The post's caption reads: "Seriously / Jokes aside, this will cause the virus to spread more easily, why why why?????"
The virus referenced is the novel coronavirus, a new strain of coronavirus that emerged in the Chinese city of Wuhan in late December 2019. The epidemic has since killed at least 2,400 and infected about 80,000 globally. Here is an AFP report on the ongoing viral epidemic.
The same video was also shared here, here, and here on Facebook and here on Twitter, alongside a similar claim.
The video has been shared in a misleading context; the video has circulated in multiple media reports since at least October 2019, months before the novel coronavirus outbreak was first reported in late December 2019.
A reverse image search found this October 8, 2019 article published by MailOnline, the website for British tabloid The Daily Mail, headlined "Bizarre moment 'zombie' shoppers force their way under a store's front shutter in rush for a promotion on eggs".
The report reads, in part: "Shoppers desperate to get their hands on promotional eggs look like 'zombies' as they crawl under a supermarket's shutters.
"The bizarre footage from Sanjiang Supermarket in Qingdao, east China, shows the 'middle-aged' customers bend the metal gate as they rush to get into the store."
Below is a screenshot comparison of the misleading video on Facebook (L) and the video on The Daily Mail website (R):
Screenshot comparison of the misleading video on Facebook (L) and the video on The Daily Mail website (R)
At the beginning of the video, a man can be heard speaking Mandarin. His comments translate to English as: "My door! My door!"
Towards the end of the clip, his comments translate to English as: "Ah terrifying, terrifying!"
The video was also published in this article by the UK-based news website ViralTab, dated October 4, 2019.
The report, in part, states: "This footage shows a mob of middle-aged and elderly shoppers forcing their way into a supermarket "like zombies" during a mad rush for a promotion on eggs.
"The footage was filmed from inside Sanjiang Supermarket in Qingdao, a coastal city in East China's Shandong Province, on 4th October."