Coronavirus: Third of tests in England 'not linked' to new NHS app, developers suggest – Sky News
The developers of the new NHS coronavirus tracing app have admitted that more than 60,000 tests carried out in England yesterday – just under a third of the total – cannot be linked to its systems.
The admission appears to undermine the central role of the software, which is to warn people when they have come into contact with anyone who subsequently tests positive.
The long-awaited NHS coronavirus contact-tracing app launched on Thursday across England and Wales.
However, in a response to a tweet by a user who said they had been tested but could not upload the result because they had not received a code, the app's developers said it is not linked to test results processed in a Public Health England lab or NHS hospital.
"If your test took place in a Public Health England lab or NHS hospital, or as part of national surveillance testing conducted by the Office for National Statistics, test results cannot currently be linked with the app whether they're positive or negative," they wrote.
Official government figures show a total of 210,275 people were tested in England on Friday, including 61,481 in hospitals and PHE labs (Pillar 1) and 148,894 in testing centres (Pillar 2).
The admission on the app's official Twitter account means the results of just under a third (29%) of the tests carried out a day after the app went live could not be linked.
A Department of Health spokesperson said: "We are urgently working to enable positive tests for people who aren't already given a code to be added to the COVID-19 app.
"NHS Test and Trace will continue to contact people by text, email or phone if your test is positive advising you to self-isolate and for those who don't have a code, the contact tracers will shortly be able to provide codes to insert in the app.
"If you book your test via the app the results will be automatically recorded in the app and the isolation countdown will be updated."
Labour's Jonathan Ashworth questioned the issue on social media.
The shadow health secretary tweeted: "We all want to see this app succeed. We've encouraged people to download it.
"But have they really launched an app that doesn't actually link to tests carried out by NHS hospital labs & PHE labs instead only including tests carried out via the outsourced lighthouse lab network??"
The Welsh government pointed out that Public Health Wales results can be processed and urged people to continue using the app.
Posting on Twitter, Welsh health minister Vaughan Gething urged people "shouting" that the app is "useless" to "please calm down".
Health Secretary Matt Hancock has called the new mobile phone app an "important step forward" in the UK's fight against COVID-19.
The app includes a link to enter a code which people receive via email or text message from the testing service if they have tested positive for COVID-19.
It asks users to self-isolate for 14 days if it detects they were in close proximity to someone with coronavirus.
Those who are tested in a NHS hospital, PHE lab or under one of the surveillance studies, including the ONS, and test positive are currently contacted by NHS Test and Trace contact tracers by text, phone or email.
Professor Sir Jonathan Montgomery, former chair of the ethics advisory board for the first edition of the app, said: "This is clearly a glitch. I imagine it won't be that difficult to sort out, and the focus is on making sure the system is integrated.
"If they book the tests with the system they can feed them back into the app, clearly we haven't yet got it right in terms of the other parts of the testing system being able to feed in and we would expect that to be sorted pretty quickly."
Liberal Democrat MP Layla Moran told Sky News: "How on earth can we trust this government with our data with a test-trace isolate system that is meant to be the key to unlocking this country through this pandemic and keeping us all safe, when the very basics of the information that are meant to be given to this app, we find out over a tweet? It is just bizarre."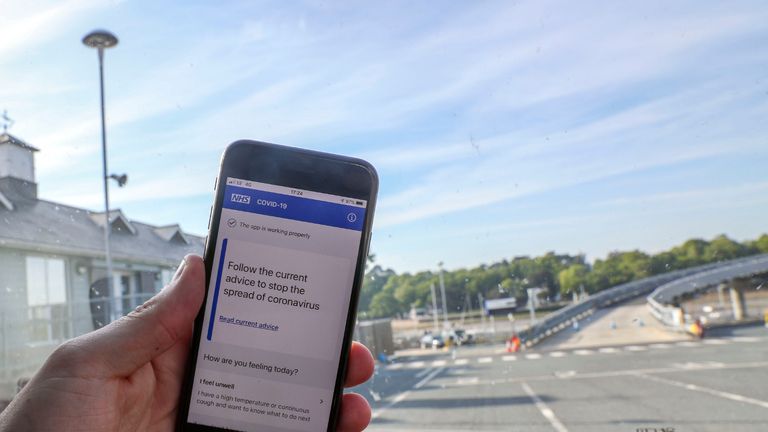 Sky's political correspondent Rob Powell said: "This could be a fairly serious blow to what was touted obviously by the prime minister as a world-beating test and trace system.
"To add insult to injury, this appears to be an England-only issue."
iPhone 12 Review: The one to buy – MobileSyrup
One thing is abundantly clear about Apple's iPhone 12 line: the standard iPhone 12 is the device most Apple users should consider purchasing if they're in the market for a new iPhone.
While this was also the case with last year's iPhone 11, the upgrades Apple has made to the smartphone, including the iPhone 12's new 6.1-inch Super Retina XDR OLED display, 5G capabilities, its A14 processor and more, amount to an impressive smartphone package.
Except for the iPhone 12 Pro and 12 Pro Max's telephoto lens, Light Detection and Ranging (LiDAR) sensor and a few other minor technical differences, the iPhone 12 offers a smartphone experience nearly identical to the iPhone 12 Pro's.
As expected, these upgrades also come at a price increase, with last year's iPhone 11 costing $849 and the iPhone 12 bumping the price up to $1,129. A $280 difference is a pretty substantial price change any way you look at it, though the inclusion of an OLED display helps soften that blow.
"With all that in mind, it's clear the iPhone 12 is likely the device most Apple users should be interested in"
Just like with the iPhone 12 Pro, several questions remain about the iPhone 12 series. For instance, the 5.4-inch iPhone mini isn't yet available, and neither is the highest-end iPhone Apple has to offer this year, the iPhone 12 Pro Max. Both devices are set to launch together in early November. It's also unclear if Apple's MagSafe accessories will live up to the tech giant's loft claims and solve some of Qi wireless charging's main issues.
With all that in mind, it's clear the iPhone 12 is likely the device most Apple users should be interested in.
Specs
Stainless steel vs. aluminum
I'm shocked to be writing this, but I actually prefer the look of the iPhone 12 over the iPhone 12 Pro.
The smartphone features the same flat-edged iPad Air and iPhone 4-inspired design as the iPhone 12 Pro, but its matte aluminum edges get far less greasy than the stainless steel border featured in its higher-end counterpart. This gives the device a cleaner look when it isn't inside a case and makes the smartphone feel better when you're holding it in your hand.
Like the iPhone 12 Pro, the iPhone 12 features a 'Ceramic Shield' front the tech giant claims is more durable than previous iPhones. It's impossible to verify this statement, but given how shockingly hardy the iPhone 11 was, I tend to believe Apple.
The smartphone itself is roughly 15 percent smaller than the iPhone 11, but it still features a 6.1-inch display thanks to its reduced bezels. This makes the device easier to hold in one hand than its predecessor.
Colour-wise, I prefer the hues Apple offered last year with the iPhone 11, but the new green colour Apple sent me to review looks stunning. It's light green and features an intensity not present in the iPhone 11's colours. The iPhone 12 is available in the following colours: 'Black,' 'White,' 'Product Red,' 'Green,' and 'Blue.'
Each colour and the still-grease-resistant back glass also match the iPhone 12's overall hue, giving it a uniform look.
"I prefer the hues Apple offered last year with the iPhone 11, but the new green colour Apple sent me to review looks stunning"
It's worth noting the squared-off design might take some long-time iPhone users a little getting used to and, for a select few, might even feel like a step backwards.
While I initially counted myself in this camp, the design quickly grew on me. It looks and feels great and is a solid step forward for Apple's iPhone line in terms of aesthetics.
Say hello to OLED
What's most interesting about this year's iPhone lineup is the iPhone 12 and iPhone 12 Pro are nearly identical in several ways.
For example, the iPhone 12 features a 6.1-inch Super Retina XDR display that comes in at 2,532 x 1,170 pixels and 460ppi, just like the iPhone 12 Pro. The screen also supports 'True Tone,' HDR capabilities, features a P3 wide colour gamut, and includes the same 2,000,000:1 contrast ratio as the more expensive iPhone 12 Pro.
The only difference is the iPhone 12 Pro's standard max brightness measures in at 800 nits compared to the iPhone 12's 625 nits. This change isn't noticeable at all, and in general, the iPhone 12's display looks stunning and a significant step above last year's solid but rapidly ageing Liquid Retina LCD screen that came in at a 1,792 x 828 pixel resolution. Video content with apps like Netflix and YouTube, as well as games and even just browsing the internet, all look great.
"My experience with the iPhone 12 has been extremely smooth over the last few days and I haven't encountered a single instance of lag"
Like last year, the iPhone 12 features the same chip as its more expensive counterpart, the new A14 Bionic processor. Though I don't put much stock into benchmarks because they don't speak to how a phone operates in the real world, the iPhone comes in at 1,596 for its single-core score and 4,025 for its multi-core score with Geekbench, which is a substantial increase over the A13-equipped iPhone 11 coming in at 1,326 and the 3,397. My experience with the iPhone 12 has been extremely smooth over the last few days and I haven't encountered a single instance of lag.
The other difference worth noting about the iPhone 12 is it weighs 162g compared to the iPhone 12 Pro's 187g. Just like last year, storage options include 64GB, 128GB and 256GB.
Regarding battery life, I found the iPhone 12 comes in at roughly a day with moderate use, which is similar to my experience with the iPhone 12 Pro.
Camera improvements
Similar to the iPhone 12 Pro, the most significant changes to the iPhone 12 relate to the smartphone's camera performance.
First off, the array is very similar to the iPhone 12 Pro's, including a wide f/1.6 lens and an ultrawide f/2.4 aperture. However, the iPhone 12 doesn't feature the iPhone 12 Pro's telephoto lens, which means it isn't capable of 2x optical zoom.
I'd argue a wide-angle lens is likely more useful for taking group shots and capturing landscapes, but it really depends on the type of photography you do with your smartphone. For example, I value 2x zoom over wide-angle photography because I often find myself shooting landscapes and not large groups of people.
While the ultrawide lens measures in at the same f/2.4 aperture, the wide lens comes in at f/1.6 and now has seven elements, which allows more light into the sensor, resulting in overall brighter, less noisy images, especially when under low-light.
It's also worth noting the iPhone 12 doesn't support Apple's new ProRAW image format that's launching later this year because it lacks the iPhone 12 Pro's LiDAR sensor.
While not a significant hit to camera quality, this means the iPhone 12 doesn't benefit from the same quicker focusing and improved low-light performance as the iPhone 12 Pro. However, it does still feature Apple's new Smart HDR 3 technology coupled with Deep Fusion, Night mode and of course, Portrait Mode.
The iPhone 12 features the same new night mode selfie shots with the smartphone's front-facing 12-megapixel camera, but they're a little darker and pretty noisy. I don't find this new feature very useful and feel it gives skin a weird, over-detailed, almost plastic tone. The device's ultrawide camera also now works in night mode and produces images nearly identical to the iPhone 12 Pro's that feature sightly more noise and less contrast.
Photos generally look better than those shot with the iPhone 11. However, they're slightly noisier, a little less sharp and don't feature as much contrast as what the iPhone 12 Pro can shoot. Overall, the difference is surprisingly marginal.
Further, instead of dual optical image stabilization, the iPhone 12 features optical image stabilization. In my tests, I didn't find this really made much of a difference when snapping photos, even when using the smartphone's night mode.
Finally, the iPhone 12 also features 10-bit Dolby Vision HDR video recording — a first for any smartphone — that can only be viewed on supported televisions and monitors.
That said, even YouTube doesn't support the format. The iPhone 12 only includes HDR 4K Dolby Vision video at 30fps compared to the iPhone 12 Pro's 60fps.
Everything else
Unlike in previous years, the iPhone 12 and the iPhone 12 Pro offer a very similar smartphone experience, and because of this, there are several aspects of the device this review doesn't touch on.
If you're interested in learning more about what it's like to use an iPhone 12 with 5G in Canada and Apple's MagSafe accessories, follow this link to my iPhone 12 Pro review.
Other things worth noting are that the iPhone 12 features Face ID that seems just as reliable as last year, with authentication working roughly 95 percent of the time.
Most people won't need an iPhone 12 Pro
The main takeaway from my time with the iPhone 12 is that across the board, the average iPhone user likely won't need the features that the iPhone 12 Pro offers, especially now that the smartphone includes a great-looking and vibrant OLED display. On the other hand, if you're a smartphone photography enthusiast, the incremental improvements the iPhone 12 Pro offers could be worth the upgrade.
Of course, questions still remain surrounding the iPhone mini and the iPhone 12 Pro, which don't release until November 13th. Given the mini's positively minuscule 5.4-inch size display size and lower $979 price tag, some people may want to wait for that device.
Overall, though, the iPhone 12 offers photography and performance capabilities nearly identical to the iPhone 12 Pro's. That said, its low-light performance isn't quite as solid because it doesn't feature a LiDAR sensor.
With all this in mind, the iPhone 12 is one of the most solid smartphone packages the tech giant has released in years.
"The iPhone 12 offers photography and performance capabilities nearly identical to the iPhone 12 Pro's"
Xiaomi Mi 11 SE or Redmi K40 Mini could be on the cards thanks to iPhone 12 Mini admiration – Notebookcheck.net
Daniel R Deakin, 2020-10-20 (Update: 2020-10-20)
Nokia and NASA to build moon's first cellular network – Siliconrepublic.com
Nokia Bell Labs' 4G LTE communications technology will help NASA advance its mission to land more people on the moon.
NASA has announced that Nokia will build the first ever cellular network on the moon. The Finnish company was selected as a partner for the space agency's Tipping Point programme, which funds technologies at the cutting edge of space exploration.
The network will use 4G LTE – the precursor to 5G – technology on the moon's surface. Nokia said it will transform lunar communications by delivering "reliable, high data rates while containing power, size and cost".
We're over the moon to announce further details after being named by @NASA as a key partner to advance "Tipping Point" technologies for the Moon.

The pioneering innovations from @BellLabs will deploy the first LTE/4G communications system in space. https://t.co/Y6SmsPzJcQ pic.twitter.com/kJVQURXLMu

— Nokia (@nokia) October 19, 2020
Improved communications infrastructure on the moon is an aspect of NASA's Artemis programme, which aims to land the first woman and the next man on the moon by 2024 and to establish a sustainable presence on its surface by the end of the decade. NASA said that Nokia's system could "support lunar surface communications at greater distances, increased speeds, and provide more reliability than current standards".
The LTE tech will be developed by Nokia Bell Labs. Partnering with spaceflight firm Intuitive Machines, the research company will build and deploy an "ultra-compact, low-power, space-hardened, end-to-end solution" on the moon's surface in late 2022. The system will self-configure after deployment.
Its purpose will be "critical communication capabilities" for transmitting data, Nokia said. This will include command and control functions, remote control of lunar rovers, real-time navigation and streaming high-definition video.
It will also give astronauts wireless connectivity for voice and video communications, biometric data exchange and more, which are vital for "long-term human presence" on the moon.
Nokia CTO and president at Nokia Bell Labs, Marcus Weldon, said the system has been built on the company's "rich and successful history in space technologies, from pioneering satellite communication to discovering the cosmic microwave background radiation produced by the big bang".
The technology has been specially designed to withstand the harsh conditions of launch and landing on the moon, Nokia said, and to function in the extreme conditions of space. The company added that it plans to further commercialise its LTE product and investigate how 5G can be applied to space-exploration technologies.