'Cyberpunk 2077' Issues Workaround For Takemura Phone Call Bug In Patch 1.1 – Forbes
Cyberpunk 2077 players have been disappointed with the scale of the recent 1.1 patch for the game, which felt more like a hotfix than a substantive improvement for all platforms. But soon enough, players began to run into a singular game-breaking bug that was introduced with the patch that halted their progress entirely.
In the Down on the Street quest, there's a bug where Takemura calls you and then just…doesn't say anything. It's not just goofy, it kills all main quest progress and reloading the save won't even get rid of it. You essentially can't do much else after you hit this bug, which will soft lock your game.
Now, CDPR has an official workaround that I heard suggested previously, but now it's official and being shared on their social media. But it has the catch that you need an earlier save that you may or may not have access to. Here's the process, according to them:
Load a gamesave before Takemura and V leave Wakako's office.
Finish the conversation with Takemura outside the office right away.
Right after the finished conversation and when the quest was updated, skip 23h.
See if the holocall triggers and the dialogue with Takemura starts.
Again, this requires a gamesave before you leave Wakako's office, and since Takemura doesn't call you until a full day later, it's not a guarantee that players will even have a gamesave before that point, as quicksaves and autosaves get eaten up pretty quickly.
CDPR has said that they "plan to release a hotfix as soon as possible" but there is no date on that yet. My advice is to simply not play the game at all until they do so. Hell at this rate, my advice might not be to play the game until next fall.
The next scheduled patch (other than this emergency hotfix) is supposed to be for sometime in February. CDPR did indeed meet their promised January/within 10 days deadline for this first patch but of course…at the cost of the patch breaking the game. The next patch is supposed to be more substantive than this one, though that isn't saying much considering this one did not feel terribly substantive, even if patching memory leaks is a difficulty process. On the players' end, it just doesn't seem like there's much difference, and tons of bugs and performance issues remain, to say nothing of the big new bug this patch introduced.
This is going to be a long, long process, that much has been made immediately clear from how this is going so far. Again, it seems like the best course of action may be to set down Cyberpunk for a good long while and just experience it once it's whole in however many months that takes. Stay tuned for more updates about this upcoming hotfix.
Follow me on Twitter, YouTube and Instagram. Pick up my sci-fi novels Herokiller and Herokiller 2, and read my first series, The Earthborn Trilogy, which is also on audiobook.
Astronaut pays virtual visit to Manitoba schools – CTV News
WINNIPEG —
A pair of Manitoba schools had a special visitor on Wednesday, and it was surely an out-of-this-world experience.
Canadian astronaut Joshua Kutryk paid a virtual visit to students at Christ the King and Edward Schreyer Schools.
The two schools won a visit from an astronaut through a contest put on by the Canadian Space Agency's Junior Astronauts initiative.
Kutryk provided students with an overview of his job, and answered questions on training, eating, space and the specialized tools astronauts use.
"If you're in space and you crank that wrench one way, it doesn't turn the bolt, it turns you," he explained to students.
"You go the other way just as fast as you cranked the wrench."
While Kutryk was able to easily answer most of the students' questions, he was stumped by one asking why the moon, and not the sun, controls tides on earth.
For kids interested in becoming an astronaut one day, the Canadian Space Agency is holding junior astronaut recruitment for students Grades 6 to 9 to participate in a virtual camp in July.
Samsung Galaxy Note10 series is now getting One UI 3.1 – GSMArena.com news – GSMArena.com
Samsung introduced One UI 3.1 back in January, during the Galaxy S21 unveiling. Previous flagships are already switching to the new interface little by little, and now it is time for the Galaxy Note10 series.
An update is already seeding to Galaxy Note10 and Galaxy Note10+ phones in Germany and should be hitting other European countries soon unless major issues are discovered.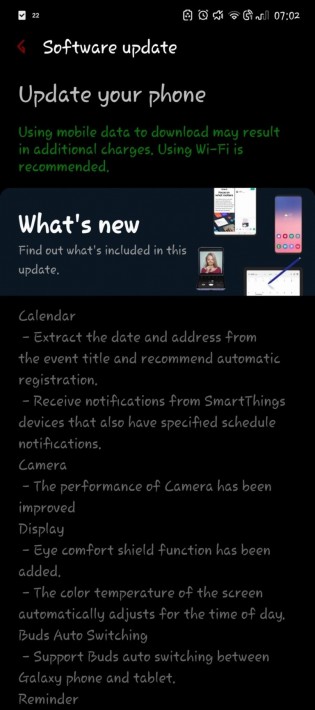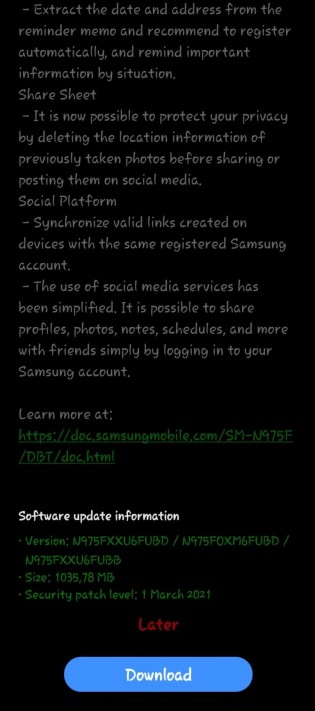 Changelog of the software update
The update carries a model number N97xFXXU6FUBD (lowercase x is either 0 or 5, depending on the phone) and is slightly over 1 GB in size. Along with the latest March 2021 security patch, the package also brings features like Eye Comfort Shield (previously called Blue Light Filter) and Private Share.
According to the changelog, there have also been improvements in the camera performance; the phone can extract dates and addresses from the calendar and delete location information on previously taken photos before sharing them on social media.
Oppo Reno5 K 5G announced with Snapdragon 750G, 90Hz screen, and 65W charging – GSMArena.com news – GSMArena.com
Oppo today added a new member to its Reno5 lineup dubbed the Reno5 K 5G. The Reno5 K 5G is built around a 6.43″ FullHD+ 90Hz Super AMOLED screen and has a Snapdragon 750G SoC at the helm.
The Oppo Reno5 K 5G boots Android 11-based ColorOS 11.1 and comes in two memory configurations – 8GB/128GB and 12GB/256GB. It doesn't have a microSD card slot, though, so you might want to go for the 256GB variant if you are someone who likes carrying around a vast library of offline music and takes a lot of photos and videos.
Speaking of photos, the Reno5 K 5G has a total of five cameras onboard – a 32MP selfie shooter inside the screen with a 64MP primary camera on the back joined by an 8MP ultrawide, 2MP macro, and 2MP depth units.
The Reno5 K 5G supports 5G and features an in-display fingerprint scanner. It also comes with a 3.5mm headphone jack and a USB-C port to charge the 4,300 mAh battery, supporting 65W charging.
All this might sound familiar to you since the Reno5 K 5G isn't an entirely new phone. It's a Reno5 5G with a different chipset.
The Reno5 K 5G is offered in three colors and will go on sale in China from March 6, but Oppo hasn't revealed its price at the time of writing this.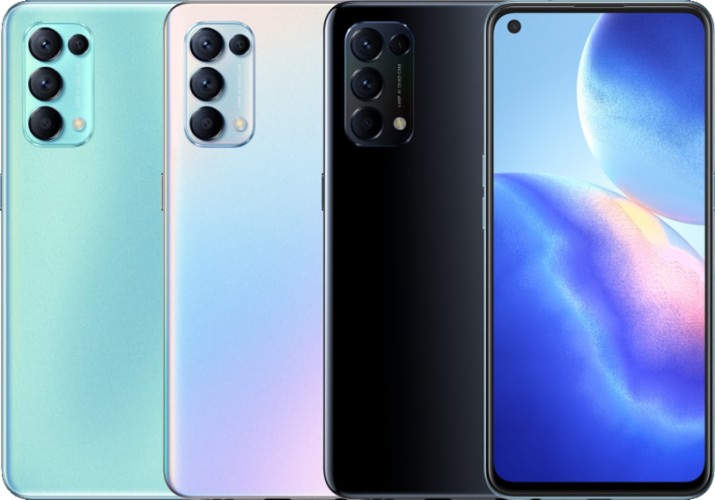 Source 1 | Source 2 (both in Chinese)