Dach out 4-5 months following wrist surgery – TSN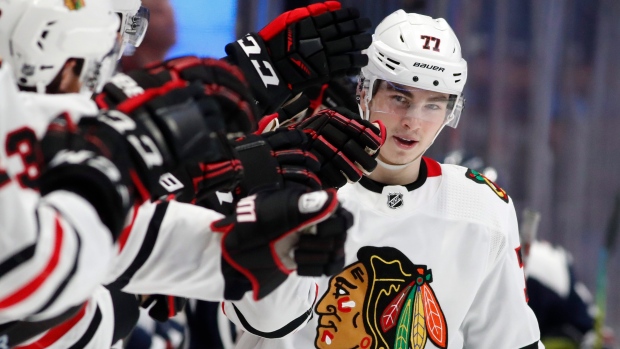 Chicago Blackhawks forward Kirby Dach could miss the upcoming season after he had wrist surgery on Monday.
Dach fractured his right wrist while playing for Canada's world junior team during an exhibition against Russia last week. Team physician Michael Terry said Dach is expected to return to hockey-related activities in approximately four to five months.
Dach, who turns 20 on Jan. 21, got hurt on what seemed like a harmless bodycheck in the neutral zone in the third period last Wednesday. After the hit, the Canada captain pulled off his glove, skated off the ice and went directly to the locker-room area in Edmonton, Alberta.
Dach was selected by Chicago with the No. 3 pick in the 2019 draft. He had eight goals and 15 assists in 64 games during his rookie season with the Blackhawks.
Dach's injury is another tough blow for rebuilding Chicago after Alex Nylander, another young forward, had surgery last week to repair a meniscus tear in his left knee. He also might be sidelined for the entire 2021 season.
Chicago bolstered its forward depth by agreeing to a $1 million, one-year contract with free-agent centre Carl Soderberg on Saturday. The 35-year-old Soderberg had 17 goals and 18 assists in 70 games for Arizona last season.
___
More AP NHL: https://apnews.com/NHL and https://twitter.com/AP_Sports
SENATORS AFTERTHOUGHTS: A closer look at the Senators' 5-3 win over the Maple Leafs Friday – Ottawa Sun
Article content
Game One: Senators 5, Maple Leafs 3
WHY THEY WON: The young and rebuilding Senators sent a loud message to a veteran-laden Maple Leafs squad that should have known better.
The Maple Leafs were flashing their considerable talent and had the Senators on their heels throughout the first half of the second period, breaking a 1-1 tie on Alexander Kerfoot's goal.
Apparently, they thought they could coast to victory from there.
Guess again. Led by Brady Tkachuk, the Senators came off the ropes, rallying for three goals in a 4:35 span to close out the second period.
Maple Leafs goaltender Fredrik Andersen certainly didn't have his best night, swimming around his crease for much of the game, but he didn't have much help when the Senators cranked up the pressure.
In the final period, the Senators effectively shut down a Maple Leafs squad that couldn't regain its edge and was guilty of backing up and coughing up the puck against the Senators pressure.
It's only one game, of course, but the Senators set an example that they will battle their way to the end.
Goaltender Matt Murray was solid in his Senators debut, not panicking when the Maple Leafs were threatening to run away with the contest.
THEY SAID IT:
Senators winger Brady Tkachuk: "We want to win games, we want to be a playoff team and we want to keep learning from the mistakes we made. We want the two points every night. That's our goal and I think the pace of play and the physicality is going to determine that."
Maple Leafs coach Sheldon Keefe: "When you score a goal like that (Kerfoot) and you have control over the period the way that we did, for us, if we want to be a team that is going to accomplish anything, the game should be over from there. We should be able to take care of the lead and build on the lead. Obviously, it showed that we are not there yet."
Bianca Andreescu's coach announces positive test – TSN
Sylvain Bruneau, the coach of Canadian tennis star Bianca Andreescu, said Saturday that he tested positive for COVID-19 after arriving in Melbourne ahead of the Australian Open.
In a four-paragraph statement, Bruneau said he followed all safety protocols and procedures, tested negative within 72 hours of departure, and felt "perfectly fine" when boarding the plane in Abu Dhabi.
"I am extremely saddened and sorry for the consequences now on everyone's shoulders sharing my flight," he said. "The rest of my team is negative and I sincerely hope that any further disruption is kept to a minimum."
Andreescu will now begin a 14-day hard quarantine at her hotel, her agent, Jonathan Dasnieres de Veigy, told The Canadian Press in a text message.
Australian health authorities said two positive COVID-19 cases emerged from another charter flight to Melbourne from Los Angeles earlier Saturday. Those cases involved an aircrew member and a passenger who was not a player.
A total of 47 players from the two affected flights will not be allowed to practise until they're medically cleared after the two-week period, Tennis Australia said. Original plans allowed for on-court training sessions in a bubble setting during the quarantine period.
Andreescu was planning to return at the Jan. 31-Feb. 6 Melbourne Summer Series, a warmup event ahead of the Australian Open. It will be her first competitive tournament in about 15 months.
In his statement, Bruneau said he respected and followed all COVID protocols and guidelines while in the Middle East.
"I have no idea how I might have contracted this virus," he said.
Bruneau, a longtime national coach with Tennis Canada's women's program, helped guide Andreescu during her breakout 2019 season.
Just 18 at the time, she won the BNP Paribas Open at Indian Wells in March of that year for her first career WTA Tour title. Andreescu won the Rogers Cup and US Open titles later that season, topping American legend Serena Williams in both finals.
Injuries, however, were a problem throughout the campaign and hampered her return plans in 2020. She eventually decided to take last season off and focus on coming back for the 2021 Australian swing.
A pair of WTA Tour 500 events — the Gippsland Trophy and Yarra Valley Classic — will run as part of the Melbourne Summer Series, with players being divided into the two events.
Given the short turnaround from the end of quarantine, it wasn't immediately clear if Andreescu would still play that event or instead return at the Feb. 8-21 Australian Open at Melbourne Park.
Andreescu, from Mississauga, Ont., hasn't played a competitive match since a left knee injury forced her to retire from a match at the WTA Finals in October 2019.
She started the 2019 season ranked No. 152 in the world and closed the year at No. 5. The 20-year-old now holds the No. 7 position.
"The positive thing is that she is obviously extremely motivated," Bruneau told The Canadian Press in a recent interview. "She's always motivated, so it's not a change. But when you're forced (off the court) and that's your life, you want that back badly."
Andreescu has shown in the past that she can quickly get back to a high level of play after a break.
She played just one match in a four-month span leading up to the Rogers Cup in 2019. Andreescu was pushed from the start that year in Toronto, needing three sets in each of her first four victories en route to the title.
Bruneau, who served as Canada's Fed Cup team captain from 2010-19, received the Jack Donohue coach of the year award from the Coaching Association of Canada in 2019.
Australian Open arrivals hit by 3 COVID-19 positive tests – CP24 Toronto's Breaking News
Dennis Passa, The Associated Press

Published Saturday, January 16, 2021 6:28AM EST

Three coronavirus cases have been detected among charter flights carrying tennis players, coaches and officials to Melbourne ahead of the Australian Open, health authorities and tournament organizers said Saturday.
A total of 47 players from the two affected flights – arriving from Los Angeles and Abu Dhabi – are now in a strictly enforced 14-day quarantine without the ability to leave their hotel rooms – even to practice. The Australian Open is scheduled to start Feb. 8.
Health authorities said two positive COVID-19 cases emerged from a charter flight from Los Angeles, and later Saturday, Tennis Australia said there was a third positive case from a flight from Abu Dhabi.
The cases from Los Angeles involved an aircrew member and a passenger who was not a player. The third positive test – also not a player – was from a flight from Abu Dhabi in the past 24 hours, Tennis Australia said.
Authorities earlier said that all passengers from the Los Angeles flight would go into the 14-day hotel quarantine.
"An aircrew member and Australian Open participant who is not a player have been transferred to a health hotel following positive test results for coronavirus (COVID-19)," Victoria state's health department said in a statement about the Los Angeles flight.
"All remaining 66 passengers on the flight have been determined to be close contacts. Any players and support people will not be able to leave quarantine to attend training. The remaining flight crew all tested negative and were permitted to fly out without passengers directly to their home port."
Australian Open tournament director Craig Tiley issued a statement saying the 24 players who were on that flight will not be able to leave their hotels rooms for 14 days and until they are medically cleared.
"We are communicating with everyone on this flight, and particularly the playing group whose conditions have now changed, to ensure their needs are being catered to as much as possible, and that they are fully appraised of the situation," Tiley said.
Later Saturday, Tennis Australia said 23 players were among the 64 people on the flight from Abu Dhabi.
"All passengers from the flight are already in quarantine hotels and the positive case, who is not a player and had tested negative before the flight, has been transferred to a health hotel," Tennis Australia said.
"The 23 players on the flight will not be able to leave their hotel room for 14 days and until they are medically cleared. They will not be eligible to practice."
Kei Nishikori, the 2014 U.S. Open runner-up who tested negative for COVID-19 after having two positive tests, and two-time Australian Open champion Victoria Azarenka were reported by local media to be among a group of players who arrived on the flight from Los Angeles.
Melbourne's Herald Sun newspaper reported earlier that an email was sent to all players and officials who were aboard the flight stating that they would no longer be able to leave their quarantine hotel to train. That would mean the only workouts they'd be able to have would be on an exercise bike left in the rooms of all of the players.
Other players will be allowed to train under strict conditions and with supervision for up to five hours a day.
The Herald Sun quoted from the email sent to passengers on the flight.
"The Chief Health Officer has reviewed the flight and has determined that everyone on board needs to isolate and will be confined to their rooms for the 14-day quarantine period," the email said. "We know this is not how you imagined your preparations for the AO would start but our entire team is here to support and do everything we can to get you through this."
Players and officials were supposed to have received a negative COVID-19 tests before they boarded their flights. The people who tested positive on arrival have not been publicly identified.
Azarenka, who won the tournament in 2012 and 2013, tweeted Friday: "Made it to Melbourne! Thank you everyone so much for making it happen. I can only imagine how many hours of work and compromise it took for us to be here! Thank you."
She included what appeared to be a selfie next to a window with downtown city views. Azarenka has not tweeted again since.
The 15 charter flights and the early arrivals are all part of Tennis Australia's attempt to hold the tournament despite a general ban on international arrivals into the country
Australia has done a good job of containing the coronavirus, with 909 deaths nationally. Victoria state, which has as its capital Melbourne, accounted for 810 of those during a deadly second wave three months ago which resulted in overnight curfews and lockdowns for the city.
Five-time finalist Andy Murray's status for the tournament was put in doubt after he tested positive for COVID-19 only days before his planned flight to Melbourne. The three-time Grand Slam champion, who was given a wild card for Melbourne, was isolating at home in Britain.
Also, Americans Madison Keys and Tennys Sandgren returned positive tests, but Sandgren was given permission to fly.
Sandgren originally tested positive in November, and Victorian state health authorities determined he was no longer contagious though still shedding viral particles.
The charter flights to Australia were restricted to 25% capacity, and arrived over a 36-hour period ending early Saturday.
Novak Djokovic, Rafael Nadal and Serena Williams are among a group of players involved in an exhibition event in Adelaide, South Australia state, on Jan. 29. Those players flew straight to Adelaide to begin their hotel quarantine period.