Dahlin scores in fifth straight game, Sabres spoil Canucks home opener
VANCOUVER — Rasmus Dahlin scored for a fifth straight game and also had an assist for the Buffalo Sabres, who spoiled the Vancouver Canucks home opener with a 5-1 win at Rogers Arena on Saturday.
Victor Olofsson had two goals and an assist, Alex Tuch and Zemgus Girgensons scored, and Craig Anderson made 29 saves for the Sabres (4-1-0), who have won the first three games of a four-game road trip that will conclude at the Seattle Kraken on Tuesday.
"I think it starts from hard work, and we really deserve this confidence we have right now," Dahlin said. "We're playing away games, but we're playing them really, really good and we're really starting to find our game. So yeah, our confidence level is high right now."
Conor Garland scored, and Thatcher Demko made 22 saves for the Canucks (0-4-2), who remain the NHL's only team without a win and failed for the sixth straight time to get coach Bruce Boudreau his 600th NHL victory.
"My job is to help us find a way out of this," Boudreau said. "So I'll be doing whatever I can to see what I can do to get this thing turned around. Their job should be, individually, 'What can I do to turn this thing around?' That's what I'd feel if they booed us off the ice like this. I would hope our pride kicks in."
Dahlin put Buffalo ahead 1-0 at 5:35 of the first period with a point shot that deflected past a screened Demko on the power play. Dahlin was already the first defenseman in NHL history to score in the first four games of a season and is now the first defenseman in Sabres history to score a goal in five straight games.
"I'm not trying to think about it," Dahlin said. "I was into [the defensive] zone for 80 percent of this game, but when situations happen out there, I try to score, so it feels good when the puck goes in."
Dahlin may downplay his scoring streak, but it has left a strong impression on the rest of the Sabres.
"He's making plays that kind of reminds me of when Erik Karlsson was at the top of his game," Anderson said. "He was doing things with the puck that you just wouldn't expect him to do because he had that confidence, and [Dahlin] is there in his own game. I'm not comparing him to Erik, but I'm comparing him to that confidence, that swagger with the puck that he has to be able to make those plays. He's just playing loose and letting his skill and ability take over right now."
Tuch, who screened Demko on Dahlin's goal, made it 2-0 at 15:18. Jeff Skinner forced a turnover in the slot that left Tuch behind the Vancouver defense for a spinning shot under the blocker of Demko.
Tuch has scored in four straight games, including a hat trick in a 6-3 win at the Calgary Flames on Thursday, tying the longest streak of his NHL career.
Garland cut it to 2-1 at 13:27 of the second period with a one-timer from the left hash marks on a power play, but the Sabres extended their lead early in the third.
Olofsson finished off a 2-on-1 by one-timing a cross-ice pass from Casey Mittelstadt to make it 3-1 at 1:54. The goal came 26 seconds after Sabres forward Vinnie Hinostroza hit both posts on a wrist shot from the slot, which was called a goal before a video review showed the puck didn't cross the goal line.
"It was nice to get that quick goal right away and kill momentum for them," Olofsson said. "We took over after that."
Gurgensons shot into an empty net at 16:31 to make it 4-1, and Olofsson beat a sprawling Demko off a cross-crease pass from Dahlin at 17:21 for the 5-1 final.
"His skill is just taking over," Olofsson said of Dahlin. "The last goal was a disgusting play by him, and he's just taking it to another level this year."
Vancouver, which had surrendered a lead in its first five games, has been outscored 13-1 in the third period this season.
"Pretty frustrating," forward J.T. Miller said. "We left [Demko] out to dry there in the last 10 minutes. We had a chance to win going into the third. Up until the third period, I thought we were playing in a pretty good game. To come out and play a third like that given our situation was tough to swallow."
NOTES: Buffalo defenseman Mattias Samuelsson, who was playing on the top pairing with Dahlin, left with 2:57 remaining in the second period after falling awkwardly in the corner checking Canucks forward Curtis Lazar. Samuelsson was clutching his right knee as he lay on the ice before being helped off and limping to the locker room, but Buffalo coach Don Granato said the early word was positive. "We won't know more obviously until tomorrow, but I was holding my breath like everyone else and you're wondering what type of news you're going to get, so much happier after I heard where he's at," Granato said. … Vancouver's top defenseman, Quinn Hughes, was a late scratch and is day to day with a lower-body injury. … Canucks defenseman Jack Rathbone was minus-3 in 17:55 in his season debut. … Mittelstadt had two assists in his 200th NHL game. … Sabres defenseman Ilya Lyubushkin had three hits and blocked three shots in 20:37 after missing one game with an undisclosed injury. … Vancouver defenseman Noah Juulsen played 11:18 after being recalled from Abbotsford of the American Hockey League on Saturday.
Netherlands, Senegal advance out of Group A after wins on final match day
Senegal's Kalidou Koulibaly, right, celebrates with teammates scoring his side's second goal during the World Cup group A soccer match between Ecuador and Senegal, at the Khalifa International Stadium in Doha, Qatar, Tuesday, Nov. 29, 2022. (Francisco Seco/AP)
AL RAYYAN, Qatar (AP) — Senegal captain Kalidou Koulibaly put his team into the last 16 of the World Cup by volleying home the winner in a 2-1 victory over Ecuador on Tuesday.
Koulibaly scored three minutes after Moises Caicedo had evened the score at 1-1.
In a must-win match for the African champions, Senegal took the lead after a first-half penalty by Ismaila Sarr. Caicedo scored his goal in the 67th.
At 1-1, Ecuador would have advanced from Group A and Senegal would have been eliminated.
The Netherlands beat Qatar 2-0 in the other match to win the group. Senegal finished second while Ecuador and Qatar were eliminated.
Senegal last advanced from the group stage at the 2002 World Cup, when the team reached the quarterfinals in its tournament debut.
Netherlands 2, Qatar 0
AL KHOR, Qatar (AP) — The Netherlands finished off the worst showing by any World Cup host nation by beating Qatar 2-0 on Tuesday.
The Dutch advanced to the round of 16 by winning Group A while the Qataris, who were already eliminated, became the first host to lose all three of its group matches at soccer's biggest event.
Cody Gakpo put the Netherlands ahead midway through the first half with his third goal in as many matches and Frenkie de Jong doubled the advantage five minutes into the second half.
The Netherlands is a three-time runner-up at the World Cup, and also finished third in 2014, while Qatar was making its tournament debut.
The Dutch failed to qualify for the 2018 World Cup.
The Netherlands finished with seven points at the top of the group. Senegal, which beat Ecuador 2-1 in the other group game, advanced in second place with six points. Ecuador was eliminated with four points and Qatar ended with zero.
The attendance at Al Bayt Stadium, which also hosted Qatar's loss to Ecuador in the tournament opener, was given as 66,784 — nearly at full capacity. There were small pockets of orange-clad Netherlands supporters, and Qatar fans behind one of the goals who chanted in unison and jumped up and down.
At one point during the second half, Qatar fans held aloft a large Palestinian flag that said "Free Palestine" on it.
In the 26th minute, Gakpo took control outside the area, dribbled forward and unleashed a powerful side-footed shot between two defenders that entered inside the right post.
Gakpo became the fourth Dutch player to score in three consecutive World Cup games after Johan Neeskens (1974), Dennis Bergkamp (1994) and Wesley Sneijder (2010). He also became only the second player to open the scoring for his team three times in the same group stage after Alessandro Altobelli for Italy in 1986.
De Jong's goal came when he sprinted forward uncontested to knock in a rebound from close range following a shot from Memphis Depay.
A possible third goal for the Netherlands by Steven Berghuis was waved off following a video review for a handball in the buildup.
Berghuis then hit the bar in added time.
While the Netherlands dominated the possession and created many more chances, Qatar did push forward on occasion and there was a nervy moment for the Dutch when goalkeeper Andries Noppert had trouble collecting a long-range shot from Ismael Mohamed after Gakpo's goal.
TOP SCORER
Gakpo drew level with France standout Kylian Mbappé and Ecuador veteran Enner Valencia atop the tournament scoring chart.
For club and country in all competitions this season, Gakpo has been involved in 35 goals in 29 appearances with 17 goals scored and 18 assists.
That should make the 23-year-old PSV Eindhoven forward the target for an expensive transfer in the upcoming months.
'We came to make history': Canada hoping to achieve more firsts at World Cup
UMM SALAL, Qatar – Even if Canada can't advance to the knockout stage, a strong finish to the World Cup will have lasting ramifications.
Thursday's game against Morocco simultaneously means nothing from a Canadian perspective, but the players know that it's imperative that they close out the tournament by achieving another first.
"We came here to the World Cup to make history," said Alphonso Davies after training on Tuesday. "First game didn't go our way, we played well but we didn't get the three points we wanted. I'm happy to put my name in the history books [versus Croatia], we showed the quality but definitely, in this third game, we want to finish with three points."
"This group has been chasing and reaching history throughout this journey," stated midfielder Jonathan Osorio. "There's a lot of records that were broken and we'll continue going on that journey."
It's vitally important that Canada doesn't close out the World Cup with a whimper. Sure, losing the first two matches and ending any hopes of reaching the knockout stage is a disappointment, as Osorio pointed out, but every casual or hardcore fan will remember this tournament a lot more fondly if it ends on a high.
"We do believe that we are good enough to pass through to the next round," said Osorio. "Unfortunately the results didn't go our way but I think we put together two pretty good performances."
In fairness to Canada, the final 25 minutes of the first half in the Croatia defeat were horrific. But they responded well after halftime until Andrej Kramaric completed his brace.
Morocco won't be an easy test, either, having drawn Croatia and beaten Belgium to line itself up for a possible appearance in the last 16.
But there's no doubt that Canada's first appearance at a men's World Cup in 36 years will be a boon for the sport.
It starts with the players. Alistair Johnston is close to joining Scottish champions Celtic, who will participate in the Champions League if it goes back-to-back in the Premiership. Ismael Kone has been linked to several clubs in Europe as well.
"Each and every guy on this team has the potential to play in the top five leagues in the world," said Davies.
"The quality we have in this team is tremendous. I feel that is definitely showing itself in their abilities on this stage."
Plus there are the future stars of tomorrow who will be even more motivated to pursue soccer as a sport having seen their heroes square off against the best in the world.
"We're hoping that the dream of the Canadian kid starts to evolve," said Osorio. "It's not a dream of making the World Cup. It's a dream of getting past the first round, getting to the semifinals, getting to the final and someday winning the World Cup, why not?"
Scoring the first goal in men's national team history at a World Cup will go a long way toward achieving that goal. A win over Morocco to cap off the first appearance in 36 years would be even greater.
From there, strong showings at the 2023 Concacaf Nations League and Gold Cup will only prepare the team for a historic World Cup at home in 2026.
World Cup Iran-US: Why Iran gave the US players flowers in 1998
Amid harsh barbs and heated geopolitics, the last World Cup match-up between Iran and the United States began with an unlikely gesture – bouquets of white flowers.
The flowers, Iran's coach later said, were meant as a symbol of peace ahead of the 1998 showdown in France.
Two decades later, political tensions were again high ahead of the Iran-US game in Qatar.
The previous match, held in Lyon, came 20 years after diplomatic relations between the two nations were severed as a result of the storming of the US embassy in Tehran in 1979 and subsequent 444 day hostage crisis.
Just one month before kick-off, the US State Department labelled Iran the world's "most active" state sponsor of terrorism, while several high-level Iranian officials kept up a steady drumbeat of anti-US rhetoric.
Despite the tensions evident in the halls of the United Nations and in the Persian Gulf, Iran's players – led by California-based manager Jalal Talebi – decided to start the match with a signal that the only competition between the two would be on the pitch.
"We decided to make something special," Mr Talebi said in an oral history of the match produced by ESPN.
"Let us go inside and give them nice flowers to say that we are here for peace. We are not here for fighting or anything."
The US team reciprocated, giving their opponents US Soccer Federation (USSF) pennants. Together, the squads posed for a group picture, with many of the players smiling ahead of the high-pressure match.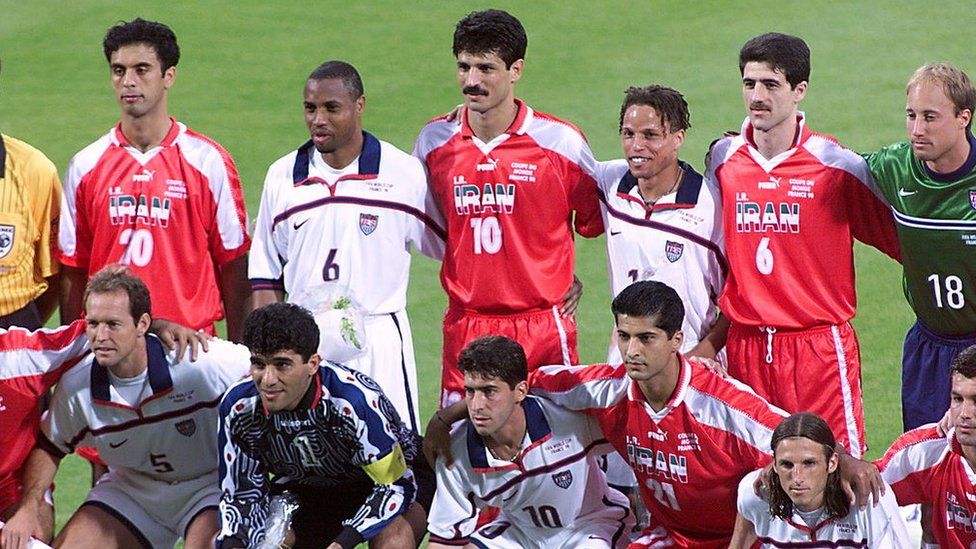 "I thought that was great," Cobi Jones, then a midfielder for the US team, said in the ESPN report.
"It's just like a sign of like sport trumping politics and all that. That was very important and having the mixed photo was great."
The days leading up to the World Cup rematch on Tuesday between the two teams were once again marked by tensions, coming amid widespread anti-government protests in Iran and just after the USSF removed the emblem of the Islamic Republican from the flag it posted in online graphics.
The pictures were later deleted, and US manager Gregg Berhalter apologised, saying that "sometimes things are out of our control" and that he and the US team were only focused on football.
The US team went into the match hoping to avoid a repeat of the 1998 game, which ended with a 2-1 victory for Iran, though both countries were eliminated from the tournament after the game.
Alexi Lalas, a Fox Sports commentator who was a member of the 1998 team, told the Associated Press that the current US team would be well advised not to ignore the wider geopolitics surrounding the current match.
"Understanding the importance of this game, not just from a soccer perspective but from a cultural perspective, I think is crucial for the United States," he said, addressing what would motivate the US on the pitch.
The US-Iran match in Qatar ended 1-0 in the Americans' favour after a goal from Christian Pulisic in the 38th minute.