Evergrande: Embattled China property giant sparks economy fears – BBC News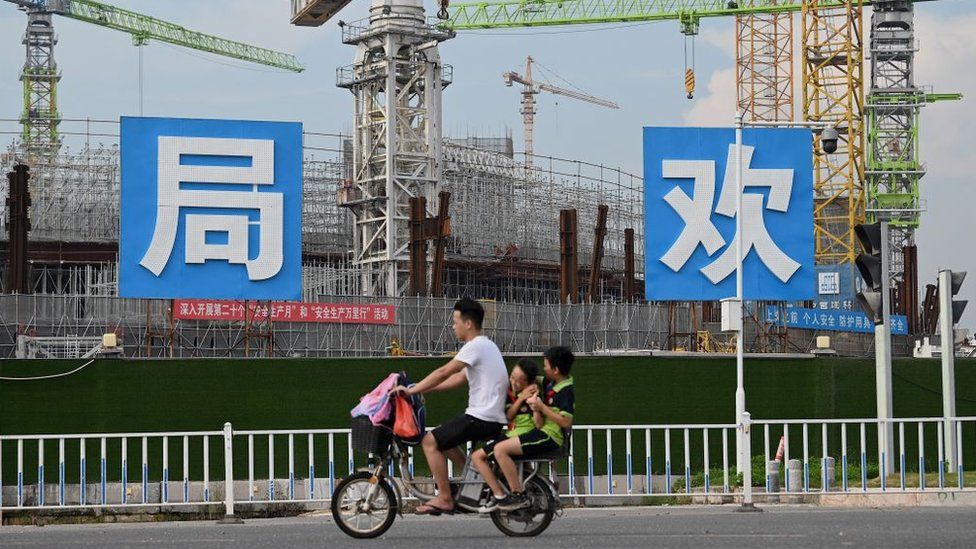 Chinese company Evergrande has started to repay investors in its wealth management business with property, as the world's most indebted real estate developer faces a key test this week.
Major banks have reportedly been told that they won't receive interest payments on loans that are due Monday, while interest payments of $84m (£61m) on the firm's bonds are also due on Thursday.
The company's shares fell by 15% in Hong Kong trade on Monday.
The property giant's deepening debt problems have triggered fears over the impact its potential collapse could have on China's economy.
Why is Evergrande in trouble?
Evergrande grew to be one of China's biggest companies by borrowing more than $300bn (£217bn).
Last year, Beijing brought in new rules to control the amount owed by big real estate developers.
The new measures led Evergrande to offer its properties at major discounts to ensure money was coming in to keep the business afloat.
Now, it is struggling to meet the interest payments on its debts.
This uncertainty has seen Evergrande's share price tumble by around 85% this year. Its bonds have also been downgraded by global credit ratings agencies.
Why would it matter if Evergrande collapses?
There are several reasons why Evergrande's problems are serious.
Firstly, many people bought property from Evergrande even before building work began. They have paid deposits and could potentially lose that money if it goes bust.
There are also the companies that do business with Evergrande. Firms including construction and design firms and materials suppliers are at risk of incurring major losses, which could force them into bankruptcy.
The third is the potential impact on China's financial system.
"The financial fallout would be far reaching. Evergrande reportedly owes money to around 171 domestic banks and 121 other financial firms," the Economist Intelligence Unit's (EIU) Mattie Bekink told the BBC.
If Evergrande defaults, banks and other lenders may be forced to lend less.
This could lead to what is known as a credit crunch, when companies struggle to borrow money at affordable rates.
A credit crunch would be very bad news for the world's second largest economy, because companies that can't borrow find it difficult to grow, and in some cases are unable to continue operating.
This may also unnerve foreign investors, who could see China as a less attractive place to put their money.
Is Evergrande 'too big to fail'?
The very serious potential fallout of such a heavily-indebted company collapsing has led some analysts to suggest that Beijing may step in to rescue it.
The EIU's Mattie Bekink thinks so: "Rather than risk disrupting supply chains and enraging homeowners, we think the government will probably find a way to ensure Evergrande's core business survives."
Others though are not sure.
In a post on China's chat app and social media platform WeChat, the influential editor-in-chief of state-backed Global Times newspaper Hu Xijin said Evergrande should not rely on a government bailout and instead needs to save itself.
This also chimes with Beijing's aim to rein in corporate debt, which means that such a high profile bailout could be seen as setting a bad example.
What does Evergrande do?
Businessman Hui Ka Yan founded Evergrande, formerly known as the Hengda Group, in 1996 in Guangzhou, southern China.
Evergrande Real Estate currently owns more than 1,300 projects in more than 280 cities across China.
The broader Evergrande Group now encompasses far more than just real estate development.
Its businesses range from wealth management, making electric cars and food and drink manufacturing. It even owns one of country's biggest football teams – Guangzhou FC.
Mr Hui has a personal fortune of around $10.6bn, according to Forbes.
Reporting by Peter Hoskins and Katie Silver

You may also be interested in:
$2T needed to reach 2050 target of net-zero economy: RBC – BNN
OTTAWA — A new report says the country will need roughly $2 trillion to put the economy on a path to net-zero emissions in 30 years, including government spending on things like skills training and backstops to prod the necessary investments.
The report from RBC Economics estimates governments, businesses and communities would have to spend at least $60 billion annually to cut emissions by 75 per cent of current levels and reach the 2050 target of net zero.
Money will be needed to build out the electricity system to handle the expected rise in electric vehicles, which will also need some subsidies to get them off assembly lines and onto Canadian roads, the report says.
There will also have to be investment in retrofitting old buildings faster than current federal plans predict, retraining 100,000 workers with new skills for fast-growing green sectors, and skills training programs to add 200,000 more into the labour force by 2030.
The numbers add up to a massive effort to meet the Trudeau Liberals' short-term and long-term promises on climate change, but one the Royal Bank report estimates is possible if the government eyes a few key areas.
It's not about ideology, it's about math. And we've done the math and said, OK, here is how we can get those numbers down towards zero, and this is what it is going to cost," said John Stackhouse, senior vice-president in the office of the CEO at Royal Bank.We think that it's doable. So let's focus in a very kind of business-minded way on the key drivers of emissions change."
Parliament approved legislation last spring that required the country to eliminate as many greenhouse gas emissions as possible, and capture whatever is left to get to net zero by 2050.
The Liberals haven't outlined the course to the long-term goal, and won't before a United Nations climate change conference, known as COP26, looming at the end of the month in Glasgow, Scotland.
The government has increased its emissions-reduction targets for 2030 as required by the climate agreement.
Internal government documents suggest the Liberals are acutely aware of the cost to shift the country to net zero and have looked to push banks and other private sector investors to help with funding and financing.
Finance Minister Chrystia Freeland's officials wrote in a September 2020 briefing note that the country's financial sector, including banks, will need to play a major role" to create a net-zero economy. The briefing note created ahead of Freeland's meeting with bank CEOs also noted how their institutions needed to do more tofoster the right conditions to support the acceleration of sustainable investment."
Unlocking some of the needed spending will require federal politicians to create new platforms to channel private investment into green endeavors that may be akin to the Canada Infrastructure Bank.
The Liberals created the agency in 2017 to use federal dollars as a way to entice funding from private-sector investors, but its efforts and existence have become highly politicized with vows from the NDP and Conservatives to dismantle it if either are elected to govern.
Stackhouse said the country needs organizations similar to the infrastructure bank that can be semi-autonomous in terms of investment selections, but subject to government oversight.
Whatever gets created to spur investment has to survive successive governments through to 2050, and should be depoliticized for a better chance of success, he said.
"This is a 30-year project. There will be different governments during those 30 years. So let's create entities that can channel both public investment and crowd-in private investment to focus on the key strategic drivers," Stackhouse said.
But the report also warns of moving too fast, too soon. If there was a sudden and severe decline in oil and gas production, government revenues would fall by about $8 billion annually, which the report says could hamper, not help, the transition.
Minister of Finance to Release 2021 Ontario Economic Outlook and Fiscal Review on November 4 – Government of Ontario News
U.S. Federal Reserve survey finds economy facing supply chain, other drags – The Globe and Mail
The U.S. Federal Reserve reports that the economy faced a number of headwinds at the start of this month, ranging from supply chain disruptions and labour shortages to uncertainty about the Delta variant of COVID-19.
In its latest survey of business conditions around the U.S., the Fed said Wednesday that a majority of its 12 regions viewed consumer spending, the main driving force for the economy, as remaining positive despite the various speed bumps.
The report noted wide differences in performance, however. It noted that auto sales suffered because of constrained inventories resulting from problems obtaining critical semi-conductor components. Manufacturing, meanwhile, was growing either moderately or robustly depending on which Fed district was reporting.
"Outlook for near-term economic activity remained positive, overall, but some districts noted increased uncertainty and more cautious optimism than in previous months," the Fed said in the report on business conditions around the country, known as the beige book.
The report, based on surveys of business contacts by the Fed's 12 regional banks, will form the basis for discussion when central bank officials next meet on Nov. 2-3.
The Fed is widely expected to announce at that meeting that it will begin to reduce, or taper, its US$120-billion in monthly bond purchases starting either in November or December.
Those purchases have been designed to give the economy an extra boost by holding down long-term interest rates.
A move to trim the purchases is expected to be followed in the second half of next year with the first rate hikes. The Fed's benchmark interest rate has been at an ultralow zero to 0.25 per cent since the COVID pandemic struck with force in the spring of 2020 but there are growing calls to begin removing its support in the face of rising price pressures this year.
The beige book found "significantly elevated" prices with widespread increases across industry sectors in large part because of supply chain bottlenecks.
Prices for steel, electronic components and shipping costs all "rose markedly" during the survey period, the report said.
Expectations for future price increases varied, the Fed report said, with some business contacts expecting prices to remain high or even increase further, while others expected prices to moderate over the next 12 months.
Fed board member Randall Quarles said in a speech Wednesday that he believes elevated inflation will start to "decline considerably next year from its currently very elevated rate." That reflects his belief that the factors now disrupting the economy, such as supply bottlenecks, "appear likely to fade over time."
The beige book report noted that while the demand for labour was high, job gains had been dampened by a low supply of workers, forcing many retail, hospitality and manufacturing companies to cut hours or production because they did not have enough employees.
"Firms reported high turnover as workers left for other jobs or retired," the Fed report said. "Child-care issues and vaccine mandates were widely cited as contributing to the problem."
In an effort to deal with the labour shortages, the Fed said many companies were offering more training to prospective workers and also boosting wages.
In addition to higher starting wages and increased pay to retain workers, companies reported offering signing and retention bonuses, flexible work schedules or increased vacation time as other incentives, the Fed survey found.
The Fed's report was based on interviews conducted by the 12 regional banks on or before Oct. 8.
Your time is valuable. Have the Top Business Headlines newsletter conveniently delivered to your inbox in the morning or evening. Sign up today.