Fantasy: Start, Sit, Stash, Quit – Week 12 – theScore
SSSQ is a weekly look at under-the-radar fantasy players to consider starting and potential busts you should leave on your bench. We also identify breakout candidates to stash on your roster and players you can safely cut.
For the rest of your lineup decisions, consult our Week 12 rankings. You can also listen to the Week 12 preview episode of theScore Fantasy Football Podcast.
Start
Cam Newton, Patriots
vs. Cardinals
After missing time following a COVID-19 diagnosis and taking a couple of games to settle back into the offense, Newton has emerged as the QB10 based on fantasy points per game over the last month.
He's also coming off his second 300-plus-yard passing effort as a Patriot after benefitting from the Texans' defense and its lack of resistance. Fortunately for Cam, the Cardinals are nearly just as generous, offering the eighth-most favorable matchup for fantasy quarterbacks this season.
Continue to start Newton as a low-end QB1 in Week 12.
Boone's projection: 241 passing yards, one passing TD, 38 rushing yards, one rushing TD
Other QBs to start
Derek Carr at Falcons
Taysom Hill at Broncos
Tom Brady vs. Chiefs
Kareem Hunt, Browns
at Jaguars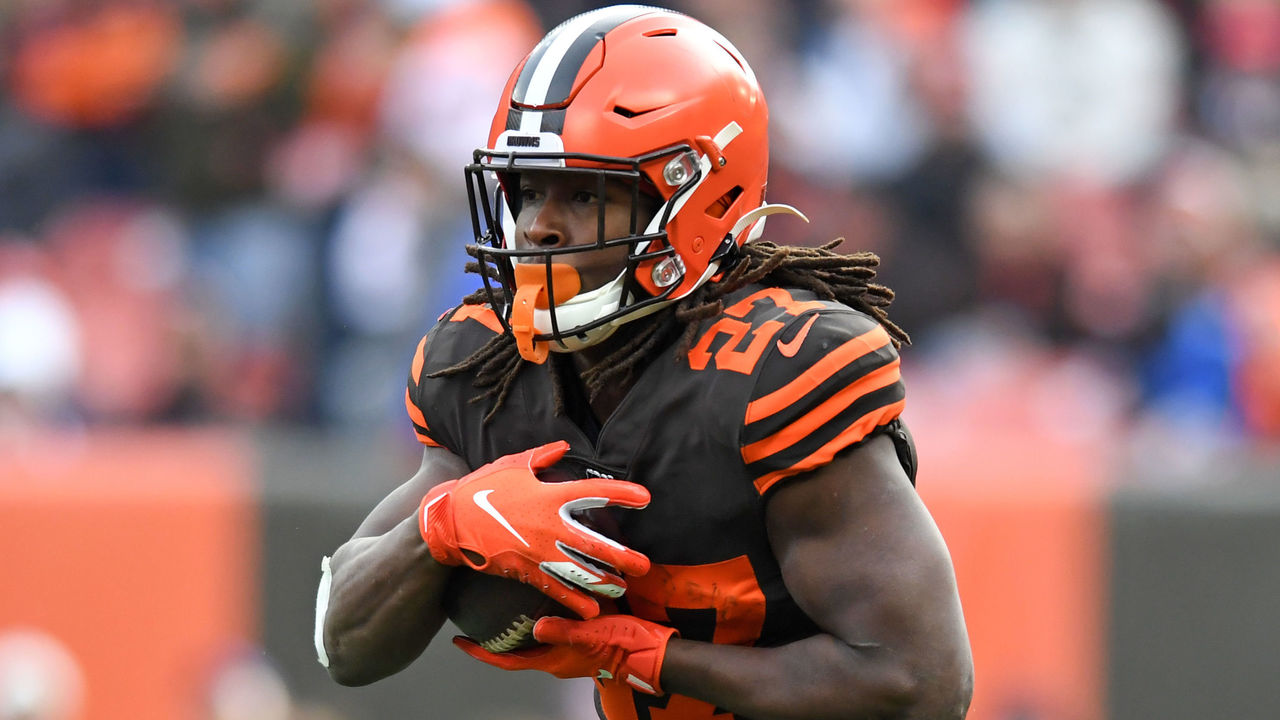 Oddly, Hunt has been more productive with Nick Chubb healthy than he was when the Browns' starter missed time midseason.
Hunt has averaged 15.8 fantasy points per game in PPR formats during the six contests he's shared the backfield with Chubb, compared to 13.6 without him.
On Sunday, Cleveland's rushing attack will be in one of its best spots of the year as 6.5-point favorites versus a Jaguars team starting Mike Glennon. The Browns shouldn't struggle to control this game, and they'll also take advantage of Jacksonville's bottom-five defense against opposing fantasy backs.
Both Chubb and Hunt can be started as top-12 options at running back this week.
Boone's projection: 83 rushing yards, 29 receiving yards, TD
Other RBs to start
Wayne Gallman at Bengals
Jonathan Taylor vs. Titans
David Montgomery at Packers
Justin Jefferson, Vikings
vs. Panthers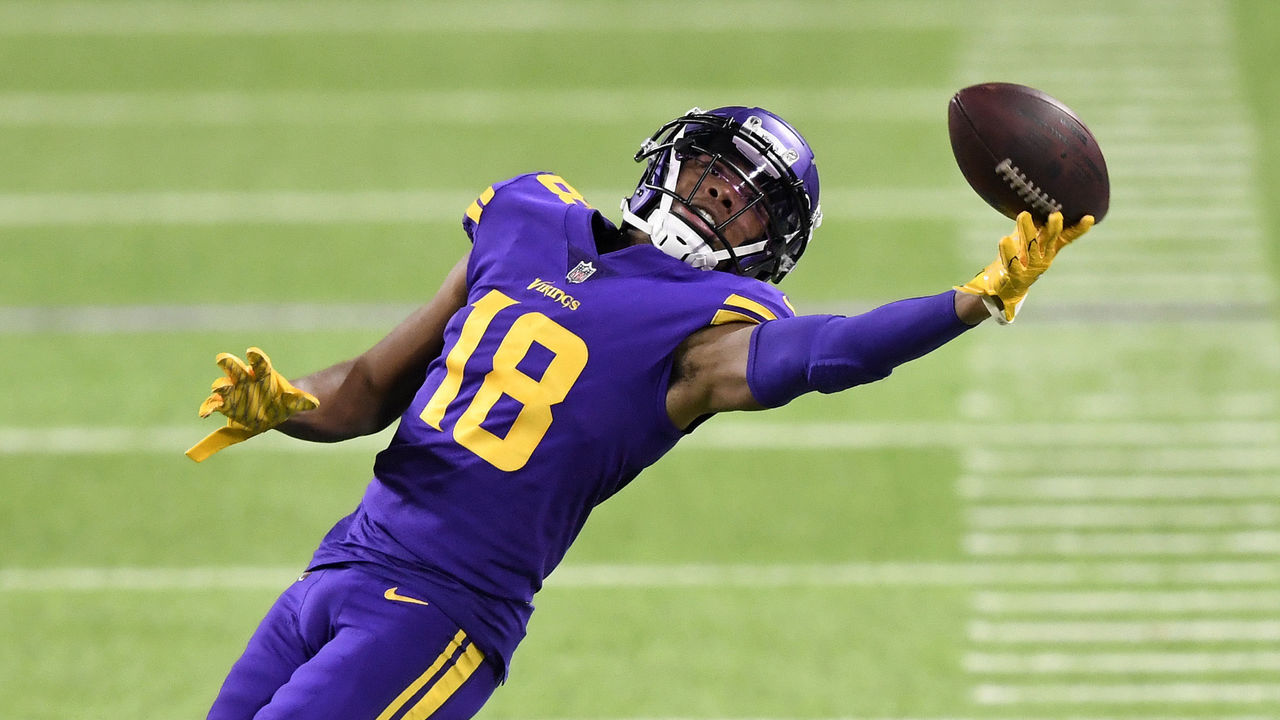 Adam Thielen was placed on the COVID-19/Reserve list earlier this week, but at the time of this writing, we still don't know whether he tested positive or was identified as a close contact.
We're waiting for more information on Thielen's Week 12 status. In the meantime, Jefferson has become a fantasy must-start no matter who's in the lineup around him.
Since Week 3 when he became a full-time player, Jefferson is averaging the seventh-most fantasy points among receivers, right behind Thielen.
The Panthers don't offer the best matchup, but they've given up 75-plus yards to five different wideouts over their last five games. Jefferson is about to make that six.
Boone's projection: 107 receiving yards, TD
Other WRs to start
D.J. Moore at Vikings
Chris Godwin/Mike Evans/Antonio Brown vs. Chiefs
DeVante Parker at Jets
Austin Hooper, Browns
at Jaguars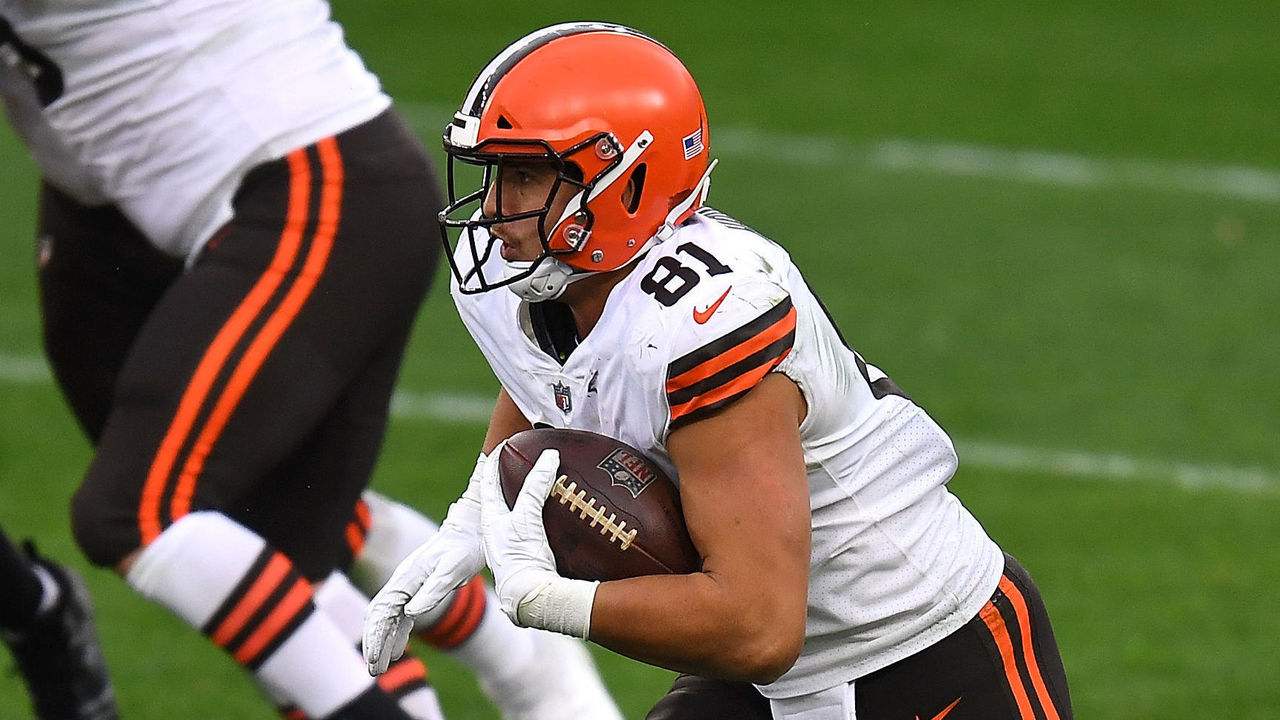 Hooper has dealt with heavy winds and rain over his last two games since returning to the lineup in Week 10. That's put a damper on the Browns' passing attack, but there are still positives to be gleaned from Hooper's performances.
The tight end has resumed his role as the team's full-time starter, seeing five targets last week. If he gets better weather conditions, Hooper is sure to deliver against a Jaguars defense that's allowing the third-most fantasy points to tight ends.
Even though he hasn't played like it yet, Hooper can be treated as a TE1 in a year when plenty of fantasy managers are still looking for stable options at the position.
Boone's projection: 59 receiving yards, TD
Other TEs to start
Evan Engram at Bengals
Mike Gesicki at Jets
Robert Tonyan vs. Bears
Sit
Ryan Tannehill, Titans
at Colts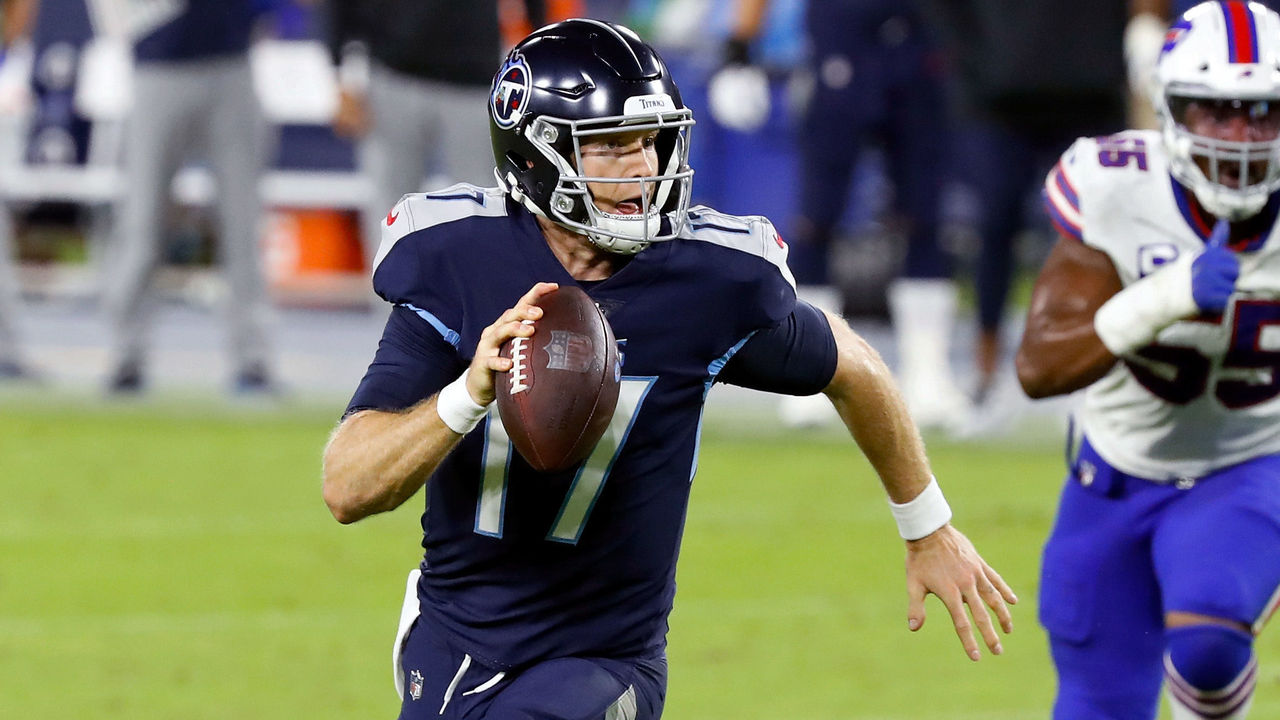 Since becoming the Titans' starter, Tannehill has struggled against the Colts while posting passing yards totals of 182 and 147 – the most recent coming in a loss two weeks ago.
That's not surprising, as the Colts present the third-most difficult matchup for fantasy passers, behind only the Steelers and Rams.
Better days are ahead for Tannehill, with the Browns, Jaguars, and Lions on the schedule over Tennessee's next three games. But he should remain on your bench for one more week.
Boone's projection: 176 passing yards, TD, INT, nine rushing yards
Other QBs to sit
Ben Roethlisberger vs. Ravens
Jared Goff vs. 49ers
Kirk Couins vs. Panthers
Melvin Gordon, Broncos
vs. Saints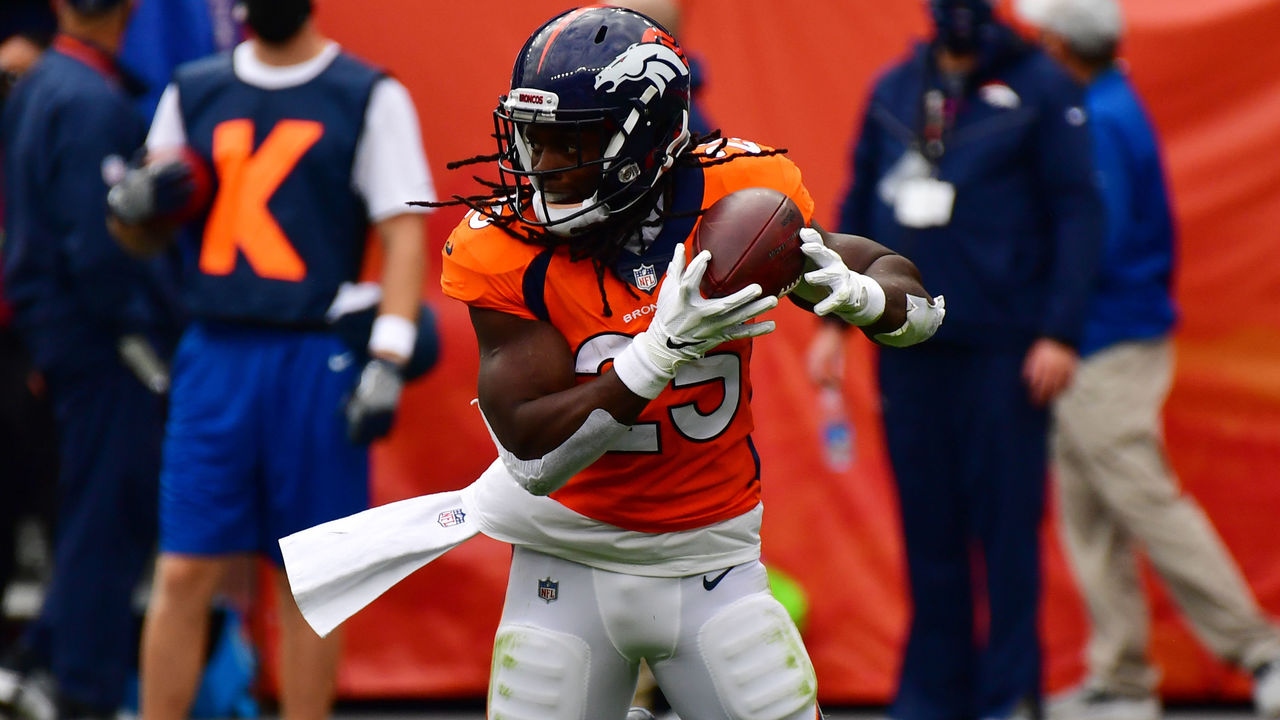 Gordon posted his best stat line in over a month last week, putting up 84 yards and two touchdowns against a Dolphins defense missing linemen. But don't be fooled.
Though chasing those points and putting him back in your lineup may be enticing, his situation hasn't changed. In his previous three outings, Gordon was held to 46 yards from scrimmage or fewer with no trips to the end zone.
The Saints' defense is also one the league's stingiest against fantasy backs and perhaps the biggest reason to shy away from Broncos ball carriers on Sunday.
With Phillip Lindsay siphoning touches and capping his ceiling, Gordon is more of a risky RB3 in Week 12.
Boone's projection: 43 rushing yards, nine receiving yards
Other RBs to sit
Leonard Fournette vs. Chiefs
Darrell Henderson/Malcolm Brown/Cam Akers vs. 49ers
Frank Gore vs. Dolphins
Tyler Boyd/Tee Higgins, Bengals
vs. Giants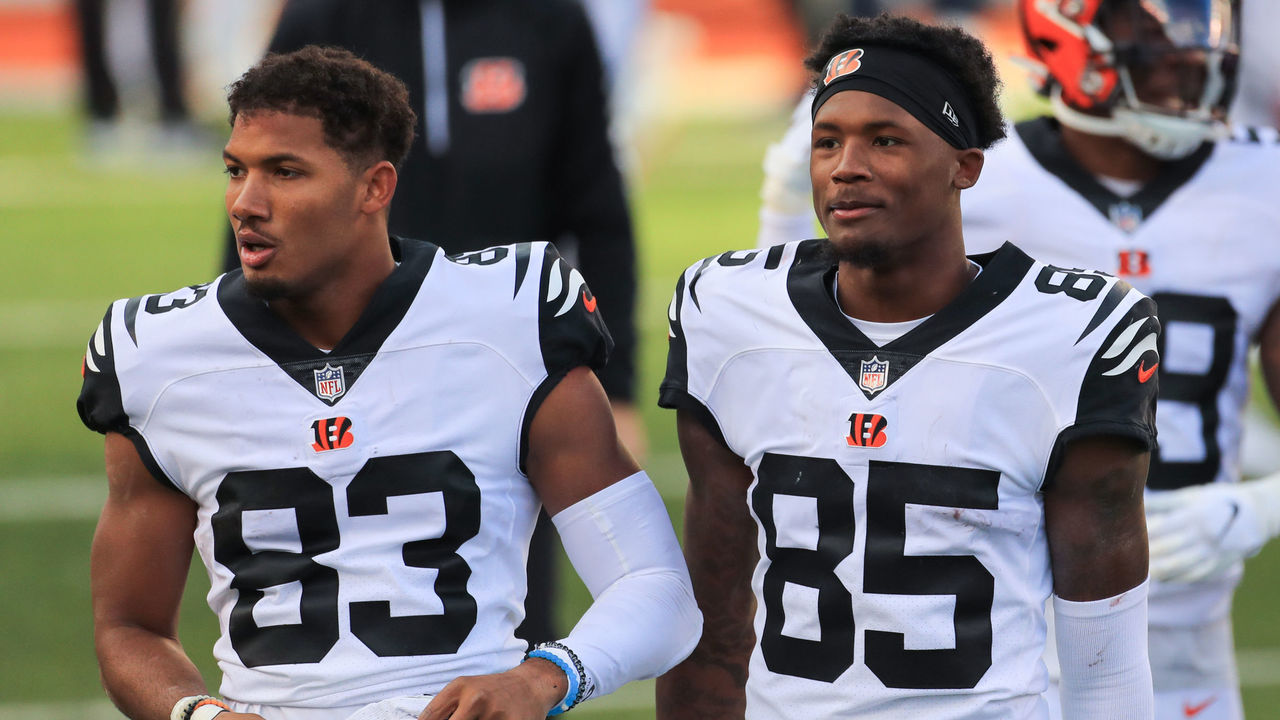 We're in wait-and-see mode with the Bengals' talented receiving duo following Joe Burrow's season-ending injury.
Brandon Allen has been named the starter, which is a slight improvement over Ryan Finley. But it's hard to feel confident in any of Cincy's backup passers given the team's poor offensive line.
That's bad news for Boyd and Higgins, who have operated as WR2s in recent weeks, and they'll now fall into the risky WR3 range. Though big games are still possible, inconsistency and a lack of scoring opportunities are the new reality in Burrow's absence.
Boone's projection for Boyd: 56 receiving yards
Boone's projection for Higgins: 45 receiving yards
Other WRs to sit
D.J. Chark vs. Browns
Jerry Jeudy vs. Saints
Travis Fulgham vs. Seahawks
Jimmy Graham, Bears
at Packers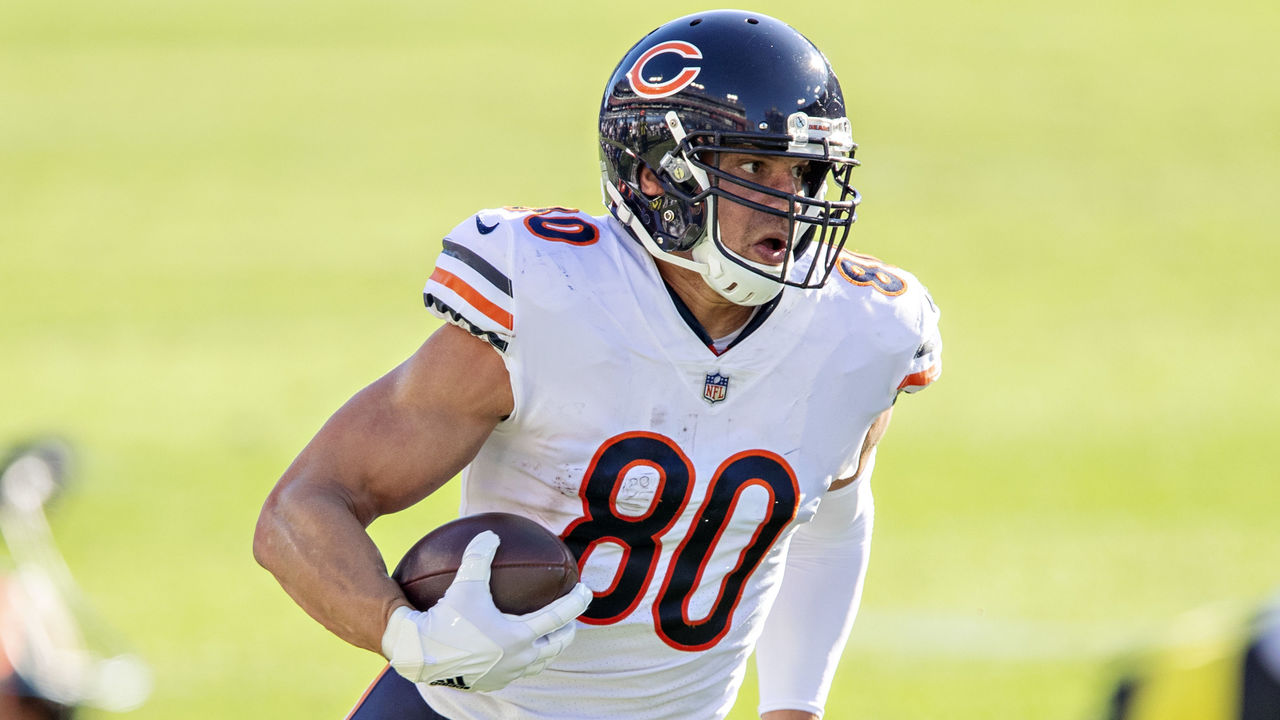 Before getting too excited about a possible revenge game for Graham against the Packers, it's important to acknowledge his situation.
Graham is a touchdown-dependent fantasy option, and he's topped 35 receiving yards only twice this year, scoring once over his past five games.
Meanwhile, the Packers present the fourth-most difficult matchup for fantasy tight ends in 2020. We might see the Bears go out of their way to get Graham a red zone target or two, but there's likely a streaming option with more upside on your waiver wire.
Boone's projection: 31 receiving yards
Other TEs to sit
Jared Cook at Broncos
Trey Burton vs. Titans
Jordan Reed at Rams
Stash
Andy Isabella, Cardinals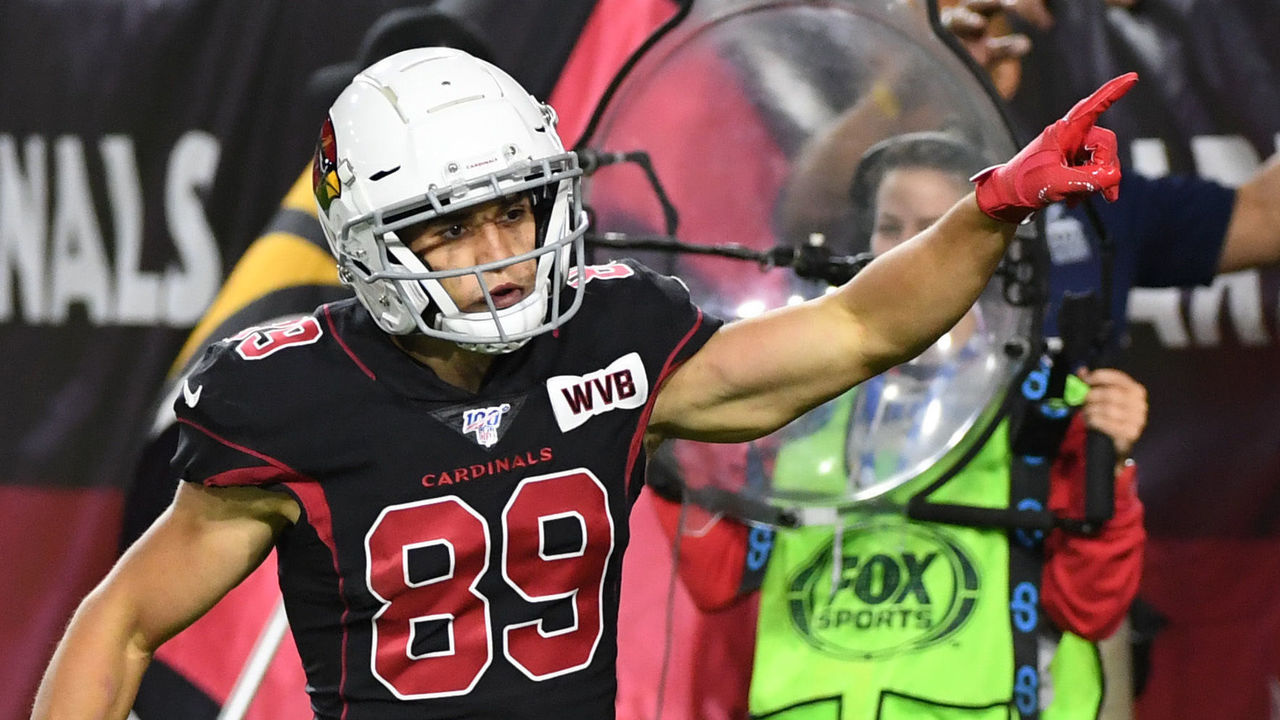 Larry Fitzgerald will be sidelined for Week 12 and maybe longer after testing positive for COVID-19. And while we wish the veteran a speedy recovery, his absence opens the door for Isabella (1% rostered) to finally see increased playing time.
The Cardinals have yet to unleash their second-round pick from 2019, holding him to 50% or less of their snaps in every game this year.
If you're curious about whether the speedy sophomore can thrive in Kliff Kingsbury's system playing alongside DeAndre Hopkins and Christian Kirk, now is your chance to roster him and find out.
Gabriel Davis, Bills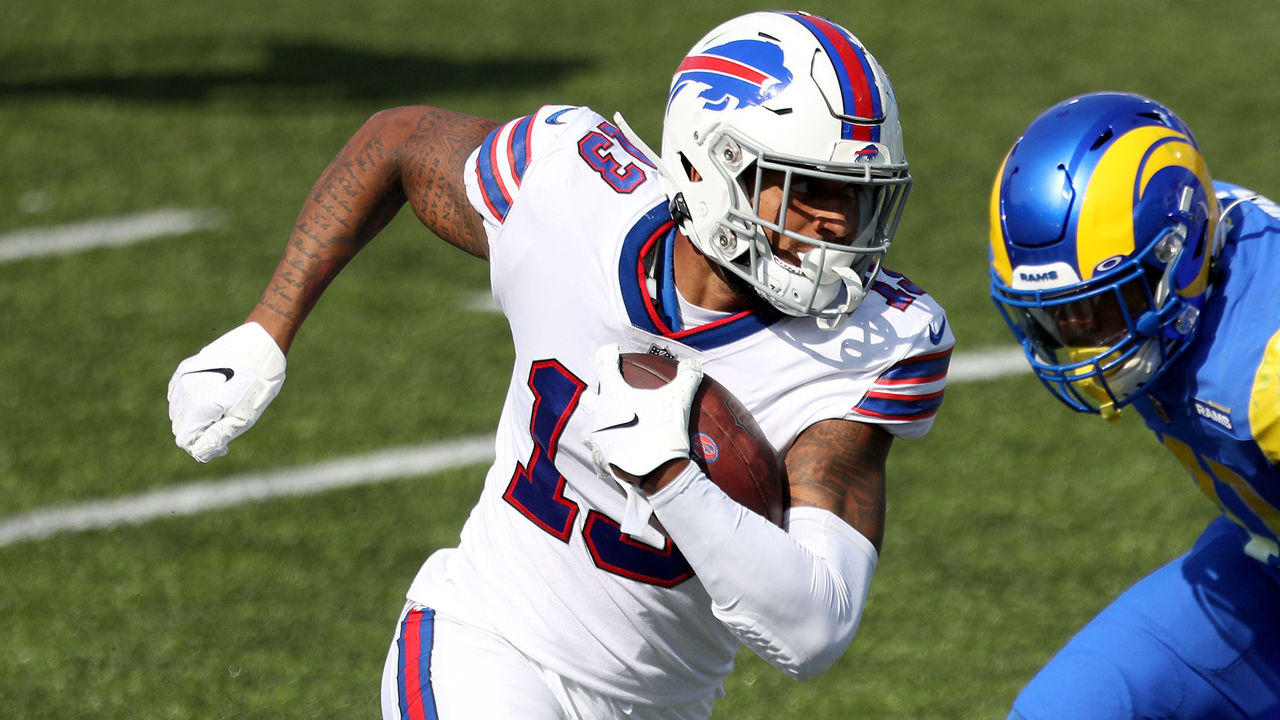 With John Brown ruled out for Week 12, Davis (1% rostered) should get another expanded workload.
In the three games Brown has missed, Davis has produced stat lines of 4-81-0, 5-58-0, and 1-11-0 while playing at least 70% of the snaps in each contest. In fact, the 21-year-old has put up 55-plus yards and/or a touchdown in five of his 10 appearances.
If Brown's ankle injury lingers, Davis could be a sneaky add for the stretch run in one of the league's best offenses.
Quit
Marquise Brown, Ravens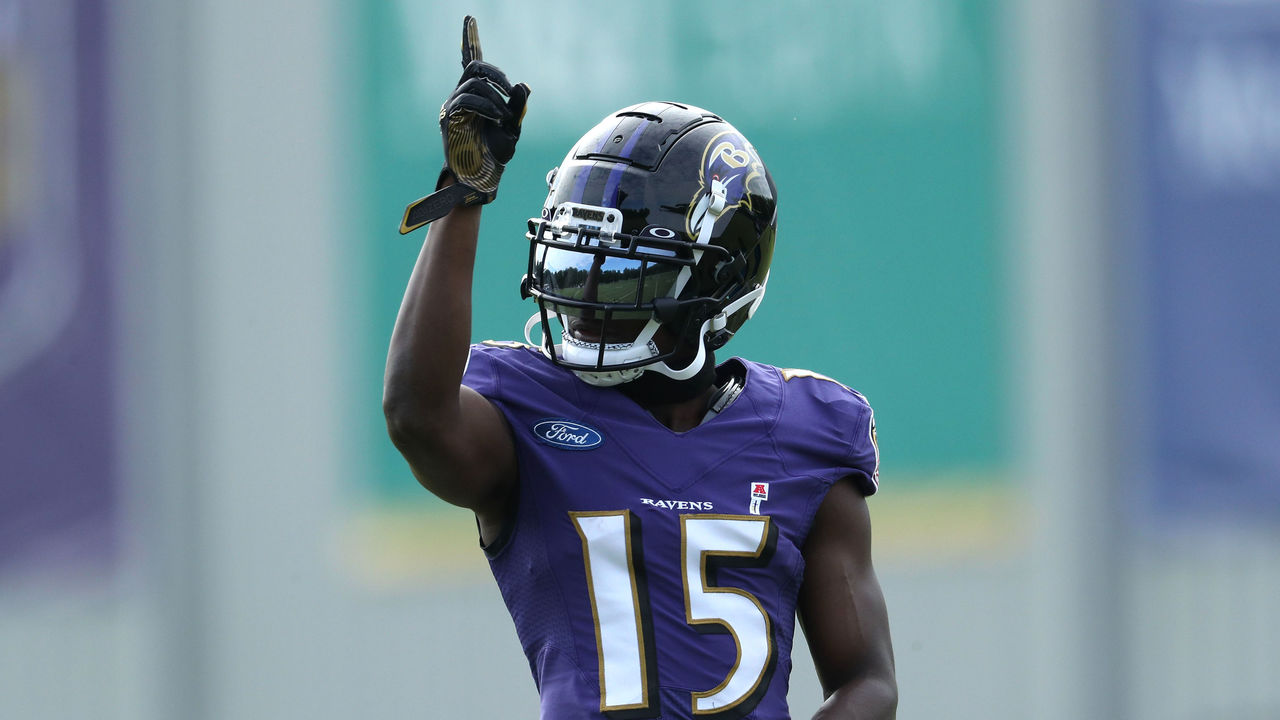 Brown (76% rostered) would have made the "Quit" section before we received news that Lamar Jackson tested positive for COVID-19.
Even with Jackson healthy, Brown has been a major disappointment this season. The 2019 first-round pick hasn't posted double-digit fantasy points since Week 5, and he's recorded just six catches for 55 yards and one touchdown over his last four outings.
He can't be trusted in your lineup, and there are surely better waiver-wire options.
Kalen Ballage, Chargers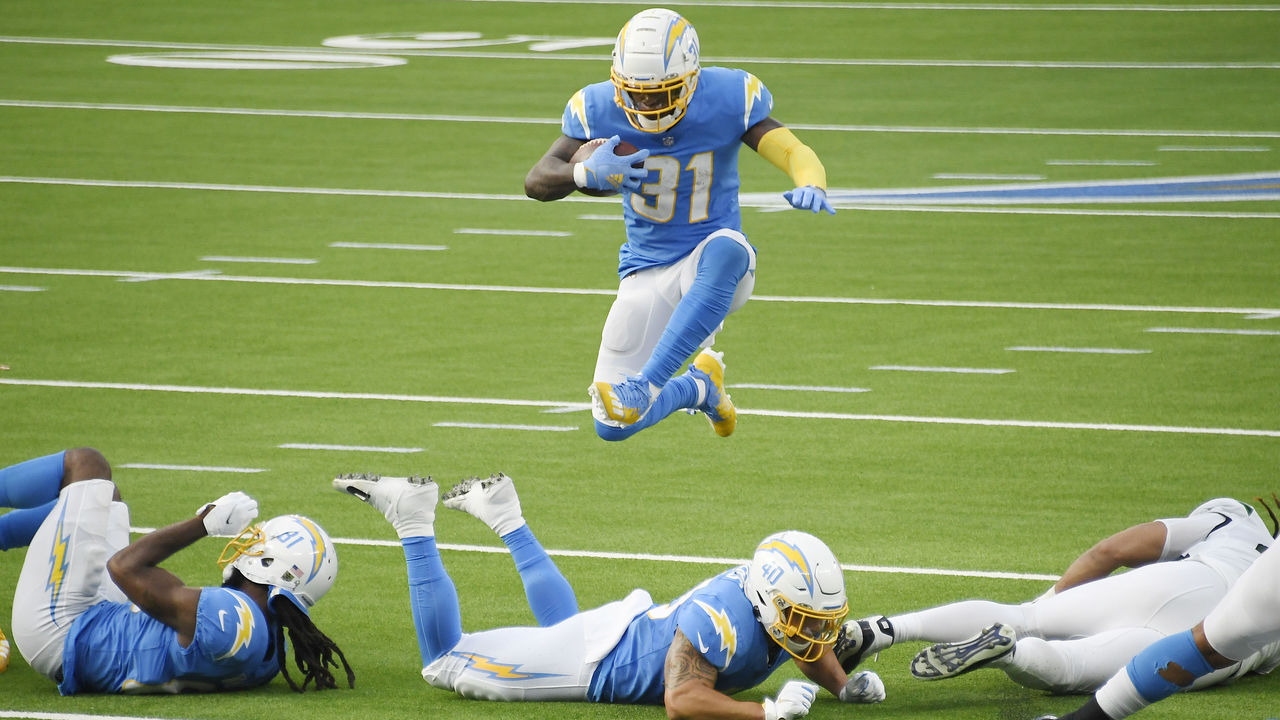 Ballage (68% rostered) was banged up in last week's game and re-aggravated his lower-leg injury in practice on Thursday. His Week 12 availability is now in doubt after a couple of solid outings as the Chargers' lead back.
With Austin Ekeler nearing a return, Ballage can be dropped for the next hot waiver-wire back who might be thrust into a bigger role. Potential candidates include Brian Hill (Todd Gurley missed practice Wednesday and Thursday), Samaje Perine (Giovani Bernard is trying to clear the concussion protocol), or Ballage's teammates Troymaine Pope and Joshua Kelley (potential fill-ins if Ekeler isn't ready yet).
Patrick Mahomes, Kansas City Chiefs favourites to punch ticket back to Super Bowl against Bills – TSN
Championship Weekend has arrived, and it sure looks like it won't disappoint.
On the AFC side, we see the Kansas City Chiefs host their third-consecutive AFC Championship game, this time against Josh Allen and his Buffalo Bills.
After leaving Sunday's divisional round game with a head injury, quarterback Patrick Mahomes told reporters on Friday that he has cleared the NFL's concussion protocol and is good to go for Sunday.
Allen and the Bills enter this week on the heels of the franchise's first two playoff wins since 1995, and need just two more to capture their first Super Bowl in franchise history.
These two teams met earlier in the season, with Kansas City getting the better of Buffalo 26-17 in Week 6.
Allen's 122 passing yards that night was the lowest number he posted all season, however, the playing conditions weren't the best and Mahomes was held to a 225 yards – one of his lowest numbers on the season as well.
We have come a long way since Week 6, and have a lot to dive into, so let's get going.
Buffalo Bills vs. Kansas City Chiefs -3, O/U 53.5
ALL I DO IS WIN
The formula for success has been pretty easy for the Kansas City Chiefs in recent years.
Starting Patrick Mahomes equals winning games.
Since entering the league, Mahomes is 38-8 in the regular season as a starter, and 5-1 in the playoffs.
The only blemish on his playoff resume came in just his first season as a starter, when Dee Ford lined up offside, negating a Tom Brady interception, leading to a Patriots win and Super Bowl.
But let's get back to this season.
Before exiting the game with a concussion, Mahomes was hobbled by a foot injury that clearly had the superstar quarterback a bit limited with his mobility.
And yet, Mahomes started six drives on Sunday, two of which ended in touchdowns, three of them ended with field goals and one ended with a missed field goal.
Mahomes looked physically limited, but it really had no effect on his game, as he completed 21 of his 30 passes for 255 yards, threw for a touchdown and rushed one in.
Meanwhile, the Chiefs defence continued its solid play against the Browns, holding them to just 17 points and keeping Baker Mayfield to just 204 yards and forcing two turnovers.
Kansas City's defence has been very opportunistic this season and has forced a turnover in 15 of their 17 games.
Meanwhile, the Bills had 22 turnovers in the regular season, and Josh Allen has fumbled in both playoff games as well.
I think Buffalo has been fortunate to be on the right side of a number of plays in their last two games, and this Kansas City offence (and defence) won't make the same mistakes that Indianapolis and Baltimore made.
A few weeks ago it was tight end Jack Doyle having a big day with seven catches for 70 yards, while Michael Pitman Jr. added five receptions for 90 yards.
The winds in Buffalo didn't allow much success in the passing game last week, but wideout Marquise Brown had four catches for 87 yards and Mark Andrews had a touchdown go off his hands late in the fourth quarter.
I expect Travis Kelce and Tyreek Hill to be just fine Sunday night coming off a combined 16 catches for 219 yards and a touchdown against Cleveland.
Speaking of Buffalo…
ANYWAY POSSIBLE
The Buffalo Bills have played two playoff games this season.
In those two games, they have been outgained 812-521, have gone just 6-22 on third down conversions and have gotten three kicks to doink off the uprights in their favour.
Yup, after a staller 13-3 regular season campaign, the Bills have won in the playoffs, but it hasn't been pretty.
That being said, what has been pretty has been the connection between quarterback Josh Allen and wide receiver Stefon Diggs.
Diggs has caught 14 passes for 234 yards and two touchdowns in Buffalo's two playoff wins, and after failing to record a catch against the Colts, John Brown chipped in with eight catches for 62 yards last week in the win over Baltimore.
But the Bills' passing game has taken a hit in the playoffs due to Cole Beasley dealing with a knee injury.
Beasley, in his second season with the Bills, was the perfect No. 2 to Diggs' No.1 this season.
He finished second on the team with 82 catches, and 967 yards.
But his production has taken a hit since injuring his knee in a Dec. 28 win over the Patriots.
The 31-year-old had just three catches for 17 yards in that Week 16 win, was held out of the lineup in Week 17, had seven catches for just 57 yards against the Colts, and was targeted just twice Saturday night, with no catches.
The 5.67 yards per reception in Week 16, and 8.14 yards per reception during the Wild Card Round were the two lowest numbers he posted all season, until he failed to bring in a pass the following week.
On top of that, the team remains without Zack Moss after he was injured against the Colts.
Moss had emerged as the team's top back late in the season, and got the start in the playoffs, he had seven rushes for 21 yards, with four catches for 26 yards before exiting the game.
Last week, the Bills had just six rushing yards at halftime and ended the game with a grand total of 32 yards on the ground.
I think this is finally the week everything catches up to the Bills.
Pick: Chiefs -3
Brooks' milestone helps patchwork Maple Leafs pick up win over Oilers – Sportsnet.ca
TORONTO — When Adam Brooks made his NHL debut under the roof at Madison Square Garden last season, he commemorated the achievement by getting linemate Jason Spezza to autograph a stick for him.
So you can imagine how thrilled the 24-year-old was Friday to have the veteran set up his first NHL goal. Never mind that it required a member's bounce for the Toronto Maple Leafs inside Scotiabank Arena — with Spezza throwing a pass to the high slot on the power play and seeing it bounce in off Brooks' right skate.
"It was a lot of fun, a great moment that I'll remember forever obviously," said Brooks. "To say that [Spezza] assisted on my first goal, a guy that's played for that long and of that calibre, it's a pretty cool moment for me.
"Just the whole thing was pretty exciting."
It helped propel the Maple Leafs to a 4-2 victory over the Edmonton Oilers on a night where they played without Auston Matthews (upper body) and Joe Thornton (rib fracture), two-thirds of their No. 1 line as recently as 48 hours earlier.
Under these circumstances, goals were not going to be easy to come by.
There would have been no way to predict that Brooks would get on the board for Toronto this season before Spezza, Wayne Simmonds or Ilya Mikheyev found the back of the net. This was his first time playing in a game that counted since last February and he only had a few hours notice once it was confirmed that Matthews wasn't able to go.
For the Leafs, that goal wiped away Edmonton's 1-0 lead just 43 seconds after a Leon Draisaitl short-handed strike. For Brooks, it was a massive milestone on a professional journey that began when he was a fourth-round pick in 2016.
"I think there was a lot of pressure taken off me," he said.
Some pressure was relieved for the entire team after the 3-1 loss to the Oilers earlier this week. We came into this two-game set expecting an offensive explosion and instead found two North Division combatants much more concerned about their own end of the rink.
Absent Matthews, in particular, the Leafs didn't look nearly as imposing.
The injuries forced head coach Sheldon Keefe to rearrange all four of his lines and he found success with the Jimmy Vesey, Alexander Kerfoot and William Nylander trio. They enjoyed the better ice while largely matching up against Edmonton's second line of Dominik Kahun-Draisaitl-Kailer Yamamoto, and saw Vesey score the 2-1 goal during a shift against Edmonton's bottom six.
That came after Kerfoot, Vesey's former teammate and linemate at Harvard, stole the puck from Adam Larsson beneath the goal-line and fed it to Nylander, who fooled Oilers goalie Mikko Koskinen by sliding it over.
"Kerf made a nice anticipation play and picked it off and found Willy, who made a great play to me," said Vesey. "I think a lot of people thought he would have shot that puck but froze the goalie and slid it over. I just tried to bury it."
The new-look line rebounded from a sputtering start to produce a sterling stat line with 88 per cent of the shot attempts, 86 per cent of the expected goals and a 5-0 advantage in shots during its nearly 10 minutes together at even strength.
"They skated well," said Keefe. "It took them a little while to get going in the game, I thought, like it did our whole team. But they were on the puck, on the puck hard. I think what I liked mostly is that they scored us a 5-on-5 goal.
"Those have been hard to come by and it was good to get one."
The other goals came from two usual suspects: John Tavares and Mitch Marner.
Tavares got the winner by tipping home a Marner shot after Connor McDavid had tied things up — giving the Leafs captain four power-play goals already on the season. Marner finished the job with an empty-netter.
It was a grind from start to finish, but there was satisfaction to be found in limiting the damage inflicted by McDavid and Draisaitl at even strength.
"Well I think it's a good sign in seeing how much pride guys take in the defensive role and especially when you face two of the better players in the league," said Leafs goalie Frederik Andersen. "It's obviously a great task and it's been great to see the team respond and really take that role seriously and not give them anything for free."
It's going to take everyone in a year this unusual.
Even players like Brooks, summoned off the taxi squad to play just his eighth career NHL game here. The Winnipegger helped add two points to the standings and claimed another souvenir in the process: The puck that pinballed off his skate and eluded Koskinen.
"I'm sure my parents will steal it and put it in their basement," he said.
Chiefs' Patrick Mahomes says he's cleared NFL's concussion protocol – Sportsnet.ca
KANSAS CITY, Mo. — Chiefs quarterback Patrick Mahomes was cleared Friday from the league's concussion protocol after his third consecutive day of practice and will be under centre when Kansas City plays the Buffalo Bills in the AFC championship game.
Mahomes was hurt in the third quarter of the Chiefs' divisional-round win over Cleveland. He returned to take the majority of snaps in a light workout Wednesday, then did the same during the longest practice of the week Thursday, before team doctors and an independent neurologist gave him the green light following Friday's workout.
"The week has been a bunch of testing, a bunch of different things, to make sure I'm good to go and there's no lingering effects and things like that," Mahomes said. "Everything has been good. I went through everything; three or four different doctors have said everything is looking good."
The reigning Super Bowl MVP was hurt when he was tackled around the head by Browns linebacker Mack Wilson while running a quarterback option. It never appeared that Mahomes hit his head on the turf — and if he did, it was not the kind of impact that usually leads to a concussion — raising the possibility that he had actually compressed a nerve.
Either way, Mahomes immediately showed the symptoms of a concussion. He remained on the turf for a couple of minutes, then nearly collapsed when he got to his feet. He was still wobbly as trainers helped him to the sideline and into the blue injury tent, though he looked more steady when he ran into the locker room a few minutes later.
The Chiefs wasted little time ruling Mahomes out, though. Chad Henne wound up finishing off the 22-17 victory.
"We had an option play called we ran a little earlier," Mahomes recalled Friday, "and I ran out to the right. I got hit. I tried to get up, felt my legs go out and knew that wasn't a good thing."
Still, Mahomes had enough wits about him to tell the trainers to let him remain on the turf so that Henne would have a chance to warm up — "because I knew we were going to go for it on fourth down," Mahomes said.
"You want to be out there, but you have to go through the protocol and do everything the right way. You have to look at everything long term as much as short term," said Mahomes, who signed a 10-year contract in the off-season that could pay him close to a half-billion dollars over the course of the deal. "We have the belief there will be no lingering effects and I'll be able to go out there and be myself and be who I am every single week."
Mahomes was second in the NFL with 4,740 yards passing this season, despite skipping the regular-season finale with the Chiefs already assured of the No. 1 seed and a first-round bye. The long layoff between Week 16 and last Sunday wasn't a problem, either, as Mahomes threw for 255 yards with TDs running and passing before he was hurt.
He has 15 touchdowns, including three on the ground, without an interception in five post-season starts at home.
"I mean, he's flying around as much as he can," Chiefs tight end Travis Kelce said. "I know that guy is a tough son-of-a-gun, and he's going to go out there and try to get ready the way he knows how, which is take every rep as if it's a game rep. And his attention to detail, his preparation throughout the week, that hasn't changed. Just him playing within the guidelines he was given knowing he's in the concussion protocol."
Mahomes also does not appear to be bothered by a toe injury he picked up against Cleveland. He acknowledged it was sore on Monday, but it has gotten progressively better throughout the week.
His injury status doesn't just provide some clarity for the Chiefs, who otherwise would have started Henne with Matt Moore as the backup. It also provides some for oddsmakers and the gambling public. The opening line Sunday night varied widely depending on the sportsbook, with those confident Mahomes would play listing Kansas City as a 4-point favourite and those thinking he might not play giving the Bills a 2 1/2-point advantage.
The line had settled on the Chiefs as 3-point favourites by Friday afternoon.
NOTES: RB Clyde Edwards-Helaire (high-ankle sprain) also practice for the third straight day and appears likely to play for the first time since Week 15. CB Bashaud Breeland (concussion) is also likely to be cleared to play. … LB Willie Gay Jr. (high-ankle sprain) and RB Le'Veon Bell (swollen knee) were the only players that did not practice Friday.