Fed officials expressed concerns in over slowing economy – Richmond News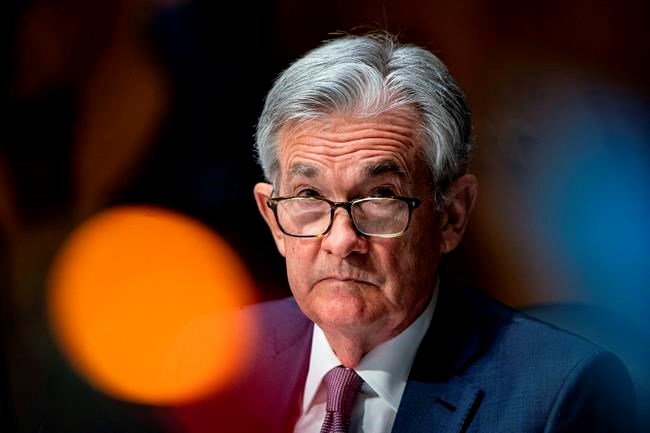 WASHINGTON — Federal Reserve officials were convinced last month that the U.S. economy and job growth had slowed as coronavirus cases surged across the country, noting that the outlook is heavily dependent on the course of the virus.
The minutes of the Fed's January discussions show officials believed that the ongoing public health crisis is still posing "considerable risks" to the economy.
The minutes, released Wednesday, reflect widespread Fed support for the central bank's policy of emphasizing ultra-low interest rates to boost the economy and help millions of Americans regain lost jobs.
"Members agreed that the Federal Reserve was committed to using its full range of tools to support the U.S. economy in this challenging time," according to the minutes, which covered the Fed's discussions at its Jan. 26-27 meeting.
The minutes note some improvement in the economy's medium-term outlook as distribution of vaccines ramped up and Congress passed a $900 billion relief measure that provided more direct payments to individuals and expanded unemployment benefits.
At its January meeting, the Fed kept its benchmark interest rate at a record low of zero to 0.25% and pledged to keep pursuing its low-interest rate policies until an economic recovery is well underway.
The Fed does not meet again until March 16-17. Fed Chairman Jerome Powell, however, will appear before Congress next week to deliver the central bank's semi-annual monetary report to the Congress, an appearance financial markets will be following closely for any clues of the Fed's future moves on interest rates.
The Fed has signalled that it does not plan to begin raising interest rates until after 2023. In addition to low rates, the Fed is buying $80 billion in Treasury securities and $40 billion in mortgage-backed securities each month and analysts expect those purchases to continue for some time to come.
Analysts said the minutes indicate no change from the Fed's emphasis on keeping rates low until the economy has recovered.
Paul Ashworth, chief economist at Capital Economics, said he believes the Fed will not start to reduce its monthly bond purchases until next year and that the first Fed rate hike will not come until 2024.
Charlie Ripley, senior investment strategist for Allianz Investment Management, said that the main takeaway from the minutes is that "accommodative monetary policy will remain in place for the foreseeable future."
The minutes show that Fed staff updated Fed officials on their assessment of the stability of the U.S. financial system. The staff noted that some financial-market assets had elevated valuations.
"The staff assessed vulnerabilities associated with household and business borrowing as notable, reflecting increased leverage and decreased incomes and revenues in 2020," the minutes said.
But the staff presentation said that banks have continued to maintain significant levels of high-quality assets and stable sources of funding should loan losses begin to mount.
In remarks last week to the Economic Club of New York, Powell emphasized the Fed's commitment to reduce unemployment to multi-decade lows.
Powell said while the early recovery last year, helped by nearly $4 trillion in government support, had been surprising, the country was "still very far from a strong labour market whose benefits are broadly shared."
The government on Wednesday reported the biggest monthly gain in wholesale prices in more than a decade. That news followed a report last week that consumer prices rose in January at their fastest pace in four months.
Powell has cautioned that inflation, which has been a no-show for the past decade, could accelerate for a time in coming months as the country opens up. But he and many private economists believe this will be only a temporary rise and not a sign that inflation is getting out of control.
Martin Crutsinger, The Associated Press
PACE Releases Guidance for Circular Economy Transition in Five Sectors | News | SDG Knowledge Hub | IISD – IISD Reporting Services
The Platform for Accelerating the Circular Economy (PACE) Secretariat has released five publications that outline how the electronics, textiles, food, plastics, and capital equipment sectors can increase their circularity. Comprising the 'Circular Economy Action Agenda,' the reports serve as a rallying call for businesses, governments, researchers, consumers, and civil society to work together.
Each publication outlines the objective for a circular economy and what circularity in that particular sector looks like, the impact on people and the planet if those objectives were to be achieved, the barriers that stand to hinder implementation, and actions that can optimize the sector's transition towards a more circular economy.
The report, 'Circular Economy Action Agenda: Electronics,' authored in partnership with Accenture, notes that less than 20% of electronics are collected and recycled, despite the raw materials within e-waste being valued at approximately USD 57 billion per year. A circular economy for electronics, the report explains, would see products use more recycled and recyclable content, designed for longevity and collected for recycling when they are no longer suitable for use. However, barriers include, inter alia, production systems that depend on virgin materials, lack of industry-wide standards for circular design and inconsistent regulatory regimes, and lack of knowledge on the hazards wrought by e-waste.
The report's ten calls to action to accelerate the transition to a circular economy for electronics include, inter alia, incentives for designing circular products, enabling easier sourcing of recycled content, increasing market demand for circular products and services, setting up effective collection systems, and encouraging customers to take back their electronics once they are no longer useable. For each call to action, as also done in the other four publications, the report outlines where governments, financial services institutions, consumers, and civil society actors can start.
Of note is a cross-cutting call to action to enable efficiency and transparency in compliance and responsible transboundary movement. It cites the relevance of the Basel Convention, which prohibits illegal trade and dumping of hazardous waste as end-of-life electronics are often classified. PACE recommends that competent authorities to the Basel Convention team up with trade ministries, private sector actors, and standard-setting institutions to develop certifications and "green lanes" for environmentally sound management of e-waste.
Used textiles trade should be managed with targeted efforts to ensure environmental benefits.
The report, 'Circular Economy Action Agenda for Textiles,' also produced with Accenture, flags that people throw away apparel worth an estimated USD 460 billion each year, and that the textiles industry consumes roughly 215 trillion liters of water annually. Recycling textile waste, the report notes, can unlock up to USD 100 billion per year, as well as natural resource and chemical use reductions.
The report envisions a future where inputs for textiles are safe, recycled, or renewable; where textiles are kept in use for longer; and where textiles are recycled at the end of their use, rather than incinerated or landfilled. Barriers to achieving this vision include high price sensitivity in the fibers market, short trend cycles (e.g. fast fashion), undeveloped collection and sorting infrastructure, and blended fibers and chemical additives that compromise the quality and safety of textile recycling.
The ten calls to action to accelerate the transition to a circular textile economy include incentivizing and supporting textiles' design for longevity and recyclability, encouraging behavioral shifts, guiding new business models, increasing efficiency and quality in textiles sorting, and making the recycled fibers market more competitive. The authors note that (re)used textiles sent overseas can deliver environmental benefits, but it remains unclear how much imported textiles are actually reused, rather than downcycled or disposed of. Accordingly, a call to action emphasizes that the used textiles trade should be managed with targeted efforts to ensure environmental benefits and help preserve local industries, in part through matching countries' desired levels of import and export.
The report, 'Circular Economy Action Agenda for Plastics,' also by PACE and Accenture, projects plastic packaging volumes to more than quadruple by 2050, to over 318 million tons per year. A circular economy for plastics, the report notes, starts with eliminating unnecessary plastics and shifting from virgin materials to recycled or renewable ones. Highlighting that just 14% of plastic packaging today is collected for recycling (and that an even lower percentage is actually recycled), several of the report's ten calls to action point to a need for incentivizing reusing—and eventually recycling—plastics, in part through better-functioning collection systems and strategically-planned sorting and recycling facilities.
Fragmentation of the plastic waste trade globally can contribute to uncertainty around investments in reverse logistics and recycling infrastructure.
The report calls out fragmentation of the plastic waste trade globally as a barrier to a circular economy for plastics, which, beyond disincentivizing plastics' collection and transport, can also contribute to uncertainty around investments in reverse logistics and recycling infrastructure. One of the calls to action outlines how actors can strategically plan sorting and recycling facilities in compliance with trade regulations. The call to action references the Basel Convention's Plastics Waste Amendments, which came into effect in January 2021, to enhance control of transboundary movements of plastic waste.
The report, 'Circular Economy Action Agenda: Food,' developed by the PACE Secretariat and Resonance, notes that a third of all food is currently lost or wasted, despite the fact that 800 million people do not have enough to eat. The report highlights the value of a regenerative food system that goes far beyond the current production regime where 75% of food is derived from just 12 plant and animal species. Rather, a circular food economy would recycle the nutrients in food byproducts to make textiles and animal feed or drive innovations. Less than 2% of nutrients are recycled today.
The report calls for a transition to healthy diets based on regenerative practices that avert food loss and waste hotspots. Additional calls to action include reframing wasted food and byproducts as valuable resources, rather than trash, and facilitating secondary market development for these inputs. Nineteen barriers identified include perverse incentives such as ecologically harmful agricultural subsidies and lack of finance or assistance to more sustainable production methods, as well as poor coherence and logistics such as cold chains and proper storage.
The report, 'Circular Economy Action Agenda: Capital Equipment,' by PACE, Accenture, and Circle Economy, covers long-lived buildings, machines, and infrastructure, which consume 7.2 million tons of raw materials annually. A circular economy for capital equipment, the report notes, would primarily see products designed with reuse rather than recycling in mind, and delivered though "product-as-a-service" models that go beyond one-off sales. Calls to action, similar to other sectors, include incentives for circular product design, servitization, increasing end-of-use product return, and responsible reverse logistics systems, among other recommendations. One barrier of note is that some public organizations are not allowed to trade with private parties, which prevents capital equipment from being returned for refurbishing or reuse.
PACE notes that over 200 experts from more than 100 businesses, governments, and civil society organizations have contributed to the development of the Action Agenda. PACE was created in 2018 by the World Economic Forum (WEF). It is now hosted by the World Resources Institute (WRI). [Publication: Circular Economy Action Agenda: Electronics] [Publication: Circular Economy Action Agenda: Textiles] [Publication: Circular Economy Action Agenda: Plastics] [Publication: Circular Economy Action Agenda: Food] [Publication: Circular Economy Action Agenda: Capital Equipment] [PACE Circular Economy Action Agenda Landing Page]
Economy on track for 'very strong' bounce in late 2021 | RENX – Real Estate News EXchange
"We are not out of the woods yet." However, the end of the pandemic appears to be in sight, the commercial real estate industry has more data about potential lingering fallouts and when the recovery begins, it is likely to be strong and fast.
Those were key takeaways from Tuesday's opening presentations at the virtual RealCapital conference, where CBRE's Paul Morassutti and CIBC World Markets' deputy chief economist Benjamin Tal provided overviews of the industry and economy.
Tal broke his analysis down into three time periods: The immediate economic impact, the second half of 2021 and the potential for longer-term economic "scarring." The first two he summed up in short order.
"I believe we are already in the midst of a double-dip recession. The economy as we talk is basically shrinking by one or two per cent in Canada. This is the short term. It's not great," he said.
However, "I believe the recovery will be very strong. The second quarter, the spring, will be a transition period and then I am talking about a very strong second half."
Tal predicted GDP growth of up to six or seven per cent in the second half of 2021. Because relatively few economic sectors have been affected by the pandemic — although those impacted have been hit deeply — he said a recovery can happen very quickly.
Pandemic's economic impact deep but narrow
The hardest-hit sectors are mainly service-oriented. On the jobs front, those affected have largely been the lowest wage earners, meaning people with higher disposable incomes are banking money for better times ahead.
"The good news is the service industry is very quick to recover," Tal noted, laying out the basis for his optimism long-term economic "scarring" will be minimal. "This is all about cash.
"For every dollar decline in wages, the Canadian government injected seven dollars into the economy. This is very important. This is the first recession ever where income actually went up. And it went up in a very significant way."
That bubble of excess savings is about $90 billion and growing, he said.
"You increase your savings. You don't want to do that, but you are forced to because you cannot spend. So your money is there, your income is there, but you are not spending," he continued. "(People) are dying to go to a restaurant, but they are not willing to die to do so. So, they are waiting."
Inflationary concerns
One significant concern is a huge injection of spending into the economy could trigger inflation and higher interest rates.
"Inflation expectations are starting to rise," he said. "I cannot talk about the economy rebounding by four, five or six per cent without saying that some inflationary pressures will be there."
Tal called inflation "the No. 1 issue that will impact your business over the next three to four years" but said both the U.S. Fed and the Bank of Canada view it as a short-term issue.
"They are telling you 'We are going to tolerate that inflation. We are going to allow that inflation to overshoot because we view it as a blip, we view it as a very short-term story'," Tal said. He believes both central banks will employ strategies to control potential inflation on a longer-term basis.
When consumers do start spending that excess cash, Tal and Morassutti see changes coming to some current trends which affect CRE.
Housing: Sales to stay strong, rents to stabilize
On the housing front, where sales have remained strong despite the pandemic, they both expect rents to also quickly firm up.
"It is true that multifamily fundamentals in Toronto have weakened," said Morassutti, the vice-chairman of valuation and advisory at CBRE.
"Rents are down and vacancy is up, mainly due to a glut of small condos being added to the long-term rental supply and the disruption to immigration and foreign students. For the most part, we view this as temporary."
Tal said Canada is underestimating population growth because it is not counting residents repatriating from countries such as Hong Kong, nor is it tracking foreign students whose visas expired but have been allowed to stay under revised government regulations.
"I expect the supply factor in the multiresidential sector will ease and therefore I see some improvement and stabilization in rent," Tal said. "We are starting to see it right now, also in vacancies."
Home sales have benefited from the stratified economic impact. A significant group is "not touched financially by this crisis," mainly in demographics which can afford to purchase homes.
"They are in position to take advantage of low interest rates and that is exactly what they are doing. And that is why the housing market is doing so strongly."
Higher office vacancy "not cataclysmic"
While the work-from-home situation will continue to some degree, Morassutti said once things return to normal many employees will return to offices, creating shifts in both housing and office trends.
"The future is not binary, it is not one or the other, it is both. It is flexibility," he said. "The issue is what would, say, a 10 per cent reduction in demand have on long-term vacancy? After all, the retail sector has been completely upended by the movement of just 10 to 15 per cent of sales to online platforms."
In all of its office projections, Morassutti said CBRE sees vacancy rising. A 10 per cent reduction in office space demand could translate to a vacancy increase of up to 400 basis points, he said.
"Is the office sector becoming the retail sector? The answer is no. Here In Toronto, the real issue over the next few years is new supply. And this shouldn't come as a surprise since too much new supply coming at the wrong time has always been the office sector's Achilles heel," he explained.
"I would also note that we added almost five million square feet of supply in Toronto in 2008 in the midst of the global financial crisis and another six million square feet beginning in 2013 and quite frankly, the market outperformed virtually all vacancy forecasts both times.
"Is it concerning? Yes, of course it's concerning, but it is not cataclysmic."
Vancouver and Toronto still have North America's lowest office vacancy rates, with Ottawa and Montreal also in the top five.
Retail, industrial outlooks
The outlook is similar for hard-hit sectors of retail.
"We would reiterate the view we have held for some time," Morassutti said.
"The sector is heavily bifurcated with secondary assets bearing a disproportionate share of the operational pain. Some retail assets have fared quite well, notably grocery-anchored centres where you have a strong concentration of essential retailers."
Retail, particularly hospitality and entertainment, will be a key benefactor once the pandemic eases.
"Many Canadians are sitting on tons of cash and there is a lot of pent-up demand. There are good-news stories in the retail sector."
Industrial remains a good-news story and Morassutti said the growth potential is wider than just e-commerce, distribution and warehousing.
"For anything logistics- or warehouse-related, we think there is ample runway," he noted. "But the entirety of the industrial investible universe is not just logistics or distribution centres. A lot of it is manufacturing, a lot of it is small-bay, multi-tenant. A lot of it has nothing to do with the e-comm tailwind that everyone points to."
This dovetails with an expected expansion of the life sciences sector, which is increasingly seeking office, R&D and manufacturing space.
"We fully expect this sector to follow a similar trajectory that we have witnessed in the U.S., albeit on a smaller scale," he said.
Challenges remain, but outlook "looks good"
Over the mid- to long-term, Morassutti said challenges remain, but CBRE remains bullish on real estate.
"In a world where there is $18 trillion of negative-yielding debt, the yield provided by real estate looks good," he said.
"In our opinion, geopolitical stability will be rewarded, transparency will be rewarded, stable banking systems, thoughtful immigration policies and economic growth will be rewarded, resiliency will be rewarded.
"The fastest-growing city in North America is Toronto and many other Canadian cities are on that list. Canadian employment growth is expect to double the G7 average over the next few years.
"So taking all of that into account, we think Canada stacks up very well."
Material stocks drag TSX lower
(Reuters) – Canada's main stock index fell on Wednesday as weakness in materials stocks overshadowed upbeat earnings from National Bank of Canada and Royal Bank of Canada.
* The materials sector, which includes precious and base metals miners and fertilizer companies, lost 1.3% as gold futures fell 0.3% to $1,799 an ounce.
* Miners Dundee Precious Metals Inc and Centerra Gold fell 3.9% and 3.8%, respectively, and were the top drag on the TSX.
* At 09:37 a.m. ET (14:37 GMT), the Toronto Stock Exchange's S&P/TSX composite index was down 77.04 points, or 0.42%, at 18,253.05.
* The financials sector gained 0.1% as Royal Bank of Canada and National Bank of Canada topped analysts' estimates for first-quarter profit.
* The energy sector dropped 0.7%, even though U.S. crude prices were up 1% a barrel, while Brent crude added 1.1%.
* On the TSX, 62 issues were higher, while 150 issues declined for a 2.42-to-1 ratio to the downside, with 24.02 million shares traded.
* The largest percentage gainers on the TSX were printing company Transcontinental Inc <TCLa.TO>, which jumped 2.3%, and National Bank of Canada <NA.TO>, which rose 2.3%.
* The most heavily traded shares by volume were Manulife Financial Corp <MFC.TO>, Suncor Energy Inc <SU.TO>, and Great-West Lifeco Inc <GWO.TO>.
* The TSX posted 12 new 52-week highs and no new lows.
* Across all Canadian issues there were 44 new 52-week highs and six new lows, with total volume of 43.98 million shares.
(Reporting by Amal S in Bengaluru; Editing by Aditya Soni)