Former art gallery leader 'greatly relieved' human rights case stayed – Saskatoon StarPhoenix
Former Remai Modern CEO Gregory Burke issues statement in wake of court ruling in his favour
The former leader of Saskatoon's Remai Modern art gallery says he's relieved that a complaint alleging he discriminated against a female employee has been stayed.
Former executive director and chief executive officer Gregory Burke, who left the gallery earlier this year, said in a three-part statement posted on his Twitter account Thursday that he has always supported gender equality.
"I am greatly relieved that a complaint against me, falsely alleging discrimination of a former employee on the basis of gender, has been stayed," Burke's statement read.
"I have been committed to exacting standards of professionalism throughout my career and have always supported gender equality, as any fair review of my work as a curator and museum director would reveal."
In a Dec. 31 ruling, Court of Queen's Bench Justice Brenda Hildebrandt ordered a stay of proceedings against Burke in a Saskatchewan Human Rights Commission investigation that began with a complaint in 2015.
The complaint also named the art gallery as a defendant. Current Remai Modern leadership declined to comment on the development on Thursday.
Burke's statement quoted Hildebrandt's decision that "there were no statements containing sexual content nor any overt acts of gender or sex-based discrimination alleged in the complaint."
Burke announced in December 2018 that he was resigning from his position at the Remai Modern to take a similar job with the Auckland Art Gallery in his hometown in New Zealand.
Burke withdrew from the Auckland position earlier this year after CBC News published stories that revealed he was the subject of the human rights investigation. Burke's Twitter post tagged several New Zealand news media outlets.
Burke's statement pointed out that Hildebrandt criticized the human rights commission for the "inordinate delay" in the investigation and "abuse of process."
Burke also noted Hildebrandt's criticism of the complainant, who is not named in the ruling, for declining to participate in mediation and her slow response to requests and scheduling interviews.
The woman's Saskatoon lawyer, John Beckman, did not immediately respond to a request for comment on Thursday.
The human rights commission is reviewing the decision.
Burke's statement adds that "my time as the inaugural CEO of Remai Modern remains a career highlight, if not the highlight of my life."
He hinted at a statement he released last spring in which he claimed city hall interference in gallery operations and an effort to get rid of him in spite of the gallery's successful first year.
"Over the years, there has been concerted opposition, by some, to the vision and direction of the gallery as both a local and international destination," Burke's Thursday statement read.
"They have been irritated by its incredible success, which of course was driven by the extraordinary vision and philanthropy of Ellen Remai, the bold courage of community leaders and commitment from the citizens of Saskatoon."
Burke's Twitter post said he does not plan to comment further. His statement said he plans to resume his career this year.
Burke has moved to Toronto, where he has started a consulting business.
Related
Montreal percussive dancers step in to tell stories of Black art and history – Montreal Gazette
Children are always in motion. Yet when they experience it in rhythm, they are linked with their peers in an intangible way, Kayin Queeley says.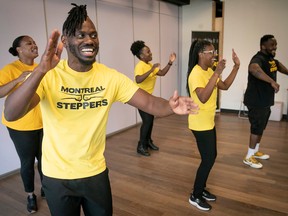 Article content
Kayin Queeley expresses himself with his entire body. One can feel his enthusiasm in every sweep of his hand, in the set of his shoulders and the widening of his eyes.
Article content
He uses language that echoes his passion in phrases like "tapping into" and "taking the step" and "resonance."
Article content
Queeley is the director of the Montreal Steppers, a team that uses their bodies to create rhythms and beats. The non-profit percussive dance group performs for themselves, for the community and visits schools for workshops and discussions that Queeley says quickly become "next-level."
Percussive dance has origins in West Africa. It was a form of celebration and communication among slaves in North America and became popular among Black fraternities in the 1940s and '50s, making its way to Canada by the '90s.
Queeley, who is now a crisis case manager for students at McGill University, joined and went on to lead a stepping team while doing his undergrad in Upstate New York in 2007.
Article content
"What I didn't realize then," Queeley says, "was that stepping was going to introduce me to part of my history, a rich art form rooted in blackness, rooted in Black expression, Black healing. These are ways we are communicating with each other. For me, it was very superficial at first. It was cool, it looked good. Yet it has meant so much more for us."
Although he had fallen away from stepping by the time he moved to Montreal with his wife in 2014, the need to "keep the art form alive and keep the passion of using my body to make music" was never far from his thoughts. Montreal Steppers was formed in 2019 and has 18 members, 13 of whom are active steppers, while the others take charge of such things as stage management, music direction, media, photography and spoken word.
Article content
When Queeley goes into a school for a workshop, the children will learn how to step. Yet the first thing he tells teachers is that he will allow the students to ask anything they want. A statement like that makes teachers nervous, he says, but he is blown away every time by the depth of conversation children set in motion.
He introduces himself and, with mid-elementary and older children, will begin, "About a hundred or so years ago (I'm just being generous), I would not be allowed to be in your classroom. The kids stop and say, 'Mr. K., why?' I say, because of my skin colour. At that time, although slavery had ended, there was segregation. Some ask, 'What do you mean, what is that?' It starts questions right away. As a Black man, I would not have been allowed into a white school. I would only have been allowed to teach at a Black school."
Article content
In this way, the Steppers are bold about centring Black history and acknowledging what some children might not have had to think about. Kids, with their finely tuned sense of justice, "call out what is wrong," he says. The workshops are wrapped up by talking about people's differences and the importance of appreciating them.
Children stomp and clap, they walk and clap, they are almost always in motion. Yet when they experience it in rhythm, they are linked with their peers in an intangible way, Queeley says.
"We use our bodies to tell the story of stepping and history. We use the art form as a starting point to have dialogues and conversations around blackness, Black art, Black history, Black importance, around creating a safe space and taking up space for ourselves."
Article content
It has been healing for the Montreal Steppers, Queeley says.
"As we dissect deeper into stepping, we connect the history. We recognize that this is not new. This has always been part of our ancestors' expression. Going back to 14th century, back to West Africa before these folks were displaced against their will and brought to this North American context, these were elements of expression they were tapping into."
The only time Queeley grasps for words is when attempting to define the connection his team experiences while stepping.
"Some folks say, 'As you step on the ground, as you hit your body, you're activating your land and you're waking up your ancestors. It's something we can't really describe. … We're tapping into something our ancestors laid down."
Article content
The team has done more than 300 workshops and has met close to 10,000 students, Queeley says. It is one way they want to sow into Montreal communities.
"We want people to see us and know who we are: 'This is in response to everything you have said about Black people and believe about us.' We are incredible. We are gifted. We are intelligent. We are impressive."
***
AT A GLANCE
The Montreal Steppers are part of the English Language Arts Network's education program, wherein schools are granted an amount to invite artists to hold workshops.
The Steppers have made an intentional decision to not do any workshops during Black History Month, to avoid being tokenized or made a checklist item. They use that time to focus on their own healing.
Article content
The group has set a fundraising goal of $4,000 for the month of September. The money will go directly to four community groups that have identified specific needs. The Steppers want their performances to be accessible and therefore not tied to fundraising, so donations are accepted online only. The groups benefiting are: The West Island Black Community Association's robotics program; Côte-des-Neiges Black Association's teen program; South Shore Youth Organization's tutoring program; and Tinsdale Community Association's high-school perseverance program.
"We want to continue to find ways to serve, teach, heal ourselves," Queeley says. "Wherever this goes, if they feel a need to connect with us, we are happy to. We have seen the impact. We are very optimistic about what lies ahead."
To donate, visit gofundme.com/f/q3pusj-back-to-school-fundraiser. More information can be found at montrealsteppers.com.
Sign up for our parenting and advice newsletter at montrealgazette.com/newsletters.
Brandon teepee art project celebrates strength, resilience during Truth and Reconciliation Week – CBC.ca
Weaving together truth, reconciliation and healing, community members in Brandon created a commemorative teepee Saturday.
The art project for the upcoming Truth and Reconciliation Week in the southwestern Manitoba city was designed by Canupawakpa Dakota Nation visual artist Jessie Jannuska.
"The piece is called Coming Together, and I really hope that people do come together when they look at this teepee and they feel strength and resilience, and just feel honoured," Jannuska said.
The teepee will be displayed at Brandon's Riverbank Discovery Centre for Truth and Reconciliation Week, which officially begins Monday and leads up to the National Day for Truth and Reconciliation on Sept. 30, also known as Orange Shirt Day.
In Brandon, there will be events at the Discovery Centre every day from Tuesday to Sunday.
The teepee will be used by the Brandon Friendship Centre's Sixties Scoop support program to share teachings, promote healing and encourage reconciliation, said program co-ordinator Julia Stoneman.
During what's referred to as the Sixties Scoop — which actually began in the early 1950s into continued into the early 1990s — child welfare authorities took thousands of Indigenous children from their families and communities, and placed them with non-Indigenous foster or adoptive parents.
Stoneman described it as a continuation of the residential school system.
The message behind Coming Together is a critical part of truth and reconciliation, Stoneman said, because it encourages people to join in learning the stories, history and experiences of people affected by residential schools, the Sixties Scoop and other colonial traumas.
Hearing the experiences of survivors adds a human face to that history, she said, making reconciliation a personal experience for people.
Jannuska hopes that people who see the art project will feel the strength and resilience of Indigenous people in Canada.
"You can't just keep people in the dark.… You need to let people speak about their truth," Jannuska said.
"I think these families are really sad. They are estranged. They want their children back, they want the connectivity, they want the love back."
Events like the teepee community art project serve as a way to honour and acknowledge their experiences, she said, while strengthening cultural identity and self-love.
There is a strong Indigenous presence in Brandon and the community is rallying to support reconciliation, Stoneman said, by encouraging people to live as their authentic selves.
"This is our way of honouring those people and helping them to find their identity and their community and their culture again … because they lost that too when they were sent away," Stoneman said. "Now they're able to come together and they're able to learn that."
Jannuska will be at the Discovery Centre on Friday afternoon to participate in an Orange Shirt Day walk and to answer any questions people have about the Coming Together teepee.
"This community project is an act of healing.… It can be a communal, cathartic thing that the community can jump in on," she said.
A week for education, celebration
The roots of this week's events go back to the creation of the Brandon Urban Aboriginal People's Council in late 2010, said council co-ordinator Michèle LeTourneau.
"It included Indigenous organizations and governments and institutions and organizations that were non-Indigenous, all coming together to work together to ensure that Indigenous people are reflected in their community," she said.
Those efforts culminated in Brandon's Truth and Reconciliation Week in 2021, centered on the principles of "commemoration, education and celebration."
The goal of the week's events is to inspire the entire community to work together in the pursuit of reconciliation, which "is something that we all need to do together, Indigenous and non-Indigenous," LeTourneau said.
"We can create lines of respect, of friendship, of working together to make Brandon a better place for everyone."
Educational opportunities have been woven into programming to help attendees better understand Canada's colonial past. The conversations sparked during Truth and Reconciliation week are part of a bigger question — how to keep reconciliation alive every day of the year, LeTourneau said.
"It really starts within each of us, whether Indigenous or non-Indigenous, and it's a sort of an inner reconciliation with our own selves," she said.
"That carries forward into … changing thoughts, changing minds and hearts and then, you know, that seeps into your daily existence."
She encourages those who attend any of the free events to come with an open heart and open mind.
That includes Friday's Orange Shirt Day Walk, honouring residential school survivors and those who did not make it home. It begins at the Riverbank Discovery Centre at 1 p.m. and continues to the former Brandon residential school site.
Sioux Valley Dakota Nation survivors will be at the site, LeTourneau said, to see "the mighty support that the people of Brandon have for them."
Saturday marks a day of celebration of Indigenous culture with an event titled Healing by the River.
"I call it an evening of ceremony and performance, and that is celebrating the rich, rich culture that was almost extinguished but was not," LeTourneau said.
"It's a really beautiful way to bring everyone together to celebrate."
Q&A With Javier Peres, Founder Of Peres Projects Art Gallery – Forbes
With Paris+ by Art Basel making its debut in the French capital at the Grand Palais Éphémère from October 20 to 23, 2022, I sit down with Javier Peres, founder of Peres Projects established in 2002, which currently has locations in Berlin, Milan and Seoul, to find out his thoughts on the very first Parisian edition of the world's most well-known modern and contemporary art fair. The gallery's presentation at Paris+ will focus on painting and sculpture by a diverse group of promising artists exploring the human experience and condition, including Shuang Li, Donna Huanca, Manuel Solano, Rebecca Ackroyd, Richard Kennedy, Tan Mu and Stanislava Kovalcikova.
What were you thoughts when you heard that Paris+ by Art Basel would replace the FIAC art fair?
It's an exciting development and is a further testament to the increased importance of Paris as a global art hub. We are very much looking forward to taking part in the inaugural edition.
Why did your gallery decide to exhibit at Paris+?
Art Basel puts on art fairs of the highest quality both for the benefit of the audience and also for us as exhibitors. So we have high expectations that this fair will be a great success and become a focal meeting point of the fall art calendar in Europe. We expect the same high-quality service, presentations, etc. that we see across the Art Basel fairs in all its other locations. We exhibit at all of them in the main section. Peres Projects has always focused on identifying, supporting and championing artists that we felt could expand the canon of art history, irrespective of where they come from. The identity of the gallery, and what I think is special to our DNA, is that we primarily focus on showing artists at the beginning of their careers, giving audiences an early look at the artists that will shape art history, both in the immediate time and in the future. Either way, we always aim to present the best artworks possible at all fairs.
What is the expected impact that Paris+ will have on the Parisian art scene?
We think this is further confirmation of the importance of the Parisian art scene and indeed the French art market as a whole. Paris is an important center and also a city that everyone enjoys visiting for its many interesting possibilities.
Who are the biggest buyers of modern and contemporary art today, and what kinds of collectors is your gallery targeting in particular at Paris+?
Our clients are completely global. We have important clients from all parts of the globe. In recent years, we have seen greater importance to our business from younger collectors, under 50 years old and even under 40 years old. We've noticed that artists, collectors, museums, curators, writers, etc. have become more and more connected and the overall size of the art ecosystem has expanded to many areas that previously were on the periphery. New regions have become important and new institutions have emerged, corresponding with a rise of new and younger collectors who support and establish these institutions. These changes are impacting our business every day and it's part of what makes what we do so exciting. We thrive on working with new institutions, new artists, new collectors, etc., especially those from parts of the mainstream that haven't always been included in the conversation. It's an exciting time for us.
Which categories of modern or contemporary art have you been noticing that are registering the most interest from collectors lately?
What interests us most when considering new artists is that they have a unique voice, whatever that may be, and that what they have to say is interesting, something that we can all learn from. I want to be able to learn from an artist and to share what they have to teach with our audience.
Which are the three most interesting modern or contemporary artists who will be exhibiting at Paris+ to collect today?
We will be presenting major new works by Donna Huanca, Shuang Li and Rebecca Ackroyd. All three artists are incredibly gifted and committed to their practices and have very clear focus in their work. They are also receiving a great deal of well-deserved institutional attention with Donna Huanca having museum exhibitions during the upcoming 12 months in Mexico, Korea, Italy and Latvia; Rebecca Ackroyd in France and Germany; and Shuang Li in Switzerland, and her work is also on view at the Venice Biennale in Italy.