Former art gallery leader 'greatly relieved' human rights case stayed – Saskatoon StarPhoenix
Former Remai Modern CEO Gregory Burke issues statement in wake of court ruling in his favour
The former leader of Saskatoon's Remai Modern art gallery says he's relieved that a complaint alleging he discriminated against a female employee has been stayed.
Former executive director and chief executive officer Gregory Burke, who left the gallery earlier this year, said in a three-part statement posted on his Twitter account Thursday that he has always supported gender equality.
"I am greatly relieved that a complaint against me, falsely alleging discrimination of a former employee on the basis of gender, has been stayed," Burke's statement read.
"I have been committed to exacting standards of professionalism throughout my career and have always supported gender equality, as any fair review of my work as a curator and museum director would reveal."
In a Dec. 31 ruling, Court of Queen's Bench Justice Brenda Hildebrandt ordered a stay of proceedings against Burke in a Saskatchewan Human Rights Commission investigation that began with a complaint in 2015.
The complaint also named the art gallery as a defendant. Current Remai Modern leadership declined to comment on the development on Thursday.
Burke's statement quoted Hildebrandt's decision that "there were no statements containing sexual content nor any overt acts of gender or sex-based discrimination alleged in the complaint."
Burke announced in December 2018 that he was resigning from his position at the Remai Modern to take a similar job with the Auckland Art Gallery in his hometown in New Zealand.
Burke withdrew from the Auckland position earlier this year after CBC News published stories that revealed he was the subject of the human rights investigation. Burke's Twitter post tagged several New Zealand news media outlets.
Burke's statement pointed out that Hildebrandt criticized the human rights commission for the "inordinate delay" in the investigation and "abuse of process."
Burke also noted Hildebrandt's criticism of the complainant, who is not named in the ruling, for declining to participate in mediation and her slow response to requests and scheduling interviews.
The woman's Saskatoon lawyer, John Beckman, did not immediately respond to a request for comment on Thursday.
The human rights commission is reviewing the decision.
Burke's statement adds that "my time as the inaugural CEO of Remai Modern remains a career highlight, if not the highlight of my life."
He hinted at a statement he released last spring in which he claimed city hall interference in gallery operations and an effort to get rid of him in spite of the gallery's successful first year.
"Over the years, there has been concerted opposition, by some, to the vision and direction of the gallery as both a local and international destination," Burke's Thursday statement read.
"They have been irritated by its incredible success, which of course was driven by the extraordinary vision and philanthropy of Ellen Remai, the bold courage of community leaders and commitment from the citizens of Saskatoon."
Burke's Twitter post said he does not plan to comment further. His statement said he plans to resume his career this year.
Burke has moved to Toronto, where he has started a consulting business.
Related
'A really important moment:' New art exhibit celebrates Windsor's LGBTQ community – CBC.ca
An exhibit at the Art Gallery of Windsor is shining a light on the experiences of Windsor's LGBTQ community.
"For me, it's a really important moment in my life," explained Meaghan Sweeney, one of the artists on display, who identifies as queer, on the asexual spectrum.
The Pride and Joy Community Art Exhibition, sponsored through an Ontario Trillium Foundation grant, features about 46 artists of all ages, with more than 70 pieces of art featured so far.
Sweeney explained that for a long time, they had a hard time feeling like they belonged or that they were "queer enough."
"Being able to give myself the space to exist is one of the biggest kindnesses that I can do for myself, and also, one of the best things that people can do for themselves within the community," they said.
"So that's also why it was really important for me to be involved with this exhibition."
Sweeney's art used playing cards to create representation for the asexual, or ace, community.
Janet MacIsaac, a queer non-binary woman, submitted two pieces of artwork for the exhibit, one of which, The Art of the Flight, represents the the journey of finding love and joy after being a survivor of sexual violence.
"The piece really captures the journey from kind of that place of trauma to a place of kind of reclaiming a sense of love, happiness and pride in who I am and in my body," they said.
"That journey is something a lot of people go through, and it's a struggle … to get to that point of loving yourself again is radical and revolutionary. And I'm happy that I was able to kind of channel a lot of the stuff I've learned over my years in education and feminism into this piece. So really proud of it."
The special initiatives co-ordinator with the art gallery, Derrick Carl Biso, who also happens to be MacIsaac's spouse, has been working on programming for the LGBTQ community for the past year.
They explained that this exhibit is the "capstone project" of everything they've been working on.
"Listening to some of the artists speak, I was getting teary-eyed," Biso said.
"I realize how important this show was and how meaningful it was to me personally. And getting to be in this room and look at all the art on the walls, and I've been doing it for a couple of weeks now, I feel so good. I feel so grounded and held by a community."
Biso added that they feel so much pride and joy with how it's all turned out, along with being able to include two pieces of their own in the exhibit as well.
The exhibit includes art work on the walls, digital displays — plus an evening gown created by a teenager getting involved in drag.
"I hope it inspires dialogue and conversation about how we can make Windsor a better place for trans and non-binary people and just generally the communities and people here who face marginalization and exclusion," MacIsaac said.
"But also dialogue about the joy and happiness and pride that we have happening in this community and just the amount of talent, creative talent that we have in the queer and trans community in Windsor."
Sweeney hopes the work generates excitement among those who identify the same as they do.
"There's very few opportunities for ace representation," they said.
"So, I hope that they enjoy that and I hope that people are curious and open and that they do feel like they're celebrated through what's going on here today."
The exhibit is already open to the public, and continues until the end of October.
At Art Basel, No Americans Is No Problem – BNN
(Bloomberg) — The number of attendees at the first VIP day of Art Basel in Switzerland seemed to surprise nearly everyone.
"There were days where no one wanted to go, there were days where we were like, 'No one's going to be here, but we have to do it anyway.' It was very up in the air," says Marc Glimcher, president of the mega gallery Pace. It was only last week, he says, "that I had a feeling it was going to be good."
Art Basel is known as the world's most prestigious art fair, with 272 galleries selling hundreds of million-dollar artworks to the world's super-rich. During normal years, the anticipation and the hype lead to a (genteel) melee at the opening, as collectors rush to their favorite booths to buy works before they're spirited away by someone else.
That rush was eliminated in 2020, with the in-person fair canceled entirely and moved to online viewing rooms. Then the 2021 edition was delayed until September. Since then, several fairs have dipped their toes in the art market's waters, but none have been on the scale—or market import—of Art Basel. This means that the art world has had to wait more than two years for the Swiss fair's concentration of high quality, high price material to provide a true test of the market.
Initially, enthusiasm appeared to be muted. It would be an overstatement to say that there was a rush for anything but the pre-fair Champagne breakfast, and many attendees seemed content to linger in the convention hall's courtyard, drinking and talking well after the doors to the hall were unlocked at 11 a.m.
"It feels quieter than previous editions, but it doesn't feel quiet," says Alex Logsdail, the executive director of Lisson Gallery, which has locations in New York, London, and Shanghai. "On a regular year, that's my ideal equilibrium," he continues. "There needs to be a kind of environment where you can have real conversations—and not 30-second pitches where you're looking over someone's shoulder to see who you have to talk to next."
Most of the talking on the first day seemed to be in German and French, a product of the fact that, even though vaccinated Americans can easily enter Europe, they still need to furnish a negative Covid test to get back into the States. The threat of having to quarantine in Switzerland proved a major deterrent for American collectors who would have otherwise attended.
"It's weird," says Wendy Olsoff, co-founder of the New York gallery P.P.O.W. "There's not the usual hubbub of American voices."
That, for Olsoff, came as something of a relief. She'd brought a variety of pieces to her booth, the most striking of which was a single work by the late artist David Wojnarowicz, composed of 44 photographs taken from 1978 to 1979, which carries the asking price of $850,000. "A lot of people coming from America, who actually we don't do any business with, take up a lot of energy," she says. "So having a minute with collectors we don't know is great."
Nice, But Not Necessary
That seemed to be the somewhat surprising takeaway from the most Eurocentric Art Basel in recent memory: Even though the U.S. market still represents an estimated 42% of the global art market's sales value, Americans themselves are nice but not necessary for business.
"There are not many Americans here," says Glimcher, who sold 20 artworks in the fair's first three hours. "But evidently, we didn't need them."
This year, Glimcher filled his booth with comparatively affordable artworks by the likes of Robert Longo, Sam Gilliam, and Latifa Echakhch; the most expensive was a painting by Chuck Close, priced at $5 million. "We didn't go out and hunt down $20 million paintings for this fair, I just wasn't that confident," Glimcher says. "But I definitely wish I had."
Art Basel is split into three main areas. Unlimited, which opens a day earlier than the main fair, is located on the second floor of a convention hall adjacent to the building that houses all the booths; there, galleries traditionally stage such large-scale installations as, say, Urs Fischer's house made entirely of bread, that they hope will be destined for a museum or private foundation.
In the main fair's hall, the ground floor is primarily filled with dealers selling expensive contemporary and blue chip art. Upstairs is for younger galleries—age, in this case, being a vibe rather than anything specific—showing generally less established artists at lower price points.
A European Rush
On the second floor it was the same story. "The majority of the Americans we work with on a regular basis are not coming this year," says Daniel Wichelhaus, the head of Société gallery in Berlin. That didn't keep him from selling 10 artworks, priced from €10,000 to €100,000 ($11,726 to $117,267), in the fair's first 45 minutes. By the end of the day he'd sold 20 more.
Four out of the 30 artworks were sold to Americans, Wichelhaus says, two of whom stayed home and bought the work remotely. "The energy felt great in the last two weeks already, leading up to the fair," he says. "It was kind of boiling up."
After two years of relying on fitful online viewing rooms in lieu of in-person art fairs—during which most galleries managed to thrive—Art Basel's success this week is being watched closely by dealers as a barometer for future art fairs.
"The last two years have shown people that they don't need to be flying around, doing art fairs once a month, especially when you're selling to the same people you know already," says Logsdail. "It seems extremely wasteful, and it's draining on everyone's mental and physical capacity."
Still, he says, the fair's first day could augur well for business as a whole.
"We are still in a pandemic," he says, "and confidence is everything."
©2021 Bloomberg L.P.
Aimless walks, an iPhone Pietà and a huge gargoyle: Art Basel is back – Euronews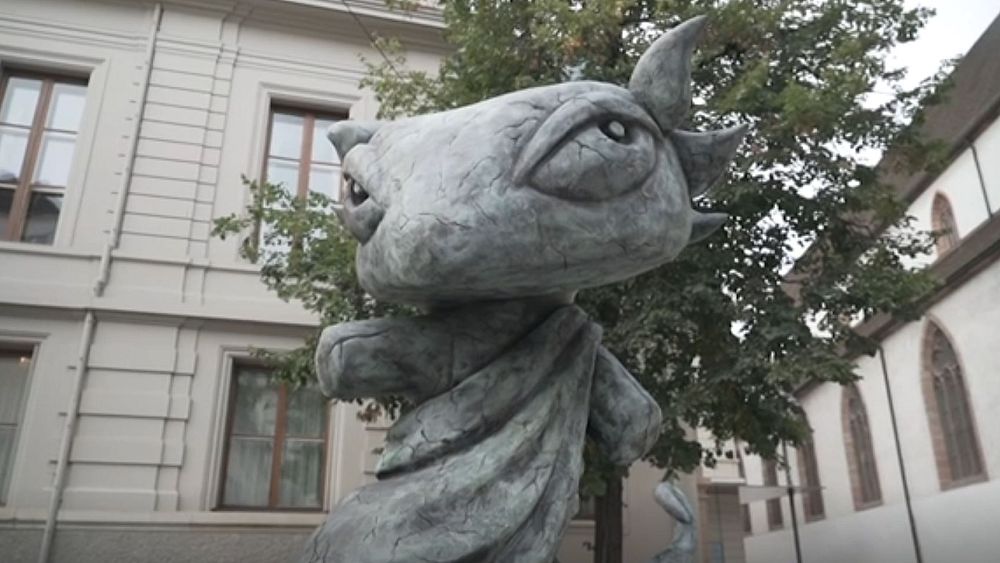 What might at first glance appear to be confused tourists lost on Basel's central Marktplatz, is actually a performance artwork at Switzerland's iconic art fair, Art Basel.
'Walking In Every Direction', by English artist Hamish Fulton sees volunteers going on an hour-long aimless walk, the idea being participants turn inwards and reflect, perhaps even meditate.
It's one of 20 site-specific installations and performances in Art Basel's 'Parcours' event staged across the city's centre.
After an entirely online event last year due to the pandemic, Art Basel is returning in person this week.
"It's an indoor and outdoor sculpture project, installation, performance project, which takes place almost in everywhere in the historic centre of Basel, meaning that we find different locations, hosts, partners, who offer their spaces and we try to match it with exciting projects from artists," explains Samuel Leuenberger, curating Parcours for the fifth time.
Leuenberger chose the theme of 'Can We Find Happiness Together Again?' for this year's selection.
It's a reference to the artists and galleries he worked with to make this year's show happen, but also a reflection of the joy of seeing friends and colleagues after over a year apart.
"To really be able to trust that this will come through, to trust that this will take place, even though we're still in the midst of a pandemic, and so, hence the title," he says.
"Of course, finding happiness with each other, but also through the arts and through just working together again and meeting each other in the public space."
Last year's Art Basel was moved entirely online due to the pandemic. Leuenberger says he had to rip up about half of his plans for 2020.
He hopes his happiness-themed selection – from Bunny Rogers' stone gargoyle to Thomas Bayrle's iPhone Pietà – might win over those not accustomed to traditional art settings.
"I think a lot of people who have fear of crossing the threshold of going to a museum, people who are maybe not so into the arts, this is a beautiful way to merge a different kind of public, maybe a more art insider public and one that's just walking by," he says.
"This is the beauty of it, you can walk around the corner and you bump into a piece and you would be completely surprised why it's here, you might not know that Parcours is happening."
Art museum Kunsthalle Basel is also taking part, playing host to a Parcours piece and staging events alongside Art Basel.
Museum director Elena Filipovic says after a year without the city's traditional art fair she missed a lot.
"I miss most the conversations around art, the curiosity, the passion that everyone brings when they come to this week of Art Basel and to our shows at Kunsthalle Basel," she says.
Of course, this year's fair will be very different than previous editions with COVID-19 certificate checks and face masks worn throughout, there'll likely be fewer buyers from the United States and South America attending in person, due to travel restrictions.
"Already starting mid-last week, you could see the demographics of the city had changed, so definitely people are coming," says Filipovic.
"And, if there are fewer in numbers – and I could imagine there would be fewer of our colleagues from the US, from Latin America, from Asia, nevertheless, I have the feeling the people who are here are really serious, are the ones who really couldn't be kept away. And that's nice."
Art Basel art fair opens with media previews on Tuesday 21 September 2021. The general public are invited to attend from Friday 24 September to Sunday 26 September. Parcours will also run till Sunday 26 September.