Free COVID rapid antigen testing kits coming to Guelph next week – GuelphToday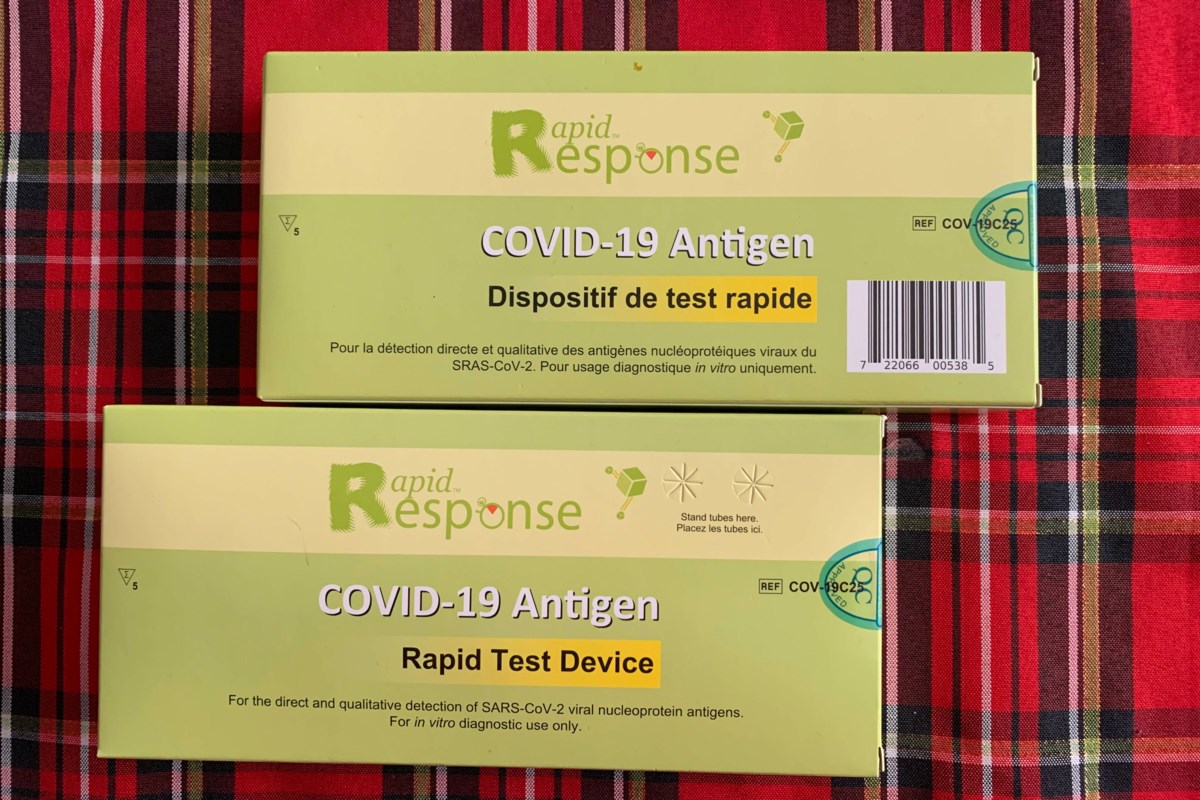 Ontario's free COVID-19 rapid antigen tests holiday pop-up blitz will be making its way to Guelph as the province of Ontario released on Friday three pop-up locations for next week.
On Monday, Tuesday and Wednesday of next week the province will be handing out the rapid antigen tests free of charge at the University Centre at the University of Guelph.
The tests will be given out starting at 10 a.m.
This is the second since the holiday pop-up blitz started on Dec. 16 that Guelphites will be able to access a pop-up location in their home city as the city of Guelph has been excluded from the updated weekly list of distribution areas.
In mid-December, two select LCBO locations in Guelph were provided with a small supply of rapid antigen tests, however, due to shipping delays and high demand, the available tests proved problematic to access.
Access to rapid antigen tests will be subject to available supply. At sites distributing tests, there is a limit of one test kit per person.
Previous pop-up locations have seen lines, sometimes over two-hour waits, as people clamoured to get their hands on the much sought-after COVID-19 testing kits.
Airlines say Canadian flights unaffected by turmoil over 5G wireless launch in U.S. – CP24 Toronto's Breaking News
Christopher Reynolds, The Canadian Press

Published Wednesday, January 19, 2022 2:54PM EST


Last Updated Wednesday, January 19, 2022 4:05PM EST

MONTREAL – Canadian airlines say flights to the U.S. remain unaffected by the rollout of new 5G wireless technology that has sparked blowback from many large carriers.
Several international airlines cancelled flights to the United States this week over concerns that 5G mobile phone service could interfere with aircraft technology.
On Tuesday, telecommunications giants Verizon and AT&T announced last-minute delays to Wednesday's service launch near key U.S. airports – the third postponement since early December – after U.S. carriers warned that the wireless frequency could cause widespread flight disruptions.
Critics say the new C-band 5G service operates in a frequency range that could interfere with radio altimeters, which measure an aircraft's height above the ground and help pilots land in low visibility.
Air Canada, WestJet Airlines Inc. and Transat A.T. say no flights to the U.S. have been cancelled due to the issue.
"WestJet has not identified any material risk to our operations regarding the rollout of 5G across Canada," spokeswoman Denise Kenny said in an email.
Airlines for America, a trade association representing 10 U.S. airlines and Air Canada, warned in a letter to the U.S. government Monday that "the vast majority of the travelling and shipping public will essentially be grounded" if the rollout goes ahead as initially planned. The 50 biggest American airports would have been subject to flight restrictions, prompting cancellation of some 1,100 flights, the organization said.
Canada's 5G rollout faces no such hurdles.
Last fall, the federal Industry Department established protective measures, including so-called exclusion zones near airports, to reduce any interference with radio altimeters while allowing deployment of 5G systems in the 3,500-megahertz band in Canada. (The planned 5G rollout by American telecoms falls between 4,200 and 4,400 megahertz.)
It also imposed a "national antenna down-tilt requirement" on telecoms to protect helicopters and planes used in low-altitude military and search and rescue operations as well as medical evacuations, "which by nature do not fly predictable routes into and out of major airports," the department's Nov. 18 decision reads.
"It is expected that as new information and studies become available, and as new radio altimeter standards are developed internationally, these measures may be modified or relaxed," Industry Department spokesman Hans Parmar said in an email.
John Gradek, head of McGill University's aviation management program, said 5G networks in Canada run at lower wireless speeds that would not interfere with landings, and that only some older planes whose technology has not been upgraded pose a risk in the U.S.
"The question you have to ask yourself is, are the airlines investing in what I would call hardening the radio altimeter equipment so it no longer gets interfered with by C-band 5G?" he said in a phone interview.
"People knew this was coming. The airlines could have done something to invest in their airplanes to get the equipment in place, but they have not. We all know it's money – airlines are kind of short on money these days."
Robert Kokonis, president of consulting firm AirTrav Inc., says U.S. President Joe Biden's administration should shoulder more blame for the "debacle" than cash-strapped carriers, pointing to a "lack of co-ordination and communication."
"Between the commissioners of the Federal Aviation Administration – the FAA – and the Federal Communications Commission – the FCC – there's an abject failure of decision making on behalf of the Biden administration," he said in a phone interview.
"This is the biggest aviation market in the world. For this to happen – after the Boeing 737 Max oversight issue – you've got to scratch your head and wonder: what is going on in that country?"
The wave of cancellations by some airlines will carry "ripple effects" for carrier schedules around the world, he added.
On Wednesday, Emirates announced it would halt flights to several U.S. cities due to "operational concerns associated with the planned deployment of 5G mobile network services" at certain airports. It said it would continue flights to Los Angeles, New York and Washington.
Emirates president Tim Clark pulled no punches when discussing the issue. He told CNN it was "one of the most delinquent, utterly irresponsible" situations he'd ever seen as it involved a failure by government, science and industry.
Of particular concern appears to be older Boeing 777 wide-body jetliners. Emirates only flies that model and the Airbus A380 jumbo jet – and it was among one of the most affected airlines.
Japan's All Nippon Airways cancelled 20 flights to cities such as Chicago, Los Angeles and New York after the U.S. Federal Aviation Administration "indicated that radio waves from the 5G wireless service may interfere with aircraft altimeters," the carrier said. Along with Japan Airlines, it said Boeing announced restrictions on airlines flying its 777s.
Air India also announced on Twitter it would cancel flights to Chicago, Newark, N.J., New York City and San Francisco because of the 5G issue. But it also said it would try to use different aircraft on U.S. routes – a course several other airlines took.
In Canada, the industry and transport departments are working with the telecom and aviation sectors "to ensure that appropriate rules are in place to protect the critical operations of radio altimeters" and minimize potential interference, Transport Canada spokeswoman Sau Sau Liu said in an email.
Transport Canada also issued a civil aviation alert on Dec. 23 offering recommendations on how to fly an airplane "in a 5G environment," she noted.
This report by The Canadian Press was first published Jan. 19, 2022.
Companies in this story: (TSX:AC, TSX:TRZ)
– With files from The Associated Press
Global National: Jan. 19, 2022 | Canada's inflation rate soars to its highest level since 1991 – Global News
Deal reached between B.C. First Nations and forestry company to defer old-growth logging – CBC.ca
Logging will be temporarily deferred in approximately 2,500 hectares of old-growth forest following an agreement between four Vancouver Island First Nations and a forestry company.
The Nanwakolas Council, which represents four First Nations, and Western Forest Products have agreed to defer old-growth logging in a section of forest north of Campbell River, for two years.
The deferral includes preservation of 10 square kilometres of forest identified by an old-growth advisory panel as needing protection.
Another 15 square kilometres of priority ancient forests were also deferred through other agreements between the nations and the forestry firm.
In November, the government said it would defer the logging of B.C.'s rarest old-growth trees and gave 200 First Nations a deadline to say if they supported the deferrals or if they thought further discussion was required.
Nanwakolas Council president Dallas Smith used a pop-culture reference to summarize his reaction to the agreement.
"If you're a Star Wars person, I feel like Luke Skywalker in the newer movies – we have our Jedi powers now and we're not questioning whether we are or not," Smith said.
"We are First Nations and we are in control of this. And it's like Yoda said, 'Do or do not. [There is] no try.' And we're doing it now."
First Nations waited for years to ensure their cultural values were incorporated to discussions about forests and all that they hold, Smith said, adding that came together with the agreement.
Smith said unlike in the past, those solutions will come from First Nations, be rooted in Indigenous values, but still look after the economic concerns of the region.
Approval from First Nations required
Smith said another part of their agreement is that any other harvesting will have to be done after approval with all First Nations communities.
Forests Minister Katrine Conroy said Wednesday the temporary halt of logging in large sections of old-growth is an important measure giving First Nations and the forest industry time and space to develop long-term strategies.
"A temporary deferral is a step in a long-term partnership and vision for forest management that will benefit local communities and ecosystem health," she said at a news conference.
Tegan Hansen, a forest campaigner at Stand.earth, says all deferrals recommended by the old-growth advisory panel should happen now.
"I'm really not hopeful if the province tries to piecemeal small deferrals over a very long period of time when what we need to see is a process where instead of nations having to opt in to logging deferrals, we have deferrals as a base, which is what the recommendation is, and nations can opt in to logging as they choose on their territories," Hansen said.
"So we're really seeing a flip in the order of process in terms of what the old growth strategic review set out for the province."