French federation to go after social-media abusers of World Cup players
PARIS — The French soccer federation wants to go after social media users who targeted some of the national team's players with racist comments after France's loss to Argentina in the World Cup final.
The federation said Tuesday that some players were hit by "unacceptable racist and hateful comments on social networks" and that it planned to file a complaint against those that posted abuse.
"The French soccer federation condemns with the utmost firmness these intolerable behaviors and abuses," it said in a statement.
French government officials have expressed their indignation following the insults. Isabelle Rome, the minister in charge of gender equality, said Kylian Mbappe and Kinglsey Coman were among those abused.
Mbappe and Coman are Black.
Coman's club, Bayern Munich, also condemned the racist comments targeting the winger, one of the French players who missed during the penalty shootout that decided Sunday's final.
"The FC Bayern family is behind you, King. Racism has no place in sport or our society," Bayern wrote on Twitter.
French sports minister Amelie Oudea-Castera tweeted her support to Coman and all the players abused, saying the heinous comments "have no place in soccer or anywhere else."
France twice fought back for a 3-3 draw through extra time in Qatar before Argentina won a penalty shootout to cap one of the most exciting finals in World Cup history. Coman had an attempt saved by Argentina goalkeeper Emi Martinez and Aurelien Tchouameni then missed for France.
Ivory Coast media profile – Yahoo News Canada
Cote d'Ivoire's long-running political divisions continue to be reflected in its media landscape. Most outlets are partisan in their political coverage.
The media were accused of inflaming violence following a coup in 1999 and during civil wars in 2002-2007 and 2010-2011.
In 2020, many journalists were detained while covering protests and violence during and after the presidential election in October of that year.
Cote d'Ivoire was among the last countries in West Africa to liberalise its broadcast media. As a result, the Ivorian state remains a major media player. The opposition has limited access to official outlets, even during election campaigns when it is entitled by law to "equitable media access".
Most of the main commercial TV channels have owners with links to the ruling coalition. Radio has traditionally been the main medium, but online news sources are increasingly popular.
BBC World Service in French is available on FM, including in Abidjan (94.3). There are also FM relays of Radio France Internationale and Voice of America.
Around 46% of the population have internet access. There are no formal restrictions on internet use. Facebook is the most popular social network.
Media Advisory – Governor General to meet with the King of Jordan – Yahoo Canada Finance
OTTAWA, ON, Jan. 25, 2023 /CNW/ – Her Excellency the Right Honourable Mary Simon, Governor General of Canada, will meet with His Majesty King Abdullah II ibn Al Hussein of the Hashemite Kingdom of Jordan on Friday, January 27, 2023, at Rideau Hall, in Ottawa.
Notes for media:
All media must be accredited by the Parliamentary Press Gallery.

To guarantee your access to the meeting, we ask that you please confirm your attendance with the Rideau Hall Press Office via email at media@gg.ca.

Media are asked to arrive at the Princess Anne Entrance no later than 8:45 a.m. on the day of the meeting.

Please note masks are mandatory.

Photos of the meeting taken by the Governor General's official photographer will be made available upon request.
Stay connected:
Follow GovernorGeneralCanada on Facebook, Instagram, Twitter and YouTube.
SOURCE Governor General of Canada
View original content: http://www.newswire.ca/en/releases/archive/January2023/25/c8560.html
Letter: Media focus on Moe-Trudeau spat over Saskatoon visit a failure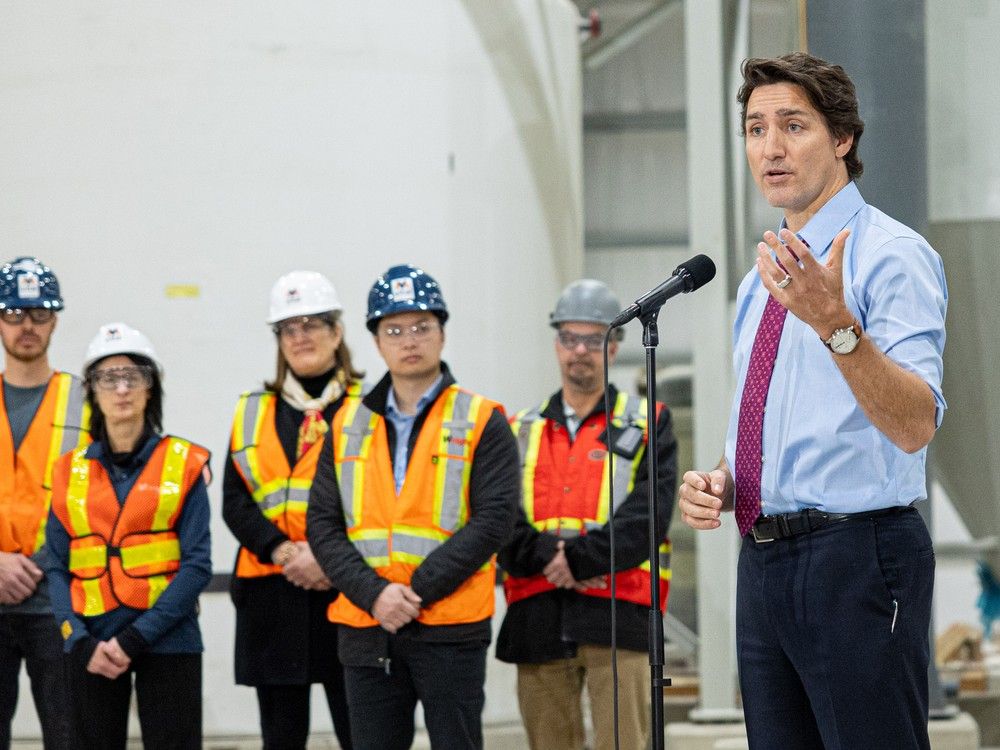 I live in Saskatoon and regularly listen to/read news from a variety of media outlets — the StarPhoenix, Globe and Mail, CBC radio and TV, CTV, Global TV and CKOM radio. I'm often proud of the work that you all do.
But I was very sad to see that almost all the media coverage of Trudeau's visit to Saskatoon to announce federal support for rare earth mining in Saskatchewan was primarily focused on the game-playing of Trudeau and Moe.
This announcement is a really important move, for the global future of sustainable energy, for the economy of Saskatchewan, and it deserved full attention to the subject itself.
Where are the rare earth reserves in Sask.? What are potential issues in mining, processing and transporting them? What are the market dynamics with other competitors?
I would love to have heard some in-depth interviews with geologists, battery manufacturers, commodity brokers, Indigenous and other leaders in the areas where the mineral reserves are. But we got very little of that.