Fuel prices, labour challenges point to recessionary economy: CargoJet CEO – Financial Post
Watch: Ajay Virmani, CEO of Cargojet, speaks about the state of supply chains and Cargojet's business two years into the pandemic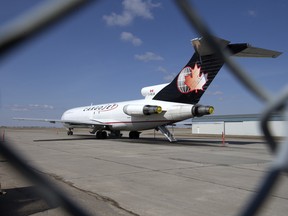 China's Precarious Economic Recovery Signals More Support Needed
(Bloomberg) — China's factories look to have stabilized for now, though the recovery has been far from swift and the momentum for growth may be in trouble without more policy support.
An official gauge of manufacturing activity returned to expansion in September for the first time in six months, a sign that stimulus may be taking root. But it's not all smooth sailing: That index just barely cleared the dividing line between contraction and growth from the prior month, while a private gauge of activity in the sector underperformed and suggested the recovery isn't on solid ground just yet.
"The macro economy has shown signs of stabilization," said Wang Zhe, senior economist at Caixin Insight Group, in a statement accompanying data showing the rate of expansion in factory activity slowing in September. "However, the economic recovery has yet to find a solid footing, with insufficient domestic demand, external uncertainties and pressure on the job market."
The data adds up to a precarious outlook for the world's second-largest economy, which is trying to regain traction amid challenges from weak consumer and business confidence along with the ongoing property crisis. China has rolled out stimulus including cutting bank reserve requirements, slashing interest rates and easing home-purchase requirements.
The private purchasing managers' index from Caixin and S&P Global was evidence of how shaky things still look. Pickups in supply and demand were offset by employment pressures and weak overseas orders. The Caixin gauge surveys more export-oriented firms than the official one does.
What Bloomberg Economics Says
"The surprise drop in the Caixin manufacturing PMI in September signals parts of China's economy remain fragile. The decline bucked a pickup in gauges in the official survey. The Caixin setback suggests private businesses and exporters are still under heavy pressure."
— Eric Zhu, economist
Read the full report here.
An average of the official and private manufacturing surveys "is consistent with factory activity remaining largely unchanged last month," said Sheana Yue, China economist at Capital Economics, adding that impacts from fiscal policy "could also prove short-lived."
The slow recovery in China is clouding the outlook for global growth as central banks worldwide fight to tackle inflation. Data published on Monday showed manufacturing activity across Asia mostly worsened in September, undercutting cautious optimism that the global economy is finding itself on steadier footing.
Services Slowdown
The weekend's PMI data also suggested services activity is somewhat constrained. An official survey of the services sector picked up a bit to 50.9 in September, but the Caixin index eased significantly to 50.2 — the lowest rate of expansion all year.
"Surveyed companies indicate that the slowdown in business activity was related to weaker-than-expected demand," Goldman Sachs Group Inc. economists wrote in a research note Sunday. Soft readings for both the official and private services indexes were caused "potentially on a combination of fading reopening boost and weakening property market," they added.
The real estate industry has been in turmoil for years, and economists in a recent Bloomberg survey see the sector posing the nation's biggest challenge right now. They expect China will just about meet its economic growth target of around 5% for this year, with property raising the risk of a miss.
China is currently on an eight-day holiday called Golden Week, which is historically a key test for the property sector. After the nation's home sales moderated their decline in September following stepped-up efforts to support housing, developers are now looking to see if the holiday sparks the revival they're looking for.
Bloomberg Economics sees the need for more policy support to lift consumption and help the property market, and expect the central bank to lower a key rate and cut the reserve requirement ratio again to free up more funds for banks to lend.
The real estate sector's downward spiral, weak exports and low private sector confidence may also mean economic conditions remain poor or even worsen in the coming months, according to Nomura Holdings Inc. economists including Lu Ting.
"Despite signs of stabilization, we remain cautious on growth," they wrote in a research note. "Recent signs of stabilization may also slow Beijing's efforts in rolling out the measures necessary to truly stabilize the economy, especially for the property sector."
©2023 Bloomberg L.P.
Bill Ackman says the economy is starting to slow and the Fed is likely done hiking
Pershing Square's Bill Ackman on Monday sounded alarms on the economy, which he believes has begun to decelerate on the back of aggressive rate hikes.
″[T]he Fed is probably done. I think the economy is starting to slow," Ackman said on CNBC's "Squawk Box." "The level of real interest rates is high enough to slow things down."
In a bid to fight stubbornly high inflation, the Federal Reserve has taken interest rates to the highest level since early 2001, while signaling borrowing costs will stay elevated for longer. The central bank last month forecast it will raise rates one more time this year. Many on Wall Street have grown worried about a recession as the economy feels the lag effects from massive tightening measures undertaken since March of last year.
"High mortgage rates … high credit card rates, they're starting to really have an impact on the economy," Ackman said. "The economy is still solid, but it's definitely weakening. Seeing lots of evidence of weakening in the economy."
The billionaire hedge fund manager said he believes long-term Treasury yields could shoot even higher in the current environment. He sees the 30-year rate testing the mid-5% and the benchmark 10-year approaching 5%. Ackman said he's still shorting 30-year Treasury bills as a hedge.
The 10-year Treasury note Monday yielded 4.64% after touching a 15-year high last week, while the 30-year on Monday yielded about 4.76%.
"The 30-year Treasury is likely to go higher," Ackman said. "I don't know that the 10-year has to go meaningfully above 5% because you're seeing some weakness in the economy. But on a long-term basis, we think structural inflation is going persistently higher in a world like that."
Ackman said investors who have borrowed short term at a low fixed rate and are getting repriced, especially in the commercial real estate market, are going to have a "very challenging period."
"I think that's really the big threat," he said.
U.S. regulators recently approved Ackman's unique SPAC structure — called "SPARC," a special purpose acquisition rights company — in which he will inform investors of a potential acquisition planned for the SPAC before they are asked to pledge funds.
Correction: The Federal Reserve has taken interest rates to the highest level since early 2001. An earlier version misstated the time frame.
5 economic shocks are about to hit the U.S. all at the same time: 'There are storm clouds out there forming that we're all seeing and watching—fearfully'
Federal Reserve Chairman Jerome Powell was asked whether he would say a "soft landing" was his base case for the U.S. economy at a press conference after the central bank's September meeting. "No. I would not do that," he bluntly told reporters. The soft landing scenario, where inflation is tamed without the need for a job-killing recession, is the most likely outcome for the U.S. economy in the minds of the Fed's staff of economists, but not Powell's.
The Fed chair even isolated a number of economic shocks that may cause significant headwinds in the coming months. "There is a long list," he warned.
From risks that have been long anticipated, like the resumption of student loan payments and higher interest rates, to more emergent threats like the UAW strike, a potential government shutdown, and the recent rise in oil prices, here are five shocks that economic experts told Fortune are putting the soft landing in doubt.
"There are storm clouds out there forming that we're all seeing and watching—fearfully," Jesse Wheeler, senior economist at the decision intelligence firm MorningConsult, warned.
1 – The national debt is over $33 trillion and the government's about to shut down (again)
In January, the federal government hit the $31.4 trillion debt ceiling amid political gridlock in Washington. Lawmakers clashed over a budget deficit and spending levels, but eventually reached a bipartisan deal to prevent the U.S. from defaulting on its debts.
Now, though, some of the more conservative House Republicans argue that discretionary spending should be reduced by more than was agreed to less than a year ago. They note that the U.S. national debt soared above $33.1 trillion in September, and the cumulative national deficit between 2024–2033 is now projected to top $20.2 trillion due to increased spending.
So here we are at another budget standoff, and if Republicans and Democrats can't reach an agreement, the government will shut down on Oct. 1.
Wells Fargo senior economist Mike Pugliese said he sees the odds of a shutdown "as more or less a coin flip." And with the U.S. economy facing rising interest rates, high oil prices, and striking unions, he warned the impact could be severe.
"While there is never a good time for the federal government to shut down, the potential for one in the current economic environment is more concerning," the veteran economist wrote in a recent note to clients. "Not only would a shutdown reduce economic growth modestly, but it would create a data vacuum at a time when the path ahead for the economy is highly uncertain."
Battling inflation for over a year now, Fed Chair Powell has raised interest rates while promising to be "data dependent" when crafting monetary policy. But a government shutdown could result in the delayed release of critical economic data that he uses to do his job, including personal income, consumer spending, and GDP reports from the Department of Commerce and inflation and unemployment reports from the Department of Labor. The 2024 cost-of-living-adjustment for Social Security, usually released mid-October, could be delayed as well.
Pugliese explained that because employees involved in collecting and processing these reports and adjustments are considered "non-essential," they wouldn't be paid during a shutdown.
"The lack of data could raise the risk of a policy mistake in the form of inflation being allowed to fester or a sharper- than-expected slowdown in economic growth," he wrote.
2 – Oil is headed north of $100 a barrel
Throughout U.S. history, oil price shocks have routinely helped to spark recessions. High oil prices increase costs for a broad range of companies and weigh on consumers' budgets, which can lead to rising inflation and falling consumer spending.
It's a recipe for economic disaster that the U.S. is facing once again today. Oil prices have soared since June amid production cuts from the world's largest crude producers OPEC+, which includes Russia and Saudi Arabia. International benchmark Brent crude prices are up 28% from their June 11 low of $74 per barrel to over $95 per barrel.
View this interactive chart on Fortune.com
On top of that, commodities experts at a number of investment banks, including Goldman Sachs and Wells Fargo, argue that the rise in oil prices is just the beginning of a commodity "supercycle" that could keep inflation elevated.
Erik Knutzen, multi-asset chief investment officer at Neuberger Berman, a private investment management firm that manages over $440 billion in assets, told Fortune that the good news is that "a supercycle is always going to have its ups and downs."
"Once people become concerned about a recession again—and I think they're starting to be—there could be short-term pressure on commodities prices," he said.
But over the long term, consumers may need to become accustomed to higher oil and gasoline prices because there has been less incentive to invest in new crude production over the past few years, and that's created supply and demand imbalances.
"There's been relatively less investment in oil and gas. And yet, we're still going to need energy even as we move through the transition to a net zero carbon economy," Knutzen explained. "So you're starting to see some of the challenges associated with supply and demand, especially with the cuts that Saudi Arabia, Russia, and OPEC+ have been able to implement."
3 – The UAW strike could crush the car market
Since Sept. 15, the United Auto Workers' union has been engaged in a targeted but historic strike against Detroit's big three automakers: Ford, GM, and Stellantis. In just one week, it's cost the U.S. economy over $1.6 billion, according to a study from Anderson Group. And although the strike currently originally involved less than 15,000 union members, it is slowly becoming more widespread, making it a key risk to the Fed's inflation fighting goal. Some 7,000 more union members left their jobs at a Ford plant in Chicago and a General Motors assembly factory near Lansing, Michigan on Friday.
The UAW is asking for substantial wage increases for its members. That could influence other workers to do the same across the nation, increasing inflation and forcing the Fed to hike interest rates even further.
"With unemployment low and a labor shortage, this strike will be a key test of just how much power labor has," Brad McMillan, chief investment officer for Commonwealth Financial Network, told Fortune, adding that rising wages due to union efforts may "both slow the economy and drive inflation back up."
There are more localized effects. With striking workers receiving only a percentage of their pay from the union while they strike, there will likely be reduced consumer spending in their communities for the duration of the action. The Michigan economy will take a hit, but it could make up for it if workers secure the higher wages they're seeking (that's what happened after the last UAW strike, in 2019).
"The prospect of a prolonged strike combined with a federal shutdown is the greatest threat to the American economy, future job growth, and our state's fiscal health if a deal is not made soon," Zack Pohl, the chief of staff for Mich. Governor Gretchen Whitmer, said in a statement Friday. "Time is of the essence."
The longer the strike goes on, the more effects the automakers, workers, suppliers, dealers, and consumers will feel. There's already "anecdotal evidence" that new and used vehicle prices are rising "in anticipation of a sharp drop in inventories due to the strike," Aichi Amemiya, a senior U.S. economist at the Japanese investment bank Nomura, explained in a Sept. 22 note.
That said, the Big Three aren't as big as they used to be, at least nationally. If the strike lasts six weeks, it could decrease fourth-quarter gross domestic product growth, but only by around 0.2%, says Mark Zandi, chief economist at Moody's Analytics.
Still, chair Powell explained at his FOMC press conference in September that the impact on the economy from the UAW strike is still "uncertain."
"We've looked back at history—it could affect economic output, hiring, and inflation. But that's really going to depend on how broad it is and how long it's sustained for," he said.
4 – Nearly 44 million student loan borrowers will soon see payments restart
Economists and analysts have been calling the imminent return of federal student loan payments a likely shock to the economy for months. Nearly 44 million borrowers will start paying an average of $393 per month to their loan servicers after a three-and-a-half-year hiatus. Inevitably, that will mean less spending elsewhere, at least for some households.
Estimates have varied on the potential economic impact. Consumer spending in the U.S. could fall by as much as $9 billion each month, according to a July report by Oxford Economics, shaving 0.1% off gross domestic product growth in 2023 and 0.3% in 2024. Meanwhile, investment bank Jefferies puts the income hit at $18 billion per month.
This has implications for retail spending, Jefferies added, as it downgraded both Nike and Foot Locker, arguing that households likely haven't budgeted for the return of the monthly bills. The firm calls the return of payments a "key pain point" for consumer stocks through the end of the year.
"We believe US consumers are likely to curtail spending ahead, with apparel & footwear being the most likely areas of pullback," Corey Tarlowe, an analyst at Jefferies, wrote in a research note. "With the resumption of student loan repayments, we believe this could be a catalyst that weighs further on already soft sales at some of our specialty apparel coverage."
It's not just consumer spending that will be impacted. Borrowers also report they will be able to save less and sock away less for retirement. Over 70% of households earning at least $100,000 say they expect to miss at least one payment when they resume, according to Morning Consult.
Some experts are more optimistic about the economic outlook once payments resume. Oxford Economics expects mid- and high-income households to be able to more or less take the monthly bills in stride, while lower-income households will feel the most strain.
And thanks to two programs from the federal government, there may not be many visible economic effects at all, says Dean Baker, founder and senior economist at the Center for Economic and Policy Research. Baker says the Biden administration's new, more generous income-driven repayment plan and the 12-month grace period will help dull many of the negative economic impacts of the return of payments.
"There's not going to be any great consequence if someone doesn't immediately start paying," says Baker. "I don't think it will be catastrophic."
5 – Mortgage rates nearing 8% threatens to restart the housing deep freeze
The Fed has been raising interest rates to help curb inflation by slowing down the economy. This presents many challenges for investors, businesses, and consumers alike—and particularly for home buyers, who are facing the highest interest rates in more than two decades, with the 30-year rate nearing 7.5%, a far cry from the sub-3% days of the early pandemic.
Higher rates make buying a home even more unaffordable after years of soaring prices. The average monthly principal and interest payment for borrowers hit $2,306 in July, the highest on record, according to Black Knight, a real estate analytics firm. That's up 60% from two years ago. Nearly 25% of July homebuyers have monthly payments of at least $3,000, per Black Knight—up from just 5% in 2021. More than 50% of homebuyers pay at least $2,000 per month.
Though the economy has been on relatively solid footing so far this year, further rate hikes from the Fed could complicate matters—including slowing down home sales. That has ripple effects throughout the economy, says Jeff Rose, certified financial planner and founder of GoodFinancialCents.com. Rose notes in the 1980s, high mortgage rates contributed to a recession.
The high rates "can lead to a drop in consumer spending and can hit the housing market hard," says Rose. "When people are paying more on their mortgages, they have less to spend elsewhere, which can slow down economic growth."
It's not just consumers: Businesses also slow spending and investments when rates are higher.
But Dottie Herman, vice chair and former CEO of Douglas Elliman Real Estate, says the rates only seem high because of historic lows they hit during the pandemic. Rather than sending shockwaves through the financial system, higher mortgage rates are acting as more of a gradual brake.
"I don't think it's a shock to the economy, but rather a swift 'correction' following a once-in-a-lifetime event," Herman says.
Darren Tooley, senior loan officer at Michigan-based Cornerstone Financial Services, agrees, adding that although the higher rates have temporarily priced some out of the market, other economic factors, like the unemployment rate, remain strong.
"The fact mortgage interest rates have reached their highest levels in more than 20 years has not had the effect on the economy as most would have thought," Tooley says.
The Fed left interest rates unchanged in September, indicating it believes the economy is doing okay. It is expected to raise them one more time this year.
This story was originally featured on Fortune.com