Gameday: Raptors vs Celtics – Game 4, Sep. 5 – Raptors Republic
With OG's last second three, the Raptors have fought their way back into this series.
First up, here's Es's 3 points:
[embedded content]
"I'm not sure that [game 3] doesn't rank right up there with our gutsiest performances". That was Nick Nurse in his post game presser after the Raptors somehow found a way to steal game 3. Every time the Raptors were down in game 3, they just found a way to claw their way back into the game. Despite giving up an 8-0 run late in the 4th quarter and being outscored 12-9 overall in the last 5:15 of the game, the Raptors dug deep and never quit. Then this happened.
[embedded content]
Everything about this play was special. The play that Nick Nurse drew up with inspiration from an old Hubie Brown coaching DVD. The high arcing cross-court pass from Kyle Lowry over the 7'5″ Tacko Fall that was right on the money. And of course, the huge shot from OG Anunoby to save the season.
Down 2-1, the Raptors have plenty of encouraging things to take from game 3 as well as things they need to clean up.
The Good
1. OG Anunoby: OG has been the best shooter from behind the arc for the Raptors this series. The Celtics have been giving him good looks and OG has knocked them down. Through three games he's shooting a blistering 57.1% on 4.7 attempts per game. With this uptick in offensive production, OG's defense has remained stellar as well. For the series he's averaging 1.3 steals per game to go along with 1.3 blocks per game. In game 3, he did an excellent job defending Jayson Tatum. In the 4:57 Tatum and Anunoby were matched up (which was the most on the team), OG held Tatum to 0-3 shooting and picked his pocket clean in the 3rd quarter.
I would expect that OG will continue to be the primary defender on Tatum as the series moves forward
2. Marc Gasol's Rolls: Marc Gasol had his best game of the series in game 3. His defense was very good once again and his offensive production was vital. With Gasol struggling from three in the series (he hasn't hit one yet), it was encouraging to see him aggressively get to the rim. Rather than pop, Gasol rolled hard to the basket in screen and roll actions, where he scored 8 of his 10 points.
Louis Zatzman brilliantly covered the slip-reject screen in his game 2 analysis, and it was once again effective in game 3. This play early in the game was perfect execution of the slip-reject screen and it led to an easy dunk for Gasol.
Another sequence where the reject slip screen led to a Gasol basket. Hard roll from Gasol once he recognizes Lowry rejecting the screen. Great pass from Lowry once again for the easy bucket.
This time it was Lowry snaking the pick and roll and keeping Theis engaged for just a split second longer. Gasol rolls hard once again and finishes through contact at the rim.
3. Vintage Kyle Lowry & Encouraging Signs for Pascal Siakam: Kyle Lowry's game 3 performance was nothing short of spectacular. He was aggressive going to the rim and the Celtics just could not contain his dribble penetration. The 3pt shot started to fall as well in the second half which is very encouraging for game 4. Dropping 31-8-6 in a must-win game and playing with 5 fouls for the last 6:56 is why Lowry is the heart and soul of the Raptors
The first half from Siakam in game 3 was downright horrible. Got himself into foul trouble again and his only 2 points came at the free throw line. However, in the second half, we saw a much different Pascal Siakam. He made a couple of nice hard cuts and was much more decisive with the ball in his hands. His 14 second half points were huge for the Raptors offense, though he still struggled when Jaylen Brown was defending him. His dribble penetration was excellent and he made the right reads when he collapsed the defense. Maybe Siakam has found a blueprint to be more impactful offensively for the rest of the series.
The Bad
1. Drop Coverage vs Kemba
Kemba Walker was feasting on the drop coverage against the Raptors bigs in game 3. He had an 81.3% eFG% on pull-ups in game three and shot 3-4 on pull-up threes. For the series now, Walker is shooting 54.5% on pull-up twos and 35.3% on pull up threes. The drop coverage, especially with Ibaka, is just giving Kemba too many good looks. Nurse has a variety of options to try and contain Walker's pull-up shooting. Playing zone defense and trapping Kemba off of screens are good curveballs to throw at the Celtics offense to stop this action, but I don't think the Raptors can do this all game long. It's more of a secondary off-speed pitch to try and keep Boston off balance. The Raptors did try pre-switching the screener to get Siakam or Anunoby involved in the pick and roll, rather than Gasol, which is something I would like to see more off in game 4.
2. Heavy Minutes
The Raptors starters logged some heavy minutes in the game 3 victory. Lowry and OG both played over 45 minutes and Fred played over 40 minutes. With just one day of rest how fresh will their legs be? The Raptors are going to need more from their bench in game 4, especially after their starters logging big minutes.
Game info
Tip-off: 6:30 pm EST
TV: Sportsnet
Radio: 680 News
Raptors Lineups
PG: Kyle Lowry, Terence Davis II
SG: Fred VanVleet, Norman Powell, Matt Thomas, Paul Watson
SF: OG Anunoby, Malcolm Miller, Stanley Johnson
PF: Pascal Siakam, Rondae Hollis-Jefferson, Chris Boucher
C: Marc Gasol, Serge Ibaka, Dewan Hernandez
Injured/inactive:
Oshae Brissett (knee) – out
Patrick McCaw (knee) – out.
Celtics Lineups
PG: Kemba Walker, Brad Wanamaker, Carsen Edwards, Tremont Waters
SG: Marcus Smart, Romeo Langford
SF: Jaylen Brown, Semi Ojeleye
PF: Jayson Tatum, Grant Williams
C: Daniel Theis, Robert Williams, Enes Kanter
Injured/inactive:
Gordon Hayward (ankle) – out
Lightning's Steven Stamkos ruled out for remainder of Stanley Cup Final – Sportsnet.ca
EDMONTON — The only way we'll see Steven Stamkos return to the Stanley Cup Final is if the Tampa Bay Lightning are able to finish the job without him.
The hard-luck captain was officially ruled out of the series by the Lightning on Sunday morning, but could still be called on to accept the Stanley Cup from NHL commissioner Gary Bettman.
"Hopefully the next time we see him on the ice is during a trophy presentation," said Lightning head coach Jon Cooper.
No team has won the Stanley Cup without its captain in the lineup since the 1936-37 Detroit Red Wings, who were without Doug Young. The Boston Bruins did not have a designated captain in 1970 and 1972, but Johnny Bucyk accepted the trophy both years and played in the clinching game.
Stamkos has been battling an undisclosed injury throughout these playoffs. He made an emotional return for Game 3 of the Cup Final against the Dallas Stars and scored a beautiful goal, but was unable to play after the first period that night.
The 30-year-old saw a total of five shifts while spending nine weeks inside the NHL bubble rehabbing.
"He gamed it out," said Cooper. "To be honest I didn't think he was playing at all in these playoffs. I don't think any of us did. So he gave us 2:47 of brilliant hockey, that's a phenomenal story.
"He scored a huge goal for us in a win."
The Lightning hold a 3-2 series lead over Dallas entering Game 6 on Monday.
Stamkos is the longest-tenured member of the organization and has endured a difficult run of injuries throughout his career. A broken leg saw him miss the chance to play for Team Canada at the 2014 Sochi Olympics and blood clots forced him out of all but one game of Tampa's 2016 run to the Eastern Conference Final.
He had a 15-game points streak going when he got injured on Feb. 25 this season. That was followed by core muscle surgery on March 2. Stamkos appeared to be on the mend while participating in training camp following the COVID-19 pause, but he suffered some kind of setback that kept him out until the brief, memorable appearance in this Stanley Cup Final.
"He did everything he could to get back, and he did get back, and unfortunately he couldn't go any further," said Cooper.
From the Stanley Cup Qualifiers to the Stanley Cup Final, livestream every game of the 2020 Stanley Cup Playoffs, blackout-free, on Sportsnet NOW.
It's been a difficult journey.
Stamkos was clearly moved after being called out to join Victor Hedman, Ryan McDonagh and Alex Killorn in accepting the Prince of Wales Trophy last round and sounded emotional after scoring against Dallas in the Game 3 win.
He remained on the bench throughout that game, and tested his skating stride during a couple television timeouts, but didn't play for the final 46 minutes. He gave everything he could.
"I've watched these guys be so committed to what our end goal is, and to be part of it tonight, it was a dream come true and I'm so proud of these guys," Stamkos said that night. "And to be able to share that moment with them and just even be on the bench and watch how well we played tonight, I have told these guys before: It's inspiring.
"It was great to be part of."
Dana White reveals who's next for Israel Adesanya and Jan Blachowicz – MMA Fighting
Israel Adesanya was dazzling in his title defense and Jan Blachowicz cemented himself as the new light heavyweight champion as the UFC 253 main and co-main events both ended in dramatic fashion.
While Adesanya and Blachowicz will undoubtedly enjoy their victories with a well-deserved post-fight celebration, it didn't take long for the subject of their next fight to be raised on Saturday night.
In fact, it was Adesanya himself who made the call about the top contender in the middleweight division. He immediately turned his attention to Jared Cannonier, who's been on his radar for the past year.
Cannonier is currently preparing for a showdown with former champion Robert Whittaker at UFC 254 in October. If he's victorious, Cannonier should expect his next fight to come against Adesanya with the middleweight title up for grabs.
"That's the fight if Cannonier wins," UFC president Dana White confirmed at the UFC 253 post fight press conference. "And I love that about Israel. He's ready for who's next, who else thinks they can beat me. The kid is an absolute stud."
Adesanya will undoubtedly be keeping a close eye on Cannonier's fight in just a few weeks to see if his next opponent is secured or not.
Things aren't quite as clear cut at light heavyweight, but there are only a few options that make sense for Blachowicz after he dispatched Dominick Reyes in impressive fashion to claim the vacant title.
The Polish veteran made it clear just after the belt was wrapped around his waist that he would like to cement his championship status by facing Jon Jones, who vacated the belt just recently with the intention of moving up to the heavyweight division.
Jones even went as far as hinting on Twitter that perhaps he could return to 205 pounds now that a challenger like Blachowicz exists for him but obviously nothing is set in stone at this point.
The other fight that could determine the next contender for the light heavyweight title will take place on Nov. 7 when Thiago Santos goes to battle with Glover Teixeira.
White confirmed the winner of that fight would earn the next crack at the new 205-pound champion unless Jones really did decide he wanted to return to his old stomping grounds.
"Those are the guys that are fighting for the next shot," White said about Santos vs. Teixeira. "But obviously if Jon Jones wanted that fight, we wouldn't deny Jon Jones the opportunity."
Stamkos out for remainder of playoffs – TSN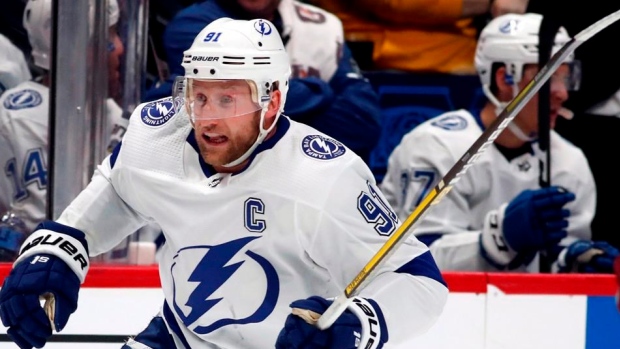 Tampa Bay Lightning head coach Jon Cooper said forward Steven Stamkos will not return in the Stanley Cup Playoffs. "Hopefully next time we see him on the ice is during the trophy presentation," Cooper said.
The 30-year-old returned to the Lightning lineup for the first time since February in Game 3 and scored a goal, but only had five shifts, playing just 2:47.
Stamkos skated off gingerly at the end of his final shift in the first period and was not on the bench for the start of the second. He returned to the bench and took a few twirls to test out the injury but did not return and was deemed "unfit to play" for Game 4.
Stamkos, who last played Feb. 25, had surgery in early March and aggravated the injury at least once over the summer.
Tampa Bay leads the series 3-2.