Geekbench shows M1 Max offers up to 181% faster graphics than previous 16-inch MacBook Pro – 9to5Mac
Apple this week unveiled the new 14-inch and 16-inch MacBook Pro, which are powered by Apple Silicon M1 Pro and M1 Max chips. An early benchmark already revealed that the M1 Max CPU delivers twice the performance of the M1 chip, and now a Metal score from Geekbench 5 shows that the M1 Max offers up to 181% faster graphics than the GPUs found in the previous 16-inch MacBook Pro.
Another benchmark test run with the new MacBook Pro recently uploaded to the Geekbench website shows that the GPU of the M1 Max chip scored 68870 in the Geekbench 5 Metal test. According to the website, the score comes from the high-end version of the M1 Max chip with 64GB of RAM.
Another benchmark test performed with the new MacBook Pro shows that the GPU of the M1 Max chip scored 68870 in the Geekbench 5 Metal test. According to the website, the score comes from the high-end version of the M1 Max chip with 64GB of RAM.
When compared to the AMD Radeon Pro 5300M, which is the GPU found in the base model of the previous 16-inch MacBook Pro with Intel processor, the M1 Max chip has 181% faster graphics, as the AMD 5300M scores only 24461 in Geekbench 5. Even compared to the best GPU available for the previous model (which is AMD Radeon Pro 5600M), M1 Max still has 62% more powerful graphics.
This score puts the new MacBook Pro with M1 Max chip on par with the now-discontinued iMac Pro, which had a model equipped with the AMD Radeon Pro Vega 56 GPU.
While the M1 Pro chip is available with 14-core and 16-core GPU, the M1 Max chip has a 32-core GPU with unified memory, which means it shares the same 32 or 64GB of RAM for graphics. Apple points out that the memory bandwidth speed reaches 400GB/s. This, of course, makes the new MacBook Pro more than ideal for graphics-intensive tasks.
The new 14-inch and 16-inch MacBook Pro are now available for pre-order, with the first units expected to ship next week.
Read also:
Check out 9to5Mac on YouTube for more Apple news:
[embedded content]
Genshin Impact Reveals Arataki Itto Character Abilities In New Teaser – Screen Rant
miHoYo, developer of Geshin Impact, has unveiled the abilities of the upcoming character Arataki Itto, along with a new teaser trailer. Arataki Itto is the latest playable 5-star character scheduled to arrive in the game during the ongoing 2.3 update. The leader of the Arataki Gang, Genshin Impact's Itto got a surprise character reveal on social media in October, supposedly in response to leaks that were coming out at the time.
Genshin Impact's current 2.3 update is being well-received by players of the popular free-to-play game. The update is the first of the game's patches to feature its new banner system. Rather than one banner featuring the new 5-star and 4-star characters for the respective update as well as another for reruns of previously released characters, the new system will add a second rerun banner that will be available alongside the first one. This means that during the 2.3 update, a total of three Genshin Impact character banners will be available. The two rerun banners will be released first while the new banner will be released later on.
Related: Genshin Impact 2.4: Confirmed New Playable Characters
Developer miHoYo revealed Arataki Itto's abilities in a new blog post, alongside a character teaser trailer on the Genshin Impact YouTube channel. According to the post, Arataki Itto is a Geo claymore user whose damage primarily comes from his charged attacks due to his unique mechanic. He gains stacks of Superlative Superstrength from his normal attacks, elemental skill, and elemental burst. He can then perform a unique multi-hit charged attack by consuming the said stacks instead of stamina. His normal attack also has the unique trait of not immediately resetting its chain after the player sprints or uses Itto's elemental skill, called Masatsu Zetsugi: Akaushi Burst.
[embedded content]
Watch the video on YouTube here.
Itto's elemental skill sees him throw Ushi, described as the young akaushi bull and auxiliary member of the Genshin Impact Arataki Gang, at an opponent. The impact not only deals Geo damage but also gives Itto a stack of his Superlative Superstrength. Additionally, Ushi also remains on the field and draws the attention of enemies as well as gives Itto even more stacks whenever Ushi takes damage. Lastly, Itto's elemental burst is called Royal Descent: Behold, Itto the Evil and not only puts Itto into an enraged state but also summons the Oni King's Kanabou club. While Itto is in this state, all of his attacks deal Geo damage, his attack speed is increased, he gains Superlative Superstrength stacks during the first and third strike of his combo. On the flip side, Itto also takes more damage while he's enraged.
As for the character teaser trailer, the animated video shows Itto and the other members of the Arataki Gang pulling off a mischievous stunt by taking over the performance of a stage play, even going as far as changing the script of the narration. Unfortunately, both their enjoyment and the audience's is cut short when the Tenryou Commission, the organization led by Genshin Impact's Kujou Sara, arrives to arrest Itto and his crew. The trailer gives players a glimpse into the personality of Itto and the antics he and rest of the Arataki Gang may get up to.
Arataki Itto has been a character of interest since the original leaks, and the official trailer reveal and details from miHoYo have certainly cemented him as one of the most exciting characters to look into when his banner is released. Players will just have to wait until he's available and hope they're able to unlock him before they run out of Primogems or Wishes, but when it comes to dealing damage, the character has the potential to end up being one of the best Geo characters in Genshin Impact.
Next: Genshin Impact's New Character Yun Jin Explained
Genshin Impact is available on PlayStation 4, PC, iOS, and Android.
Source: miHoYo, Genshin Impact/YouTube
.item-num::after
content: '/ ';
How PlayStation Spartacus Can Compete With Xbox Game Pass
Genshin Impact Teaser Trailer Introduces Players To The Foolhardy Oni Arataki Itto – Noisy Pixel
Developer miHoYo has released a new Genshin Impact teaser trailer introducing us to the new character, Arataki Itto, the head of the Arataki Gang. They constantly get caught by Inazuma's Tenryou Commission. The trailer depicts a slightly distorted version of the humans versus oni story while providing comedic insight into Arataki Itto's personality. In the trailer's description, the developer states:
"When the Arataki Gang is involved, even the most traditional repertoire may usher in a new twist. Although some in the audience have enjoyed such a surprise, it has caused some trouble for the Tenryou Commission. So let's see who will get the last laugh this time: Arataki Itto with his booming laughter, or the soldiers who are swift at maintaining law and order."
Arataki Itto will be available for players to wish for starting December 14th. In addition, the new Geo Archer, Canine Warrior Gorou, will also release alongside Arataki Itto. Here's the full information about the character's voice actors and skills: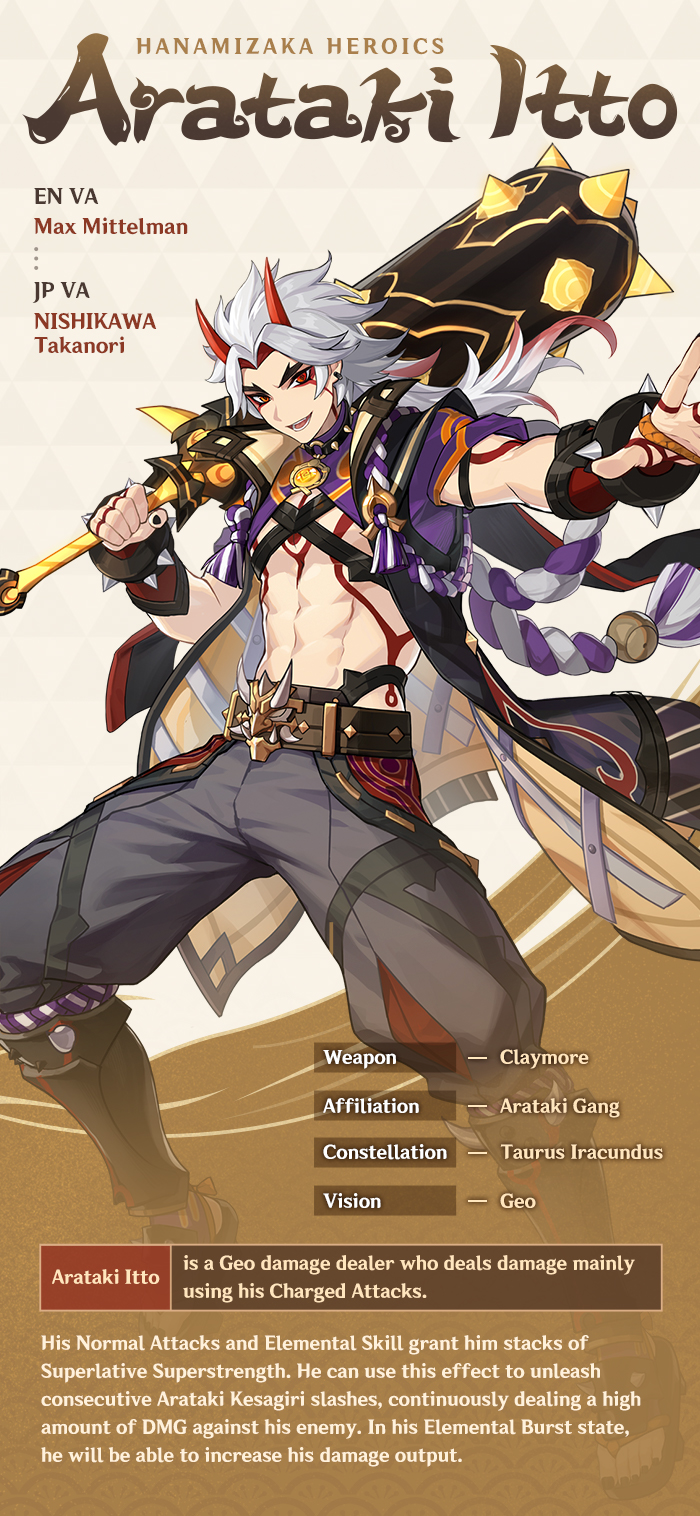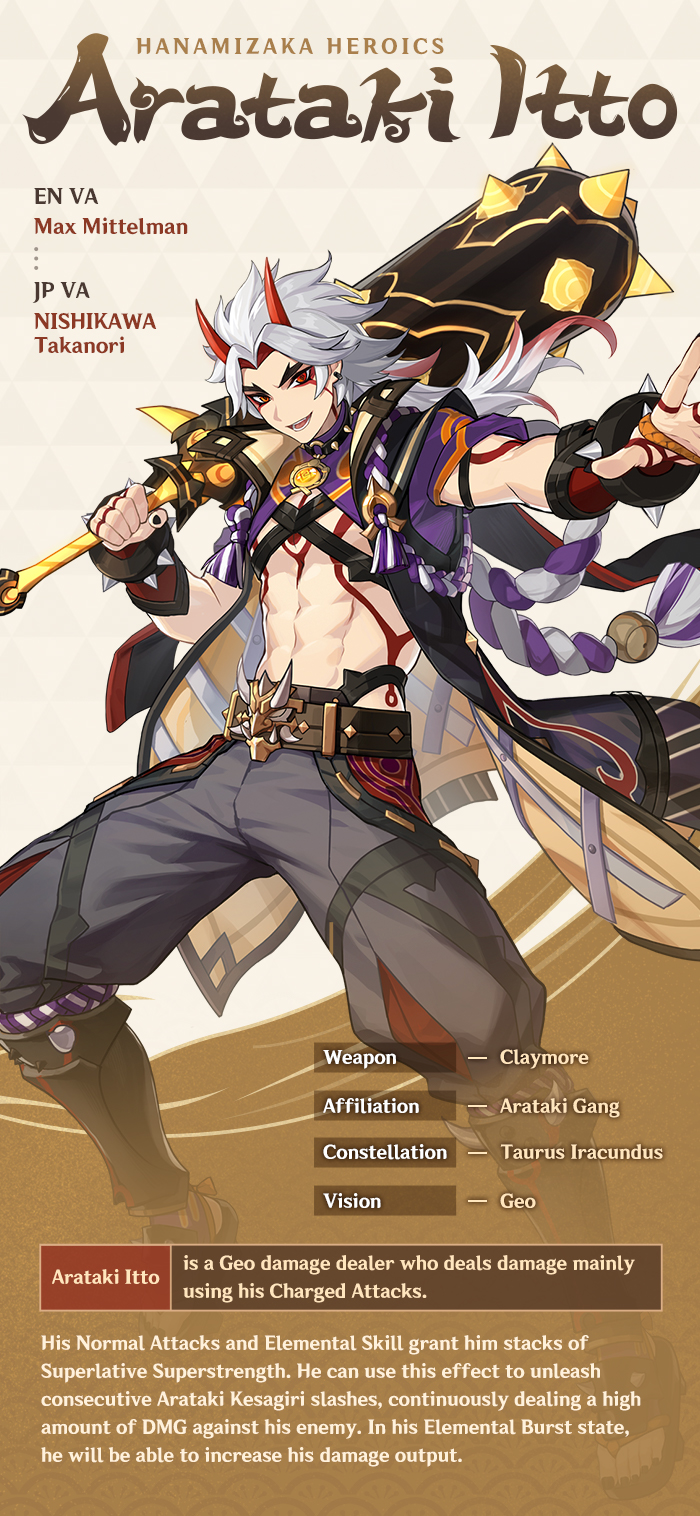 You can view this new teaser trailer below:
[embedded content]
Genshin Impact is a free-to-play open-world action RPG that brings players to the visually stunning world of Teyvat. The player takes on the role of the mysterious "Traveler," who sets off on a journey to discover the fate of their lost sibling and unveils the mysterious secrets of Teyvat along the way. Version 2.3, Shadows Amid Snowstorms, is currently available on PlayStation 4, PlayStation 5, PC (through the official website and the Epic Games Store), Android, and iOS devices.
Here's What Time 'Halo Infinite' Launches In Your Region – Forbes
The day has finally arrived. A year delay, a three week early release of multiplayer, and now everyone will finally be able to get their hands on the Halo Infinite campaign, and make up their minds about 343's latest installment, and the guideposts for the next generation of Halo content from Microsoft.
You are probably waking up to check if you can play this very moment, but Halo Infinite is doing a global launch where the game releases simultaneously in all regions. So, what times does Halo Infinite launch?
December 8:
10 AM PT
12 PM CT + CST
1 PM ET
3 PM BRT
6 PM GMT
7 PM CET
9 PM AST + MSK
December 9:
2 AM HKT
3 AM JST
5 AM AEDT
7 AM NZDT
So, essentially usual daily challenge reset time for most regions. While Halo Infinite is single player and has no co-op, online or otherwise, I would expect there possibly to be some login issues as everyone floods to it, although 343 did do a good job preventing that from happening too much during the multiplayer launch, so maybe not.
It is pretty bizarre to think that multiplayer was also supposed to be launching today. It really reinforces just how separately packaged these two halves of Halo Infinite are. Besides the different release dates, Infinite is free-to-play and the campaign is either $60 by itself, or requires a Game Pass subscription, no doubt how the majority of players will play.
It's going to be really hard to measure the success of Halo Infinite in a traditional way, as sales will mean relatively little with its Game Pass inclusion, so expect to see some metric like "hours played" that will not mean all that much. The campaign also has zero monetization, as that's all jammed into multiplayer instead.
Halo Infinite campaign reviews arrived a few days ago, and it's scoring pretty high with an 86 on Metacritic. I was definitely on the lower end of reviews with a 7.5, but again, that's just the campaign, and I'd score multiplayer significantly higher. My main issue was that the last third of the game felt too unfinished and stopped too short, but we'll see if anyone agrees with me or not.
All my progress has been wiped from my review build, so I am diving in to replay the entire campaign again later today just like everyone else. I will work on an "early advice" tips article that will go live later today.
It's going to be a big day for Halo fans, and I'm really looking forward to seeing what everyone makes of Infinite. See you out there.
Follow me on Twitter, YouTube, Facebook and Instagram. Subscribe to my free weekly content round-up newsletter, God Rolls.
Pick up my sci-fi novels the Herokiller series and The Earthborn Trilogy.