Google discontinues Pixel 5, Pixel 4a 5G smartphones ahead of Pixel 6 launch – HT Tech
Google recently announced the launch of the Pixel 5a smartphone in select countries around the globe. In addition to that, the company gave a glimpse of its upcoming Pixel 6 and Pixel 6 Pro smartphones via the medium of its online Google Store in the US. What the tech giant hasn't done up until now is reveal the exact launch date of its Pixel 6 series smartphones, but it has done something else instead. The smartphone-maker has announced that it will officially discontinue the Pixel 5. In addition to that, the company has also discontinued the Pixel 4a 5G smartphone.
According to a report by The Verge, Google has listed the Pixel 4a 5G and the Pixel 5 smartphones as 'Sold Out' on its online store in the US. As far as the remaining stock with other retailers are concerned, it is not expected to last long. Google has also confirmed the news in a statement to the publication.
Also read: Looking for a smartphone? Check Mobile Finder here.
"With our current forecasts, we expect Google Store in the U.S. to sell out of Pixel 4a (5G) and Pixel 5 in the coming weeks following the launch of Pixel 5a (5G). These products will continue to be available through some partners while supplies last," a Google spokesperson told the publication.
While it is not surprising that the company has discontinued the Pixel 4a smartphone, especially after the launch of the Pixel 5a smartphone, which is available only in the US and Japan, discontinuing the Pixel 5 smartphone makes little sense given the company's earlier. But it is possible that the company decided to discontinue the Pixel 5 smartphone owing to its similarity with the upcoming Pixel 6 smartphone.
Notably, Google had neither launched the Pixel 5 nor its budget Pixel 4a smartphone in India. Furthermore, it has already confirmed that its newly launched Pixel 5a smartphone will not be arriving in India either. It remains to be seen if Google brings its Pixel 6 and Pixel 6 Pro smartphones to here or not.
EU Commission proposes removing chargers from all smartphone boxes – GSMArena.com news – GSMArena.com
In a new press release by the European Commission, legislation is being put forth by the European Commission to standardize the charging plug across all consumer devices. It also plans to "harmonize" a fast-charging standard and "unbundle the sale of chargers from the sale of electronic devices". This proposal will apply to "smartphones, tablets, cameras, headphones, portable speakers, and handheld videogame consoles."
The Commission officially proposes four things:
A harmonized charging port for electronic devices: USB-C will be the common port.
Harmonized fast-charging technology: will help prevent different producers unjustifiably limit the charging speed and will help ensure that charging speed is the same when using any compatible charger for a device.
Unbundling the sale of a charger from the sale of the electronic device: the Commission says that EU consumers already have an average of three chargers and will only use two.
Improved information for consumers: OEMs will need to provide information about charging speeds and whether the device supports fast charging.
According to the EU Commission, European consumers spend €2.4 billion annually on standalone chargers not included with devices. Also, an estimated 11,000 tonnes of e-waste are made up of disposed/unused chargers every year. The EU Commission hopes that the proposed legislation could potentially save consumers €250 million per year on unnecessary charger purchases.
Fast-charging standardization is an interesting one. Many Chinese phone makers all use different fast-charging standards to compete with each other, but most will support some form of USB-C Power Delivery fast-charging. So OEMs would need to provide fast-charging information so that they are informed about what charging speeds they may expect from the charger they already have at home.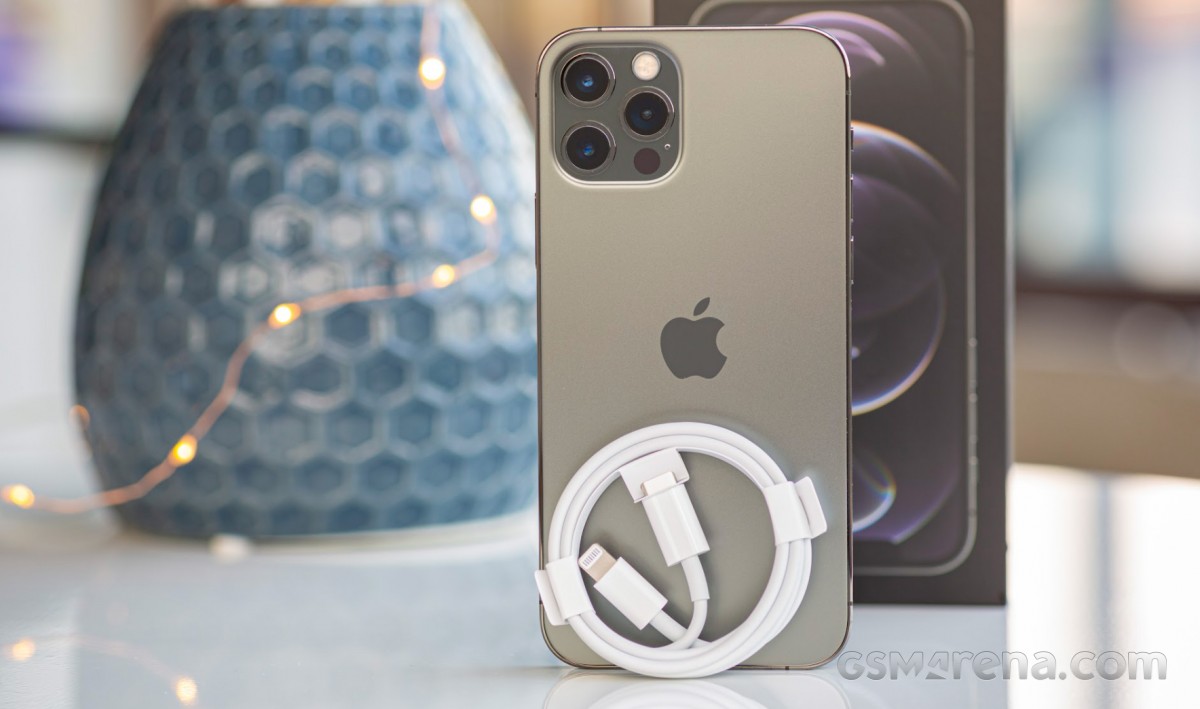 iPhone 12 Pro with included Lightning to USB-C cable
The proposed legislation will affect Apple the most. They'd need to make the switch from Lightning to USB-C. It's been rumored for years that Apple would make this switch, and even though Apple's MacBook and iPad have already switched to USB-C, its two most popular product lines: the iPhone and AirPods, continue to use the Lightning cable. This would hurt Apple's sales of chargers and cables, so Apple isn't giving in without a fight.
Even so, the proposed legislation still needs to be approved by the ordinary legislative procedure (co-decision): It needs to be adopted by the EU Parliament and Council. Once (and if) the legislation is approved, a transition period of 24-months will be given to OEMs to transition to the new EU laws.
Some iPhone 13 Pro animations affected by an issue that will be fixed – The Verge
Apple's iPhone 13 lineup launched Friday, and one of the key features of the 13 Pro and 13 Pro Max are their ProMotion displays with variable refresh rates that can top out at 120Hz. But as spotted by 9to5Mac, some app animations in third-party apps are currently only running at 60Hz. That might be frustrating if you were expecting to see buttery-smooth animations across all of your apps with the new phones, but when we asked Apple what was going on, the company shared two reasons why this might be happening.
One reason is that developers will need to update their apps to declare that they use the higher refresh rate. This can be done by adding an entry to the app's plist, Apple tells The Verge, and the company says it plans to share documentation about the entry you need to add soon. But in some cases, animations built with the company's Core Animation technology are also affected by an issue that will be fixed in an upcoming software update, Apple says.
Variable refresh rate screens offer a lot of benefits, including smoother animations and scrolling when you're using the device and battery savings the screen runs at lower refresh rates. We were impressed with the screens on the 13 Pro and 13 Pro Max in our review, and it's good to hear that third party apps will be able to take full advantage of what they have to offer — though some may have to wait until after that software update.
Today's Homes Need a Professional Electrician's Touch
Credit: Ed Harvey via Pexels
Modern technology can be jaw-dropping at times, but it must be installed correctly and safely. There's nothing worse than getting ready to show off one of the latest gadgets, only to see that it doesn't work!
Professional electricians have the experience and knowledge necessary to ensure that the wiring tucked out of view works as it should, so what is visible performs the way it's expected to. Let's check out the different services electricians provide for your home.
Safely, Efficiently Wire Smart Homes
The idea of a Smart Home where people can control a room's temperature from their phone did not exist when many homes were built. Whether your home is from a previous generation or you're building a new one from scratch, professional electricians can ensure the wiring will safely and sufficiently power all your devices if you want Smart appliances in it.
The electrical requirements are not the same in a house designed to power the lights versus one that can charge a car in the garage. Even though some aspects of a Smart Home can be self-installed, if you're confident enough, most laypeople don't know how to install it optimally.
If you have multiple smart devices, it's better to have them streamlined, so they can talk to each other and be interconnected. You want your speakers, thermostat, locks, and more to work effortlessly, and professional electricians make it easy.
If you're going to be charging an electric vehicle at home, ensure your EV Charger is hardwired to the electrical panel. A certified, licensed, and insured electrician needs to confirm the installation meets certification requirements.
If you need an electrician in Pickering or anywhere in the Durham region to wire your home for modern technology, look for a family-owned business that can get the job done quickly and with excellent customer service. Family-owned businesses specialize in customer satisfaction.
Safety Matters Above All
It's hard for laypeople to identify faulty or dangerous wiring when they see it, and it's hard to see behind those walls. Professional electricians have the equipment to measure the rate at which electricity is conducted, so they can safely install your home's lighting.
Whether you're moving into an old home that may have outdated systems or building a brand-new house, hiring a professional electrician to inspect and install the wiring is essential. Confirm first whether they're an apprentice, journeyman, or a master electrician, and double-check that the business is bonded, licensed, and insured.
The safety of you, your family, and your home may be at risk unless a professional electrician has inspected your home's wiring and deemed it safe. You can't get this peace of mind any other way.
A home ought to have lights that turn on brightly and safely, but it's common to expect a lot more from our gadgets, given today's incredible consumer technology. Make sure you have a professional electrician inspect and wire the home, so you can feel confident that everything will work smoothly and safely.