Google Photos abandons unlimited uploads amid storage changes – BBC News


.css-94m6rd-HeadingWrapperborder-bottom:solid 1px #BABABA;padding-bottom:1.5rem;.css-94m6rd-HeadingWrapper > *:not([hidden]):not(style) ~ *:not([hidden]):not(style)margin-top:1rem;.css-vk3nhx-ComponentWrappermargin:1.5rem 0;
.css-1759m9z-StyledFigurefont-family:ReithSans,Helvetica,Arial,freesans,sans-serif;font-weight:400;font-size:0.875rem;line-height:1.125rem;
.css-uf6wea-RichTextComponentWrappermargin:1rem 0;max-width:36.25rem;
.css-83cqas-RichTextContainercolor:#3F3F42;.css-83cqas-RichTextContainer > *:not([hidden]):not(style) ~ *:not([hidden]):not(style)margin-top:1rem;
.css-14iz86j-BoldTextfont-weight:bold;Google Photos will no longer offer unlimited free photo storage, in a move that will affect storage for other Google products including email.
The company's photo storage launched in 2015, promising unlimited uploads.
But Google now says it will limit that to the same 15GB of storage per account that is shared by its popular apps like Gmail and Google Drive.
Anyone wishing to store more than that will have to pay for one of the company's storage plans.
The change could mean that users who continue to upload many photos will run out of space for emails faster.
But photos uploaded before June 2021, when the change happens, will not count towards users' limits.
Disgruntled users on social media accused Google of using the free photo storage as a ploy to acquire market share from other firms while losing money.
Don MacAskill, chief executive of photo sharing site .css-yidnqd-InlineLink:linkcolor:#3F3F42;.css-yidnqd-InlineLink:visitedcolor:#696969;.css-yidnqd-InlineLink:link,.css-yidnqd-InlineLink:visitedfont-weight:bolder;border-bottom:1px solid #BABABA;-webkit-text-decoration:none;text-decoration:none;.css-yidnqd-InlineLink:link:hover,.css-yidnqd-InlineLink:visited:hover,.css-yidnqd-InlineLink:link:focus,.css-yidnqd-InlineLink:visited:focusborder-bottom-color:currentcolor;border-bottom-width:2px;color:#B80000;@supports (text-underline-offset:0.25em).css-yidnqd-InlineLink:link,.css-yidnqd-InlineLink:visitedborder-bottom:none;-webkit-text-decoration:underline #BABABA;text-decoration:underline #BABABA;-webkit-text-decoration-thickness:1px;text-decoration-thickness:1px;-webkit-text-decoration-skip-ink:none;text-decoration-skip-ink:none;text-underline-offset:0.25em;.css-yidnqd-InlineLink:link:hover,.css-yidnqd-InlineLink:visited:hover,.css-yidnqd-InlineLink:link:focus,.css-yidnqd-InlineLink:visited:focus-webkit-text-decoration-color:currentcolor;text-decoration-color:currentcolor;-webkit-text-decoration-thickness:2px;text-decoration-thickness:2px;color:#B80000;Flickr and its owner Smug Mug, tweeted: "For five years, we've known this would happen eventually… Losing billions of dollars to scoop up market share, stifle the competition, then eventually charging money for it? Monopolistic behaviour."
.css-mysbf6-ComponentWrapper-CrossheadComponentWrappermargin:1.5rem 0;max-width:50rem;padding-top:1rem;max-width:36.25rem;
.css-1jlqpzd-StyledHeadingfont-family:ReithSerif,Helvetica,Arial,freesans,sans-serif;font-weight:500;font-size:1.5rem;line-height:1.75rem;color:#3F3F42;@media (min-width:37.5rem).css-1jlqpzd-StyledHeadingfont-size:2rem;line-height:2.25rem;.css-1jlqpzd-StyledHeading:focusoutline-style:none;.css-1jlqpzd-StyledHeading:focus-visibleoutline-style:auto;
Unsustainable growth
"When we say a lifetime of memories, we really mean it," Google said when it launched the Photos service in 2015.
"With Google Photos, you can now back up and store unlimited high-quality photos and videos for free."
But in a blog on Wednesday, it said that policy had led to four trillion photos being stored on the service, with 28 billion photos and videos being uploaded every week.
It said the change was needed to make sure the product "continues to meet your needs over the long haul".
.css-1kgou70-ComponentWrapper-IncludeComponentWrappermargin:1.5rem 0;.css-1kgou70-ComponentWrapper-IncludeComponentWrapper iframemax-width:100%;
A remarkable 28 billion new photos and videos are uploaded to Photos every week. To welcome even more of your memories and build Google Photos for the future, we are announcing a change to our storage policy.

Learn more here: https://t.co/SuS34HFjAu

— Google Photos (@googlephotos) November 11, 2020
A similar post about the wider ecosystem revealed that 4.3 million gigabytes were added to Gmail, Drive, and Photos combined every single day.
The unlimited photo storage on offer was a major selling point in the marketing for Google's own Pixel phones, which gave users free unlimited storage at full resolution. Non-Pixel owners were only offered unlimited uploads at what Google calls "high quality" – a lower-resolution compressed standard.
.css-1pzprxn-BulletListContainermargin-left:1.5rem;.css-1pzprxn-BulletListContainer *:not([hidden]):not(style) ~ *:not([hidden]):not(style)margin-top:1rem;.css-1pzprxn-BulletListContainer ullist-style-type:disc;.css-1pzprxn-BulletListContainer ollist-style-type:decimal;
Both have been downgraded under the new rules, with the compromise from Google being that Pixel owners can continue to have unlimited uploads – but now at the lower quality that was free to everyone before. Some Pixel devices will retain their original quality free uploads for longer.
Google also said that users who were over their storage limit for two years might have their content deleted from Gmail, Drive, and Photos.
Three years of free storage
The issue of vast amounts of cloud storage becoming unsustainable is not new.
Flickr, which was once owned by Yahoo, offered one terabyte (1,000GB) of free storage until late 2018, when it announced that users could only host 1,000 photographs for free.
A spokesperson for photography site 500px, meanwhile, said they hoped the change would help photographers "recognise the value of being part of a large community, full of people with like-minded interests – versus a place just to let their photos sit and collect dust".
Google says its free 15GB of storage that comes with every account is enough to last most users "several years" across Gmail, Drive, and Photos.
It says that once the change comes in, more than 80% of users will be able to store roughly three years of photos before hitting the limit.
More storage is available through its Google One plans for a price, which in the UK costs £7.99 per month for two terabytes (2,000GB).
Dennis Hahn, a data centre storage analyst at technology research firm Omdia, said this change could be a sign of companies battling to meet our demand for cloud storage.
"Google, Facebook and Amazon have been gobbling up massive amounts of storage in the past few years," he said.
Much of that is on 16-terabyte drives, which can hold a few million photos each – and adds up quickly for the billions of home photos Google is holding.
"While data storage capacity is being currently deployed at record – and probably unfathomable – levels from five years ago, the unrelenting accumulation of massive amounts of data appears to be overwhelming our efforts to store it as easily as we once thought," he said.
.css-144ki52-SectionWrappermargin:1.5rem 0;padding-top:1.5rem;
Sony Provides PlayStation 5 Restock Update for the Holidays – iPhone in Canada
In a tweet sent out earlier today, Sony has reassured its fans that more PlayStation 5 inventory will be coming to retailers before the end of the year. At the moment, both the regular and digital editions of PS5 are completely sold out worldwide.
From Amazon to Walmart, no retailer can keep enough in stock to satisfy demand. As a result, the console is selling at nearly double its retail price in the resell market.
Calling the PlayStation 5 its "biggest console launch ever," Sony said that the demand for PS5 is unprecedented and that "more PS5 inventory will be coming to retailers before the end of the year."
We want to thank gamers everywhere for making the PS5 launch our biggest console launch ever. Demand for PS5 is unprecedented, so we wanted to confirm that more PS5 inventory will be coming to retailers before the end of the year – please stay in touch with your local retailers.

— PlayStation (@PlayStation)
Sony has not yet revealed how many PlayStation 5 consoles it has sold so far. You can bookmark this Amazon.ca listing for the PS5 to see when it will pop back in stock.
Apple Black Friday 2020: Best Apple Watch Deals Including Series 3 From $119 – MacRumors
Black Friday sales have begun on a variety of products, including the Apple Watch. There are quite a few deals across the Apple Watch lineup this year, including one of the lowest price we've ever seen the Apple Watch Series 3.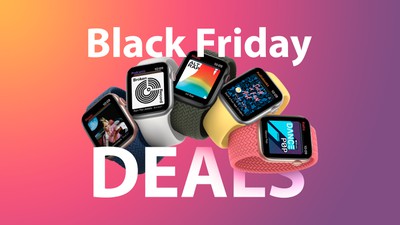 Note: MacRumors is an affiliate partner with some of these vendors. When you click a link and make a purchase, we may receive a small payment, which helps us keep the site running.
Amazon and Walmart are offering the 38mm GPS Apple Watch Series 3 for just $119.00, down from $179.00. You can also get the 42mm GPS model from Amazon and Walmart for $149.00, down from $209.00. Both of these sales represent the lowest prices we've ever seen for the Apple Watch Series 3, and the 2017 model of the Apple Watch makes a solid holiday gift for someone looking to get into Apple's wearable family.
As a note, stock is very limited for these models and retailers appear to be running out fast. Make your purchases soon if you're interested.
Apple Watch SE
For a step up, Apple also offers the Apple Watch SE, which offers many of the latest features but at a value price. Sport band GPS models are discounted by $20 at Amazon, priced at $259.00 for 40mm and $289.00 for 44mm.
Cellular models of the Apple Watch SE are also on sale, with most models similarly discounted by $20 to $309.00 for 40mm and $339.00 for 44mm. There is, however, one 44mm model in silver with a Deep Navy Sport Loop available for $309.99, a $49 savings.
Apple Watch Series 6
If you're looking for the most advanced Apple Watch, Amazon also has a few notable deals on those. The 40mm GPS Apple Watch Series 6 (PRODUCT)RED is $329.98 this week, a $69 discount from the regular price $399.00. Other 40mm models are priced at $379.
For the 44mm GPS models, Amazon is currently showing all of them at $379.99 after a coupon is automatically applied at checkout, down from $429.00. Across the board, these are the best prices available online so far this week.
You can save even more (up to $120) if you're interested in a cellular model, with 40mm stainless steel Milanese Loop models priced at $699.00, stainless steel sport band models priced at $579.00, and a (PRODUCT)RED aluminum model discounted by $109 to $389.98. Discounts and availability on 44mm cellular models are more limited, with with a few models available for $479.99 after a $29.01 checkout discount.
Most of these sales are the best deals we've tracked to date on the Apple Watch Series 6, which sports ways to measure your heart rhythm and blood oxygen levels. In terms of deep discounts, the Apple Watch Series 6 and Series 3 are the only notable models getting marked down at the major retailers this Black Friday.
Be sure to visit our full Black Friday Roundup to shop for even more Apple-related products and accessories on sale this week.
Black Friday tablet deals: iPad Pro, Galaxy Tab S7, and more – ZDNet
Black Friday 2020 is here, and with it, you can expect a range of tablet deals to appear.
From Samsung Galaxy tablets to Apple iPads, over the course of the shopping event — no longer just a one-day shopping spree, and now closer to a week-long promotion — US retailers will be competing for business by offering decent discounts on these mobile devices.
Tablets can be suitable for a variety of purposes; from checking your email on the road to saving and sharing presentations, reading, accessing mobile apps, streaming content, and more. Whether or not you want a tablet as a gift, for entertainment, work, or as a slimline device for accessing the Internet, it is worth keeping an eye on tablet sales over Black Friday this year.
Below, ZDNet has compiled a list of the best tablet deals on offer. As some deals finish and other, time-sensitive deals expire, we will continue to update — so make sure to come back and check.
Over at Best Buy, you can pick up an 11-inch Samsung Galaxy Tab S7 tablet with a $100 discount. This tablet comes with 126GB storage, 6GB RAM, an 8MP front-facing camera, a 13MP rear camera, and an accompanying S-Pen stylus.
Microsoft is also involved in this year's shopping season, and an offering of note is the Microsoft Surface Pro 7 and Pro Type cover bundle. The company is offering $200 off basic bundles including a Surface Pro 7 tablet ( Intel Core i3 processor, 4GB RAM, 128GB storage), as well as discounts off premium models.
If you're looking for a reasonably-priced Samsung tablet in the Black Friday sales, Best Buy is offering a Samsung Galaxy Tab S6 Lite with a $100 discount. This Android tablet comes with a 10.4-inch display, 64GB storage, 4GB RAM, and both a 5MP front and 8MP rear camera.
On eBay's marketplace, you can pick up an Apple iPad Pro for a substantial discount. While this deal may not be around long, for now, these 2018 devices are on offer with 11-inch screens, 256GB storage, and 4GB RAM.
More Black Friday 2020 deals
Here are some other noteworthy deals worth checking out: