Hinchcliffe inks full-time ride with Andretti – TSN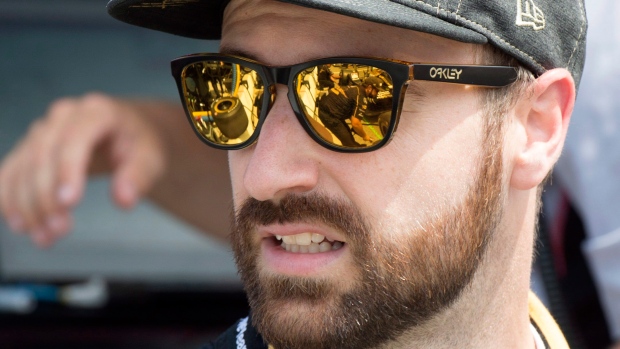 Canada's James Hinchcliffe will return as a full-time driver on the IndyCar circuit in 2021.
Andretti Autosport announced Tuesday that Hinchcliffe will drive the No. 29 Honda this season.
The 34-year-old Hinchcliffe, from Oakville, Ont., lost his full-time ride with Arrow McLaren SP after the 2019 season.
The Canadian competed in six races last year on a part-time deal with Andretti Autosport.
Hinchcliffe will be sponsored by Genesys for 10 race in 2021, including the Indianapolis 500. Remaining partnerships for Hinchcliffe's 2021 season will be announced in the coming weeks, Andretti Autosport says.
The 2021 campaign will mark Hinchcliffe's 11th year in IndyCar. He has won six races in his career.
"This program is something we've been working on since the day we signed our three-race deal with Andretti Autosport last March," Hinchcliffe said in a statement. "Being back full time has always been the goal, and it feels so great to know that I will be back on the grid and with such an amazing team, one I've had a lot of great memories and success with."
Hinchcliffe will be one of four drivers on the team this year, joining Colton Herta, Alexander Rossi and Ryan Hunter-Reay.
"We're really excited to have Hinch back in the car for 2021 and thrilled to welcome Genesys again to the Andretti family, this year in an expanded role," Andretti Autosport chairman and CEO Michael Andretti said in a statement.
Hinchcliffe will be one of two Canadian full-time drivers on the IndyCar circuit. Dalton Kellett of Stouffville, Ont., is preparing for his second season with A.J. Foyt Racing.
The first IndyCar race is scheduled for April 18 in Birmingham, Ala.
The Honda Indy Toronto, the lone Canadian race, is scheduled for July 11. It was cancelled last year because of the COVID-19 pandemic.
This report by The Canadian Press was first published Jan. 26, 2021.
Duhatschek: Darryl Sutter's assignment is clear – light a fire under the middling Flames – The Athletic
Wayne Gretzky's Father Walter Gretzky Dead at 82 After Parkinson's Battle – TMZ
Sad news out of Canada … Wayne Gretzky's father, Walter Gretzky, has died after a battle with Parkinson's disease. He was 82.
"It's with deep sadness that Janet and I share the news of the passing of my dad," Wayne said in a statement late Thursday evening.
"He bravely battled Parkinson's and other health issues these last few years, but he never let it get him down."
"For me, he was the reason I fell in love with the game of hockey. He inspired me to be the best I could be not just in the game of hockey, but in life."
The stories about Walter Gretzky's role in Wayne's career are legendary — he served as The Great One's personal coach growing up, hammering home the fundamentals of the game.
One of his most famous lessons for Wayne focused on ANTICIPATING the action — skate to where the puck is going, not where it's been.
Walter loved hockey — but never played at the pro level. He played junior and senior hockey growing up in Canada but realized he wasn't good enough to make a career out of it.
His son, however … well, we all know how that turned out.
In fact, Walter basically built a shrine to his son at the family home in Ontario — which somebody actually burglarized back in 2020.
Family members reported roughly $500,000 worth of Wayne Gretzky memorabilia was stolen from the home .. including game-used sticks, jerseys, gloves, pants and even a Player of the Year award.
But, the story had a happy ending for Walter … after a 3-month investigation, cops recovered a bunch of the items.
Wayne concluded his tribute to his father by saying the family is at peace knowing Wayne has been reunited with his late wife, Phyllis, who passed away in 2005.
"He was truly the Great One and the proudest Canadian we know. We love you dad."
Calgary Flames fire Geoff Ward, name Darryl Sutter as new head coach – ESPN
The Calgary Flames fired head coach Geoff Ward on Thursday night, replacing him with former coach and two-time Stanley Cup champion Darryl Sutter.
The Flames routed the Ottawa Senators 7-3 at home on Thursday night, but Ward's fate was apparently sealed after going 11-11-2 to start the season. He was officially hired in the offseason after replacing Bill Peters on an interim basis last season.
Overall, Ward was 35-26-5 in his first NHL head-coaching stint.
Sutter has been a head coach for 18 seasons in the NHL with the Chicago Blackhawks, San Jose Sharks, Flames and Los Angeles Kings. Sutter led the Kings to the Stanley Cup in 2012 and 2014, playing a puck-possessing system that made Los Angeles one of the league's top defensive teams.
He has a career coaching record of 634-467-101-83, including 107-73-15-15 as head coach of the Flames from 2002 to '06, leading them to the Stanley Cup Final in 2004. He also served as the team's general manager from 2003 to '10. Sutter has had winning seasons in 15 of his 18 years behind an NHL bench as head coach. His last NHL job was as an advisor to the Anaheim Ducks.
Sutter's deal with Calgary is for three years.
This is the fifth head coach hired by general manager Brad Treliving since he took over the Flames in 2014. Calgary is two points out of the final playoff spot in the West Division, although the Montreal Canadiens — who fired their head coach last week — have two games in hand.
Ward held court with the media after the win over Ottawa and appeared unaware of his fate.
"We've got to get ourselves ready again for another hard hockey game," Ward said. "We're really not thinking about what's happened in the past; we're thinking about what we need to do to prepare ourselves [for] the next one."