How to Shoot ProRes Video on iPhone 13 Pro and iPhone 13 Pro Max – MacRumors
Apple's iPhone 13 Pro and Pro Max models exclusively support a video recording feature called ProRes, which allows you to capture, edit, and share professional quality video. Here's how to enable it on your iPhone with the iOS 15.1 beta.

Aimed at professionals, the ProRes codec offers higher color fidelity and less compression, and it is often used for commercials, feature films, and TV broadcasts, which is testament to the high quality results that it can achieve.
A one-minute 10-bit HDR ProRes video takes up 1.7GB in HD mode. For that reason, recording ProRes video at 4K at 30 frames per second requires 256, 512, or 1TB of ‌iPhone‌ storage capacity.
In other words, if you have an ‌‌iPhone 13 Pro‌‌ or ‌‌iPhone 13 Pro‌‌ Max with the base 128GB of storage, you'll be limited to shooting 1080p ProRes video at 30 frames per second.
With that in mind, you can follow these steps to turn it on.
Make sure you've updated your device to the iOS 15.1 beta by going to Settings -> General -> Software Update after downloading the appropriate profile from the Apple Developer Center or Apple's public beta website.
Once your device is updated, launch the Settings app again.
Scroll down and tap Camera.
Tap Formats.
Under "Video Capture," toggle the switch next to Apple ProRes to the green ON position.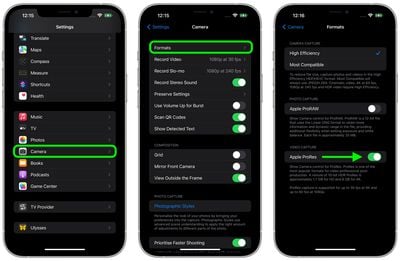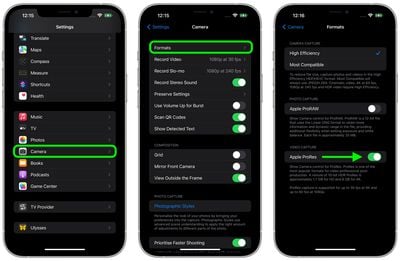 With ProRes enabled, the next time you choose the Video mode in the Camera app, you'll see the ProRes indicator in the top-left corner above the viewfinder. If it's crossed out, tap it to enable the feature. The "Max Time" at the top of the viewfinder also tells you the maximum duration that you can record in ProRes, based on your ‌iPhone‌'s storage capacity.



Along with ProRes, the ‌‌iPhone 13 Pro‌‌ and Pro Max feature improved Wide, Ultra Wide, and Telephoto lenses with better low light performance, macro capabilities, Night Mode, Cinematic video recording for depth-of-field transitions, and Photographic Styles for enhancing images.
Canada competition bureau has court order for Google advertising probe – statement
Canada's antitrust watchdog said on Friday it had obtained a court order to advance its investigation into whether  Google's online advertising business is hurting competition, according to a statement.
The Competition Bureau's court order "requires Google to produce records and written information that are relevant to the Bureau's investigation," the statement said. "The Bureau's investigation is ongoing and there is no conclusion of wrongdoing at this time."
(Reporting by Steve Scherer)
Apple AirPods 3 Have 1 Cool Surprise Upgrade, New Report Shows – Forbes
Apple's latest AirPods, correctly called AirPods third-generation but sort of universally referred to as AirPods 3, arrive instore on Tuesday, October 26.
We already know about the new features, but an extra one has just been revealed.
Alongside support for Spatial Audio, sweat- and water-resistance, a big design change, a new driver, better battery life and a MagSafe charging case, it now transpires that there's a small but highly useful upgrade.
Better ear detection.
Now, as you'll know, since day one of the first generation of AirPods, they have had a cool feature where simply removing one of the buds from your ear—literally the most natural thing to do when someone starts speaking to you—automatically pauses the music playback until you put it back. At which point it starts playing again.
However, some users reported that occasionally, just once in a while, the sensor which calculated ear detection would be fooled by something that it thought was your ear and would erroneously start playing again.
Perhaps when you put the earbud in your pocket (although, honestly? Isn't that what the charging case is for?) and you'd hear a tinny, tiny sound playing from your trousers.
Apple mentioned this very briefly when it said, "A new skin-detect sensor accurately discerns if AirPods are in the ear —versus in a pocket or on a table—and pauses playback when removed.
Now, TrendForce, in a report highlighted by Joe Rossignol at MacRumors, has offered more technical detail on how this will work. It says: "AirPods 3's skin-detect sensors may potentially detect the water content in the wearer's skin, giving them the ability to differentiate between human skin and other surfaces."
This capability will be down to short-wave infrared (SWiR) LED chips and the report claims that the new AirPods have four of them on board.
This is typical Apple: create a new, ground-breaking feature and then decide you want to improve it for those incredibly rare events when ear detection wasn't quite good enough.
And it's only a matter of days before we can put this improved feature, and the others, to the test.
Apple Shares New 'Movie Magic' Shot on iPhone 13 Pro Video – MacRumors
Apple today continued with its long-running "Shot on iPhone" series, uploading another "Experiments" video that focuses on the camera capabilities of the iPhone 13 Pro.
The "Movie Magic" video features Dong Hoon Jun and visual artist James Thornton explaining how they shot a short sci-fi film. The video highlights various effects that can be captured with the ‌iPhone 13 Pro‌ and a set of props like hyperspeed, an outer space look, anti-gravity, a cloudscape, and more.
Related Stories
Apple today shared another video in its ongoing Shot on iPhone series, with the new ad focusing on filming techniques to demonstrate how easy it can be to make a movie on an iPhone.
The video walks through using the Ultra Wide camera for unique perspectives and it demonstrates different lighting effects that can be used to make a cinematic feel.
There's a technique on a DIY crane shot…
iPhone 13 Pro models feature an upgraded Ultra Wide camera with autofocus that enables macro photography, allowing users to take close-up photos of flowers, insects, and other objects that are as close as 2cm to the camera lens.
Apple's Macro Mode is limited to iPhone 13 Pro models, but those with older iPhones can now get in on the action, as Halide today announced that it has updated its…
An iPhone 13 feature "will innovate patient eye care and telemedicine," according to a San Diego-based doctor who has found an unexpected use for one of the device's new abilities.
Detailed in a post on LinkedIn, opthalmologist and digital health specialist Dr. Tommy Korn explained that he has been using the iPhone 13 Pro Max to take high-quality macro images of patients' eyes.
The iPhone …
Apple today published a seven minute video positioned as a tour of the iPhone 13 and 13 Pro, with the walkthrough coinciding with the pre-orders that are now live.
Filmed at the Tower Theater Apple Store in Los Angeles, the tour highlights the four available sizes, camera technology like Cinematic Mode and improved low-light performance, the Ceramic Shield display and IP68 water resistance,…
Apple today released the third beta of iOS 15.1 to developers for testing purposes, and the update introduces some new camera features for iPhone 13 Pro users.
ProRes Video
Today's beta adds support for ProRes video capture with the standard iPhone camera app. It can be toggled on by opening up the Settings app and selecting the "Camera" section. From there, tap on "Formats" and toggle on…
The new iPhone 13 Pro models support 4K ProRes video recording, but there's a catch if you want to capture video at the highest quality – you need an iPhone 13 Pro or Pro Max with at least 256GB of storage space.
On Apple's tech specs page for the new devices and in the press release announcing the new iPhone 13 Pro models, Apple says that if you have an iPhone 13 Pro or iPhone 13 Pro Max…
Users considering purchasing the iPhone 13 Pro or iPhone 13 Pro Max with the base level 128GB of storage should be aware that it misses out on functionality that comes with higher storage configurations.
One of the main new features to come to the iPhone 13 and iPhone 13 Pro Max this year is ProRes video recording capability. Aimed at professional videographers, the ProRes codec offers…
It's iPhone 13 launch day, and customers around the world are receiving their iPhone 13, 13 mini, 13 Pro, and 13 Pro Max orders, plus the new devices are also in Apple retail locations. We picked up one of the new iPhone 13 models and both of the iPhone 13 Pro models for a quick unboxing and an honest overview of the feature set.
Subscribe to the MacRumors YouTube channel for more videos. …